How To Grow Dragon Fruit At Home
As an Amazon Associate and member of other affiliate programs, I earn from qualifying purchases.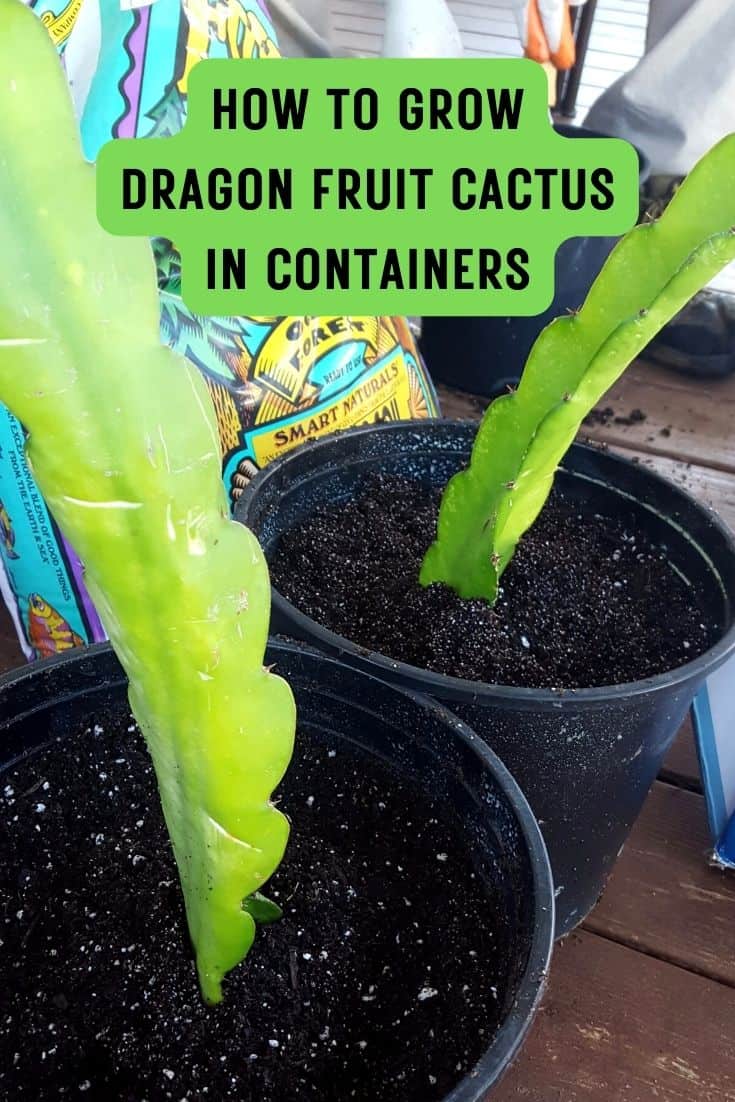 Learning how to grow dragon fruit is really not that hard, but these tips from a dragon fruit farm in California will get you the best results.
Dragon fruit is a cactus that has many names: pitaya/pitahaya, strawberry pear, belle of the night, cactus fruit, and night-blooming cereus. You've probably seen this strange looking fruit in the grocery store. The bright pink or yellow skin with alien-like spines is hard to miss.
It might look intimidating, but the skin of this fruit is actually quite soft and the spines on the outside won't stab you when you hold the fruit. And you'd never know from the look of it, but this is a fruit you can grow at home – if you're willing to put in the work.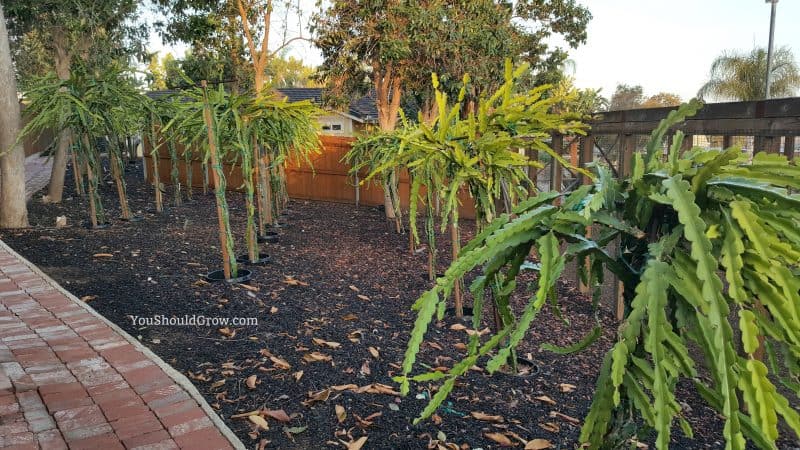 What zones does dragon fruit grow in?
Dragon fruit is an exotic fruit, and in most of the southern US, you can grow a dragon fruit plant in pots on your patio if you're careful to protect it from cold weather. If you live in US Hardiness Zones 10-11, you'll be able to grow dragon fruit outdoors year round.
But no matter where you live if you want to grow dragon fruit cactus, I say go for it! Just bring it indoors or keep it in a greenhouse during the cold months of the winter, and expect that the plant may not grow as fast, large, or be as productive as it would be in a more natural environment.
How To Grow Dragon Fruit
A dragon fruit plant needs a lot of sunlight. If you're aiming for fruit, make sure it's getting 8 or more hours of bright to direct sunlight during the fruiting season. In some climates or if grown indoors, you may need to supplement with artificial lighting. If you're not aiming for fruit, your plant will grow in less light but it won't grow as fast or make flowers.
As a plant native to South America, the dragon fruit plant likes a warm environment and is sensitive to extremes. The ideal growing temperatures for dragon fruit are between 65 and 85 degrees Fahrenheit. Anything below 32F will kill your plant. Anything over 100F will damage the fruit and cause it to wilt.
Dragon fruit cacti are climbers, so you'll need to provide support for your plant to grow on. As it climbs, it will root into the support you provide, and it can be invasive if grown in the wrong location. Watering the pole when you water the plant will greatly improve results.
Overwatering is the quickest way to kill your dragon fruit. So only water when the top 1/3-1/2 of the soil is dry, but the plant is not wilting. Unlike other cactus, you don't want to wait until the whole pot is dry – if your plant is withering or wilting, you've waited too long. Letting the plant wilt causes stress and will decrease flower/fruit production.
A drip line or mister from above works well for plants climbing on poles. To accomplish this, install a drip line and attach it to the center support in your container. Place the drip nozzle at the top of the support line and let it run down the pole. This is the most effective way to water your dragon fruit and will keep it very happy.
Fertilizing dragon fruit
Cacti are low maintenance plants. They are not heavy feeders and do not require a lot of fertilizer. In fact, over fertilization will harm your plant. Choose an organic, low nitrogen fertilizer and apply at planting and then every other month…even less in the winter.
Learn how to tell if your fertilizer is low in nitrogen with these fertilizer tips.
Growing dragon fruit in a container
This plant is best grown in a container in most environments. The container allows you to control the content and the moisture level of the soil more efficiently. When mature, these plants will need a container that is at least 10 inches deep and 24 inches wide. This equates to about a 10-gallon pot. Younger plants and stem cuttings, can be started in smaller pots and up-potted when they are more mature.
Dragon fruit, also known as Pitaya, is a vining cactus, so you will need to provide a sturdy support in your container. Otherwise, the cactus will grow over the edges of your container and sprawl along the ground until it finds something to climb.
Make sure to use a sandy, well-draining soil made for cactus plants. Any soil that holds too much moisture can lead to root rot. If your container does not have several drainage holes, then you will need to add them so the roots of the plant never become soggy.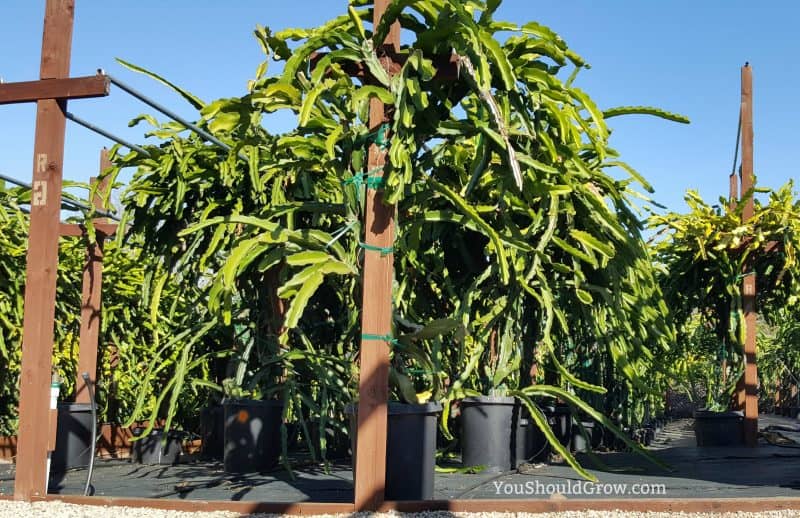 If outdoors, pick a sunny location for your dragon fruit plant that provides at least 6-8 hours of sun. The plant will tolerate some shade, and may even require it in very warm environments – remember, anything over 100 degrees Fahrenheit will damage your fruit. When grown indoors, you'll want give it the sunniest location you have (and/or supplement with artificial light).
Growing dragon fruit as a houseplant
Only recently have I seen plant shops offering small clusters of dragon fruit stems for sale as houseplants. They actually do make really cute little plants for your home or office. And if your expectation is that it will just be a houseplant, I don't see why you shouldn't add one to your collection.
These houseplant sized dragon fruit are not going to produce fruit for many years, but that is many years of growing pleasure you can still enjoy. These baby sized plants require the same care that adults do – minimum 6 hours of sunlight (more sunlight will make them grow faster, less will slow them down) and only water as needed. This may be once every week to once per month depending on the conditions in your home (brighter light needs water more often, low light less often) and the time of year (water needs decrease in the winter).
If you're growing it as a houseplant, you can wait until the plant wilts before watering as you are not concerned about flowering/fruit. As long as you step in before it's too dried out, it will perk up after you give it a drink. This does cause some stress to the plant, but it's less stress than root rot.
Dragon fruit flowers and fruit
One of the coolest things about the dragon fruit is its flowers. They are stunning ruffled white blooms, and what's more, they are night blooming. That's right, the blooms open after dark and only for one night!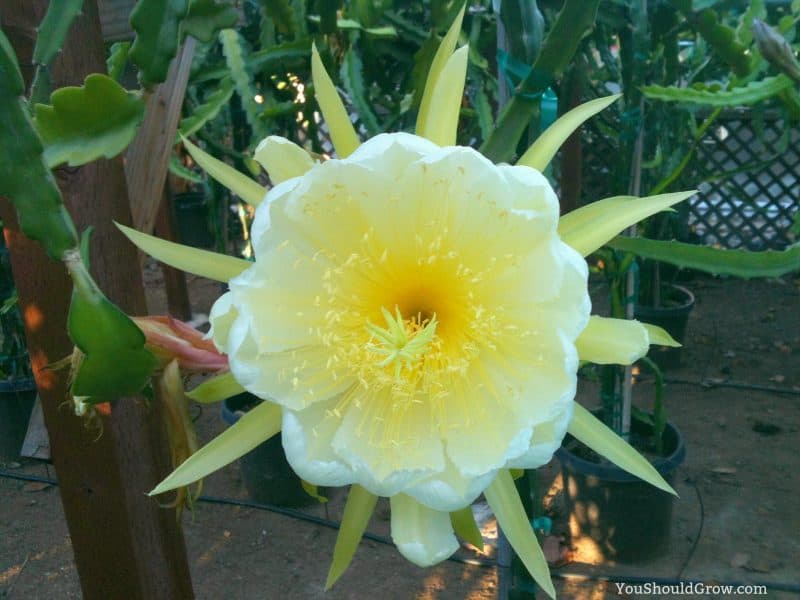 Dragon fruit plants that flower but don't produce fruit are a common complaint of growers. This happens because most dragon fruit flowers are incomplete and require pollination. Some plants even require cross-pollination by unrelated varieties (just like blueberry plants) and still some others are self-pollinating.
If you choose a variety that is not self-pollinating, then you will need to attract pollinators like bees, moths, or bats to pollinate them for you. If grown indoors, you'll have to stay up at night or get up really early to pollinate the plants yourself. For home growers, the simplest course is to choose a self-pollinating plant.
When to prune dragon fruit
If you're giving your dragon fruit optimal conditions for growth, then you will quickly find that your plant has grown so thick and so fast that it needs to be pruned. Pruning dragon fruit is usually done in the fall or as necessary to contain the plant within your desired space.
Letting the plant get too crowded will lead to problems with pests, fungus, and disease. Not only do crowded plants need more maintenance (watering and fertilizer), but they also do not produce as much fruit. Pruning the plant actually stimulates flowering and new growth, so it is a task you are encouraged to do.
Propagating dragon fruit from cuttings
The good news is that pruning your plant provides a bunch of new plants to grow or share. Sure, you can start dragon fruit seedlings from the seeds inside the fruit, but it is slow and has a frustratingly low success rate. Because of this, it is recommended that you grow dragon fruit from cuttings.
To grow dragon fruit from a cutting, take a piece of a stem at least 12 inches long. Place the cutting into some well-draining soil mix burying 2 inches of stem under the soil. Water it only when the soil is dry and roots will form within 2-4 weeks. Once you see new growth, you know your cutting has established a healthy root system and it can be left or transplanted as needed.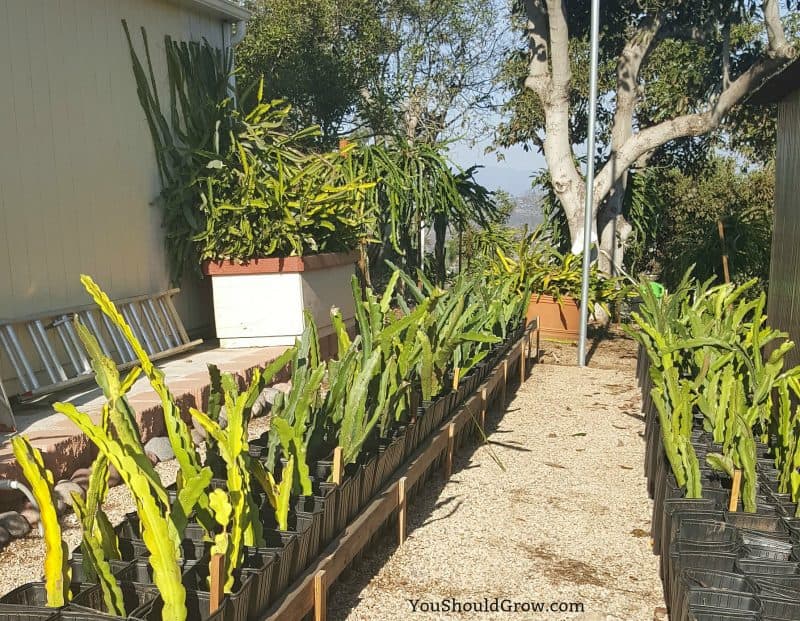 When you're ready to transplant, be gentle with the roots of your cutting and try not to disturb them too much. Gentle loosening of the small roots on the surface of the rootball is adequate. Plant your dragon fruit in fertile, sandy soil level with the rootball.
Types and varieties of dragon fruit
There are many varieties of dragon fruit that range in color, flavor, and production. Some dragon fruit need to be hand pollinated, some rarely set fruit even when pollinated. Some take longer to ripen, and some take a very short period to ripen.
It's best to research which variety will work best for the conditions you intend to provide. Then you'll want to make sure you are dealing with a reputable nursery or good friend. Make sure you trust that they are being honest about the type/variety of cutting you'll receive.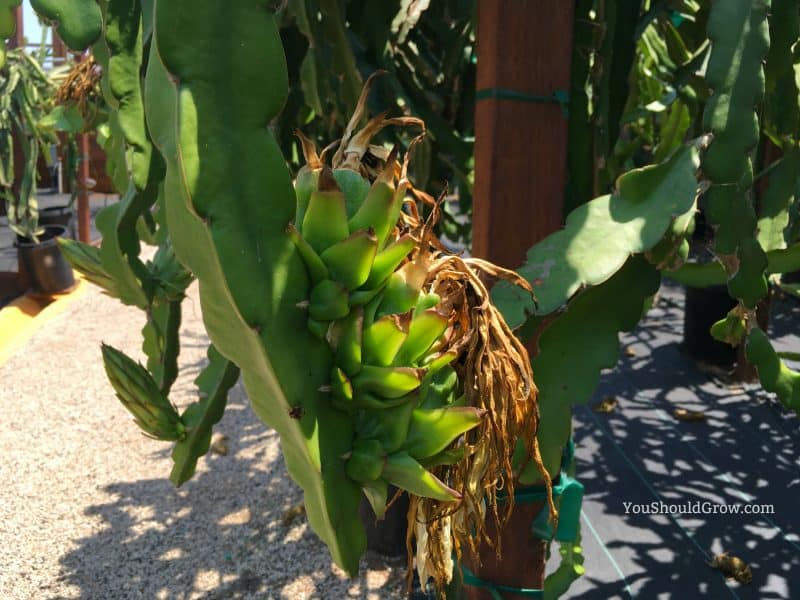 Hylocereus undatus (Pitaya blanca) is the most commonly grown in commercial fruit production settings. It produces the bright pink fruit with white flesh.
Hylocereus costaricensis is a variety known for bright pink to red fruit and matching flesh.
Hylocereus megalanthus produces yellow fruit with white flesh.
Hylocereus guatemalensis has a deep pink fruit with pink spines and a bright purple flesh.
Hylocereus polyrhizus has a beet red flesh and skin
Hylocereus stenopterus is an uncommon variety that produces green fruit with white flesh

How to tell when dragon fruit is ripe
Once your dragon fruit plant sets fruit, wait to harvest it until it turns color. Most dragon fruit will turn a gorgeous bright pink magenta color, but some are bright yellow.
In general, the longer it stays on the plant, the sweeter it gets. In most cases, a dragon fruit takes about 30 days to ripen.
Dragon fruit pests and problems
When grown indoors, dragon fruit plants can get in trouble with mealybugs, mites, aphids, and sometimes ants. If given the opportunity, ants will attempt to eat your fruit before you can harvest it, so watch out for those nasty pests! Treat pests with an appropriate pesticide as soon as you see them to prevent a major infestation. Here are some natural methods of ant control to consider.
Another common problem of dragon fruit grown at home is root rot caused by overwatering. This is one of the reasons why it's recommended to grow pitaya in containers vs in the ground. Watch the soil to make sure it's draining well, and only water when the top 1/3-1/2 of the container is completely dry but before the plant is wilted.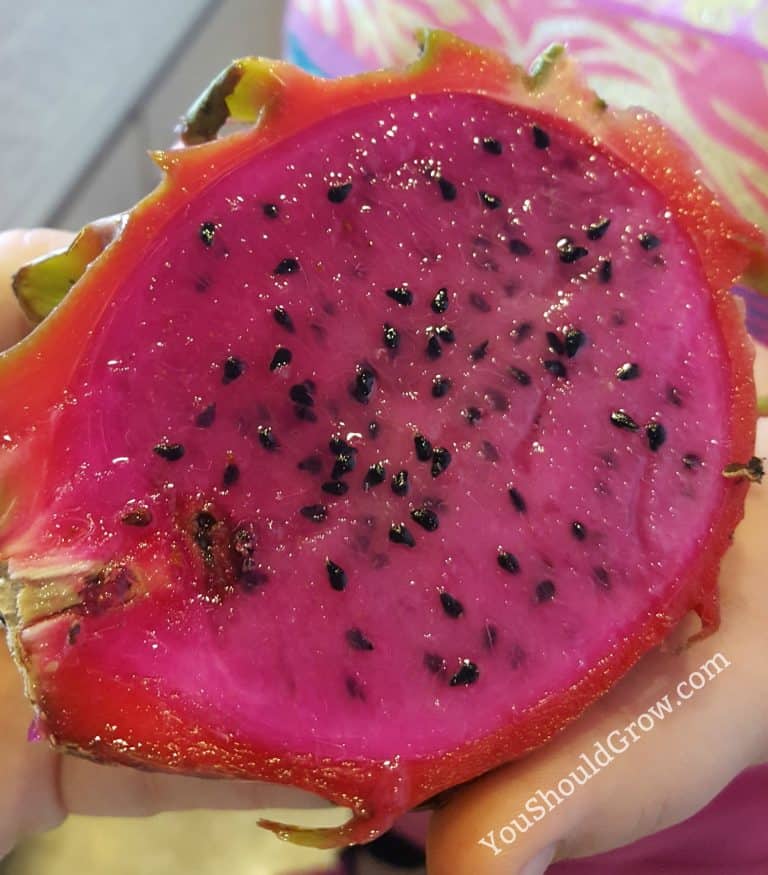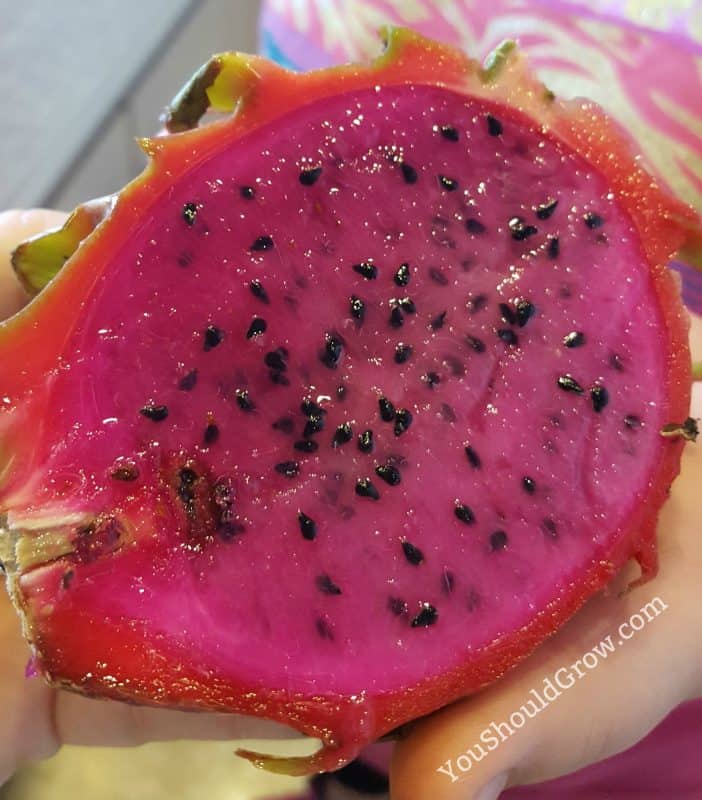 Dragon fruit recipes
This white flesh of this exotic fruit is really unique and yummy! It is super hydrating and especially satisfying when chilled, and the tiny black seeds add a nice crunch to the soft and creamy texture of the flesh. Aside from the deliciously delicate flavor, the fruit of a dragon fruit tree is has many health benefits. It's full of antioxidants, easy-to-digest carbohydrates, and omega fatty acids in the seeds.
There are many ways to use dragon fruit including sauces, salads, and smoothies, but it's also quite good sliced in half and eaten out of its skin with a spoon. Truly, eating your dragon fruit is the best part of growing it. A chilled fruit tastes much better, in my opinion. Slice your fruit in half and eat it out of its shell like a bowl of ice cream. So amazingly delicious!
Dragon fruit tastes great in all sorts of recipes. Try one of these.