Mobile String Light Poles Easy DIY
As an Amazon Associate and member of other affiliate programs, I earn from qualifying purchases.
These mobile string light poles are the perfect easy DIY for spring.
They can really be used anywhere. They would be great on a patio or around the pool, but, at the farm, I love using them to light up outdoor living spaces under the trees and around the garden.
I came up with this idea because I desperately needed a solution for lighting around the barn when it gets dark. My dilemma was setting up a lighting system that would be easy to move when we needed to get the tractor through and wasn't expensive or difficult to do.
So I decided to make my own mobile light poles from inexpensive products I bought at the home improvement store. And it turned out to be a pretty awesome easy DIY project.
**Update: These mobile string light poles have been outdoors on our farm for over a year and still work great!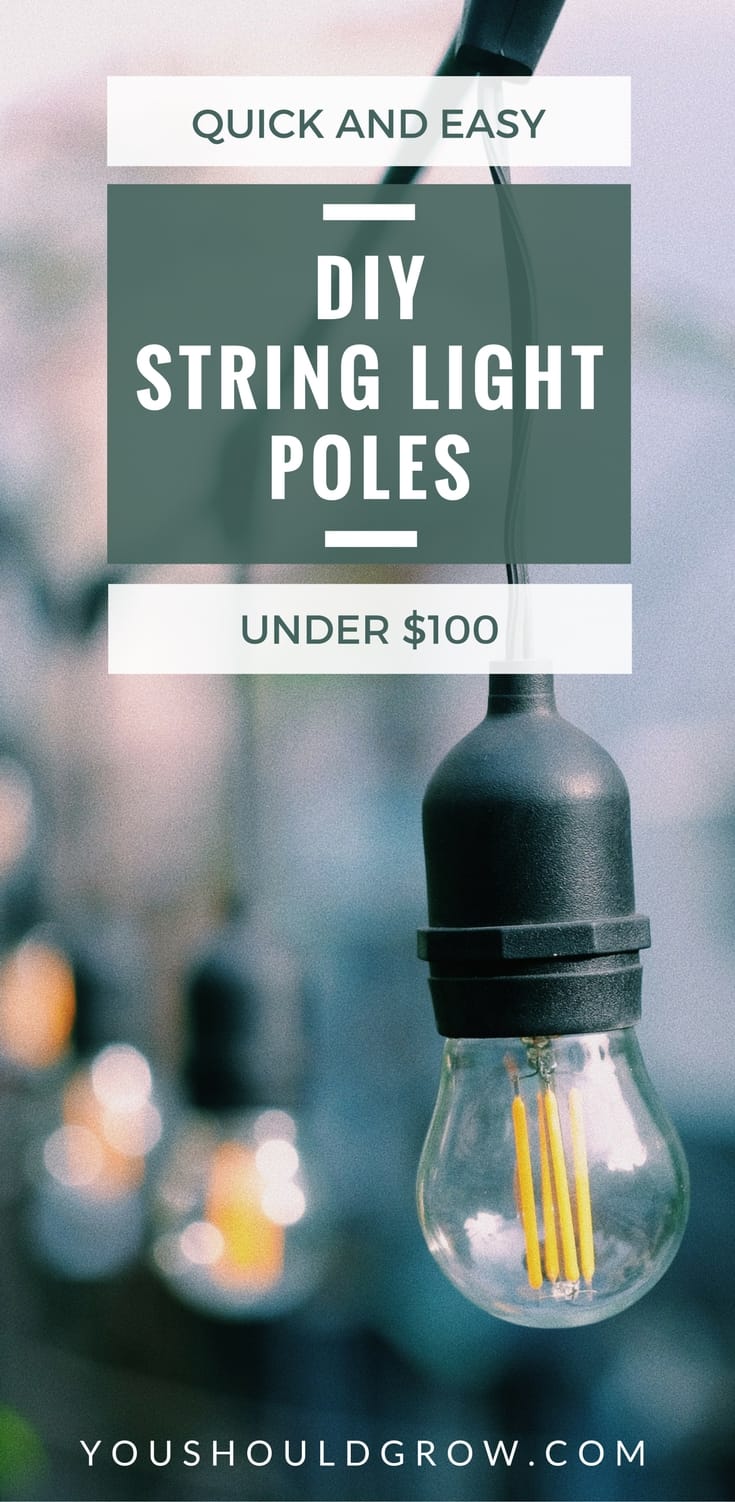 Shopping List
6 gallon galvanized buckets 2 @ $15 each
Quikrete 2 @ $3 per 60# bag
2″ diameter 10-foot long gray electrical conduit tubes 2 @ $7 each
PVC caps 2 @ $2 each

paint to match conduit tubes if needed (updated)
I showed my husband what I bought and told him what I wanted him to do. Then I stepped back to watch him make it all happen.
He was worried that it would be difficult to keep the conduit level vertically, but it turned out that the Quikrete is so thick and quick that it was easy to keep the conduit in place. Even on a windy day.


Assembly (Requires 2 people)
Find a level area to assemble the light poles
Fill bucket 3/4 full with water
Stand conduit on end and hold in place
Pour bag of Quikrete into bucket and stir with a stick – Don't move the conduit
It should set up enough to let go of the conduit within a couple minutes
Leave it on level ground for 48 hours
Once the Quikrete is set up, lay the pole over on its side to place the PVC cap over the open end at the top. This will prevent rain water from filling your PVC pipe. I did have to paint my PVC caps with gray paint to make them match. I already had some, but a can of gray spray paint is all you would need.
It was that easy and cost around $50 for the whole project. Two days later we poured off the excess water and marked our initials in the top.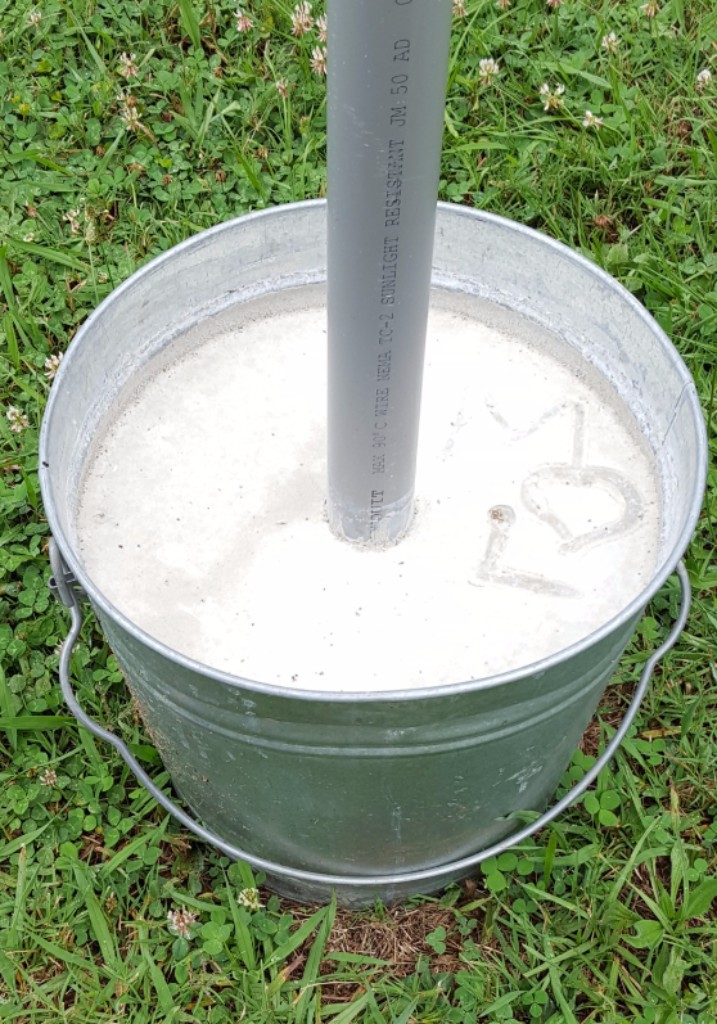 You can see the conduit had printing on it which doesn't bother me. It's a detail I am willing to overlook because I am a lazy DIYer, and the gray color fits in naturally at our farm.
Results
These string light poles were so easy and turned out looking great. The best thing is that they are mobile, and we can use it anywhere on the farm with these great solar lights. It's not like they lit up the farm, but they allowed for ambient lighting outside for guests to gather.
We hung the lights by wrapping them and using zip ties. We always have a set of zip ties around the farm.
They can be dressed up with more lights, plants or even fabric for fancy parties and left as is for more a casual get-together.
Not all of my DIY ideas turn out to be so super easy, but this one worked out great and gives pretty instant satisfaction. And who doesn't like that?!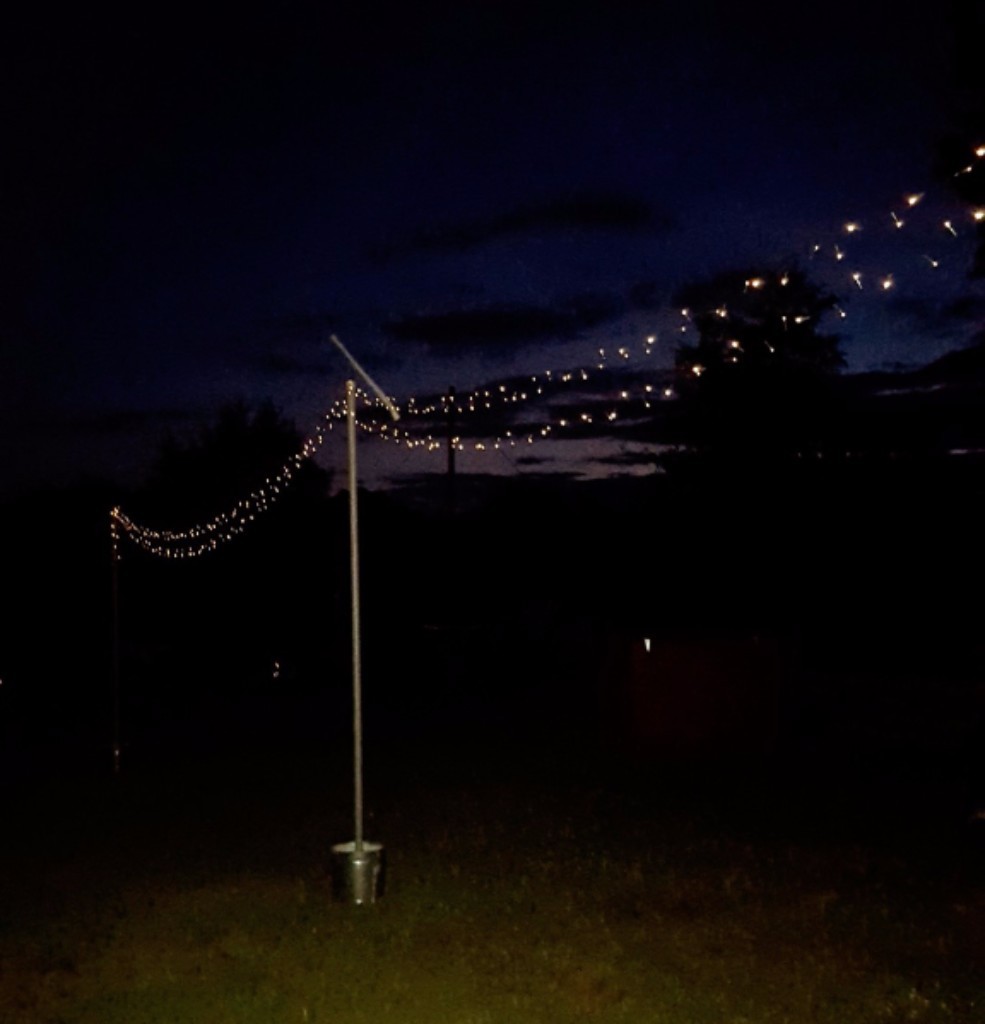 Do you think you can use some mobile string light poles in your yard? Of course, you can. 🙂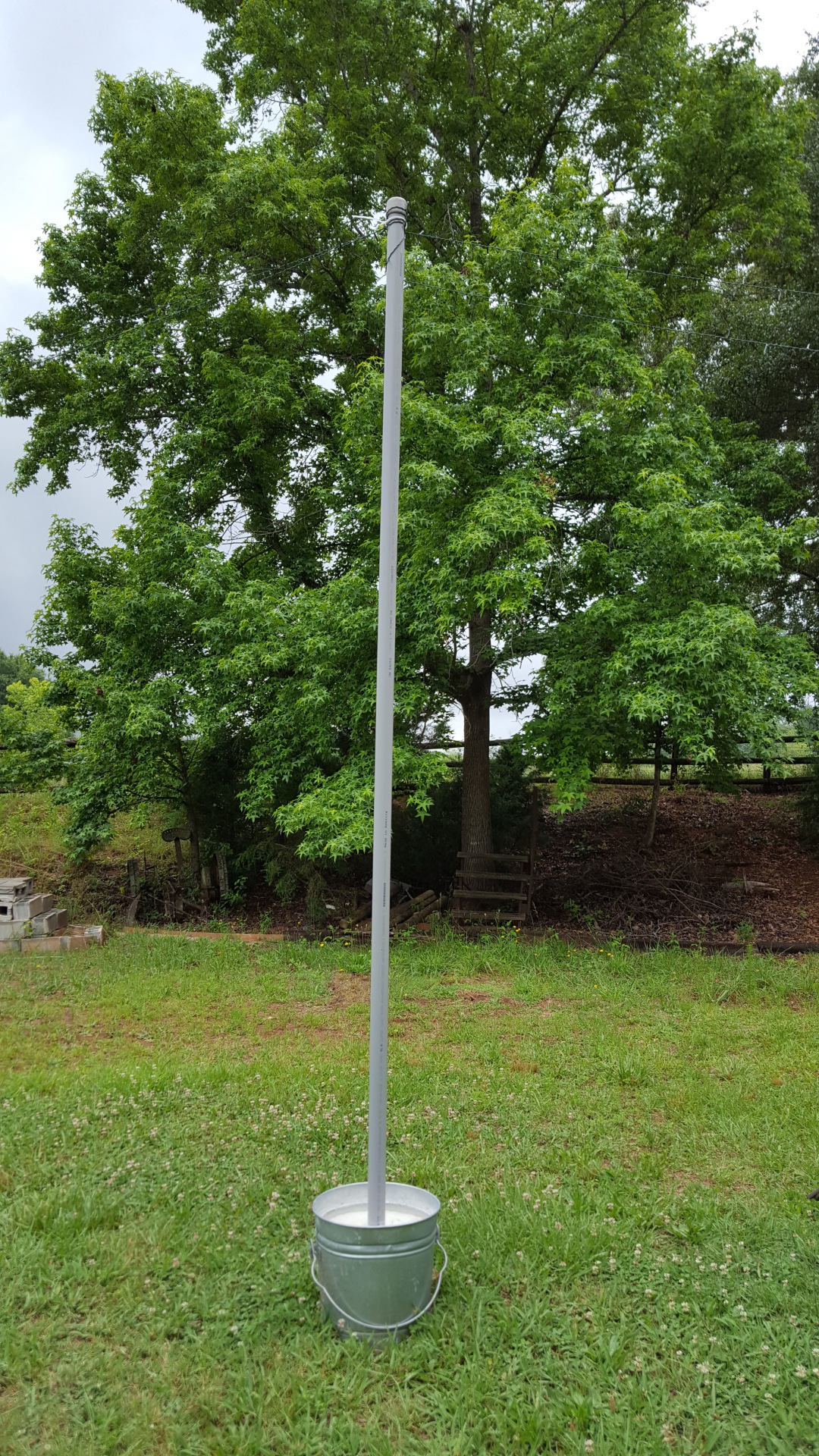 [mailerlite_form form_id=1]