12 Funky Pumpkin Varieties You'll Love
As an Amazon Associate and member of other affiliate programs, I earn from qualifying purchases.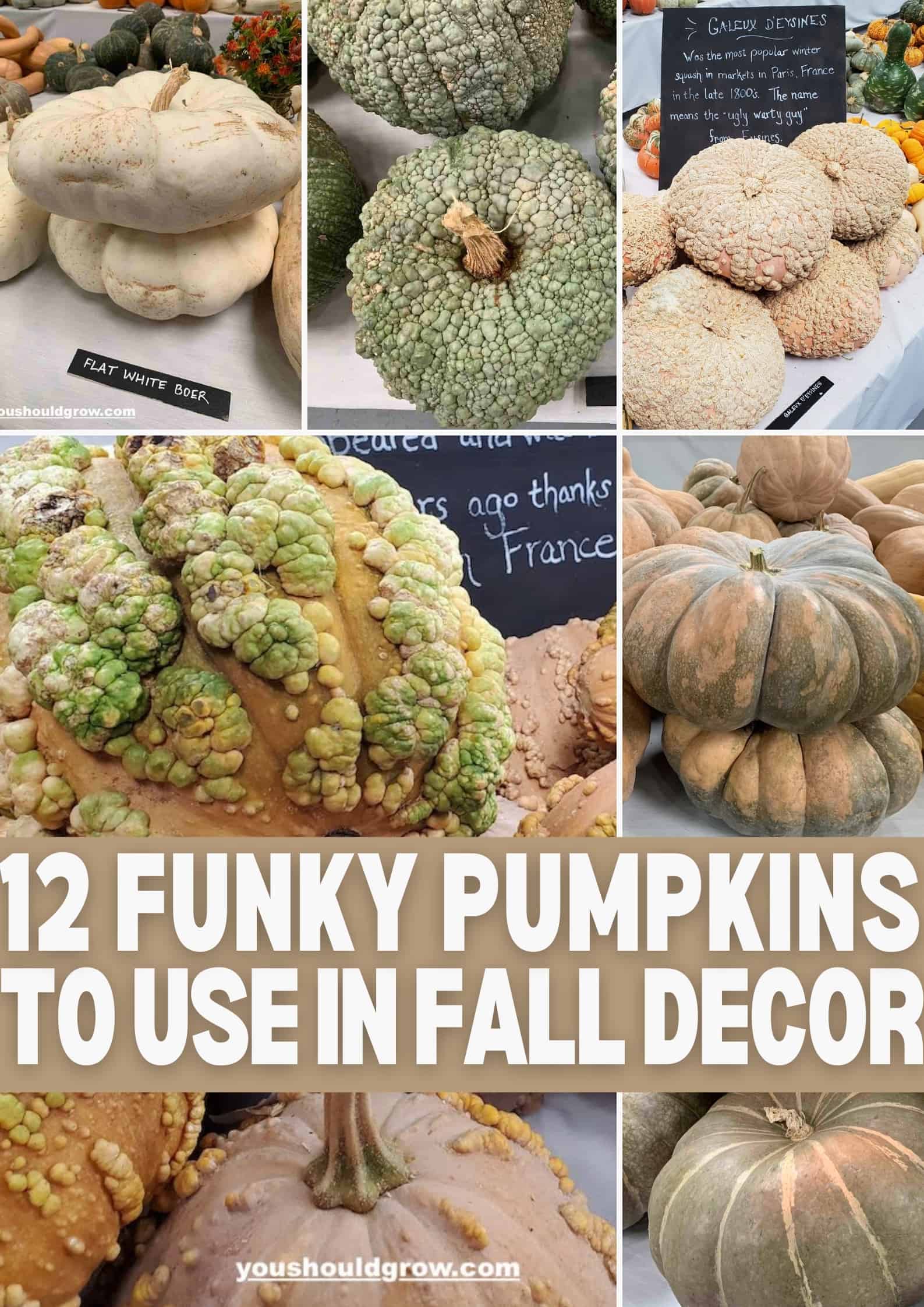 Pumpkins are a staple in fall decor, and more and more we're seeing families choose unique and, you might even say, ugly pumpkins for their holiday decorating projects.
So I thought it would be fun to take a look at some of the most unusual pumpkin varieties to look for this fall.
Side note: All pumpkins are a type of winter squash, but not all winter squash are technically pumpkins. I do include some pumpkin shaped winter squash in this post because the distinction is really just semantics.
Pumpkin Varieties With Pictures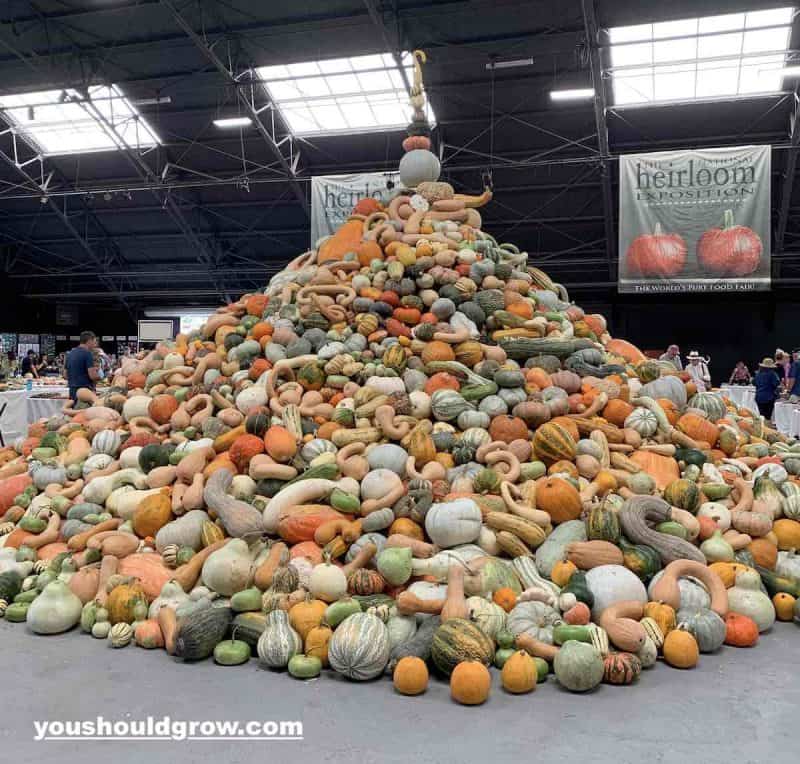 Because pumpkins have a super thick skin, they'll definitely last through November as long as they don't get wet, rotten spots. So don't forget you can dice these babies up and make your favorite pumpkin recipes.
It would be so fun to grow these with the kids in the spring, too – so make sure you save seed from these pumpkins before you toss them in the compost pile.
Flat Pumpkins
I love the look of stacking pumpkins in various colors. It not only looks really pretty, but it's right up my alley in terms of being like the easiest decorating project you can do.
These flat pumpkin varieties allow you to stack them for a really unique look. You can mix and match the colors to make them fit in with the rest of the decor.
Cinderella Pumpkin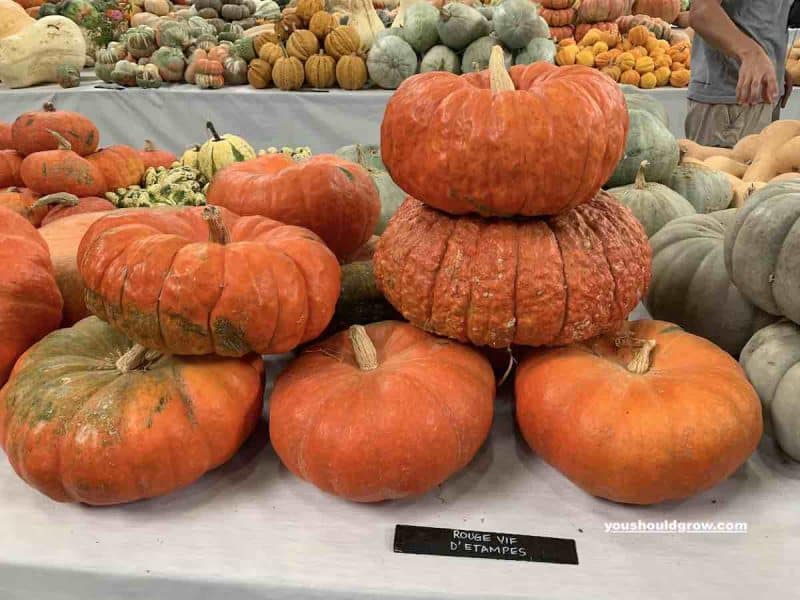 Cinderella pumpkin is deep orange to red pumpkin that has a wide flat shape. The bright color really stands out, and these pumpkins have a bright orange flesh that is great for both sweet and savory dishes.
Fairytale Pumpkins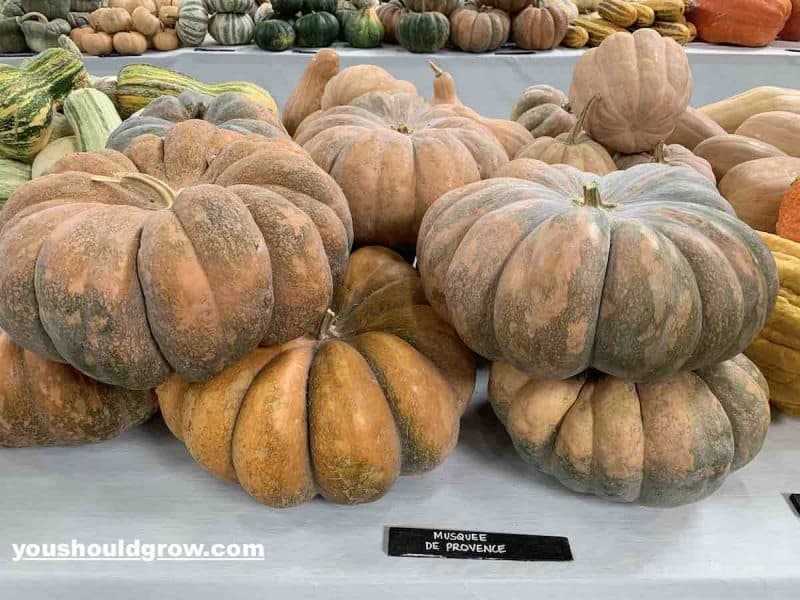 Fairytale pumpkins have a similar look to Cinderellas, but they are green to pumpkin tan in color. I love the voluptuous curves on this pumpkin which has a sweet deep red flesh that is perfect in desserts and soups.
Flat White Boer Pumpkin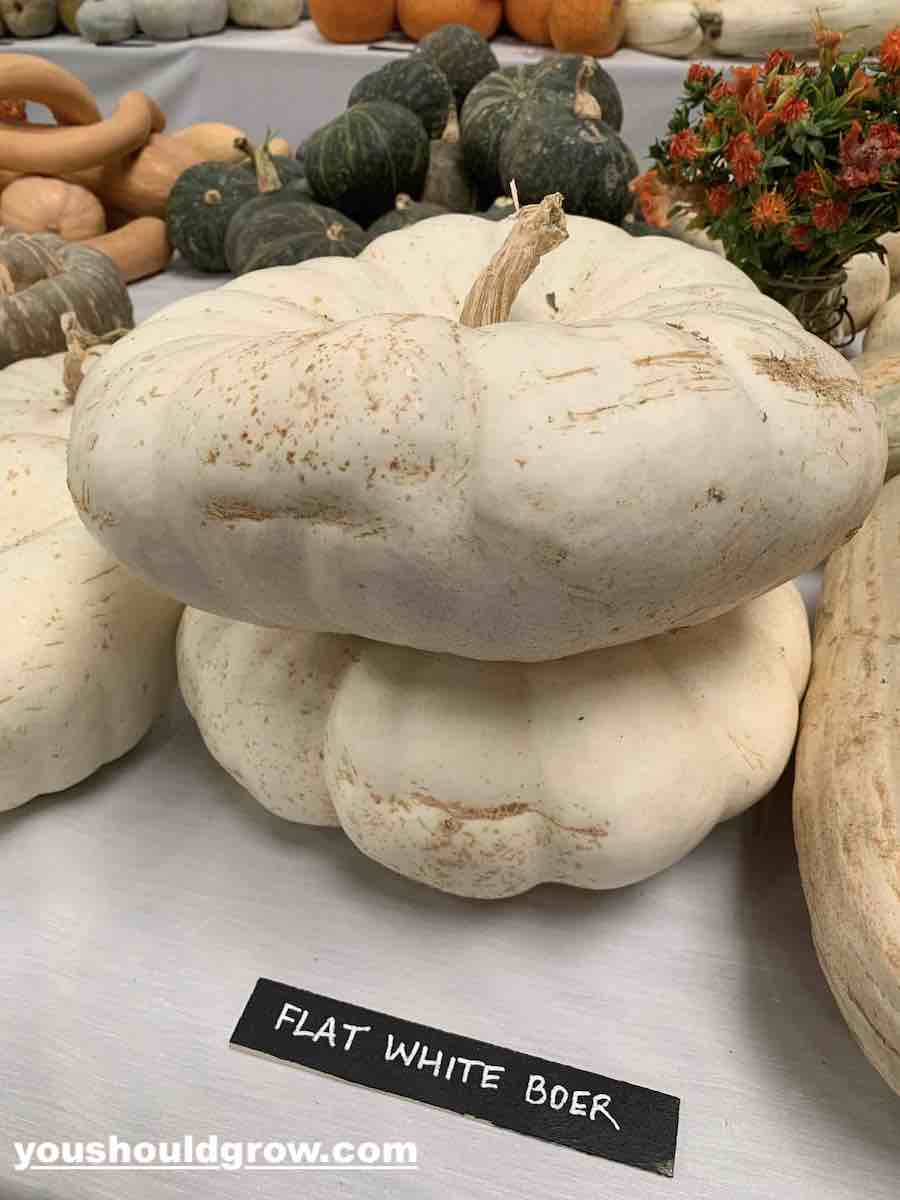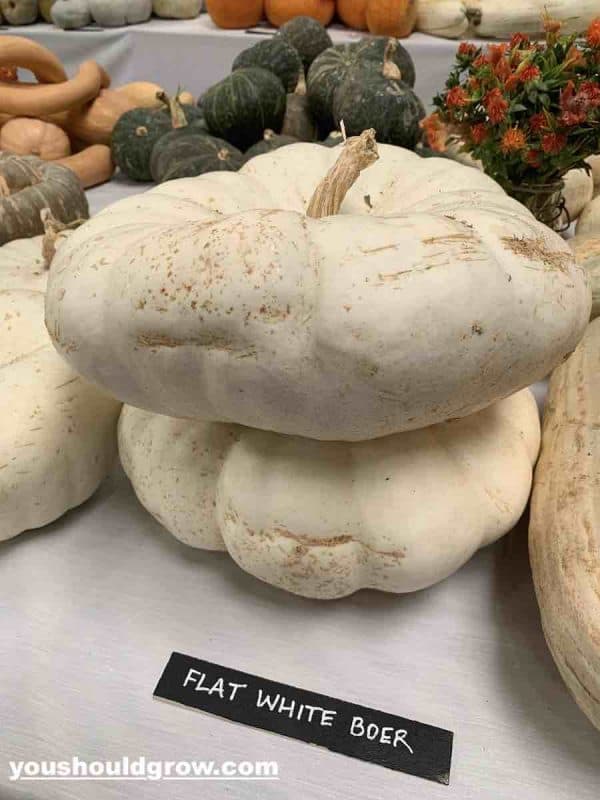 Add a Flat White Boer to your pumpkin decor, and it will really pop! This white pumpkin variety is awesome for stacking and setting on your front porch. They have a delicious sweet orange flesh that is great for baking.
Long Island Cheese Pumpkin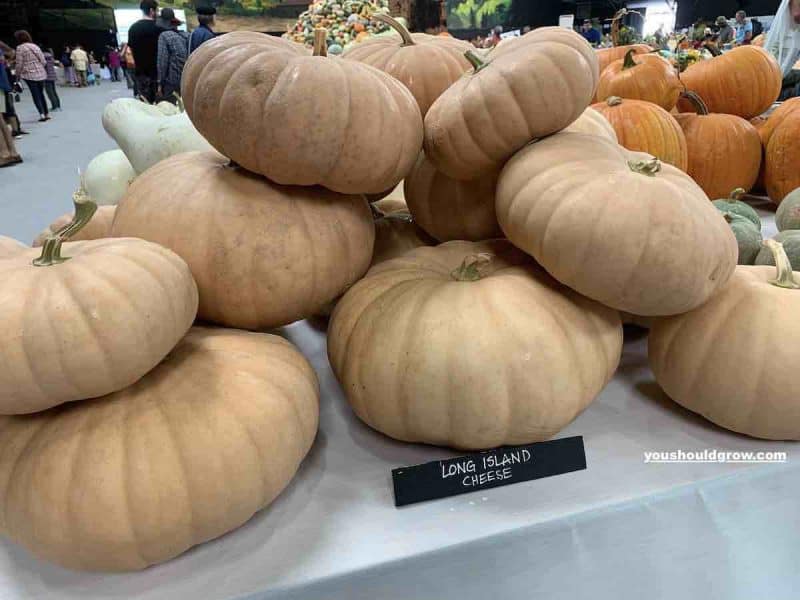 A very nice flat, tan to orange pumpkin that is excellent for stacking. Long Island Cheese is favored by homesteaders for its long storage capabilities and sweet smooth flesh.
Jarrahdale Pumpkin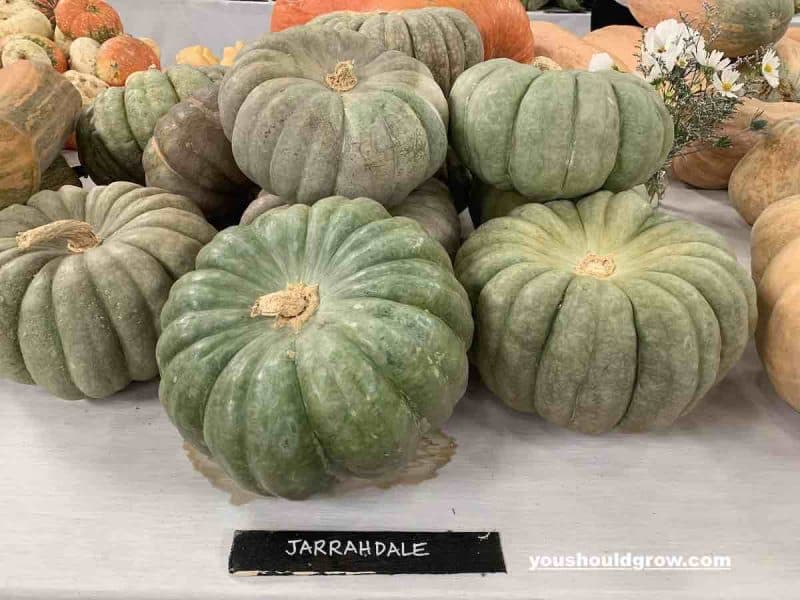 Jarrahdale pumpkins are a unique blue to green pumpkin variety that is lovely in a pretty pumpkin stack, but is also great for cooking. This pumpkin variety comes from New Zealand and has a smooth creamy texture making it perfect for homemade pumpkin puree.
Strawberry Crown Pumpkin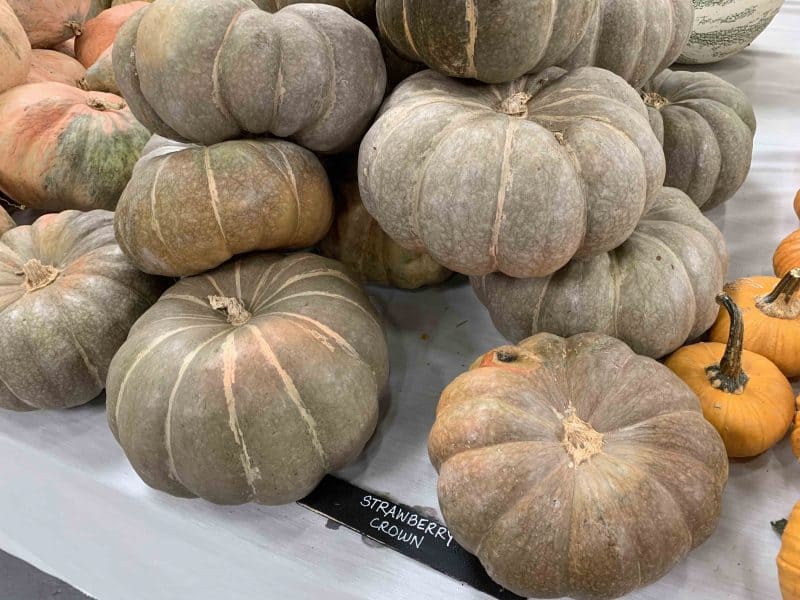 These pumpkin shaped winter squash have a unique coloring that makes them perfect for adding to your fall decorations. It has a smooth texture that's great for baking and making soup.
Ugly Pumpkin Varieties
Here are the most unusual, bumpy, warty pumpkins that are really interesting to look at. Add a few of these to your front porch and wow your friends and neighbors with your fun decorating style.
Peanut Pumpkin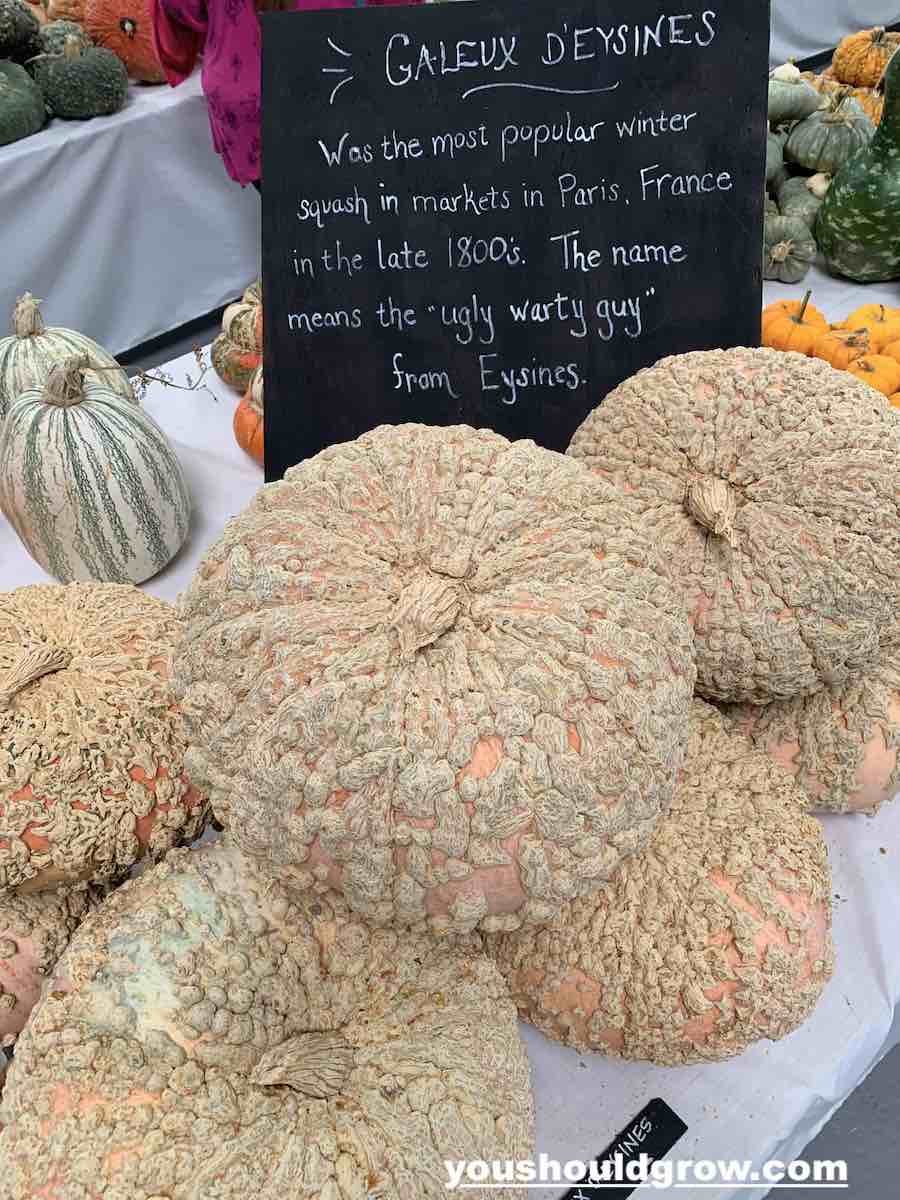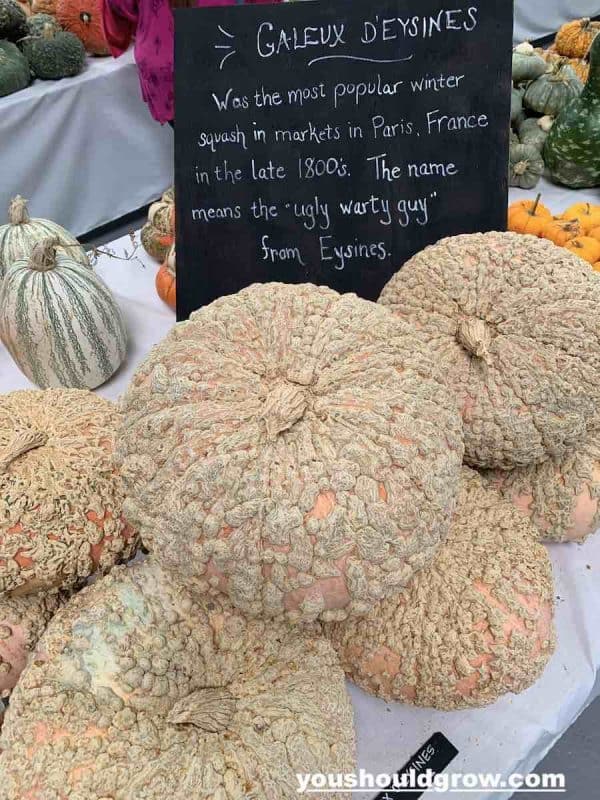 These pumpkins might be ugly to some, but I love the unique peanut shaped bumps all over it. The peanut shells on the pink rind of this pumpkin are actually a buildup of excess sugar which makes the Galeux d'Eysine perfect for baking. So don't overlook this ugly duckling when you're shopping for pie pumpkin varieties.
Yokohama Pumpkin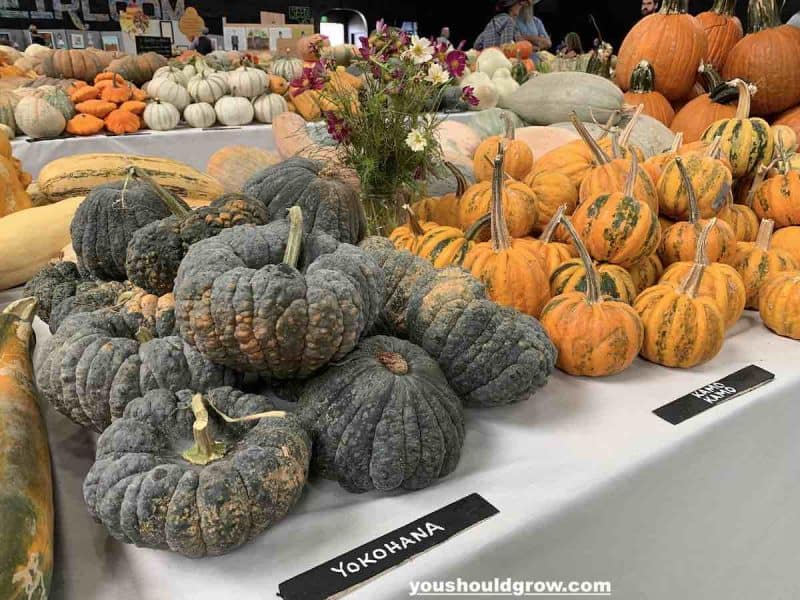 The exterior of this pumpkin frankly couldn't be more ugly, but don't let that deter you from cooking with it. The flesh of this pumpkin has a complex fruity flavor that is definitely worth a try.
Black Futsu Pumpkin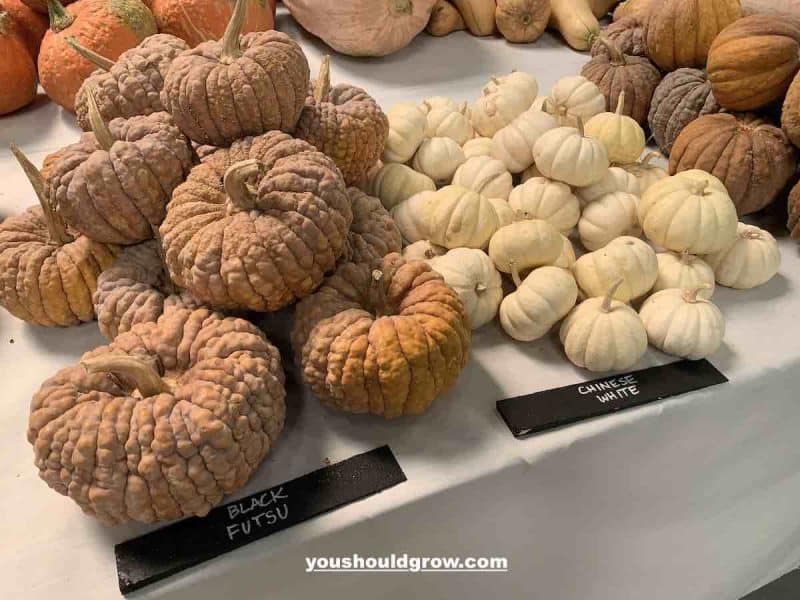 Technically a winter squash, this is another very interesting pumpkin shaped fruit from Japan. The bumpy skin ripens in color from deep black-green almost moldy color to the tan you see in the image above. It boasts a bright orange flesh with a slightly nutty flavor. Definitely worth a try if you find one.
Buen Gusto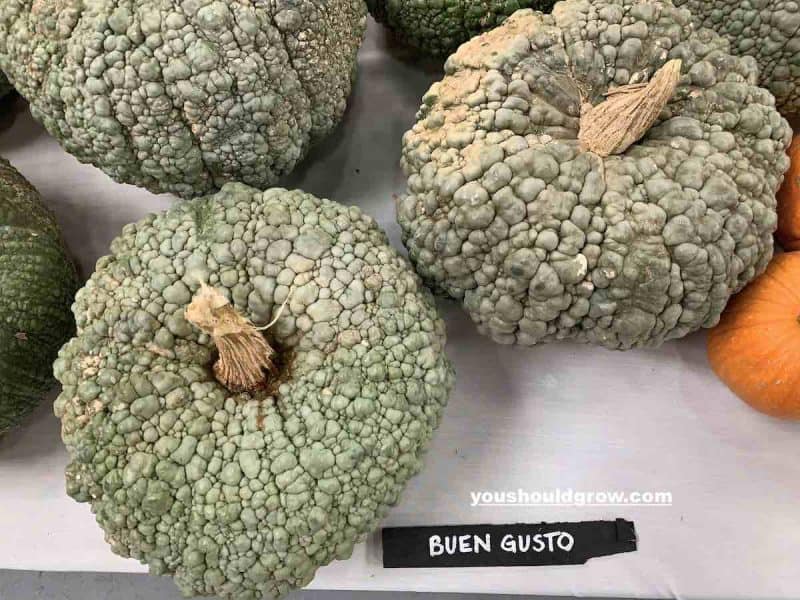 Buen Gusto De Horno's beautiful lumpy green skin will definitely make a statement when used in your pumpkin decor. Like the Black Futso, this is a small pumpkin shaped winter squash which makes it a good choice for decorating baskets and crates. Its sweet flesh is also great for fall baking.
Shishigatani Pumpkin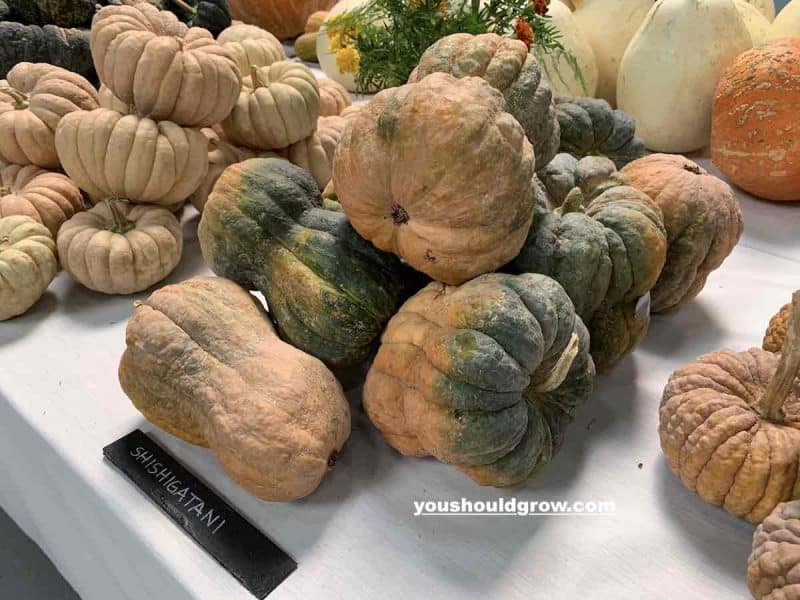 This is a rare Japanese pumpkin that certainly lives up to the ugly pumpkin name. Some fruit even looks like two pumpkins stacked on top of each other. Its fine, nutty flesh is a good choice for making soups.
Musquee du Maroc Pumpkin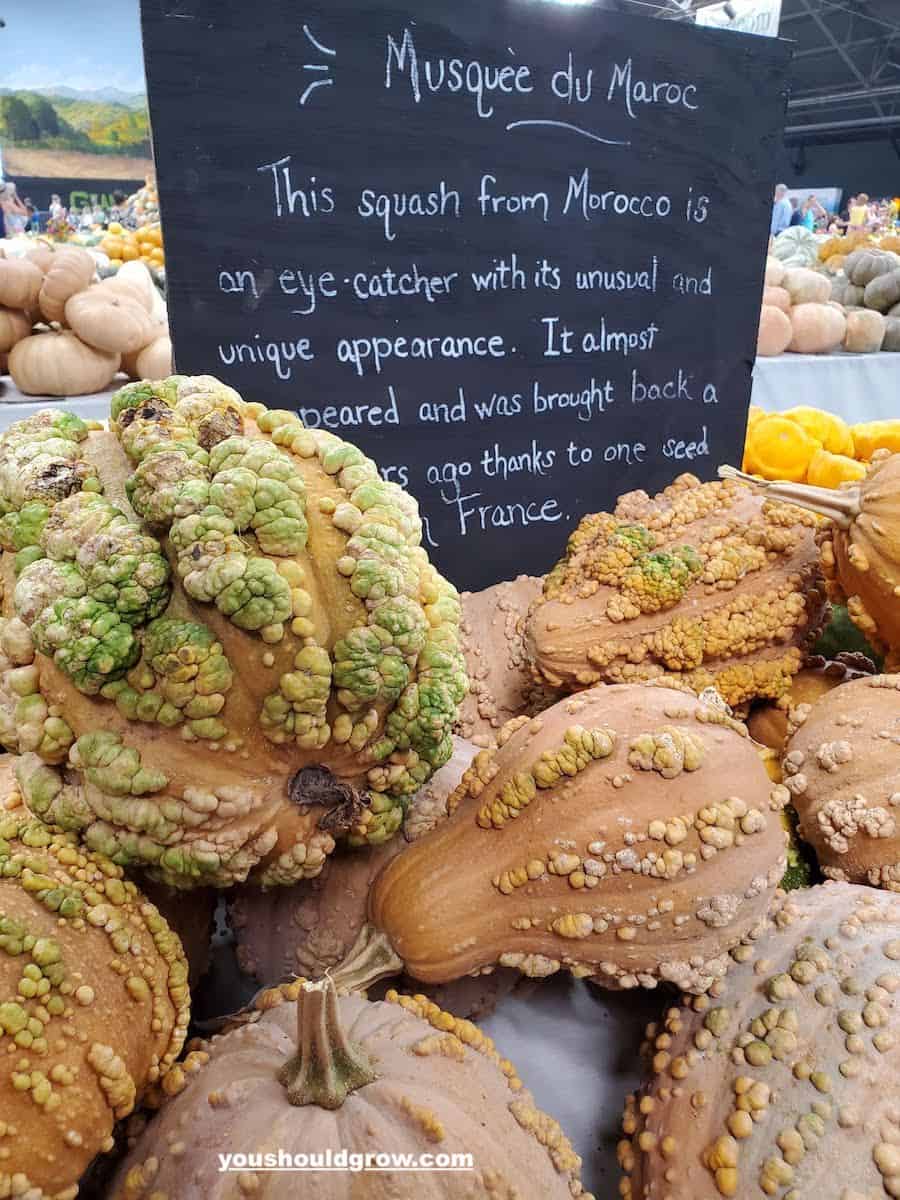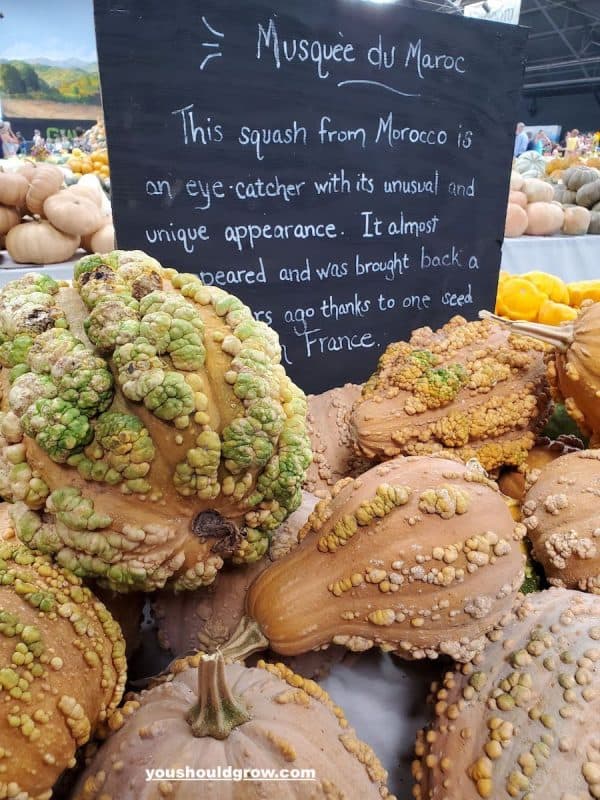 If you love the warty look, the Musquee du Maroc is a definite winner. It has such an unusual and unique appearance for your fall pumpkin displays. Take this squash indoors as the season ends to make squash puree.
Don't You Love These Amazing Heirloom Pumpkin Varieties?
Seeds for most of these varieties can be found on the Baker Creek website, but check your local farmer's markets to get your hands on a full grown pumpkin.
Since they're all heirlooms, you can definitely save the seed and plant them in your garden next spring. Here are some tips for growing pumpkins.