20 Best Gift Ideas For Pampered Chickens
As an Amazon Associate and member of other affiliate programs, I earn from qualifying purchases.
Is it crazy to make a list of gift ideas for chickens? I know there have to be some chicken moms out there like me who really only got backyard chickens to give them treats and watch them play.
I mean the eggs are nice, but the fun is really in watching these curious birds peck around and do their chicken thing, and I just adore all the henny noises they make.
If you're also the type of person who buys Christmas presents for your pets (🙋‍♀️guilty), why would your chickens not also get a gift? So I went on the lookout for some unique gifts that your chickens will love, and what I found is not just hilarious. It's adorable.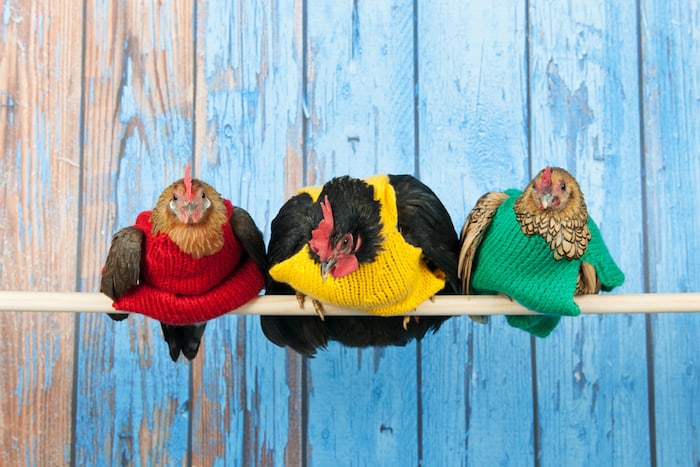 Chicken clothes
Okay so chickens are pretty hardy and they really don't need any protection from cold weather. But if you have a sensitive bird or one of the smaller breeds, they might appreciate something to bundle them up in on really cold days.
If that's the case, you might consider some winter weather wear for your chickens.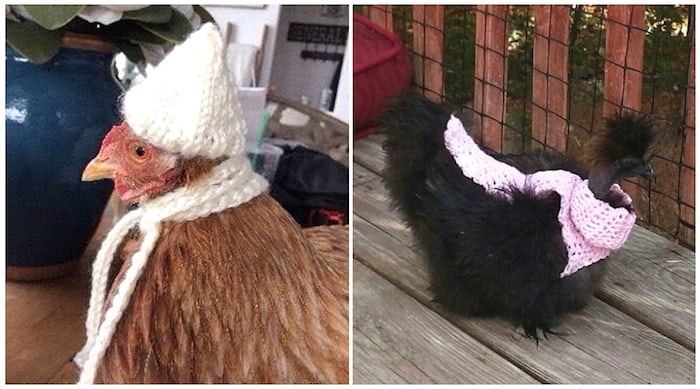 A word of caution
One thing that I have to mention before I show you all this cuteness: some birds will not like being put in clothes at all. It could actually scare them, and they might hurt themselves trying to get out of the clothes.
So be very choosy about which birds you decide to dress up. If you have an anxious rooster, he's probably not going to take too well to wearing a scarf. However, mellow birds that are used to being handled might not mind getting all dolled up.
It's also important to note that I do not recommend leaving any clothing on your flock when you are not around to watch them and especially not overnight. Whether it's the one wearing the clothes or a different bird, chickens will peck at anything that catches their eye.
They could pull off buttons or pull out strands of yarn and potentially choke on them or get their toes stuck in the sweater. I would also steer clear of any clothing that is glittery or shiny to discourage pecking.
Okay, now that I've gotten that out…
There are some seriously adorable clothes for chickens you should see.
Chickens combs are more susceptible to cold than other parts of their body. If your bird will tolerate it, you can keep them more comfy with a super trendy chicken hat or this hat and scarf combo.
Maybe you're thinking you want to include your chicken in your family Christmas card. You definitely need this holiday chicken scarf, or you might go with a cowl neck for your hen. I'm thinking maybe we could all wear matching cable knit sweaters!!!
Chicken saddles are really great gift ideas for chickens who seem to attract a lot of attention from your roos. I know when we kept roosters, one or two of the hens seemed to be the favorites, and I often found missing feathers and small injuries. These chicken saddles are a great way to give your girls a little protection from randy roos.
If you have suburban chickens and always wanted to take your girls out on walks, and you might like this harness and leash set.
On warm days, dress your ladies up in one of these chicken tutus. A fluffy butt in a fluffy tutu? Wonderful.
Gift ideas for chickens: Have a chicken spa day!
Get your chickens a specialty dust bath blend for their coop and after they've had a nice cleaning, you can give them a little massage. Try a balm made especially for cold combs.
And if you're chicken appreciates a nice foot massage, here's a healing leg salve for your pampered bird.
Chicken treats and toys
There are few things chickens love more than food, but they also like to play sometimes. Here's a cool veggie treat ball you can fill with cabbage or lettuce and hang in your chicken run for a great boredom buster.
You might also treat your hens to this specialty herb blend that will not only be a treat for them but also claims to make the best-tasting eggs ever. For something special, chickens love this gourmet mealworm treat, but of course, they would love homemade treat cake, too.
Inside your chicken run, you might like to add some fun toys for your birds to play with. I love the chicken swings whether bought or made. The birds really seem to enjoy sitting on them.
Have you seen the video of the chickens playing the xylophone? So funny!
Some birds might like seeing themselves in a mirror or chasing reflections off a disco ball. If you have a large empty area, gift your birds this chicken activity center which includes a ramp, perch, dustbin, treat ball and swing.
Another word of caution
When you're putting toys in your chicken run be careful that there are no loose pieces of mirror or any shiny things in the run. The chickens will try to eat them, and they could choke or injure their GI tracts.
The wonderful thing about chickens is that they really don't ask for very much, but I have to admit that I get crazy pleasure out of watching my happy chickens. Our homestead just wouldn't feel complete without them.
What's your favorite way to pamper your chickens?
Leave me a comment!