3 Best Garden Gloves To Buy
As an Amazon Associate and member of other affiliate programs, I earn from qualifying purchases.
A good set of gardening gloves becomes a go-to whenever you're working outside. Anyone who has spent enough time turning the soil, pulling weeds or moving cement planters will quickly tell you that you need a comfortable pair of gloves.
Best Garden Gloves Reviews
So let's take a look at the three of the best garden gloves for keeping your hands safe and your nails clean. Each set supplies superior quality, value, and practical functionality that you simply can't beat.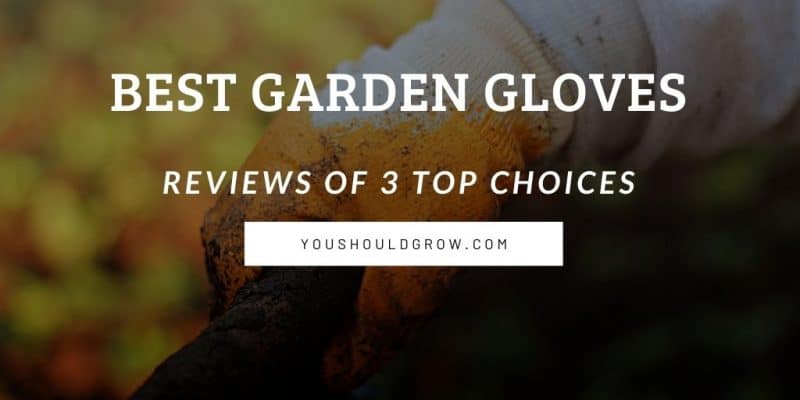 Atlas Glove Atlas Fit Gloves
Atlas Fit Palm Coating Gloves from Showa is the ideal set for the garden. They are designed to give you greater ease of use than standard garden gloves, and the dexterity provided is far better than any medium-duty pair. They protect your hands, leaving no chance of cuts and abrasions.
Not only are these gloves affordable, but they're highly durable and come in packs of 12 as well. Let's take a closer look at what makes them such a bestseller.
Review
These gardening gloves are soft on the inside and well fitted. The fabric is quite gentle on the knuckles, and your gloves are both puncture and abrasion resistant. One can easily see what makes this such a popular pair of gardening gloves. They're affordable, but the quality grants value far exceeding the price.
You'll find that this pair of gloves is tough enough for many seasons' worth of light garden work but don't use them over too many rough, heavy-duty applications. Handling cement blocks and working with gravel requires a set made from dense rubber. It doesn't take long for one to grow accustomed to the feel of these gloves. In no time, you'll be working as if you didn't have gloves on at all.
Pros
Highly affordable
Breathable and comfortable
Gentle soft internal fabric
Abrasion and cut resistant
Washable
Cons
Could fit better
Water resistance is lacking
Magid BE337T Bella Men's Comfort Flex Coated Garden Glove
Magid Glove Safety have provided a stunning pair of garden gloves. The Magic BE337T Bella Men's Comfort Flex Coated Garden Glove is ideal for the demanding gardener who doesn't want to sacrifice comfort or flexibility.
Each set of gloves features form-fitting nylon that has you wondering whether you have a glove on at all. These gloves give you a great level of luxury and protection, allowing you to work with abrasive materials and even water as well. Let's delve into what makes this set such a good choice.
Review
These gloves from Magid use comfort-flex technology to grant a tight fit that still upholds a superior level of protection. The back of your gloves is water-resistant and you'll love the way that instead of soaking up water, it just beads and wicks away. Each glove's palm is double coated to guarantee the highest level of comfort and the longest lasting quality.
They're just about the same price as a regular set of garden gloves just far more style, more breathable, and they're textured to give you a superior grip in wet and dry conditions. Once your gloves are on, no dirt is getting in thanks to the knitted wrist. Lightweight, washable, and good enough quality to last through daily gardening without rapid wear and tear, you can expect great value overall.
Pros
Dense comfortable protection
Reliable water resistance
Moisture wicking
Sealed wrists
Cons
Not the best for mud and damp dirt
Foxgloves Original Gloves
The Foxgloves Original Gloves are a pair designed for the comfort-conscious female. The fit is fine for either sex, but the design is clearly aimed at the fairer sex. This is a pair of gloves that you wear in between the rest of your daily routine, giving you a way to keep your hands clean while doing light work or gardening chores. Here's what makes these gloves from Foxgloves a must-have that'll come in handy over and over again.
Review
Foxgloves are the best garden glove for anyone that does light work, such as container gardening. They're designed with a luxury appeal in mind, giving you comfortable protection which — while not waterproof — does indeed protect very well against dirt and grime. The feel of these gloves is great. You'd be convinced that you're wearing the softest cotton gloves, while the fabric lasts much longer and is easier to clean.
This is a set of gloves that won't cut off circulation, and they're sure to last you for years thanks to the durable composition. While not masculine at all, they're perfect for keeping in the kitchen, bathroom, cleaning cupboard, or for use in the garden. Just don't get them too wet — if you do, you'll be happy to know that they're ultra-quick drying as well.
Pros
Stylish and convenient
Extra-long gloves
Long-lasting easy to clean fabric
Super soft feel
Cons
No water resistance
Not suited to rough garden work
Final Verdict
All three options are fantastic for gardeners and anyone into light DIY. They're all nifty to have in the house in case of emergencies or spills as well. We recommend that you get a set of each. Put on your Atlas Gloves when you know that you're going to be getting muddy and dirty.
Switch to your set of Magic gloves when you're looking for comfort over a long period — working with power tools or garden equipment? These are your best bet. Finally, a good pair of Foxgloves will serve you well whenever you need a pair of gloves in a hurry for a few minutes.
Tell us about your favorite pair of garden gloves.
Leave a comment below!