The Back Saving Planting Tool Everyone Needs!
As an Amazon Associate and member of other affiliate programs, I earn from qualifying purchases.
Growing tomatoes is a very rewarding experience, but getting tomatoes planted can be a chore! Bending over, digging holes, and carrying plants can be a real strain on your body!
I totally understand that! Tomato growing is kind of our thing, and we have planted thousands of tomatoes by hand. And getting that many plants in the ground can be a dreaded task. When the work is done, our knees, backs, arms, and legs can be sore for days!!
Before we discovered the Stand-n-plant planter, planting even just 50 plants could take an hour or more of back-breaking work.
Every gardener wants a solution to this problem. We all love growing plants, but dread the hard work of getting them in the ground. Well, I have great news, because there is a solution and it's very affordable.
A few years ago we found a standing planter that cut our planting time down by hours!
And I'm really excited to tell you all about the incredible tool that changed planting hundreds of tomatoes from dreadful to no problem!


What we use is a tool called Stand 'n Plant planter, and it's made in Pennsylvania, USA. At about $100 with super fast and free shipping within the continental US, this tool is 100% worth the investment.
Easier Way To Plant Tomatoes!
We've been using the Stand-n-Plant standing planter for the last several seasons, and it sped up our planting process by hours! We are able to plant 50 tomatoes in 20 minutes or even less. It can be used for other kinds of plants as well, and we certainly do not limit its use to our tomatoes!
We love the product so much that I contacted the inventor, Francis Olliver, about writing this post about his product, and he agreed to send me a second one and allow me to try their seeder in exchange for my honest review on this blog.
Stand 'n Plant Planter
The planter is all metal construction with a bright red coating. It measures 34 inches tall and weighs about 6.5 pounds. At 5'3″ and with petite hands, I can still use this planter easily in our garden.
Other planters require two hands to operate, but the Stand 'n Plant has the distinct advantage of being operated with one hand while the other hand is free to handle your transplants.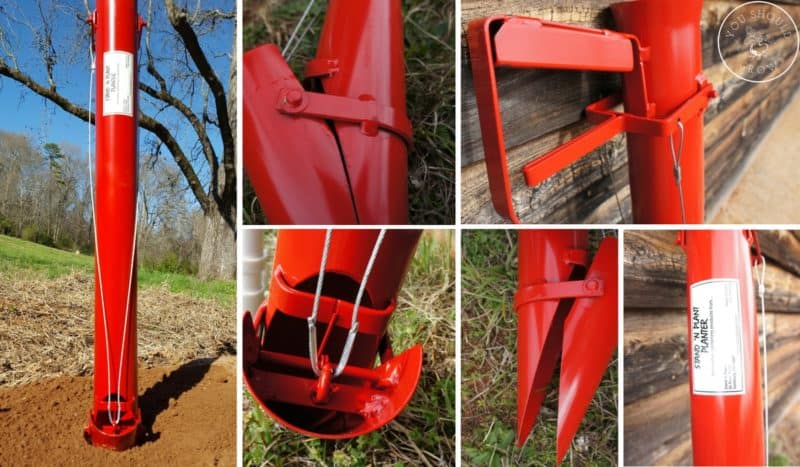 To use the planter, just stab the pointy end into the ground, drop your plant into the 2.75 inch tube, squeeze the handle to open and release the plant into the soil.
Remember to continue to squeeze as you pull up so you don't damage your plants.
We like to move quickly down the rows to put the plants in the ground, and then go through to backfill and press them in well. Or, if you're lucky, you can have a second person following behind to fill around the plants and press them into the soil.
This is a great task for getting the kids to help in the garden.
Here are some of our tips for planting tomatoes using the Stand 'n Plant planter
Make sure your plants are watered a few hours before planting. You want to make sure the roots are not dry when planting, but they also should not be soggy.
Hold your plants by the leaves and lower them into the Stand 'n Plant planter gently. Once the entire plant is in the tube, then let go of it. This will make sure that the leaves of your plant are not injured when dropped into the Stand 'n Plant tube.
Make sure to push the Stand 'n Plant into the soil as deep as you want it to go before you put the plant in the tube. Pay attention to the depth that you're planting your plants. Tomatoes don't mind having their stem buried, but many other plants don't appreciate that as much.
Squeeze and hold the trigger while you wiggle and pull the Stand 'n Plant planter out of the ground. This will ensure that the plant or its leaves are not stuck or squeezed in the tip of the tube.
Stand 'n Plant Seeder
I was really excited to try out the Stand 'n Plant seeder as well this year. What a super quick and easy way to seed the garden!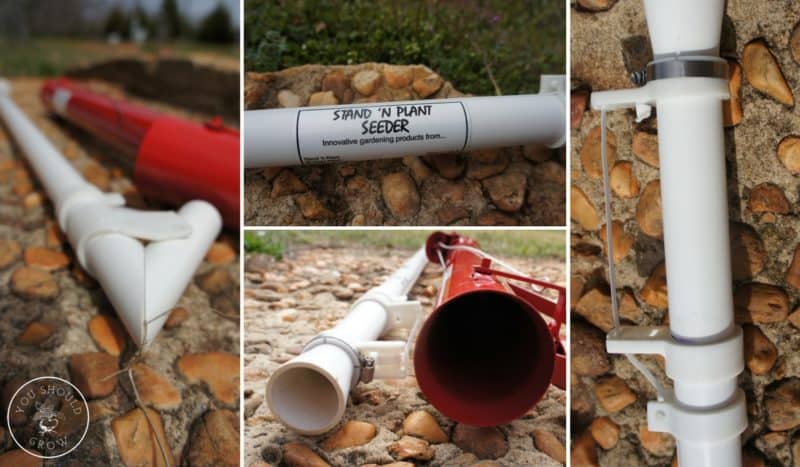 Simply drop the seed into the tube, stab into the soil, squeeze the trigger to release the seed into the soil, and move on! Amazingly fast and simple to use!
This standing seeder made quick work of planting rows of beans, corn, okra, squash, and watermelon. The PVC construction is very sturdy and lightweight. We were able to plant beans, okra, sunflowers, corn, melons, and squash in minutes.
I did find that the trigger, a plastic strap, stretches easily, but the tool still works exactly as it should and replacements are included.
I will definitely be using this tool every year to seed our garden. It's extremely useful for getting seeds in the ground quickly without the need for machinery, tractors, or kneeling.
I definitely recommend this as a great way to plant seeds in small and large gardens!
Have you tried the Stand 'n Plant tool?
Share your experience in the comments below.