Losing Produce To Blossom End Rot? Here's What To Do!
As an Amazon Associate and member of other affiliate programs, I earn from qualifying purchases.
Most vegetable gardeners have dealt with blossom end rot. It's a very frustrating problem to have. One day you're walking through your tomato patch admiring your first plump green tomatoes and suddenly you notice that some are developing a brown mushy bottom.
Tomato blossom end rot is most commonly seen on young plants and starts as a brown or black spot on the blossom end of the fruit. The spot will usually get larger and continue to rot if the fruit is allowed to remain on the plant.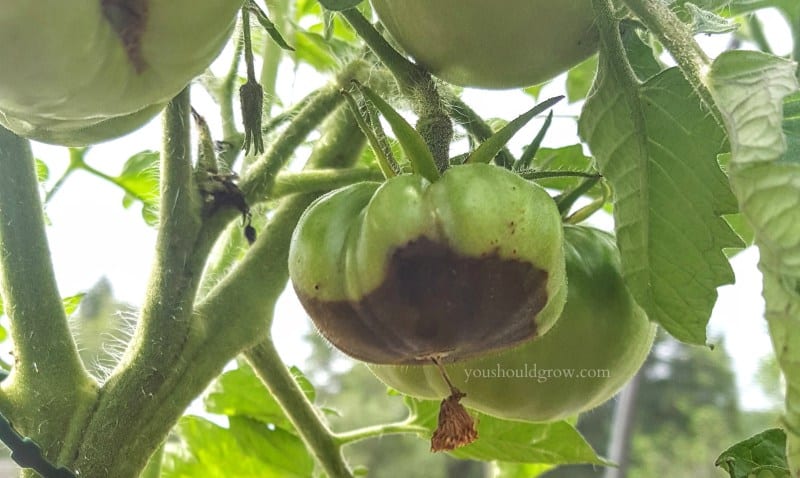 It's an environmental condition and it can happen to any variety of tomato although some tomatoes are more prone to struggle with the disease.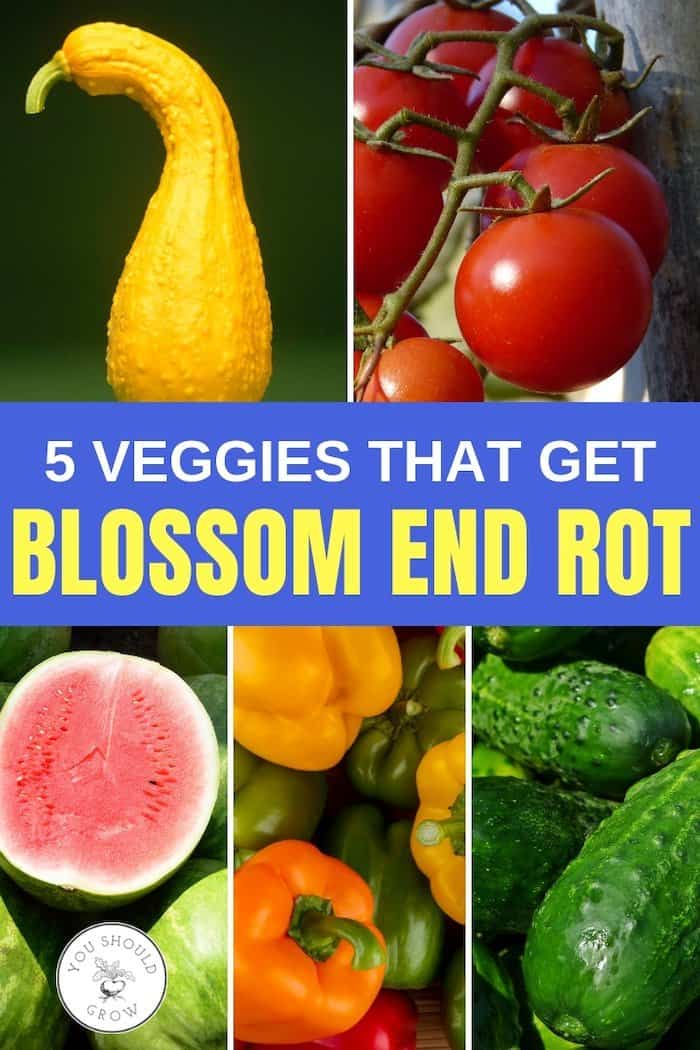 Blossom end rot can affect other types of vegetables
Blossom end rot is most often discussed in reference to tomatoes, but it can also affect peppers, squash, cucumbers, and watermelon.
What causes blossom end rot on tomatoes (and other veggies)?
Blossom end rot is a disorder of growing fruit that causes the cells at the blossom end of the fruit to die. The cellular death seems to be due to a lack of calcium within the affected cells.
The exact cause of the calcium deficiency in the affected cells is largely debated, but we do know that the disorder only affects rapidly growing fruit. Size of the fruit matters as well because cherry tomatoes are not affected by the problem.
Blossom end rot occurs during periods of rapid growth and can be induced by:
low calcium
low phosphorous
high magnesium
high nitrogen
high potassium
high salinity
drought
waterlogged roots
low humidity
too much light and heat on the growing fruit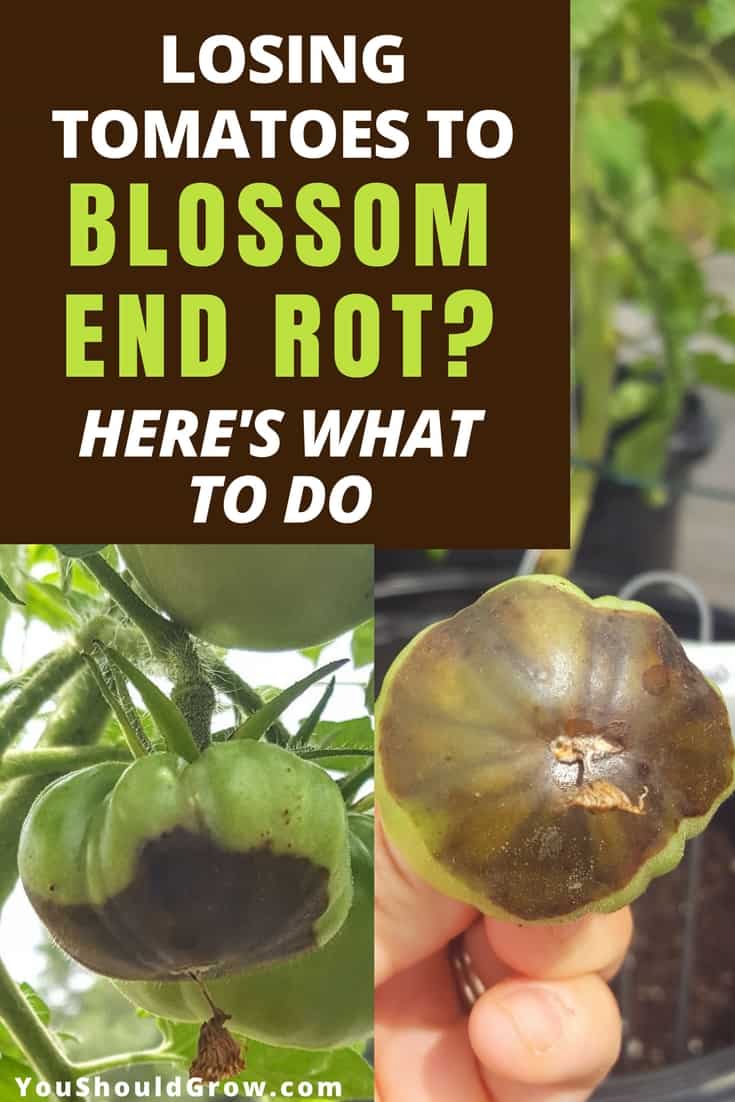 It's extremely disappointing, but also very common to lose tomatoes to blossom end rot. And if it's happening to you, don't worry. You didn't do anything wrong.
What to do about blossom end rot
At the point you see blossom end rot on your produce, there is nothing to do for that particular fruit. But you may be wondering if you need to treat the entire plant to prevent further tomatoes being affected by blossom end rot.
There are a lot of tips and suggestions for preventing blossom end rot on the web. Some of them are based in truth, and some are right out myths.
The truth is that blossom end rot is a complex process that is influenced by lots of environmental factors. So what has seemed to work for some gardeners will not necessarily work for other gardeners.
Common myths about treating blossom end rot
Heavily mulching with nutrient-rich compost and/or applying a calcium fertilizer will prevent BER
Some say that heavy mulching will protect your plants from the water stress which may lead to blossom end rot. It is true that blossom end rot can be caused by water stress, so preventing that with whatever means you choose can help.
However, unless you've had a soil test to confirm that your soil is deficient in calcium (which is usually not the case), adding calcium to the soil will not help prevent or treat blossom end rot.
In fact, some suggest that the addition of a lot of nutrients might encourage rapid growth which may lead to blossom end rot.
Planting tomatoes with Epsom salts and crushed eggshells ensures your plants won't get BER
This is one of those garden myths that has been passed down for generations, but the reality is that neither of these things will affect whether your plants get blossom end rot.
Epsom salts contain magnesium and sulfur. These are important nutrients for plants, so if your soil is deficient in magnesium and sulfur, then it will help your plants.
High magnesium can compete with calcium uptake in tomato roots. Because of that, too much Epsom salt can make blossom end rot on your tomatoes more likely, so be careful not to overdo it.
Read 5 Unbelievable Things Epsom Salt Does For Tomato Plants
Eggshells do contain calcium, but the calcium from the eggshells will not immediately be available for uptake by the plants. They'll take several months to be decomposed into the soil and become available to your vegetable plant.
Adding eggs and eggshells can improve the health of your soil over time but it's not an effective way to treat blossom end rot on your tomato plants.
Adding lime or dolomite lime to the soil helps control blossom end rot
It is true that lime can improve the quality of certain types of soil. Regular lime is also a source of calcium and dolomite lime additionally contains magnesium.
If your soil is acidic (pH is too low), the lime will also help neutralize the pH into a comfortable range for your plants. However, the effect can take several weeks to months, and you should always check the pH of your soil before adding lime.
If you get your soil pH too high, it can be hard to grow anything. It's super easy to find out the pH of your soil with a soil pH kit.
✔ The Luster Leaf Rapitest Soil Test Kit is inexpensive and has hundreds of positive reviews.
See it on Amazon
.
Here is some more information about testing the pH in your garden.
Blossom end rot sprays help treat and prevent BER
There is insufficient evidence to support that tomatoes can absorb calcium through the fruit or will transport calcium supplementation from the leaves to the fruit.
The problem is usually not a true lack of available calcium anyway. The problem is that the plant is sending available calcium to other parts of the plant and sacrificing the blossom end of your fruits.
So what should you do about blossom end rot?
We know for sure that stressful conditions can lead to blossom end rot, so your best bet is to make sure your tomato plants aren't stressed out.
One of the most important things to do is to make sure they have a regular supply of water. Water stress is a huge trigger for BER on tomatoes as well as other veggies.
Burying the stem as deep as possible, leaving only 2-3 sets of leaves above ground, will help establish a strong root system. And mulching the base of the plant at least 3 inches thick helps keep the soil moist and suppresses weeds.
Make sure that your plants are getting the nutrients they need as well. And be sure to check your soil's pH. The ideal soil pH for tomatoes is 6.5. If it's over 7 or under 6, your plants will have a hard time taking up nutrients from the soil.
But don't overdo it with the water or fertilizer, either.
Make sure that you are watering regularly, but not over-watering, and fertilizing appropriately, but not over fertilizing. Tomatoes like a high nitrogen fertilizer at planting and a phosphorous rich fertilizer when they start flowering.
Sound like too much to worry about? Well, the good news is you don't really have to worry about it.
Because blossom end rot will usually go away on its own.
Based on the current research, BER seems to be a condition that most plants will grow out of. So whether you try one of the blossom end rot treatments or not, your plants will likely recover with the next round of fruit.
And if you're really having a problem with BER, just know you're probably not doing anything wrong. There are some types of tomatoes that are more prone to blossom end rot.
We've certainly experienced years where we lost most of the tomatoes on some plants due to blossom end rot.
Among tomato nerds, it's well known that paste type tomatoes are more prone to BER. There are some blossom end rot resistant paste varieties, but even those can have some BER on their first fruits.
You could also try cherry and heart-shaped tomatoes as they almost never have trouble with end rot.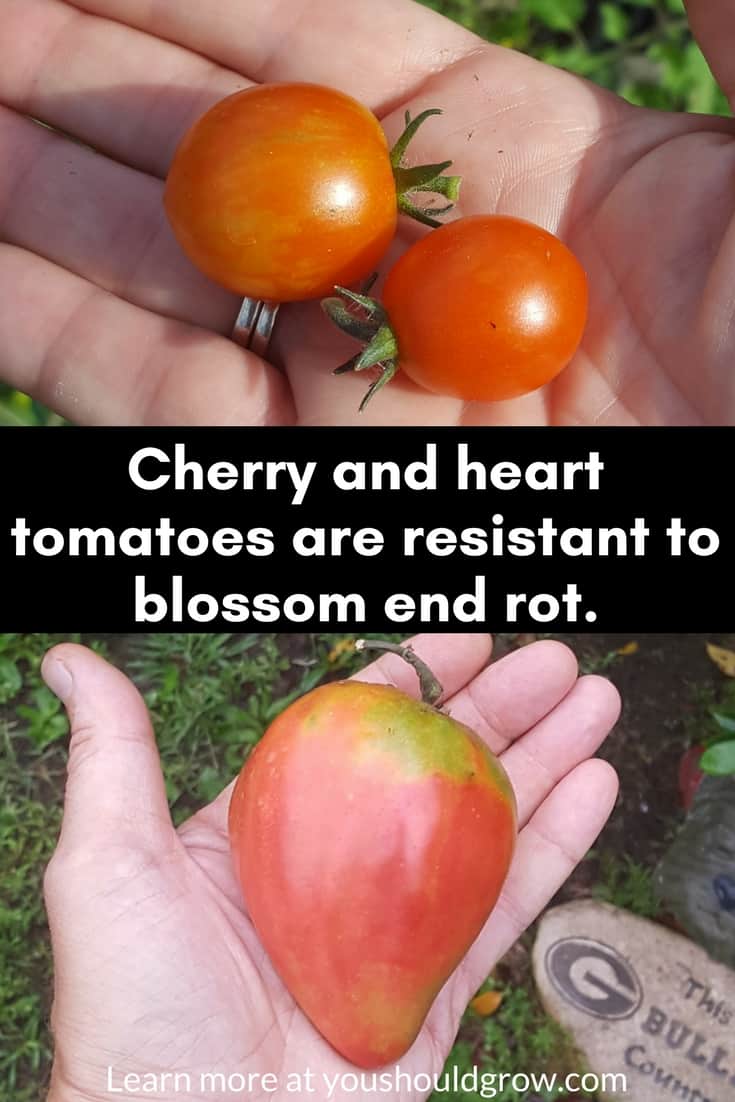 If you find that your veggie patch is plagued by blossom end rot this year, the first thing to do is check your watering schedule and get a soil test to make sure that your soil is within the appropriate pH range.
The next thing to do is pull off those mushy fruits and toss them into the compost or chicken pen. And take heart…
You didn't do anything wrong, and there's nothing you can do to fix it.
You can, however, avoid the problem by being mindful of how you take care of your plants and by planting more resistant tomato varieties.
Starting tomatoes from seed is something anyone can do, and you can find lots of options for tomato varieties in seed catalogs.
The last thing I'll say about BER is to make sure you're taking notes in your garden journal so you can avoid varieties that don't perform well for you. It would be a shame to waste another season on a type of tomato that just won't ever be happy in your garden.
What varieties of tomatoes have you grown that have been susceptible or resistant to BER?
Share your experience in the comments below!