20 Vertical Gardening Ideas: Grow More In Less Space
As an Amazon Associate and member of other affiliate programs, I earn from qualifying purchases.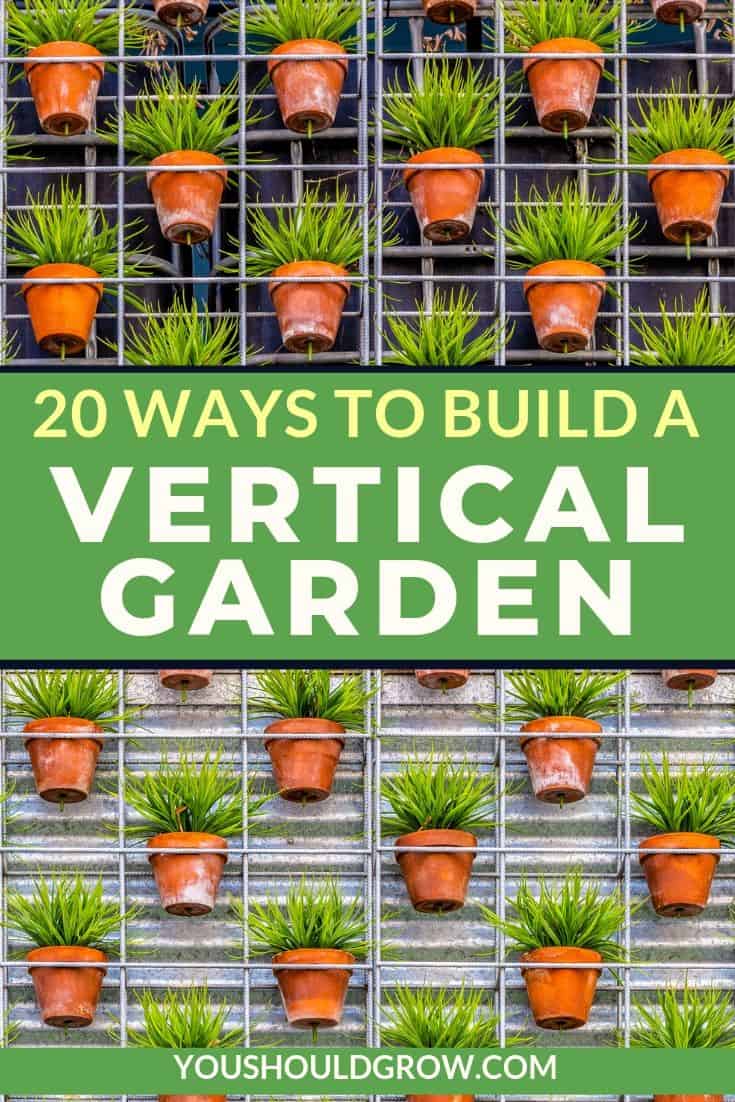 If you'd like to grow your own veggies but you don't have a lot of space, vertical gardening is one of the most practical solutions. It doesn't really matter what vegetable you want to grow, there's always a vertical garden design you can create.
Of course, when choosing the plants you should also consider the conditions you can provide (light, access to water, temperature….etc.) and select vegetables that will thrive in your garden.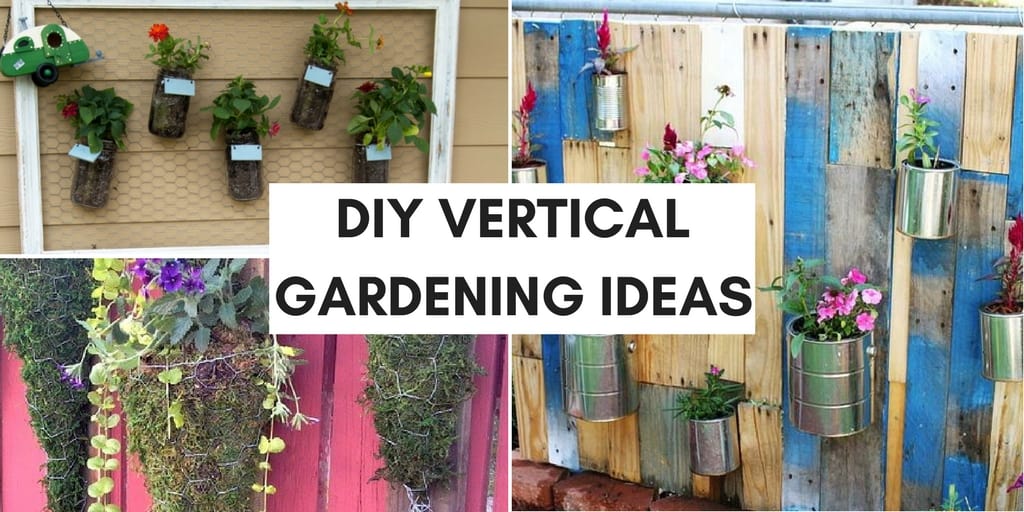 Vertical Gardening Ideas
To start your vertical garden, you'll first need to choose a sunny spot in your garden. Most vegetables prefer a minimum of 6 hours of sun. If your garden gets less than 6 hours of sun, you can still grow many herbs and some vegetables like lettuce and spinach.
Just like with container gardening, you want to choose the highest quality potting soil you can find. Organic is preferred especially when you're growing food.
As far as what you can use to erect your vertical planter, there is really no limit! Check out these amazing outdoor vertical ideas you can use as inspiration to make your own perfect vertical garden planter at home.
Don't forget to pin your favorite ideas to come back to later.
1. Vertical Garden DIY: Pallet + Paint Pales
Rachel has a great idea for creating a vertical garden in her yard. She used an old pallet and empty paint buckets to make a simple and cheap vertical garden for her yard.
Place this vertical garden in a location that gets at least 6 hours of sunlight and grow your favorite herbs like basil, thyme, oregano, and mint. Learn more about this project at A Beautiful Mess.
2. DIY Galvanized Wire & Buckets Vertical Garden
This is a really cool idea from Heathered Nest. Dave and Heather built a diy hanging garden to create a living screen on the edge of their porch.
I love that their idea is totally customizable to fit your space. Make sure you drill a hole or two in the bottom of your bucket for drainage, and plant in your favorite flowers, herbs, even strawberries.
I love how she used inexpensive wooden spoons for garden markers! Here are 35 more ideas for vegetable garden markers I think you'll like.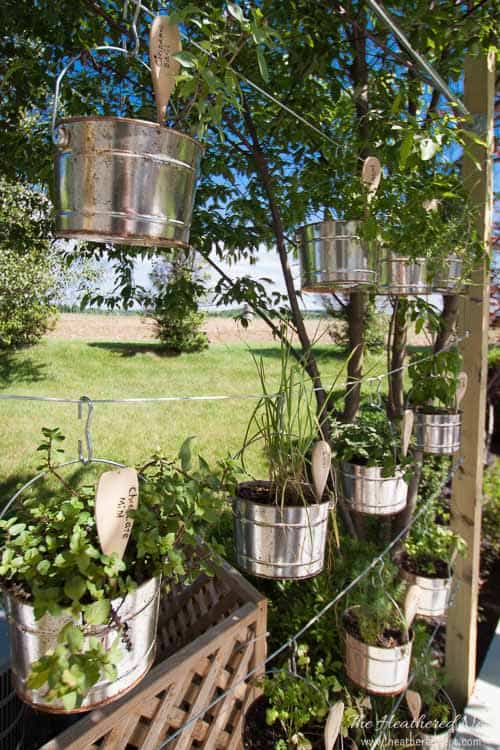 3. Vertical Garden DIY Using An Old Ladder
If you have a front porch that needs an update, then here's an easy way to make a vertical garden that is perfect for a porch! I think I will have to do something like this at my house!
Rachel at Shades Of Blue Interiors has simple instructions that anyone can follow to create your own ladder garden. This would be perfect for an easy diy vertical herb garden. I can imagine it planted with lemongrass, citronella, and marigolds to help repel mosquitoes on your porch.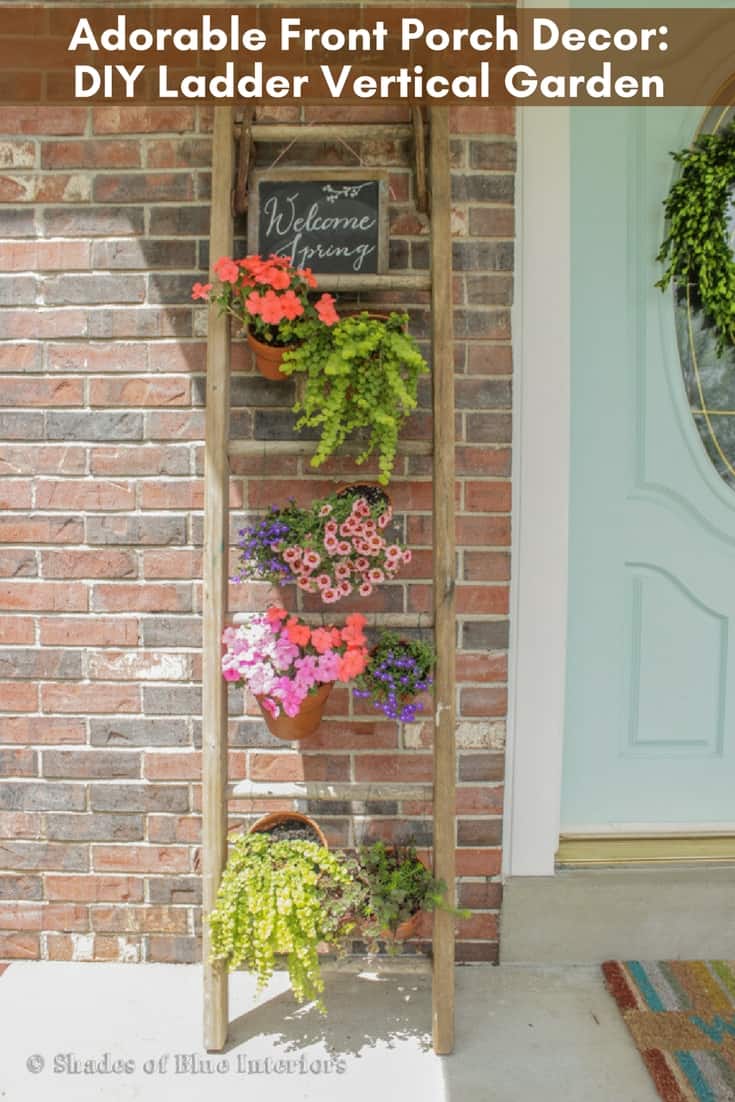 4. DIY Wall Garden With Moveable Planters
If you are looking for beauty and functionality, then this living wall is the solution. The larger size planters on this freestanding vertical garden are perfect for lettuce, herbs, even cabbage, kale, and strawberries.
Learn how to build a vertical garden wall at Oleander And Palm.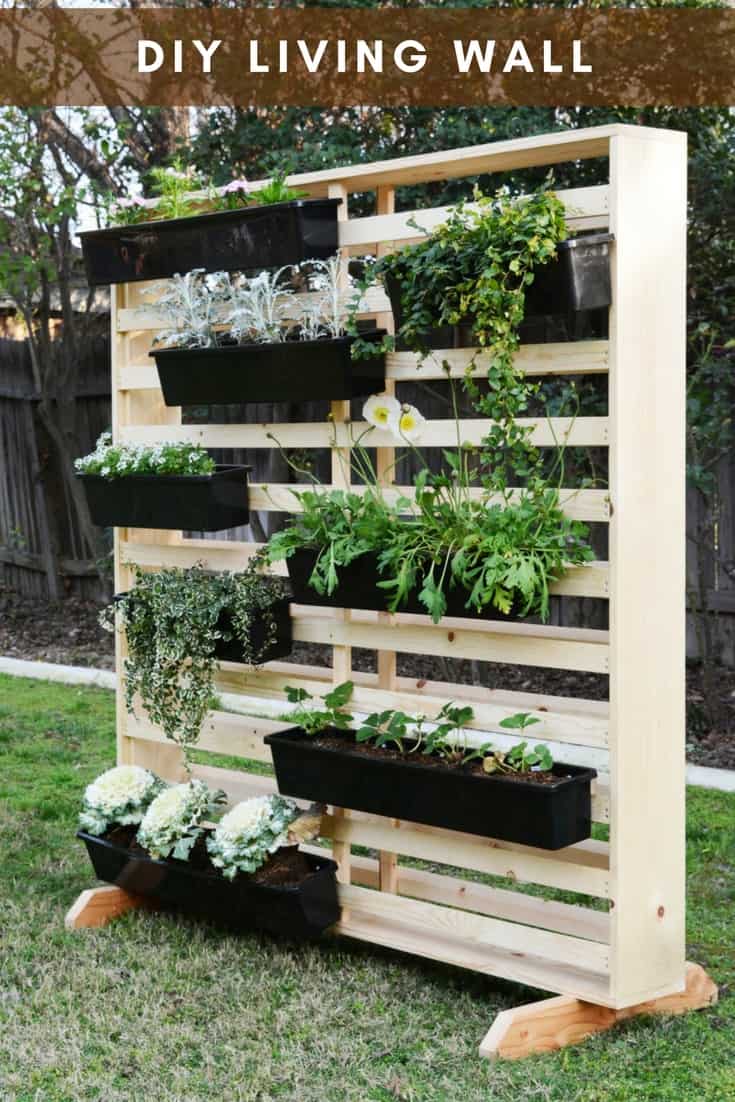 5. Modern Grid Trellis From Garden Stakes
Add a modern touch to your vegetable garden with this grid trellis made from garden stakes. It would be the perfect stylish support for pole beans, peas, or cucumbers. Get these vertical garden plans at Francois Et Moi.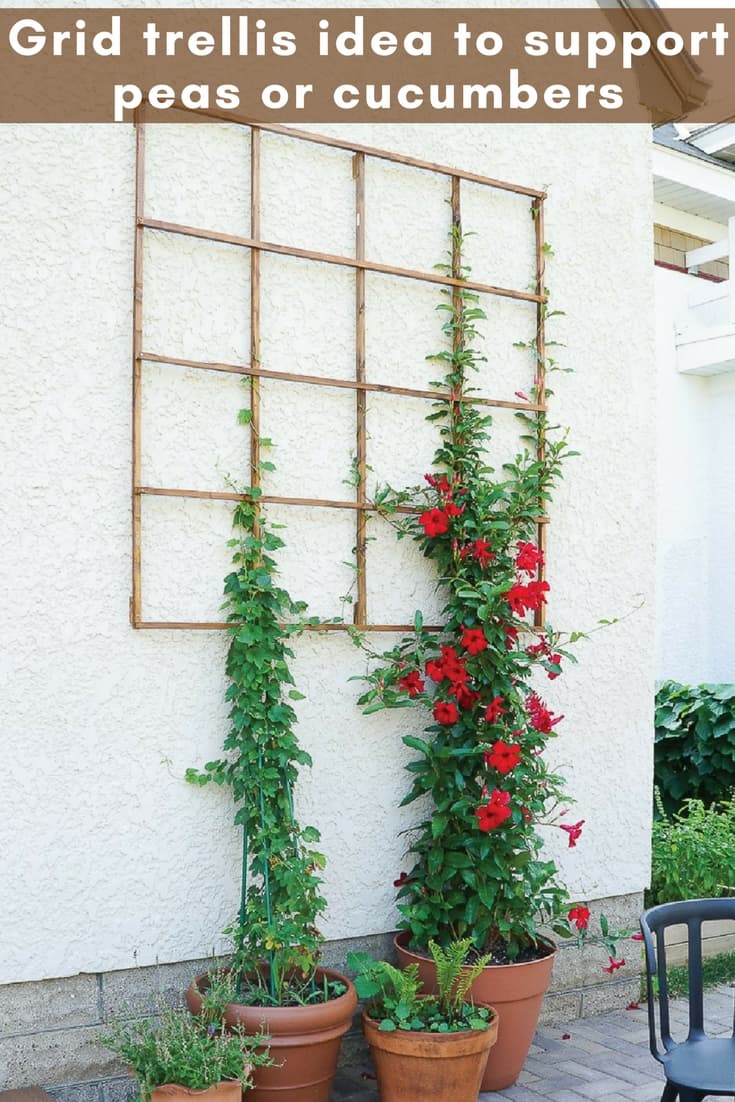 6. Chicken Wire Planter On Pallet Wood
This is a great vertical planter DIY from stowandtellu.com! Amy creates a beautiful vertical garden planters from chicken wire and pallet wood. The end result is just beautiful!
I think strawberries and mint would be nice in these, or get crazy and try a sweet potato plant in these!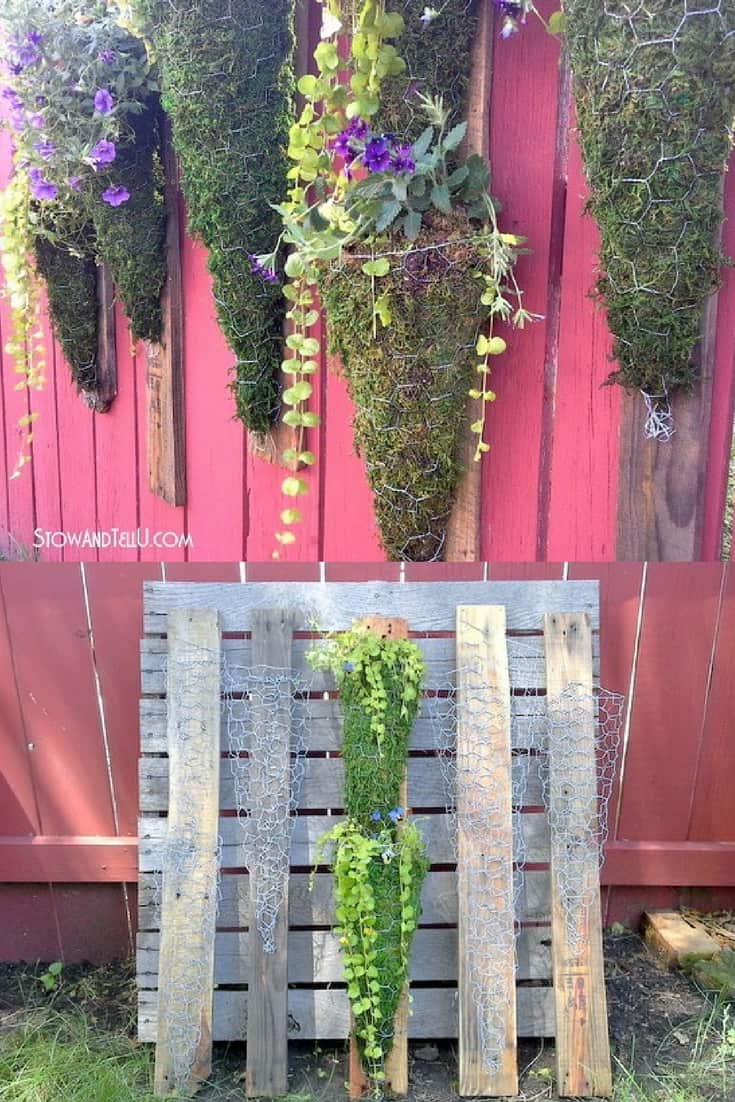 7. DIY Vertical Garden Pallet Planter
Pallets lend themselves naturally to DIY vertical gardening projects, and this idea from Ruffled Blog is a creative use of an old pallet. I've seen vertical pallet planters like this dressed up with chalkboard paint to label plants.
I love this vertical planter idea for greens like lettuce, spinach, or invasive herbs like mint.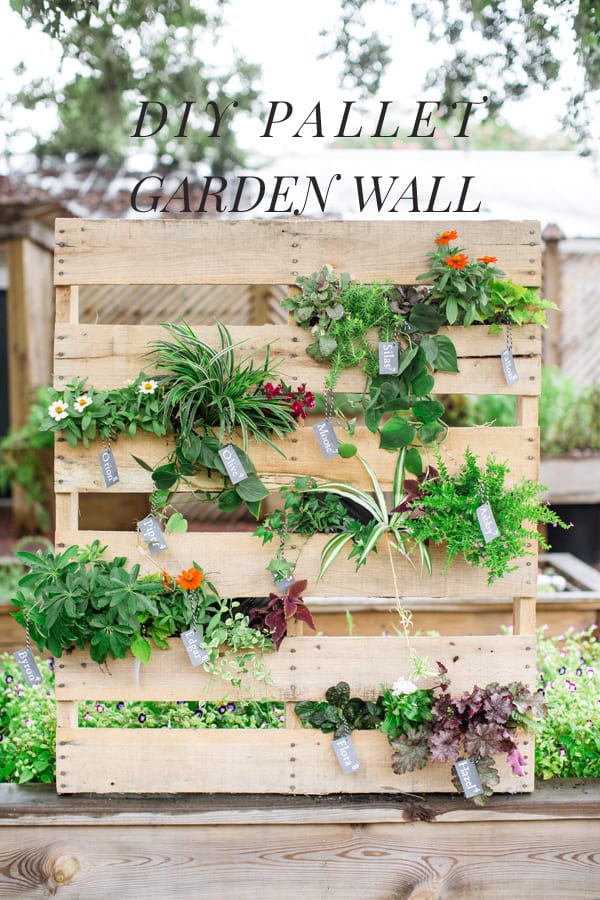 8. Vertical Balcony Garden
If you're short on space, then this DIY vertical planter project is what you need. Using mostly upcycled materials, Brittany at bybrittanygoldwyn.com created a planter that is perfect for small spaces.
I love how she filled it out with herbs, and you could add in some dwarf tomatoes and strawberries in the lower planter.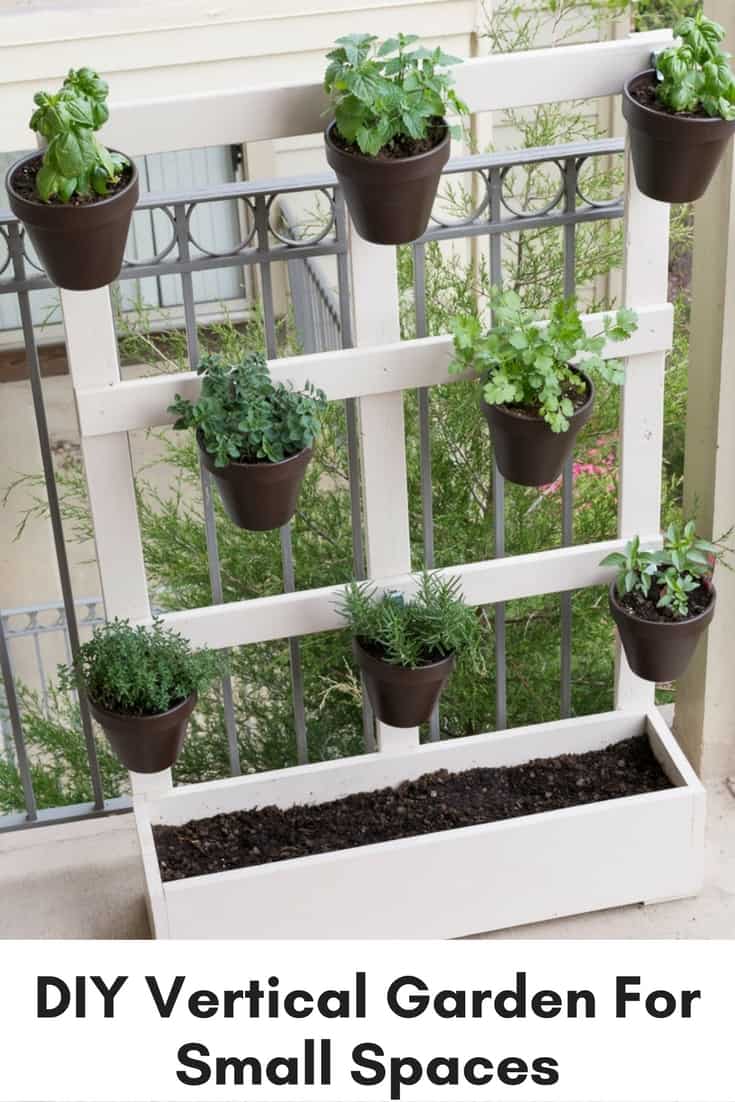 9. How To Build A Vertical Planter
This project gives you tons of gardening space. You can practically plant anything your heart desires in these vertical garden planters from Jamie at Creating Really Awesome Fun Things.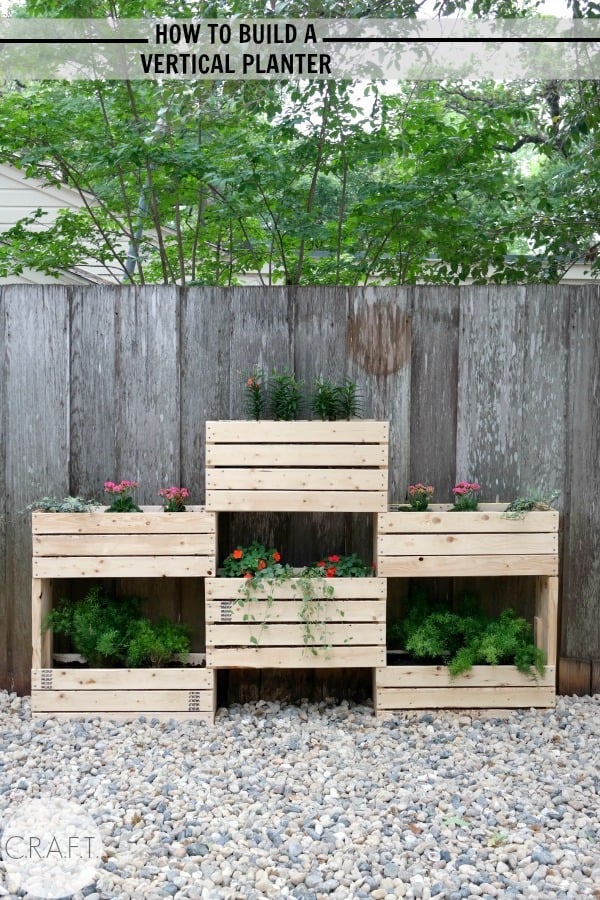 10. PVC Pipe Vertical Garden
If you want to try something really unique, give this PVC vertical garden planter from The Kim Six Fix a try. Just keep in mind that these planters are very small. So stick to herbs like oregano and thyme and some lettuce.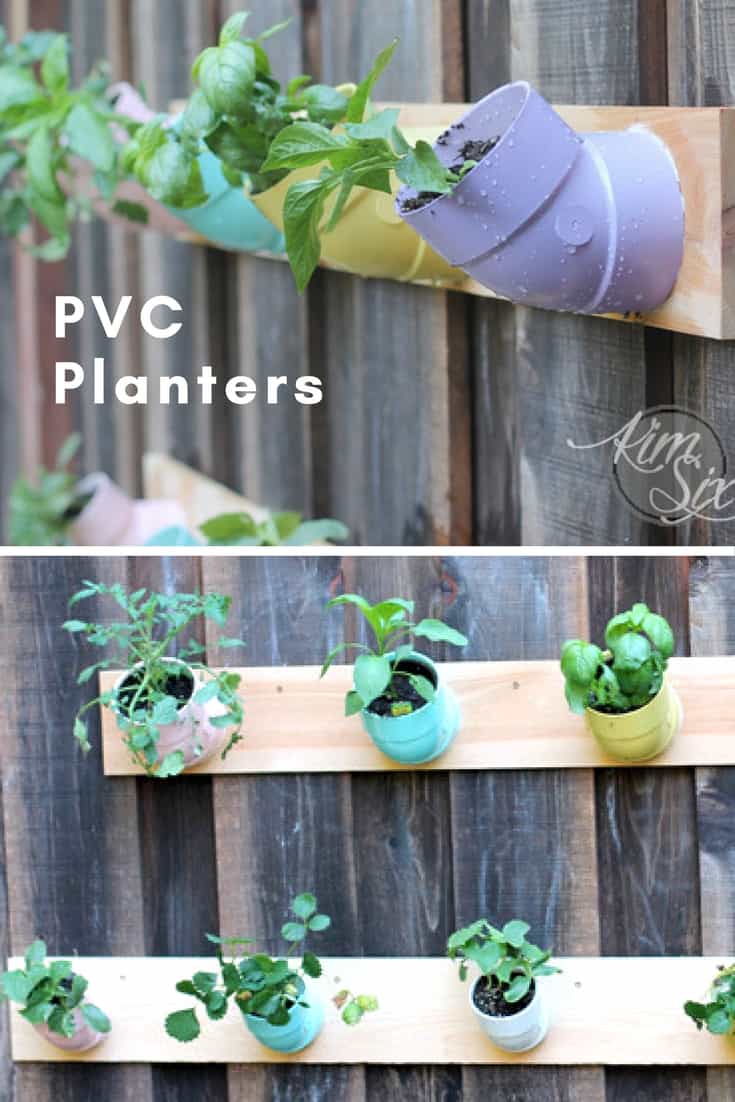 11. Beautiful Cedar Wall Planter
Learn how you can make this gorgeous vertical garden planter from cedar planks at Rogue Engineer. This planter looks so professional, but you can make it yourself at home.
The large planting space makes this planter perfect for growing things like basil, strawberries, even cabbage or broccolini.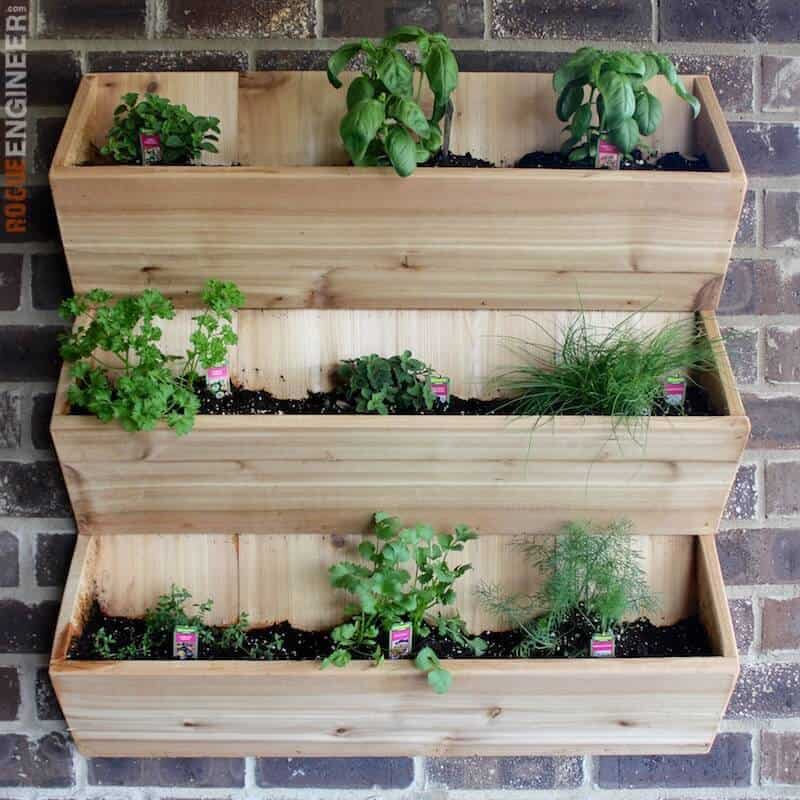 12. Vertical Garden Made From A Door
This kitchen herb garden from infarrantlycreative.net is so cute! Rebecca did a great job filling this vertical planter with her favorite herbs and greens.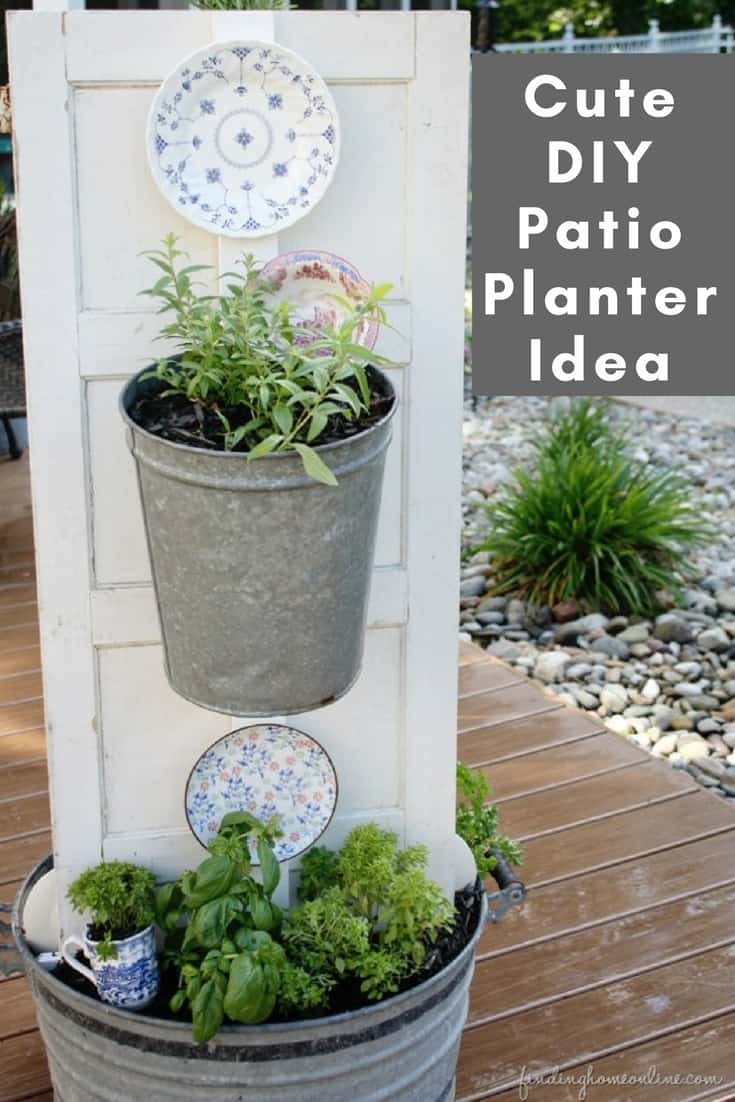 13. Painted Wood Pallet Planter
This painted pallet would make a pretty addition to your garden even without the plants! Using the larger size terra cotta pots, you can easily grow peppers, dwarf tomatoes, broccoli or cauliflower in this DIY vertical garden wall.
Learn how Claire created this planter at pillarboxblue.com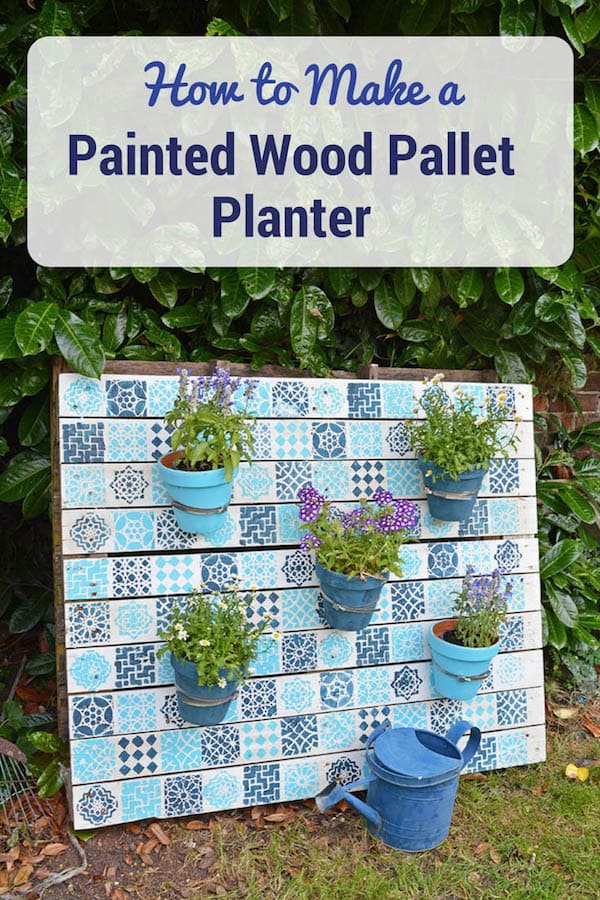 14. Hanging Gutter Planter And Stand
You'll love this hanging gutter planter from Her Tool Belt. I think this would be just perfect for a porch or patio growing chives, oregano, or strawberries.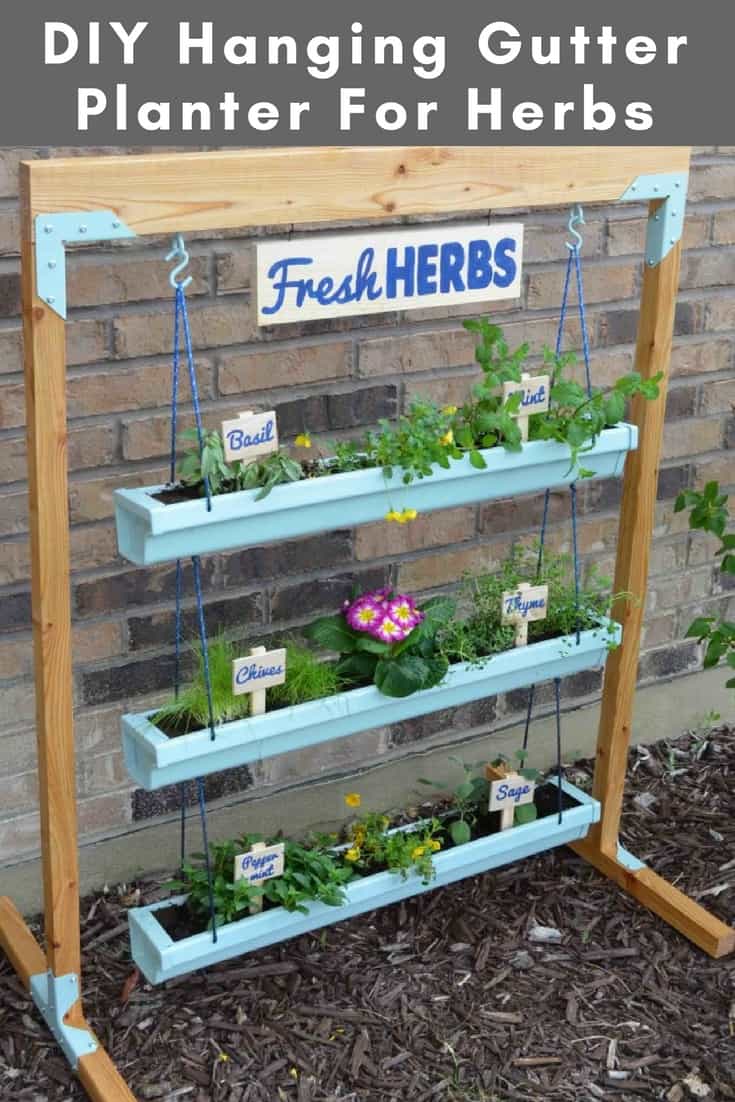 15. Mason Jar Wall Garden
How precious is this vertical garden diy project? If you're looking to create a small herb garden, then take a look at this mason jar vertical garden from Amber at kleinworthco.com
Choose plants that can grow in a small space like chives, thyme, and oregano.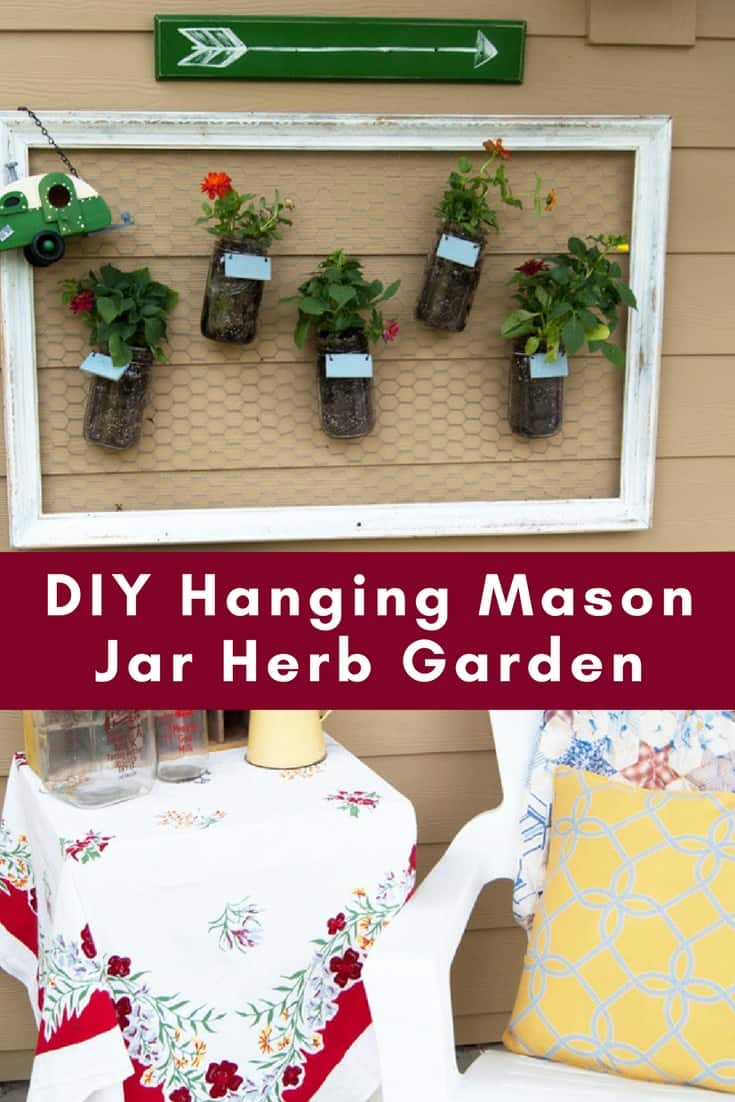 16. Vertical Pallet Herb Garden
Here's another way to use pallets to make a vertical garden. This time, Jen from Pink When created a free-standing planter that holds terra cotta planters.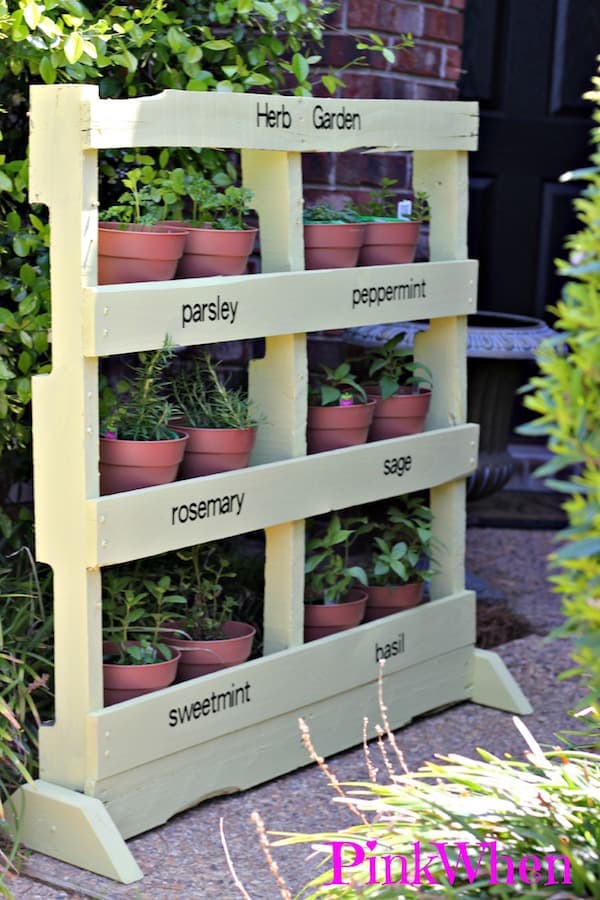 17. DIY Stair-Step Vertical Garden
If you have a little more space, try making this stair step design from Helpful Homemade.
You will be able to plant lots of vegetables and herbs in these planters. Try planting some peppers and spinach or even some root veggies like carrots and beets.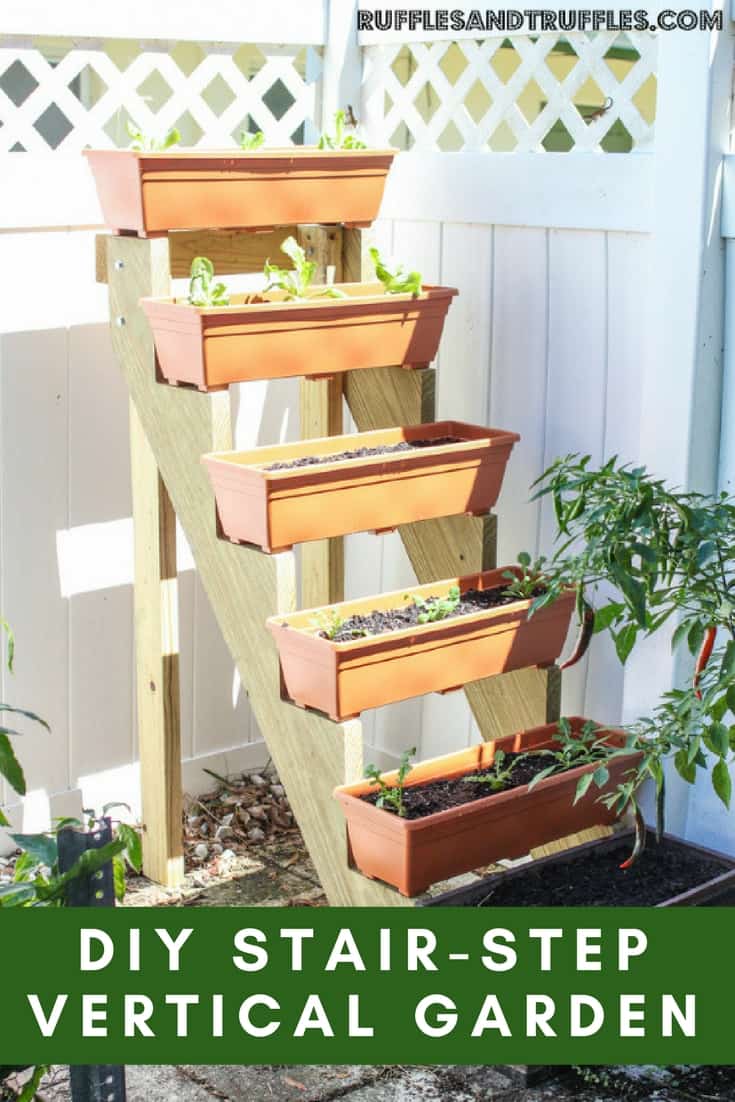 18. Vertical Herb Garden From Hanging File Organizer
This idea from inspiredbycharm.com is a great way to repurpose a hanging file organizer. I've seen similar hanging organizers on Amazon and always loved the look. This is such a clever idea.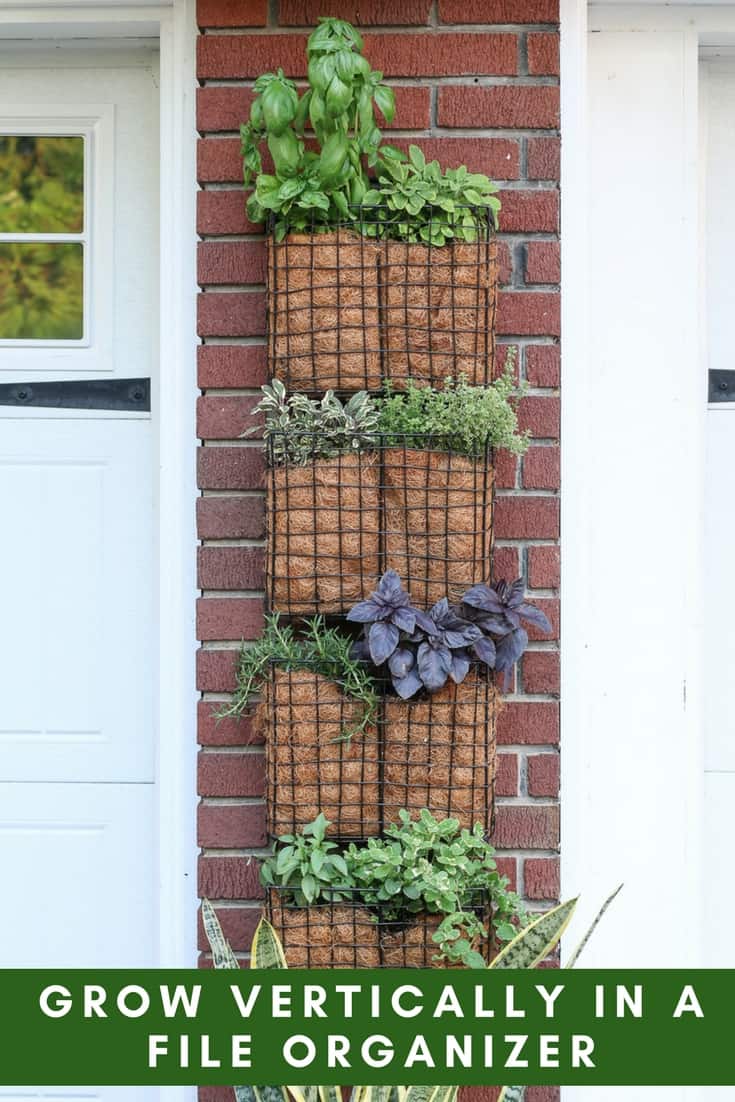 19. DIY Garden Planter Tower
If you love to DIY then this is the vertical garden project for you! Impress your friends by filling this planter with strawberries, chives, oregano, thyme, lettuce, and rainbow chard.
Get full DIY instructions at Remove And Replace.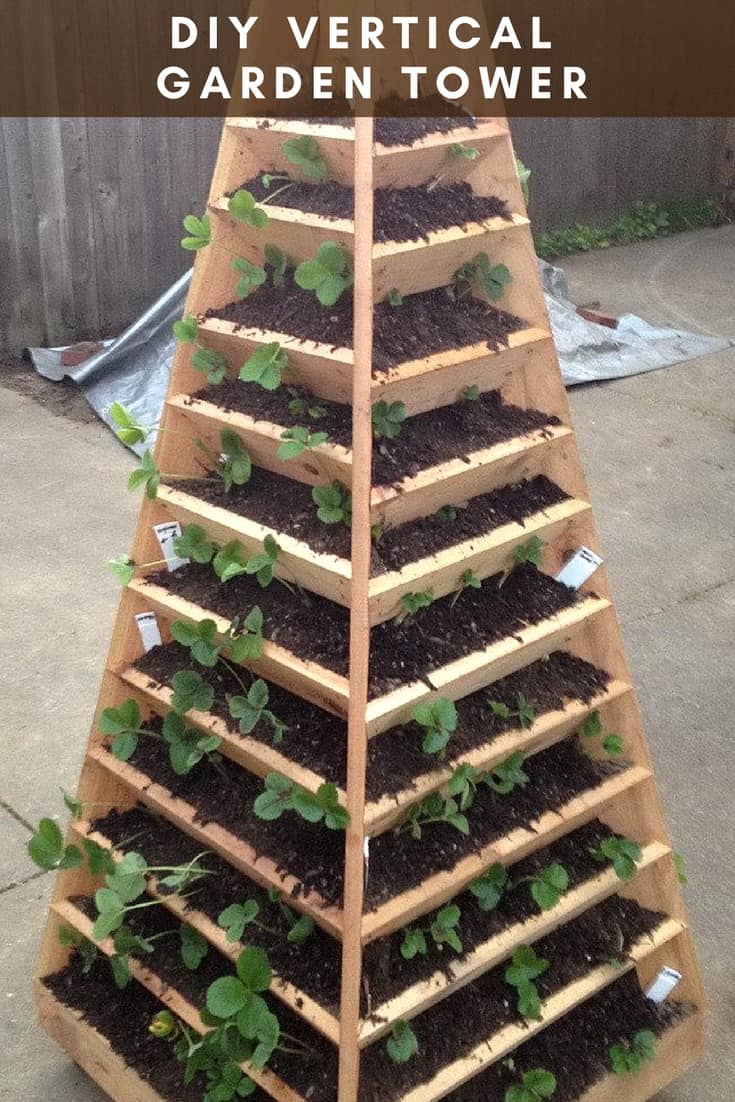 20. Cedar Ladder Planter
Follow the plans at Ana-White.com to build this ladder planter. You'll get plenty of growing space for dwarf tomatoes, peppers, and brassicas like broccoli and cauliflower in this design. Fill in between plants with lettuce, onion chives, and spinach.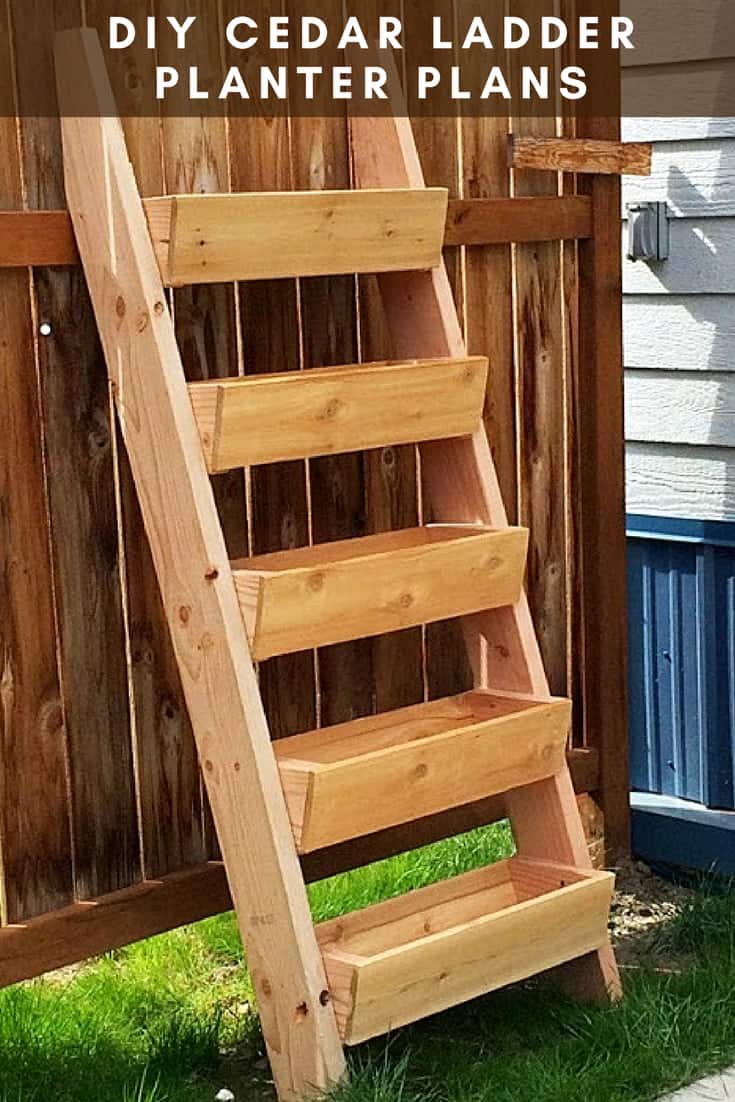 Have you ever tried a vertical garden?
I hope you liked all these DIY vertical gardens, and if you have another idea, I'd love to hear about it!
Please share your experience in the comments below!