Hearty Slow Cooker Chicken Soup With Butternut Squash & Quinoa
As an Amazon Associate and member of other affiliate programs, I earn from qualifying purchases.
I'm not a great chef, but one thing I can do is throw some food into the crockpot! So when a friend gave me this recipe for a hearty slow cooker chicken soup with butternut squash and quinoa, I knew I was going to have to make it right away!
Plus, I'm a big fan of anything with butternut squash in it! It has a slightly sweet squashy flavor that goes well in both sweet and savory dishes making it a very versatile veggie to grow on the homestead.
Easy and healthy recipes like this slow cooker chicken soup are perfect to toss in the crockpot before work so you can come home to a delicious supper that's ready to serve!
If you don't own a slow cooker or are looking for a new one, consider this Crockpot with stoneware insert that can be used on your electric or gas stove-top. That's pretty cool!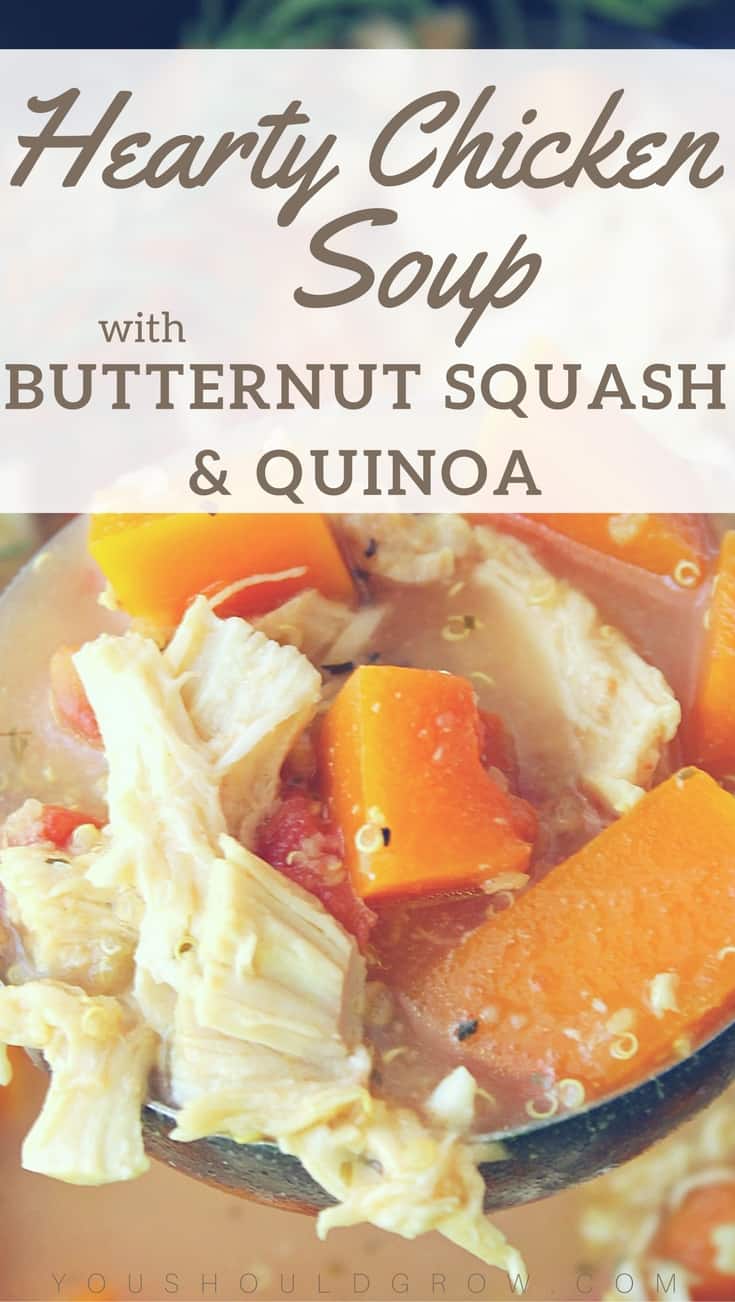 This hearty soup is perfect for cool fall days. The sweetness of the butternut squash pairs perfectly with curry to create a warm fall flavor, and this soup has a nice little kick of heat from the cayenne and red pepper flakes.
Quinoa is a naturally gluten-free ancient grain that adds fiber and protein to this satisfying soup. There isn't much in this soup recipe which makes it low carb, and you can leave out the butter for a healthier low-fat version.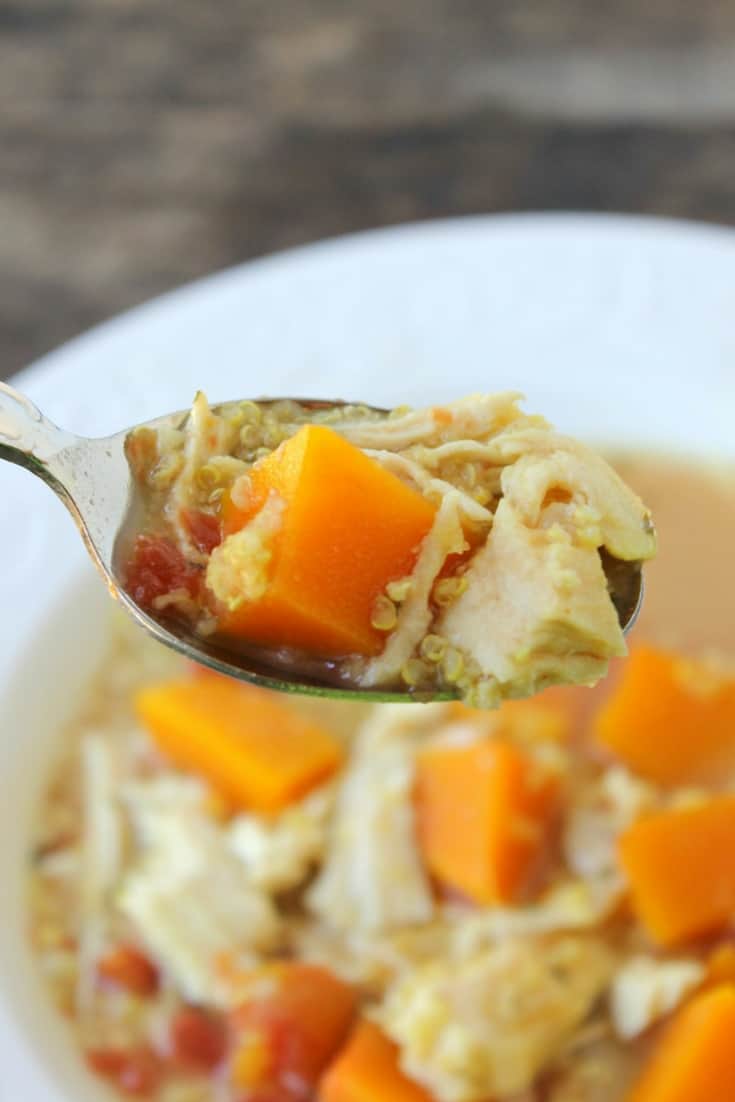 Cut up your squash the night before to make this even simpler for you in the morning.
If you don't like quinoa, you might try some wild rice. And the chicken could be replaced with turkey if that's what you have on hand.
How to make this comforting slow cooker chicken soup with butternut squash and quinoa.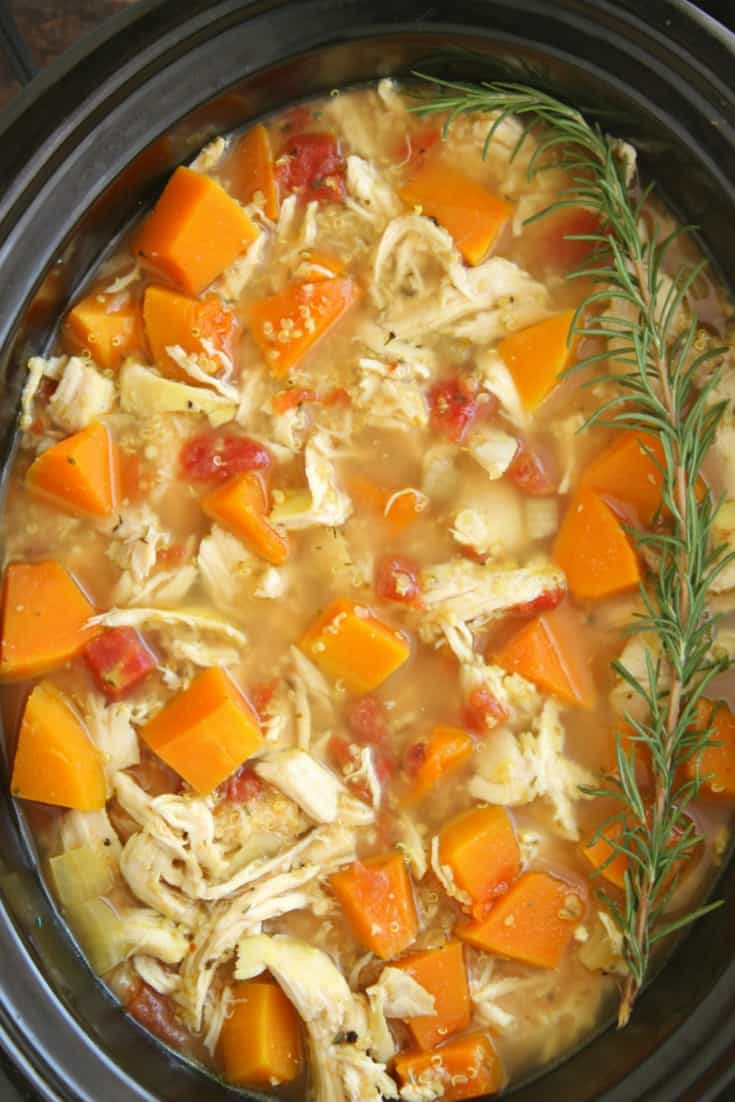 Ingredients:
1 medium onion, chopped
3 garlic cloves, minced
4 tbsp butter (optional)
4 skinless, boneless chicken breasts
1 butternut squash, peeled and cubed (about 6 cups)
14 ounces (1¾ cups) diced tomatoes, fresh or canned
7 cups broth (chicken or vegetable)
2 teaspoons oregano
2 teaspoons dried parsley
2 teaspoons curry powder
½ teaspoon red chili flakes
½ teaspoon cayenne pepper
1 teaspoon salt
freshly ground black pepper to taste
1 cup quinoa
Directions:
Place chicken breast in the bottom of the slow cooker. Add all other ingredients on top of the chicken and cook on high for 3-4 hours or 7-8 hours on low.
When finished cooking, take out chicken breasts and shred. Return shredded chicken to the soup and give it a good stir.
That's it! Now just serve and enjoy!
[mailerlite_form form_id=5]