21 Of The Cutest Healthy Halloween Treats
As an Amazon Associate and member of other affiliate programs, I earn from qualifying purchases.
If you're looking for some fun ideas for healthy Halloween food ideas for kids parties, then you've come to the right place. In this post, I've collected 21 healthy Halloween treats that won't disappoint!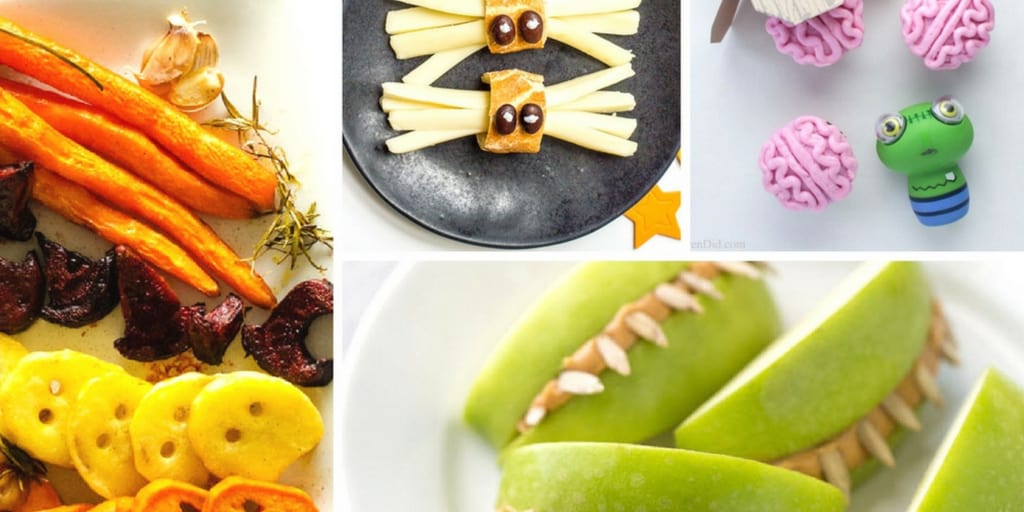 Halloween is the time for wearing crazy costumes and eating all sorts of sugary treats! Unfortunately, a lot of those treats are also full of coloring and other unhealthy chemicals.
Try these healthy Halloween treats
You can easily make healthy Halloween snacks for kids with these ideas! In fact, all of these creepy and creative Halloween treats use whole food ingredients. And they're just as fun and yummy as other less-healthy options.
If you're trying to diet or practice clean eating, Halloween treats are certainly a big temptation. With all the candy being shoved in your face it's hard to avoid eating a bite or two, but it's totally possible to stay on track with your healthy eating goals.
You might also like: Eco-Friendly Halloween Tips
I have some super cute and surprisingly healthy Halloween food ideas for you…Because clean eating doesn't have to be boring!
And while Halloween treats are usually full of artificial coloring, these healthy options use the natural color of whole foods as Mother Nature created them.
Plus, all of these creative Halloween food recipes are kid friendly and will be a hit at your Halloween party!
Here are 21 Healthy Halloween Food Ideas For Kids
I love the idea of using beets for the gorgeous color of these All-Natural Zombie Brain Cupcakes from Bren Did.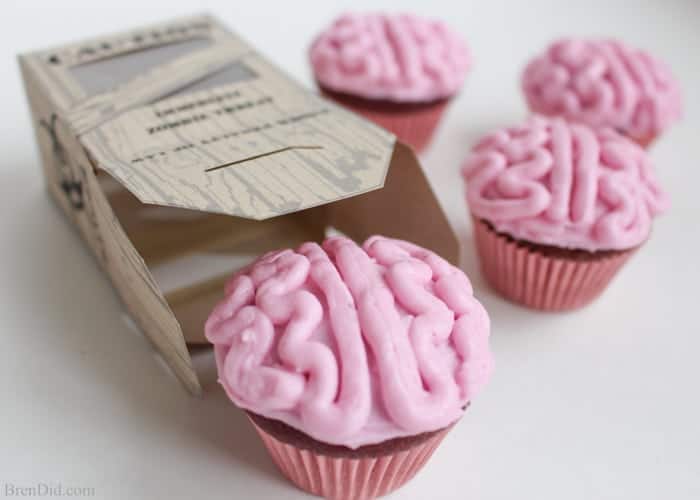 Try these moist, chocolatey, and spooky Halloween monster witch cakes from Neurotic Mommy.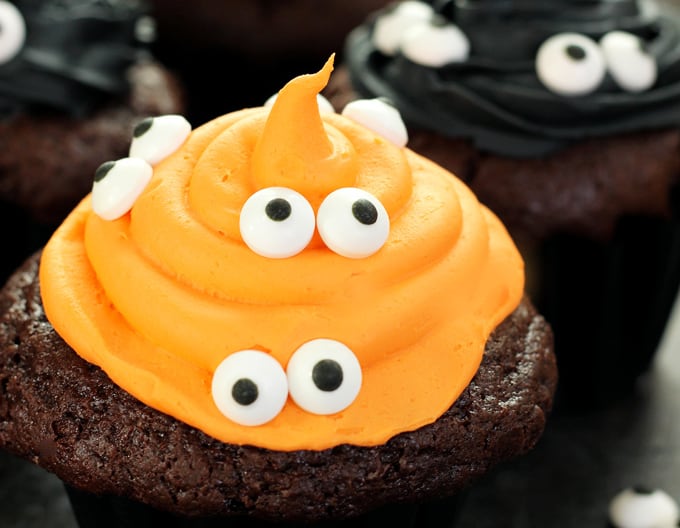 Peanut butter and honey make a great combo in these healthy Halloween bat energy bites from Chelsea's Messy Apron.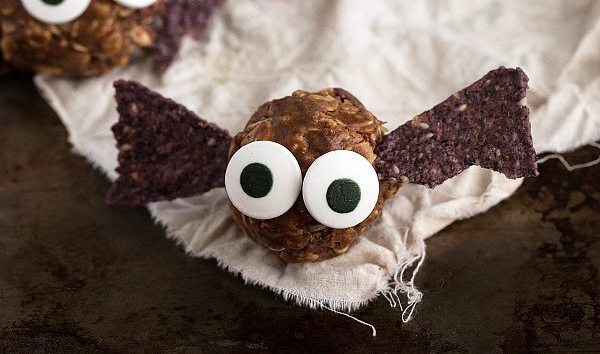 These raw chocolate Black Cat Cake Pops from Fork&Beans are just too cute!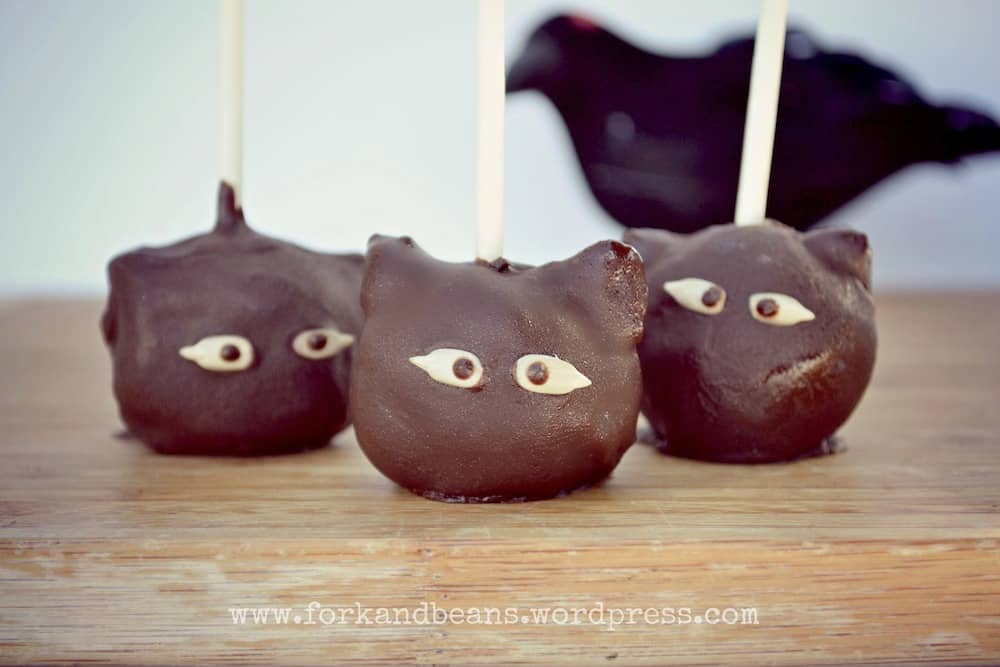 Need a last minute healthy option? Here are some super simple Halloween food ideas for kids from Thirty Hand Made Days.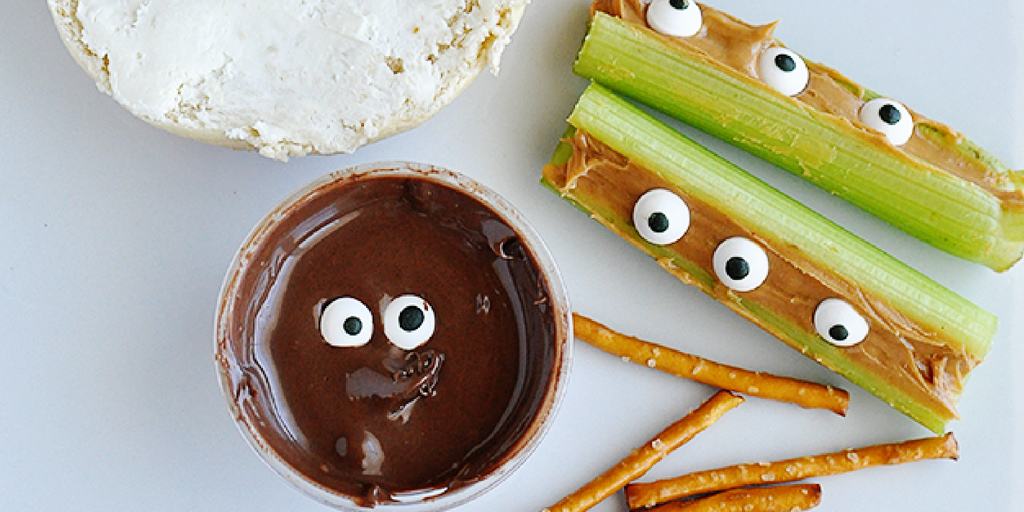 Check out these simple but creative healthy Halloween spider snacks from Family Food on the Table.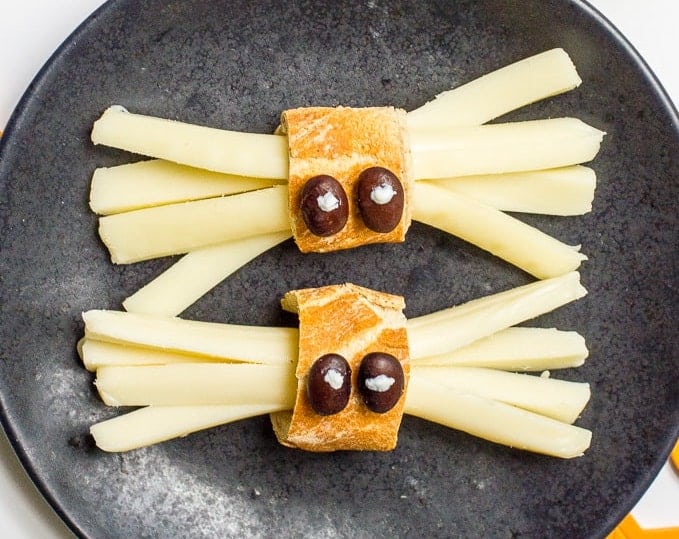 Healthy Halloween Treats With Vegetables
Here's a video showing you how to make some easy fruit and vegetable Halloween snacks from Meaningful Eats.
Sneak in some festive Halloween themed vegetables with this roasted veggie recipe from Live, Eat, Learn.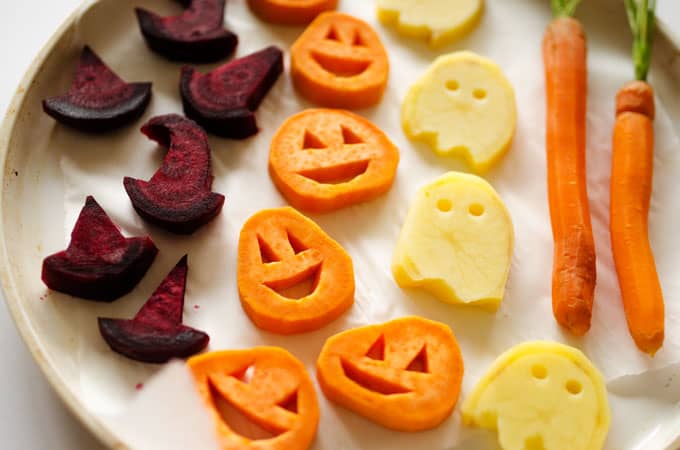 Snap peas and almond slivers make fun Goblin Grins from Snixy Kitchen.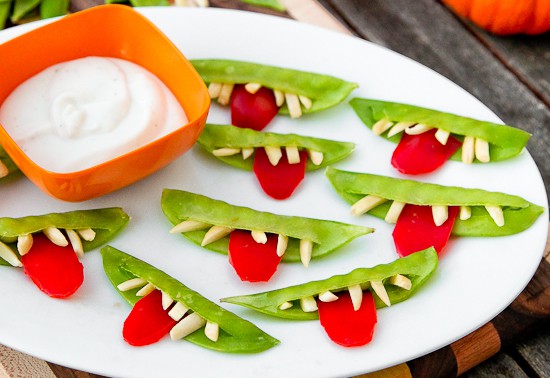 The purple and orange colors along with adorable cucumber jack o'lantern faces make a super cute healthy Halloween pasta salad. Recipe from Smile Sandwich.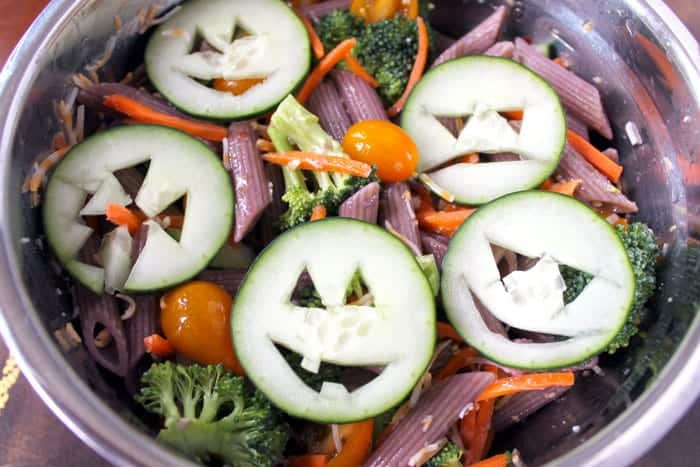 Make your own healthy Halloween gummy treats. Here's a video tutorial from Green Healthy Cooking.
Looking for a vegan Halloween treat? Make these purple sweet potato monsters! Recipe from Healthy Slow Cooking.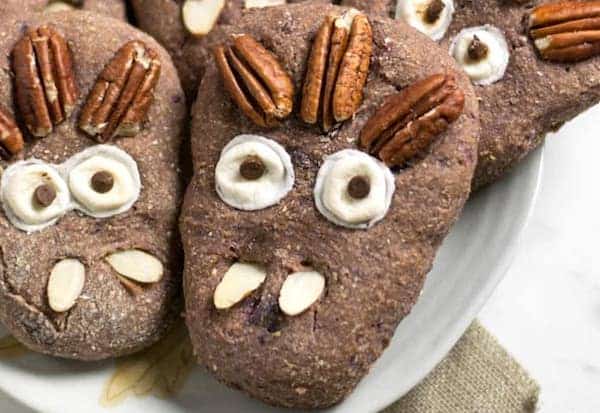 If you need a fun healthy Halloween dinner recipe, try these stuffed pepper jack o'lanterns from One Little Project.

Healthy Halloween Treats From Fruit
Here's a Halloween fruit treat idea that kids can make for themselves! Learn more at Sugar, Spice, and Glitter.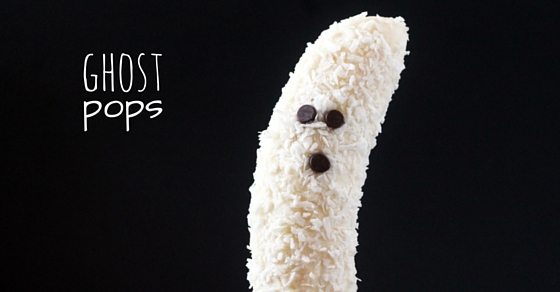 This is a clever use of fruit to make healthy gummy eyeballs! Recipe from Oh The Things We'll Make.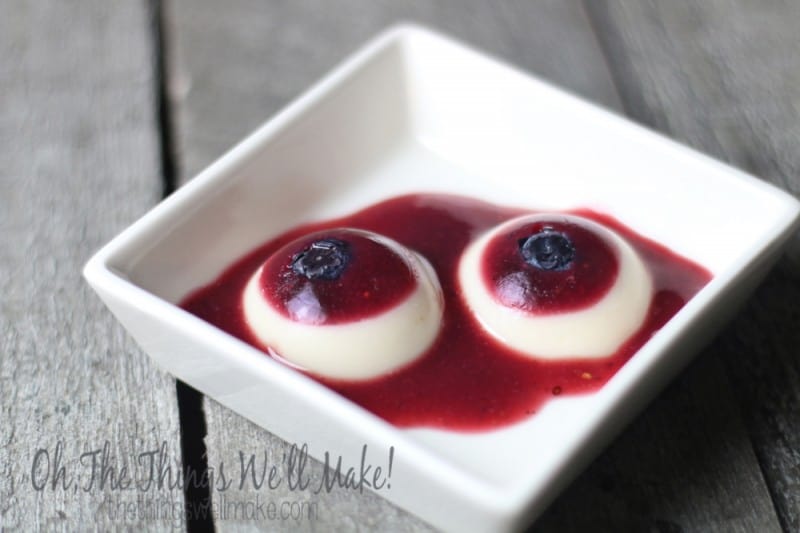 Make a Halloween fruit Frankenstein! Watch this quick video from Pink When to learn how.
Here's a simply spooky fruit salad recipe with haunted honey dressing from Paper-And-Glue.com.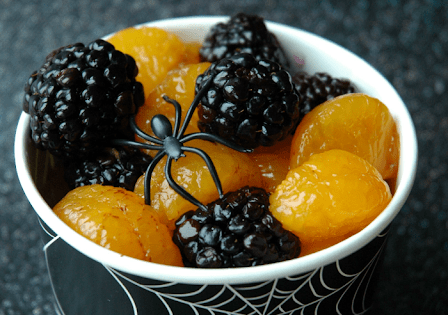 Try these easy yogurt-dipped Halloween banana popsicles from Well Plated.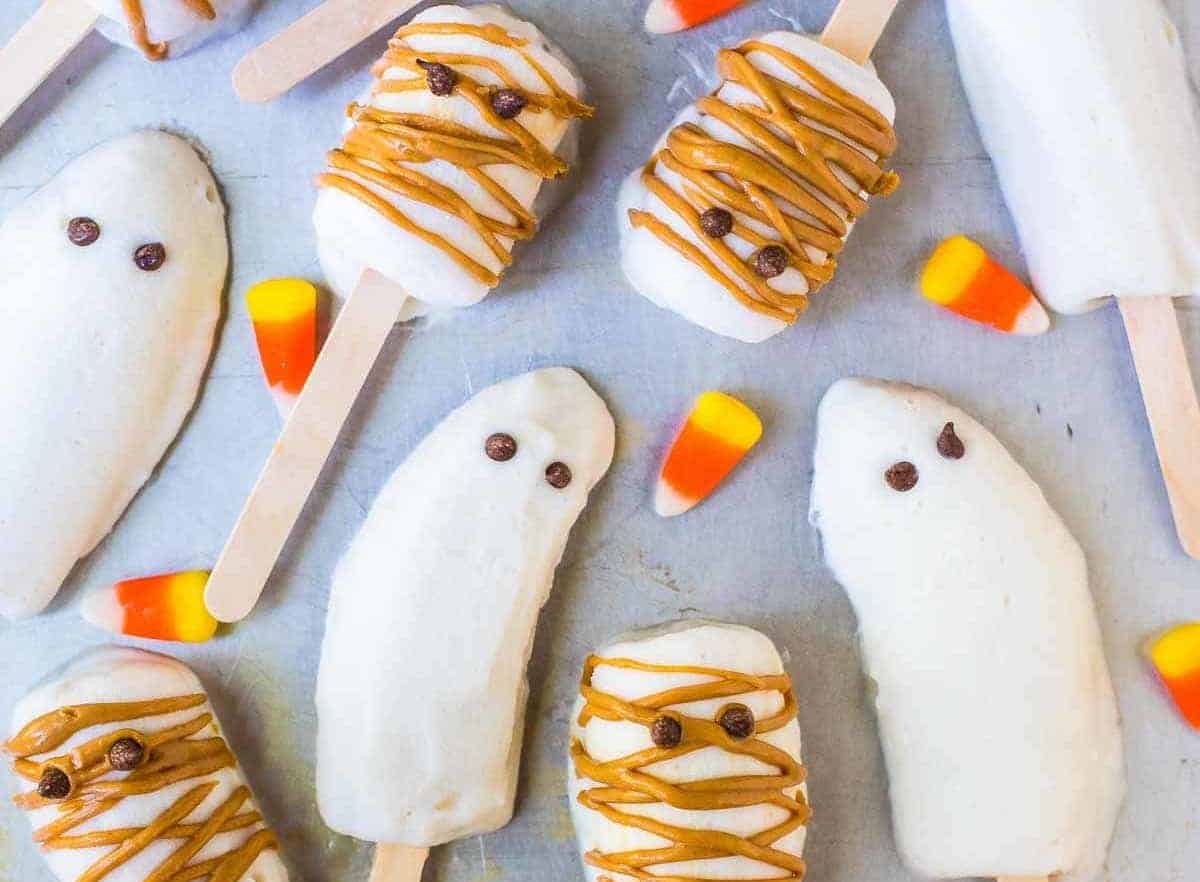 Looking for a haunted smoothie recipe? Try this Frankenstein smoothie bowl recipe from Healthy Little Foodies.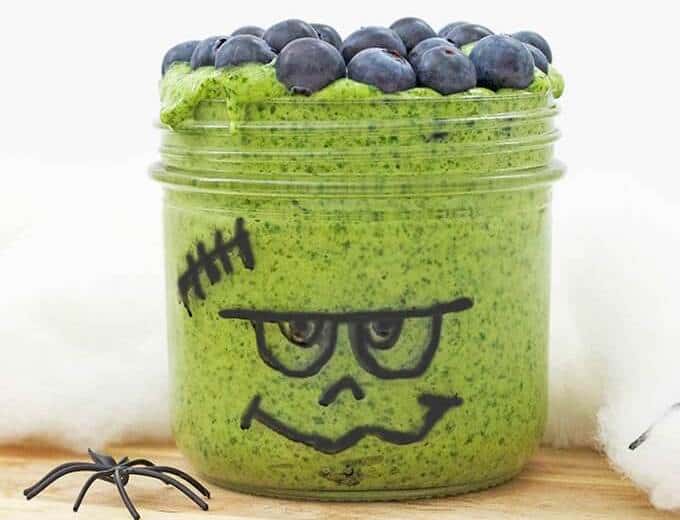 Turn chocolate covered strawberries into adorable little ghosts! Tutorial on Yummy, Healthy, Easy.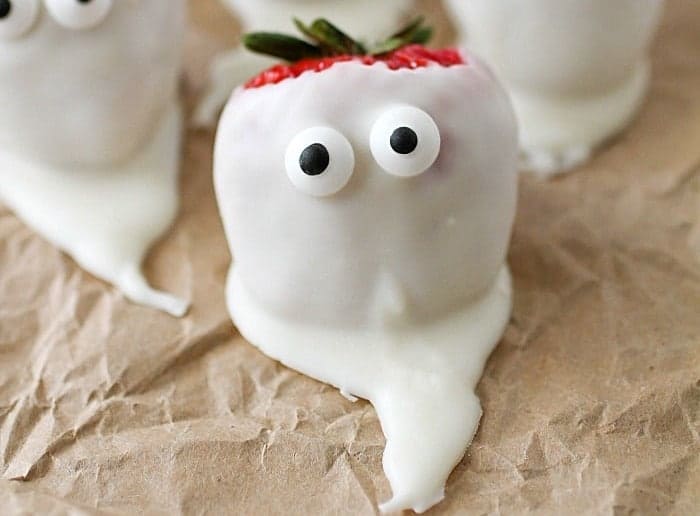 Turn an orange into a fun jack o'lantern! From Thrifty Jinxy.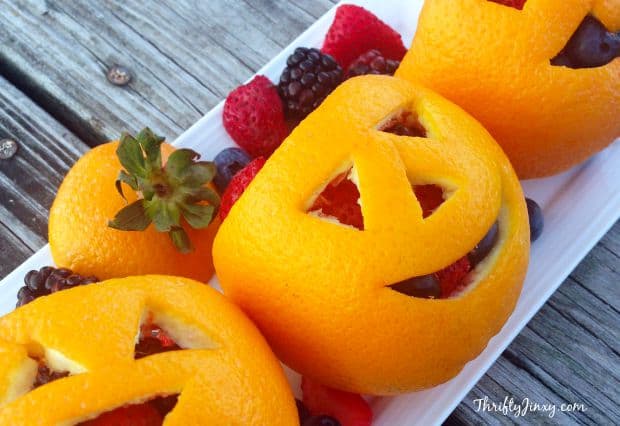 You can't go wrong with any one of these creative healthy Halloween food ideas!
Since we're talking about making healthy foods for Halloween, have you ever wondered which Halloween candies are the worst for you?
I did! According to Prevention.com, the top 7 candies to avoid for clean eating are:
Snickers
Peeps
Peppermint Patties
Butterfinger
Tootsie Rolls
Candy Corn
Peanut Butter Cups
Should have known some of my favorites would make that list! At least now I have plenty of ideas for fun and healthy Halloween treats to take their place.
And without the sugar crash, the kids will have more energy for playing pumpkin games!
What other fun Halloween food ideas do you have?
Tell me what you plan on making this year in the comments.