3 Best Raised Garden Beds That Don't Break The Bank
As an Amazon Associate and member of other affiliate programs, I earn from qualifying purchases.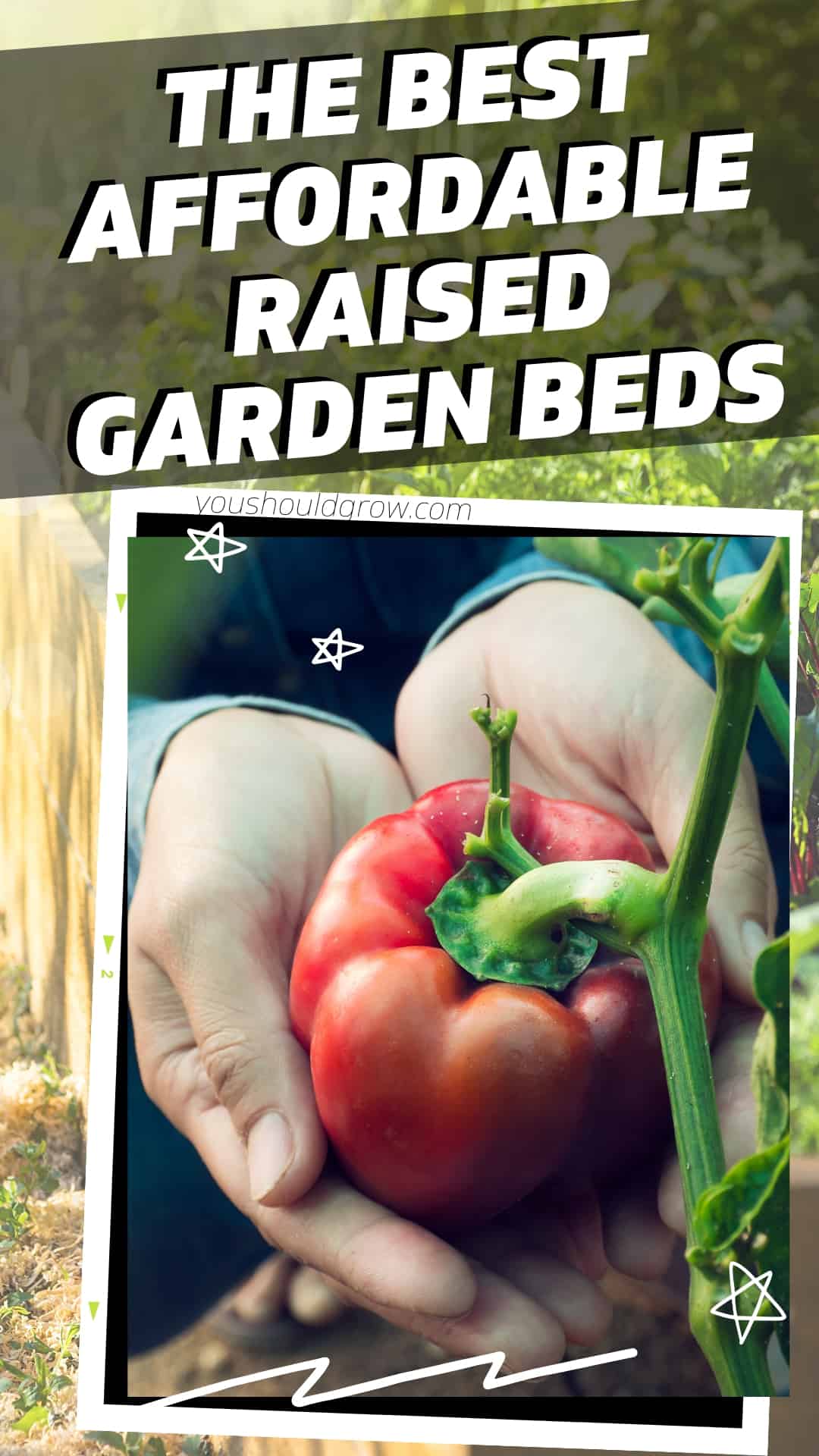 Raised bed planters are not only easy and convenient, but they can contribute to the overall look of your garden as well. An elevated planting box can take on many roles in the home and garden adding a rustic ambiance or even as a striking centerpiece to a greenhouse or sunroom.
When you're shopping for planters, you have to consider the cost as well as the aesthetics. The right planter is not only beautiful in your home or yard but also serves as a practical addition to your garden space.
Gardening in raised beds offers many advantages such as decreased weed competition and ease of access.
Here's a look at some of my favorite raised garden beds available that offer the best value for money and good looks that are a step ahead of the rest.
Best Raised Garden Beds Reviews

Gronomics Rustic Planter Box is unfinished but superbly put together. If you choose, you can customize the finish to your decor or leave it natural for a rustic look.
Two different sizes are available, and each planter is made from 100% Western Red Cedar. The handcrafted attention to detail is clear from the time you lay your eyes on this elegant creation. It assembles without tools and comes with a fabric liner.
Let's take a look at the features behind this fantastic compact raised garden bed from Gronomics.
Gronomics Planter Box Review
This space-saving planter has a capacity of 1.5 cubic feet. It is ideal for patios, entrance ways, foyers, and any other area that needs a touch of green while being limited by space.
Your kit arrives ready to assemble in under five minutes with clear-cut instructions showing you how. All you need to do is fit the lining, add soil, and plant your favorite seeds, seedlings or plants.
You'll be pleasantly surprised by just how much moisture this planter helps your soil retain. There's no running dry within hours when you're in a hot climate.
Overall, you won't be disappointed with this great product. It's so affordable and attractive that you could certainly consider whether you need more than one to make a beautiful living accent in your yard or patio.
Pros
● Versatile size and design
● Very compact
● Great water retention
● Simple to assemble
Cons
● Splinter risk
Get more details about the Gronomics planter here.
Keter's range of elevated gardening beds offers luxury style, practical functionality, and prices that can't be beaten. The Keter Easy Grow is one of the best raised garden beds available due to the striking looks and the sheer versatility to growing food at home.
You can grow just about anything in this great garden bed. Let's look at what makes them a leading choice for anyone that wants a to grow as much as possible in a small space.
Keter Easy Grow Review
Sitting or standing, this garden bed gives you the perfect height to create a gorgeous garden. You can't beat the durability, drainage, or high-end quality.
The total capacity measures a massive 31.7 gallons which means that it is the perfect match for both indoor and outdoor spaces. Even after years in the scorching sun, an outdoor raised garden bed from Keter doesn't show any signs of wear and tear.
They're made of a rigid, durable plastic that withstands a great deal of use before degrading whatsoever. There is even a drainage system that allows you to regulate watering, and the provided water gauge couldn't be clearer to read.
It is fine touches like this and the simple assembly which make Keter's raised beds among the best planters you can buy.
Pros
● Moderate versatile capacity
● Clear water gauge
● Superb outdoor suitability
● Handy drainage valve
Cons
● Once filled, can be heavy and difficult to move
Get more details about the Keter Easy Grow here.
The Lifetime Raised Garden Bed is a broad planter that gives you 4 by 4 feet of space to grow. While made of plastic, it carries a design that is meant to mimic wood.
Attractive, affordable, and big enough for the most diverse herb garden around, Lifetime has put together a great product. There is more than one way to put each box together, and you can even stack walls to create a higher bed.
Here's a look at these low-maintenance, high-quality planters for anyone that wants a lovely setup in no time at all.
Lifetime Raised Bed Review
Each of the raised garden beds from Lifetime are made from high-density polyethylene that has been treated to resist the elements and UV damage. It won't rot, crack, or degrade even if seated straight in the sun or a frigid region.
Brackets snap the design together at the corners, and you can assemble it with either 9-inch walls (the standard style), or you can order two beds and stack them on top of each other for an extra-high assembly.
These planters are so attractive that you may end up wanting to lay out an array of a few of them. They take care of capacity while maximizing your space.
The material of these planters is not just for looks, the composition is formulated to absorb and retain heat at the optimal level for healthy root growth. For the price and functionality, you don't get a better planter.
Pros
● Stackable design
● Highly durable
● Indoor/outdoor use
● Very versatile
● Large capacity
Cons
● Potential difficulty disassembling
Learn more about Lifetime Raised Beds here.
Final Verdict
Lifetime's raised garden beds are highly popular and come as a prime recommendation. Go check out all the customer images and rave reviews here.
If you're planting on the ground outdoors, consider using a selection of these planters to create quick and beautiful beds. Using raised beds helps a whole lot when it comes to battling weeds.
And, thanks to Lifetime's quality, these planters will last outdoors looking attractive for years translating to easy-gardening and great value.
Truly you can't go wrong with any of these raised bed planters. Keter's Easy Grow is the best choice for someone looking to be able to garden in a seated or standing position, and if you need grow space that'll fit almost anywhere, you can't go wrong with the Gronomics Rustic Planter Box.
What is your favorite raised garden bed?
Share your experience in the comments!