Thinking Of Starting A Corn Maze? Read This First
As an Amazon Associate and member of other affiliate programs, I earn from qualifying purchases.
I think that the most important trait of a successful business is a passion for making customers happy. Even going beyond just making sure the customer is satisfied with the product, a successful person strives to improve the lives of their customers as a result of purchasing their product. That's why I love visiting Five Forks Corn Maze.
The maze wasn't founded on the idea that the business would be an income source for their family. It was built on a dream to create a place where families would gather, have fun, share love, and take home memories.
In fact, Matt and Susan who run the corn maze both have full-time jobs. Matt is an airline pilot and Susan works in sales. The couple has two kids who are both active in the community and with after-school activities.
So when Matt came up with a plan to start a corn maze, Susan was a bit overwhelmed with the idea. But when Matt decides he wants to do something, he doesn't stop until he's done.
With the dream of families enjoying cool fall days on their farm, Matt bought a 14 acre property in Hartwell, GA.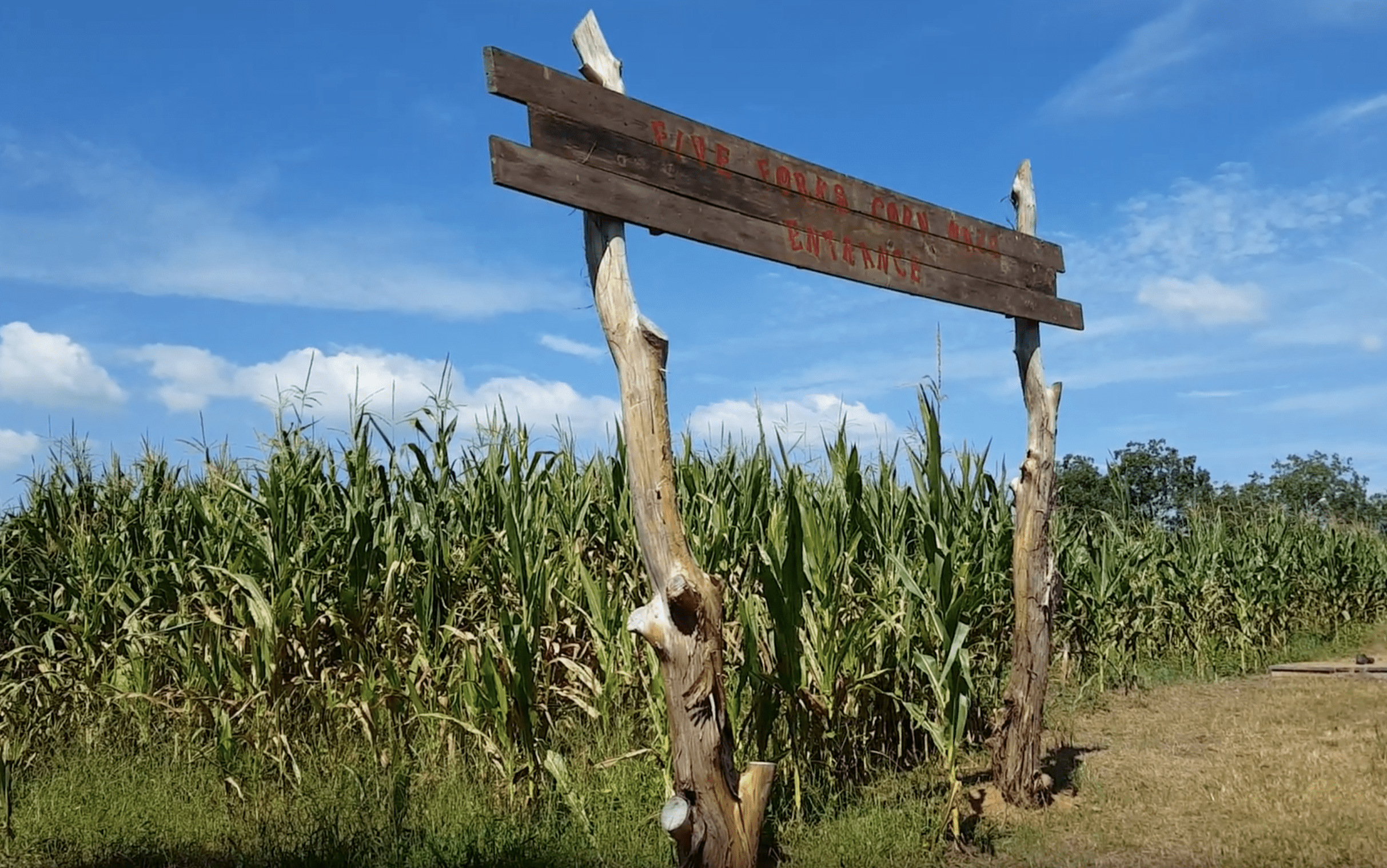 Since they'd never had a farm, they didn't have even have a tractor or plow.
But they were able to borrow from friends in the community so they could have everything they needed to start their first corn maze.
I asked Matt how he learned to create his own maze and he said, in brief, YouTube. "You can learn anything on YouTube," he said. He even reached out to the creators of the videos for advice, and they were happy to help.
They helped him determine which type of corn to grow, how to plant the corn in a grid pattern, and how to seed the corn into the field.
That first year, they learned a lot from their mistakes.
They chose an heirloom corn seed based on it being available within their necessary time frame and quantity. But they planted it too early.
See corn has a relatively short lifespan. It sprouts, it blooms, it sets fruit, then it dies. And corn planted in April is spent by July.
Planting corn too early in the spring means that it's all dried up and brown by the time visitors are ready to start wandering the maze.
Brown corn is less bushy, and you can see right through the rows making it hard to get truly lost in the maze.
So Matt quickly learned to plan ahead and speak to a seed supplier about their corn options in advance. Now they order it through a local feed store.
The type of corn planted for a corn maze doesn't need to be the best for eating. Rather it needs good standability and has to be drought tolerant. Good standability means that the corn should be very sturdy and resistant to falling over.
When we grow corn at our farm, we go in and hill up the plants when they're a few inches tall. This helps them form a strong base to resist wind pressure. Even then we always have a few that get blown over.
But hilling up 3 to 5 acres of thickly planted corn is not practical. So the variety of corn that they use for the maze has to be able to hold itself up without needing to be hilled up.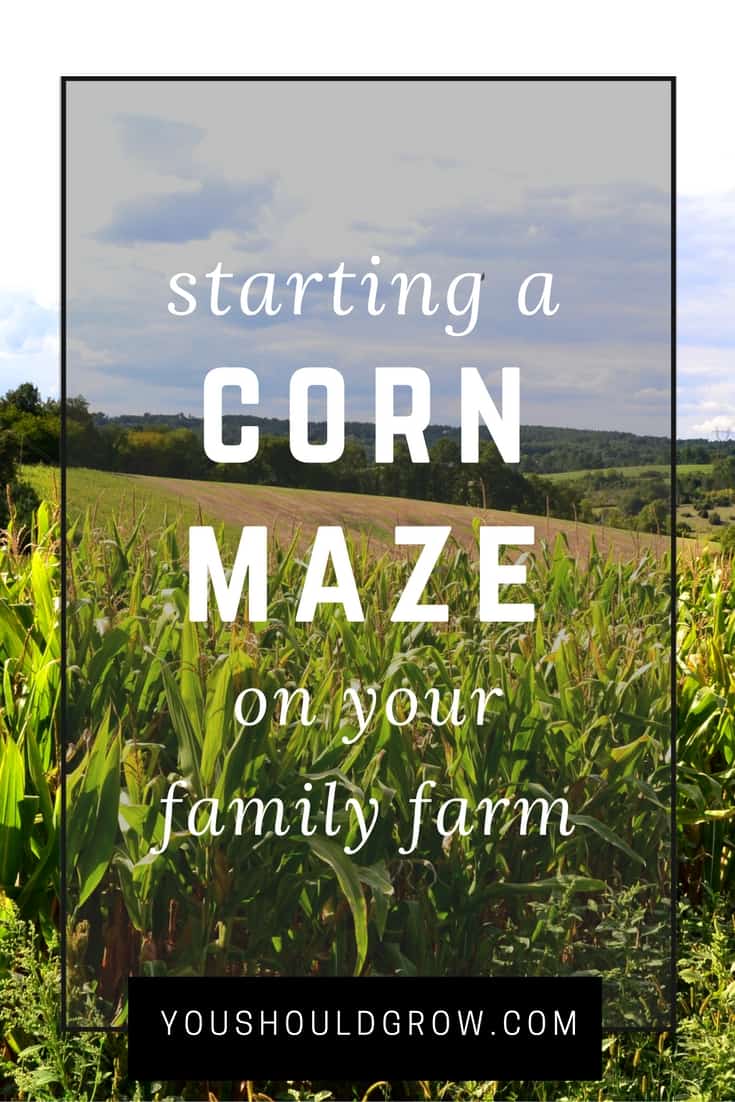 The corn also needs to be drought tolerant. Since you don't want to plant your corn maze until July, you need a corn that will be able to prosper in the hot dry weather. Otherwise, you'll spend a fortune watering the field just to keep it lush and green.
I was most curious about the design and cutting of the corn maze. Matt said a lot of farmers use GPS guided tractors, but for a small family farm, he just uses a 42-inch ZTR lawn mower, a long measuring tape, and a big stick.


It took 2-3 people and 2 full days of work to cut their maze this year.
To make the design for the maze, he scours the internet borrowing ideas from other farmers, accepting advice from friendly maze designers, and has a lot of his own inspiration. He draws his final design out on graph paper, using the squares to make sure he can fit the maze into his corn field.
This year he settled on a solar system design that was inspired by the solar eclipse earlier this year.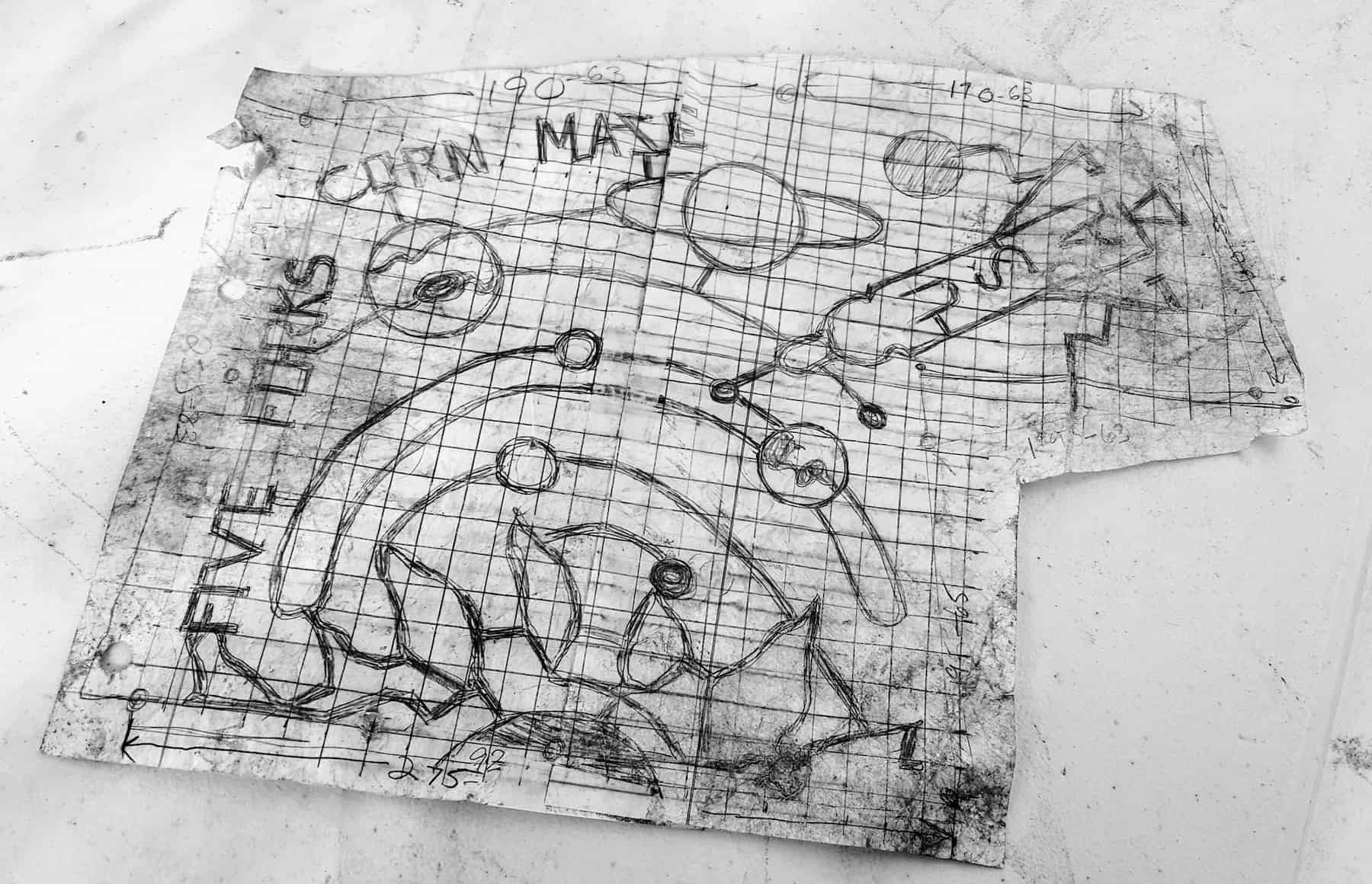 Matt says it's much easier to design and cut a maze in a larger area. With a larger plot, you have more space to create circles, dead ends, and leave a larger space between paths to ensure you can't see from one path to another.
Drawing the maze out to scale on graph paper makes it easier to enlarge and cut the maze. The cutting is done in the heat of summer when the corn is about 2feet tall. Any sooner and it will regrow just like grass.
Once the maze is planted and cut, it's just a matter of keeping it alive and upright.
This year when hurricane Irma blew through, Matt thought he had lost his whole field of corn. But because they had planted a sturdy, resilient variety, they were able to go through and lift the corn by hand small patches at a time and salvage the maze.
We traveled through the corn maze earlier this month. It was a lot of fun. We definitely got a little lost, but found lots of interesting things along the way including the big bell and some fun photo-ops!
But there's more to Five Forks than a corn maze. The property has been gradually improved by Matt and Susan since they bought it 3 years ago.
Susan tells me that the property was littered with old tractor tires and plastic barrels. Being a very clever at repurposing, Susan came up with some fun ideas to reuse what others would have seen as junk.
She turned ugly plastic barrels into adorable minion trash cans. The tractor tires were cut up and repurposed into a playground, putt-putt area, and football tossing game.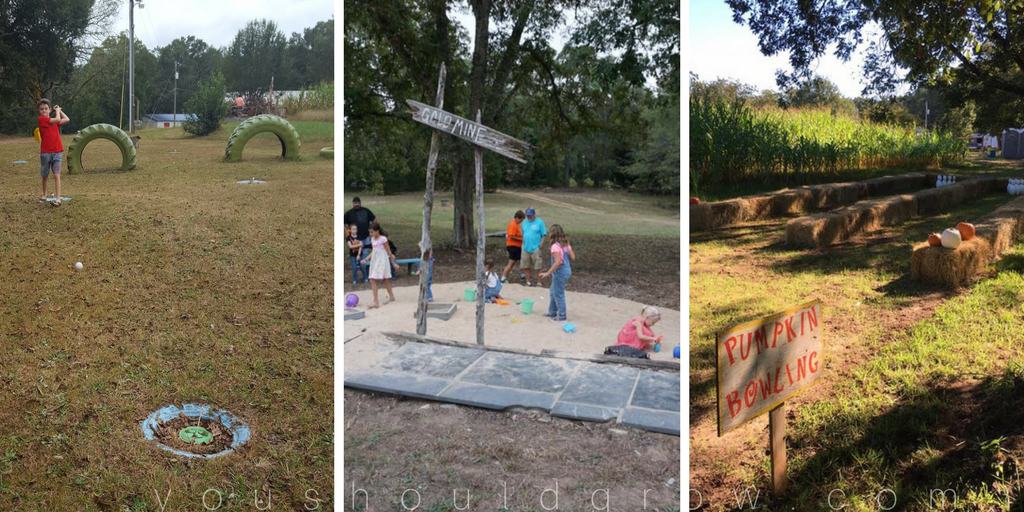 When planning additional activities at their corn maze, Matt and Susan suggest choosing activities that need little oversight. This way you don't have to hire additional people to man the stations.
They also wanted lots of photo ops.
Giving visitors opportunities for photos is not just for fun. When it's shared on social media, the farm gets free advertising.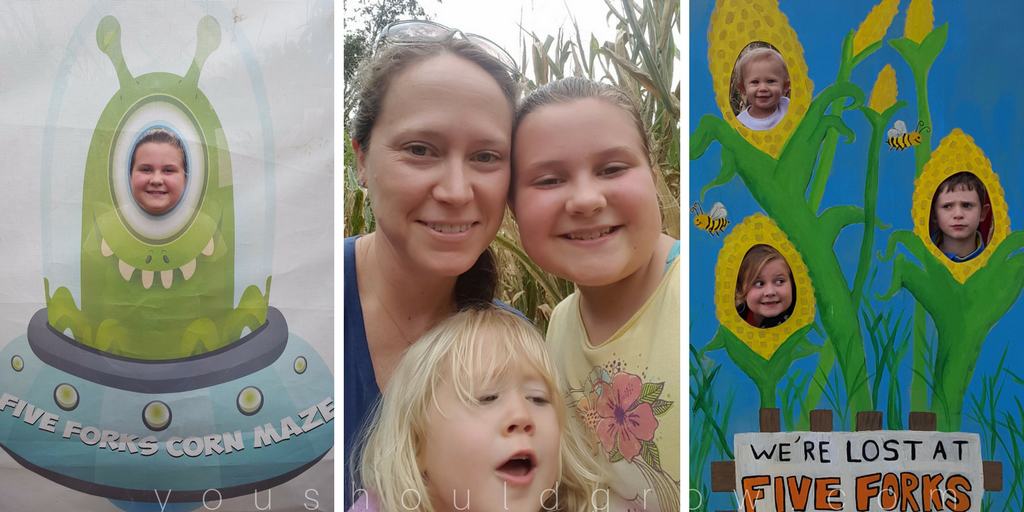 Families visiting Five Forks will get lost in the corn maze, but they can also jump on a hay bale trampoline, dig for gold in the sandpit, climb into a giant chair, cross an 80' suspension bridge, and feed ducks in the family's pond.
There are also pumpkins for picking, honey from the farm, and crafts from local artisans for sale in the Trading Post.
Matt not only designs, plants and cuts the maze, but he also keeps dreaming up more fun activities every year. He built the giant chair and railings for the suspension bridge from fallen trees around their property.
Yep, he built an 80' suspension bridge by himself! This is one of my favorite things because I think it's a huge testament to the dedication, passion, and skill of the family who runs the farm.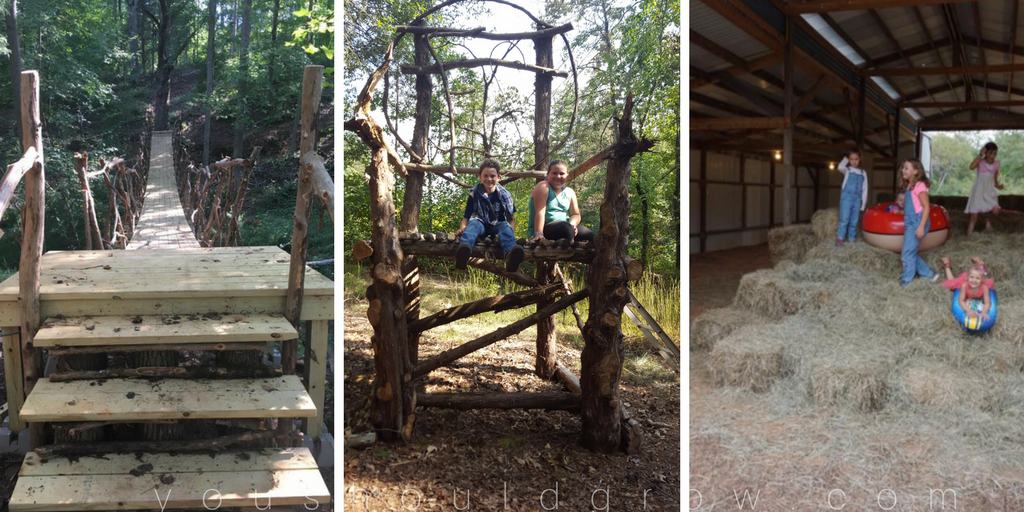 And, although it doesn't cross a terrifyingly deep ravine, the bridge doesn't disappoint with its swinging and swaying as you walk across.
Even though the main purpose of the corn maze is not to make money, it does have some significant expenses to maintain.
Matt and Susan say it can be $2000 or more to hire a designer to plan your maze. So this is one area where they saved money when Matt took it upon himself to learn the skill.
They also saved money by buying tractor and farming equipment at auctions, from neighbors, and ads on Craigslist.
The corn maze budget also includes:
Corn Seed

Insurance

Concessions

Incorporating the business

Marketing

All together, they estimate that the costs are $3-4000, and so far, they've been happy that the corn maze can support itself with entry fees, parties, and concessions/pumpkin sales.
For marketing, they say the biggest return on investment comes from placing large signs out in the community. Word of mouth and Facebook ads are the next best referers for business.
So, would they recommend that you start a corn maze solely as a way to make money?
Maybe. While you can certainly make good money running a corn maze, for them, it is not about making money. It's about providing a fun experience for the people in their community.
I know we'll come back every fall for more fun getting lost in the corn maze. And the whole family loves bowling with pumpkins, jumping in the hay trampoline, and visiting with our good friends Matt and Susan.
---
Visit Five Forks Corn Maze weekends in October, and like their Facebook page to keep up with announcements and events.