The Absolute Best Gardening Gifts For Moms
As an Amazon Associate and member of other affiliate programs, I earn from qualifying purchases.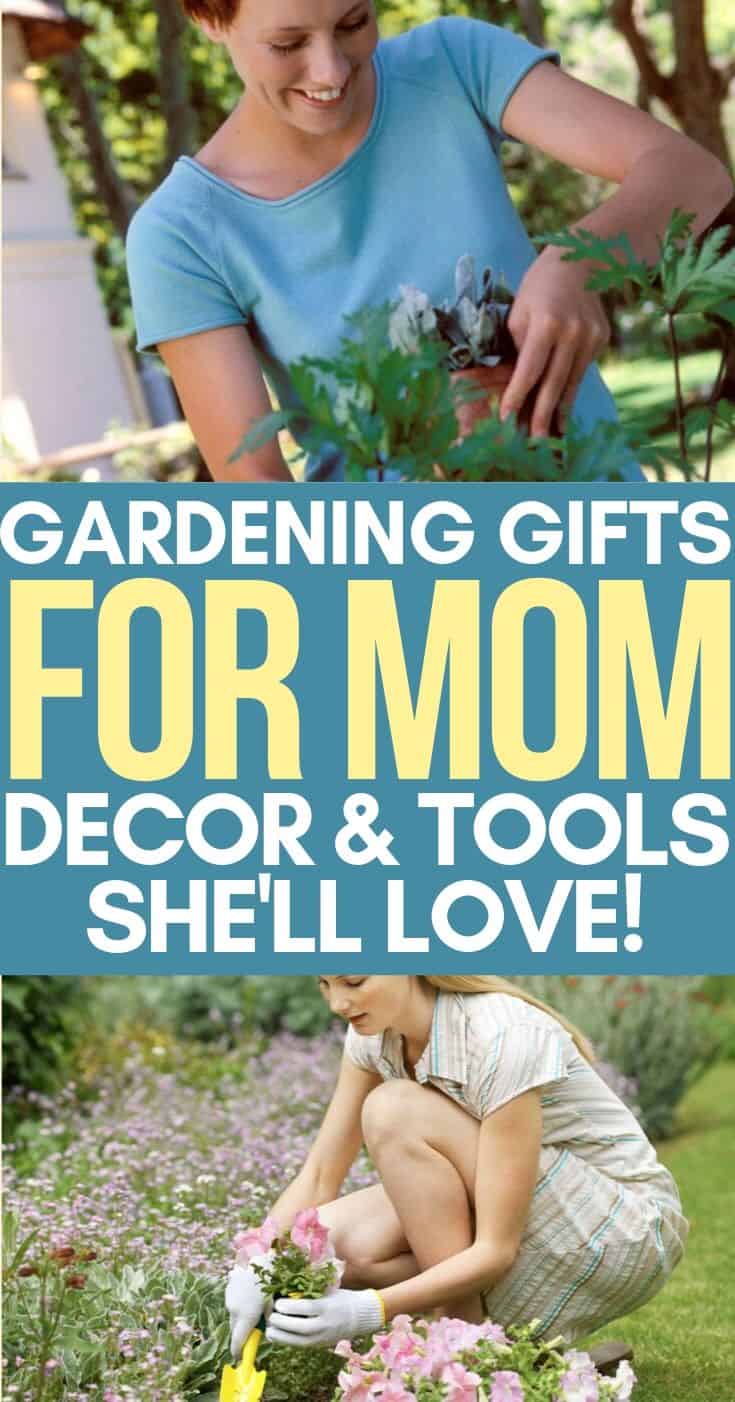 If your mom loves gardening, watching wildlife, or just spending time outdoors, then she's sure to love one of these fabulous gift ideas. Moms love thoughtful gifts, and I'm sure she'll appreciate any gift that you think she'll enjoy.
This post has been updated for 2019. You might also like the latest garden gift guide for women!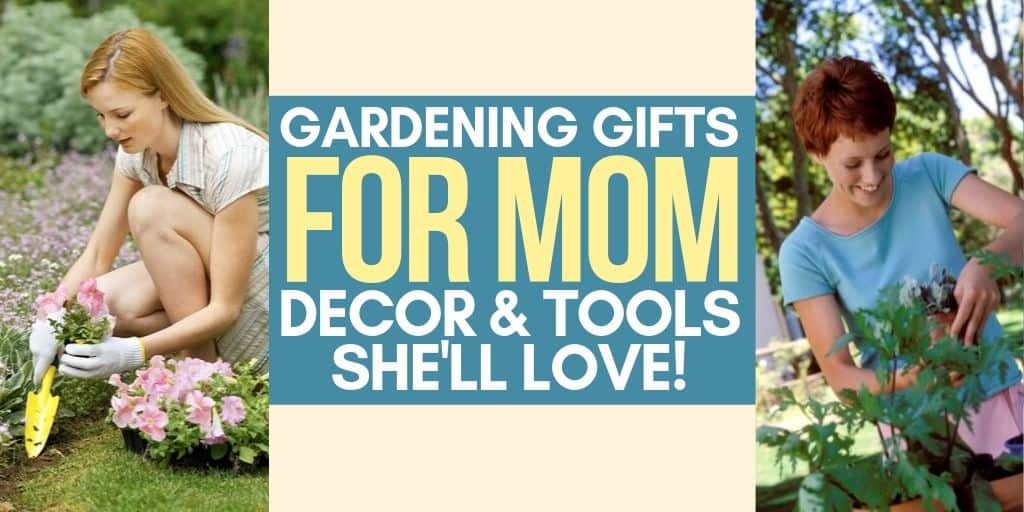 Listen to your mom. Give her a gift she wants.
What does she talk about? Is there a common theme or problem she's having?
Maybe your gardening mom loves a relaxing day at the spa but usually won't treat herself due to the cost or time involved. In that case, a very thoughtful gift would be a gift certificate to her favorite spa AND let you take over her chores for the day so she can relax guilt free. Now, that's a good gift!
Money saving tip: Check Groupon for great deals at local spas and salons.
Great gardening gifts for mom
Maybe your gardening mom loves unique and rustic garden decor but doesn't want to spend money on it. Or she keeps talking about adding an arbor or a seating area to her garden but can't justify the expense.
Whether she loves bringing wildlife to her garden or appreciates decorative accents among her plants, here are my favorite gift ideas for gardening moms.
Cute garden gifts for mom to attract wildlife to the garden
Gardening moms know that squirrels, bugs, and birds have important roles in a healthy garden. She'll appreciate these items that attract wildlife while adding some charm and whimsy to her garden.

Imagine the fun you could have watching squirrels lounge in their own lawn chairs. Place 2 or 3 of these red retro chair squirrel feeders in a tree to create a gathering space for your squirrel friends.
This pretty pink coneflower bird feeder and garden stake will look great in your mom's garden. Even if the birds never come to visit, it's a super cute statement all on its own.
If your mom loves butterflies, she'll love the Flutterby cypress butterfly house to encourage the fluttering lovelies to come to her garden and stay.
Other ideas include a bat house for natural mosquito control, cool woven moss birdhouse, a pretty glass birdbath, or super cute mason jar hummingbird feeder.
Special decorative touches for the garden
The little details are what makes any garden unique, and you are uniquely qualified to buy her a gift that really lets her personality shine through. Personalized items can make your mom's garden special by highlighting the things that make her smile.

Raised bed corners make building any raised bed quick and simple using any 2″ thick board. Unfortunately, the hummingbird ones have been discontinued, but this dragonfly design is just as cute.
This little fountain with lights is the perfect accent for her garden. It creates the peaceful sound of a babbling brook but in a simple, compact and beautiful form.
I am in love with metal animal yard art. This recycled metal rooster and flying pig are pretty darn cute!
Garden gifts for mom that make her work easier
Planning and executing a garden can be an overwhelming task. Buy your mom the Ultimate Garden Planning Spreadsheets and Seed Starting for Beginners book to help her accomplish her garden goals.
When she's working in the garden, she'll love these products that help her stay comfortable and organized. Gardeners are often squatting or kneeling to plant, weed, or harvest. All of these items are designed to make that job a little more comfortable.

Squatting and bending down to work in the garden is really hard work, but this folding garden kneeler and seat makes it easy to keep working without stressing her body too much.
Garden carts are always handy in the garden. Carrying anything from tools, harvested veggies, plants, even your phone and a cold beverage. The garden cart with built in seat is a great combo product.
We have a tractor seat on wheels similar to the rolling garden seat, but ours is all rusted, and I think one of the wheels is broken. This one comes in a bright blue color and has storage space for your gloves and tools. These are great for harvesting bush beans, y'all!
Gifts that hide the garden mess
Gardens can quickly become cluttered with the necessities like tools, compost bins, hoses, and buckets. These gifts are great for gardening moms who like to keep things beautifully organized.

How about a super solution to hide the ugliest of garden items? Prop a tri-panel cover in front of bins, buckets, or tools to instantly make any garden space neater.
Tools are a necessity in the garden. Make a statement with a decorative piece like this tree of life metal hose holder.
When the neighbors pop over for a spontaneous barbecue party, she can easily hide the mess and keep her guests comfy with this cute storage bench.
Quirky garden accent tables are fun gifts for gardening moms
These decorative tables are at home in a seating arrangement or out in the garden for a colorful and whimsical accent.

I love the idea of using this 3 tiered metal daisy table (this item is no longer available) in a wildflower garden. It's adorable and useful for holding potted plants or a cold beverage. I really like this pretty yellow tile topped table.
I adore this recycled metal snail side table (this item is no longer available). What a great conversation piece! This is possibly my favorite piece from this list. (hint, hint, Hubz) This frog stool is a cute alternative.
Your mom will love the pop of color and intricate details of the lattice design iron side table. Placed on the patio or as a decoration in the flower bed, it brightens up any space.
Pretty planters are one of the best gifts for gardening moms
Planters are the perfect gift for moms who love to garden. Give her any of these beautiful planters, and she'll surely go hunting for the perfect plants for them immediately. Better yet, fill them for her with her favorite flowers!

The ceramic hanging planters are absolutely gorgeous! Their decorative designs are best complimented by simple arrangements of ferns or succulent plants. The hanging planters are no longer available, but take a look at this gorgeous hand painted 12″ pot.
These frost resistant planters are designed to look like copper. I love them with some pretty impatiens and creeping jenny spilling over their edges.
Make her entryway stand out with a couple of large metal planters with coco liner. Fill them with geraniums or hydrangeas for a gorgeous welcoming front porch.
Garden inspired wall art from recycled metal
Gardening moms are all about spending time in the outdoors. She'll love these recycled metal art pieces for her garden or porch.

A galvanized metal garden sign is the perfect rustic accent.
Remind your mother how much you love her with this handmade wall heart. This piece is handmade from solid steel, so each piece is a unique work of art. If hearts are not her thing, there are several other designs to choose from.
You are her sunshine, her only sunshine. You make her happy when skies are gray. Tell her she lights up your world with this vertical 'hello, sunshine' sign.
DIY gifts for gardening moms
Take a look at these really cute DIY gift ideas from some other creative bloggers.
Don't forget grandma! Make this cute DIY Handprint Planter with the kids.
Still looking for more ideas?
Check out our newest post full of gardening gift ideas for women!