Genius Storage Shed Organization Ideas
As an Amazon Associate and member of other affiliate programs, I earn from qualifying purchases.
Having a storage shed on your property can be extremely beneficial, and these shed organization tips and ideas will help you get the most use out of it.
Because it is a space that is used for utility purposes, you may not give much thought about how it's arranged or organized. During warmer weather, you probably pull yard tools in and out to help with your landscaping projects. In the winter, you have to scramble to find snow sleds and shovels.
The purpose of a storage shed is to keep your outside tools accessible. However, if the shed is messy and disorganized, this may be challenging. The good news is, there are some helpful organization tips you can use to make the most of every square inch of space in your shed.
Clean Out the Shed
As with any organization project, you want to get rid of everything inside so you can start fresh. Give away any old or worn out items, or trash them so you can declutter the space. If there are things that you haven't used for a while or that your family has outgrown, now is the time to donate or sell them.
When you remove everything out of your shed, you may think it seems counterproductive at first. However, it lets you see what you need to store before you start figuring out storage methods.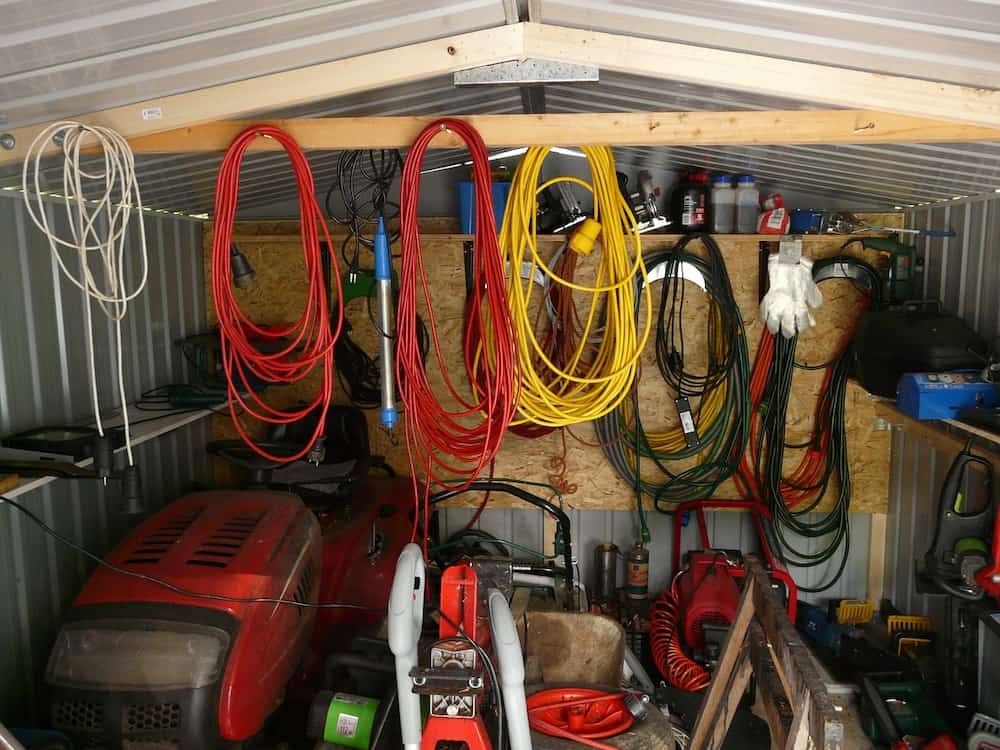 Organize for the Specific Season
Now you know what you are keeping and what you are getting rid of, it's a good idea to see if there is anything else you may need. Be sure to do some research before buying and you can use an extensive wheel hoe buying guide and similar references to make sure you get the best of the best products.
Once you have everything you need for the season, make sure you put the items you don't need right now toward the back.
Genius tip:
Dedicate one side of the shed for warm-weather tools and the other for cold-weather tools. This is going to make it easier to find the things that you need.
Use Pegboards
A pegboard is a great tool you can use anywhere in your home or shed for organization purposes. For smaller tools, such as a hand shovel or rake, attach the pegboard to the shed's wall and use hangers and tools to organize items on it. This helps to get them off the ground, out of the way, and easy to find.
Use Jars for Loose Items
Not only does this look nice, but this is the ideal way to store loose or small items. With this system in place, you never have to worry about losing a screw or nail again.
Genius tip:
Screw the lid to the bottom of a shelf to save space.
You can choose any jar size for this. Baby food jars are a great option as you can attach the lid to the bottom of a cabinet or shelf easily. All you have to do is unscrew the jar to add something else to it.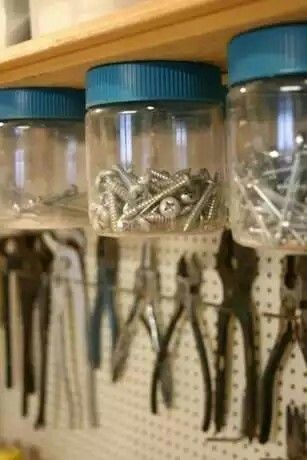 Keep Your Shovels Standing
Rakes, shovels, and other landscaping tools can wind up anywhere in a shed, but they may be a hazard if you are walking around. If you don't put them in the proper place, the tools may cause others to trip and fall. This also makes them more challenging to find.
Genius tip:
A great solution is to keep these items vertical. You can do this with a pallet or even PVC pipe to make an inexpensive storage solution.
Creating an Organized Shed
If you want to make the most of the space in your shed, be sure to keep the tips and information here in mind. Doing so is going to pay off and help you make the most of the space in the shed.