Heirloom Tomato and Basil Frittata (Gluten Free + Keto Friendly)
As an Amazon Associate and member of other affiliate programs, I earn from qualifying purchases.
Looking for recipes for your heirloom tomato harvest? Try this tomato and basil frittata that's so easy and beautiful, your family will think you've served up a gourmet meal.
What I love about frittatas is that they're basically a quiche without the crust. This makes them a great breakfast option for gluten-free or ketogenic diets.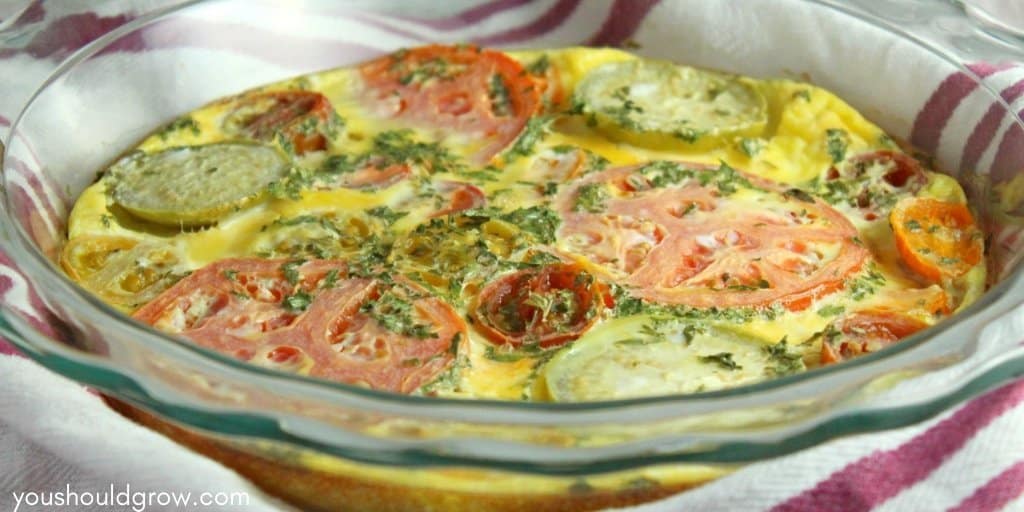 Personally, I like to let the tomatoes shine in this recipe, but you could also add some crumbled bacon or pancetta for a crispy salty crunch.
If you are not a fan of frittatas, then I'd venture to guess that you've never had a good one. A good frittata is light and delicious with a soft, creamy mouthfeel that is ultra satisfying.
The trick to fabulous frittatas
When it comes to making frittatas (and quiches too), the key is in the egg to dairy ratio. You just can't get a smooth creamy frittata without it, and skim milk is not going to cut it.
Whole milk or cream blended with eggs makes for a smooth, silky texture and extremely satisfying dish.
You also must not overbake a frittata. You want it to be a little bit jiggly in the center when you pull it out of the oven. It will continue to cook in the hot dish or pan, so if you wait too long to pull it out, you can easily overcook it.
This is especially true if you're cooking your frittata in a cast iron pan.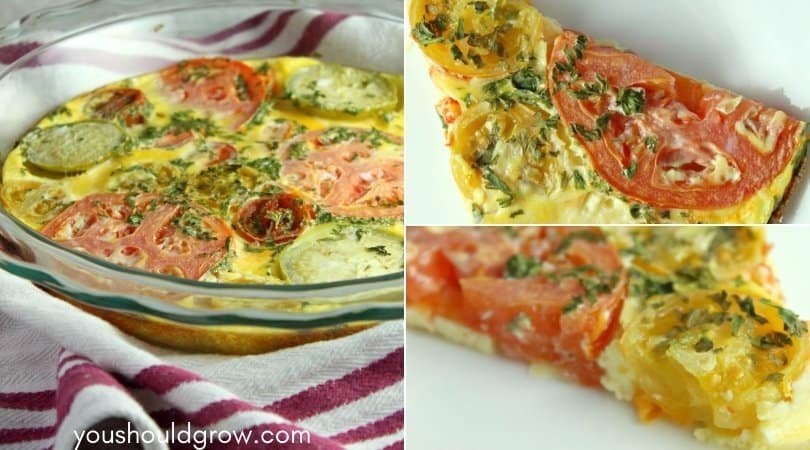 Choose heirloom tomatoes for this frittata dish
The quality of the tomatoes you choose in this recipe will make a big difference. A lot of tomatoes at the grocery store are watery and bland. That's not going to be any good in any recipe.
Of course, I think you should grow your own, but the farmer's market is a great alternative for anyone who can't grow tomatoes. Choose some red, purple, and green tomatoes in various shapes and sizes.
Since we'll be adding sliced tomatoes to our egg mixture. It's important to remove as much of the tomato juices as you can before putting them in your dish.
The juices will water down your egg mixture sacrificing the smooth creamy texture, so we'll slice our tomatoes and lay them out in a single layer on some paper towels and let them drain for a few minutes.
I love the flavor combo of tomatoes with mozzarella and basil, but you could change up the herbs or cheese to your liking if you wish.
Heirloom Tomato and Fresh Basil Frittata Recipe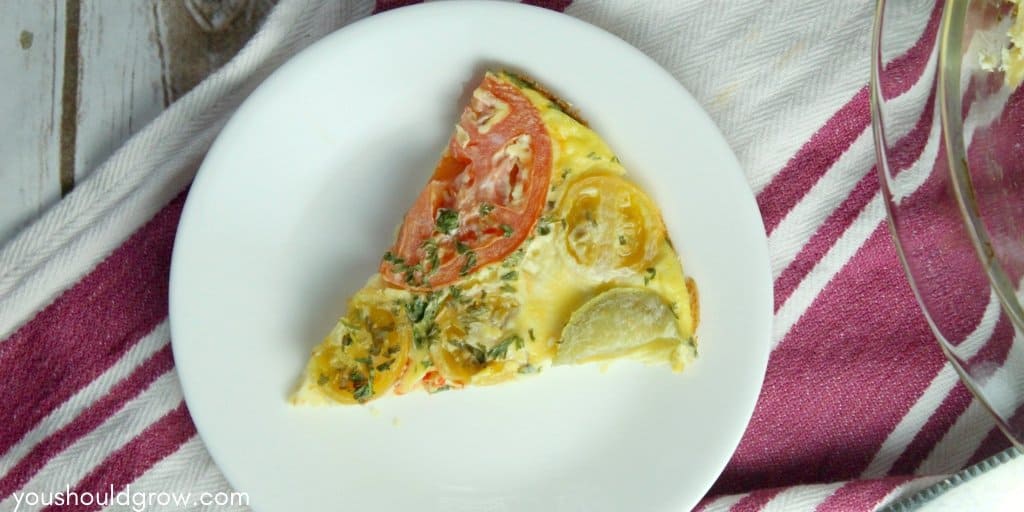 Ingredients:
2 tbsp. organic vegetable shortening
1/4 cup whole milk or cream
6 large eggs, beaten
6 tbsp. shredded mozzarella cheese
1 clove garlic, minced
1 tbsp. chopped fresh basil
salt and pepper
1 1/2 lbs. heirloom tomatoes (various sizes and colors), sliced thinly
Directions:
Preheat to 350 degrees F.
Thinly slice tomatoes and lay them on a paper towel to absorb moisture.
Grease a pie dish with the vegetable shortening and layer the sliced tomatoes in it.
In a medium-sized mixing bowl whisk the eggs and milk until combined. Then stir in cheese, garlic, basil, salt, and pepper.
Pour mixture over the sliced tomatoes.
Sprinkle with additional chopped basil leaves and bake for 10-12 minutes, or until frittata is set.
This recipe can be doubled for a heartier serving size.

Super easy frittata recipe: just prep and bake!
I'm all about easy meals, and they really don't get any easier than this yummy heirloom tomato and basil frittata. Just make sure to use full fat cream or milk and don't let it bake too long in the oven.
For sides, you can serve each slice with a spicy arugula salad and home fried sweet potatoes for a satisfying meal any time of day.
This dish just screams summer with garden fresh heirloom tomatoes and fresh basil. I think it's the variety of tomato shapes and colors that makes this dish so stunning.
It's shockingly easy to put together, too.
Have you tried our heirloom tomato and basil frittata?
Let us know in the comments below!