How To Make Stuffed Peppers With Ground Turkey
As an Amazon Associate and member of other affiliate programs, I earn from qualifying purchases.
Healthy stuffed peppers with ground turkey are easy to make and sure to please the whole family. Filled with fragrant rice and topped with melted cheese, this stuffed pepper recipe is seriously satisfying!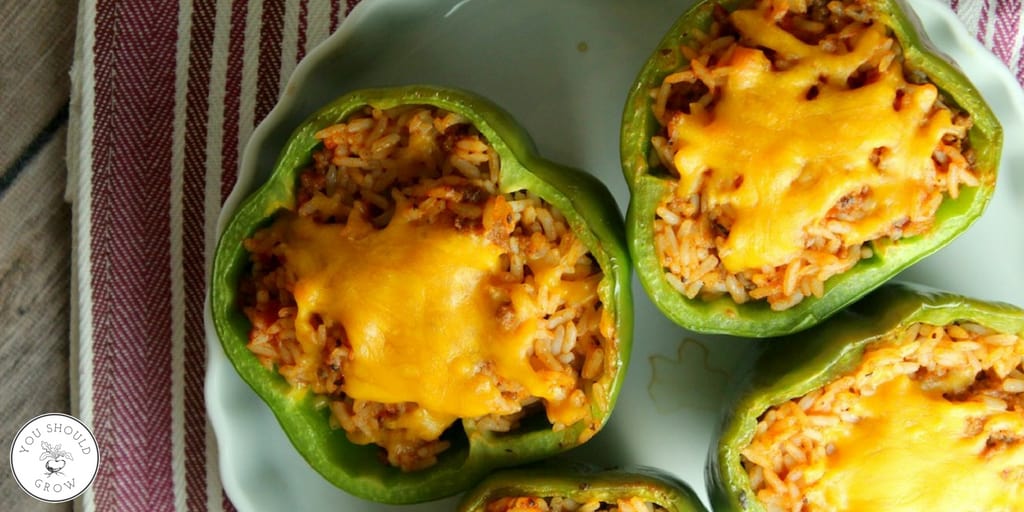 When you're tired and just not feeling like making a big supper, stuffed peppers with ground turkey are a great healthy option. You might think that kids would not like peppers for dinner, but even my super picky daughter loves this recipe.
The fact that it's also stuffed with rice and melted cheese probably doesn't hurt!
Turkey stuffed peppers are easy to make
All you need to do is cook the ground turkey and spices, mix with rice and cheese, fill a bell pepper and bake for a few minutes. None of these steps requires much babysitting so it's a great option for nights when you don't have a lot of time.
What makes this recipe even easier is to cook up your meat in advance on your meal prep day. When you're ready to eat, simply put the rest of the ingredients together and bake.
This recipe is also really versatile. We used green bell peppers, but you can use the sweeter red peppers or spice it up with some poblanos.
You can also vary the cheese to your liking. We usually use cheddar but pepper jack also tastes great with these turkey and rice stuffed peppers.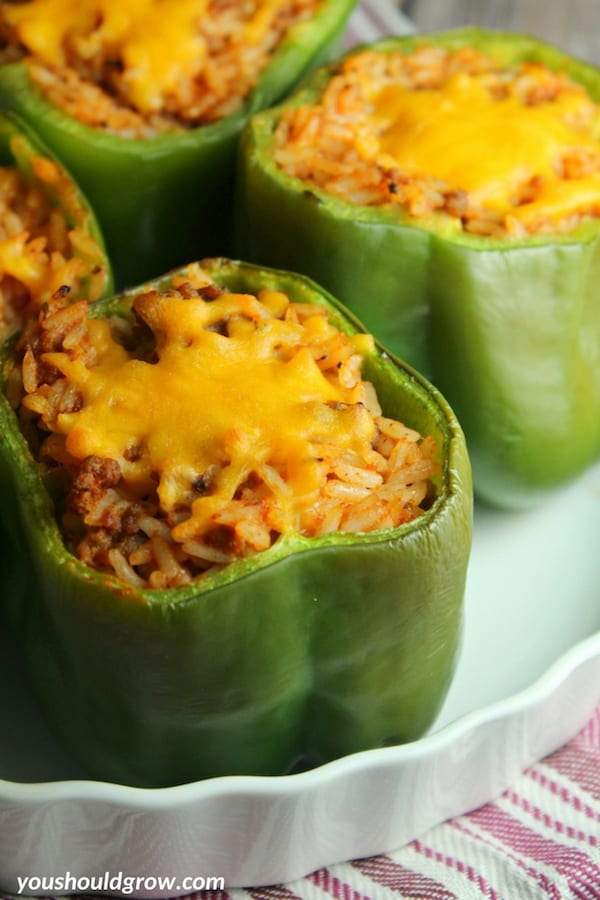 Turkey And Rice Stuffed Peppers Recipe
Ingredients:
6 bell peppers, tops, and seeds removed
2 cups cooked wild or white rice (+/- bay leaf)*
1 lb. ground turkey
2 garlic cloves, minced finely
1 medium onion, diced finely
16 oz. crushed tomatoes
1 tsp. sea salt
1/2 tsp. ground black pepper
1 tsp. Italian seasoning
1 3/4 cups shredded cheddar cheese
1 tbsp. olive oil
Directions:
Preheat oven to 350F and lightly grease a large cast-iron skillet. Boil bell peppers in a large pot for 5 minutes to soften. Let dry completely.

Heat olive oil in a medium skillet over medium heat and saute onions and garlic for 2-3 minutes. Add ground turkey and cook until turkey meat is browned.

Add crushed tomatoes, rice, salt, pepper, Italian seasoning, and 3/4 cup cheese to the cooked turkey and mix.

Place bell peppers in prepared skillet and fill each one with the rice and turkey mixture. Bake for 28-30 minutes.

Remove and sprinkle remaining cheddar cheese over the top, then bake for another 5 minutes to melt.
*One trick we use to add incredible depth of flavor to this recipe is to add a bay leaf to the rice while it cooks. The bay leaf adds fragrance to the rice that really helps all the other flavors come together perfectly. Remove the bay leaf after the rice is cooked.
What to serve with stuffed peppers
Alongside stuffed peppers, I like to serve bean and corn salad and dollop of guacamole. Fried green tomatoes or blistered shishito peppers are popular in our house, too.
What more peppers? Oh Yeah!
Other sides to serve with ground turkey stuffed bell peppers include beans and rice or keep it simple with a fresh garden salad.
Have you tried stuffed peppers with ground turkey?
I'm all about easy, and for me, this recipe is one I keep coming back to. It's warm and satisfying with all fresh and healthy ingredients.
Try it out and let me know what you think in the comments!