From Veterinarian To Tomato Farmer: My Insane Career Move
As an Amazon Associate and member of other affiliate programs, I earn from qualifying purchases.
What if I told you that I'm leaving my work as a veterinarian to grow tomatoes?
Sounds totally crazy, doesn't it? Who in their right mind would leave their job as a veterinary doctor to grow tomatoes?
Probably no one! Ha! And in my case, it's not a change that I would have ever made on my own. But when the clinic where I work was sold to a new owner, I was informed that I would no longer have a position there.
It was hard to hear that. It's hard not to take it personally. It's hard not to be hurt a little when I know I have a good relationship with my clients, patients, and my veterinary assistants.
And it was scary to think about not having an income and changing jobs after I'd been there many years.


But the reality is what it is.
And it's natural for a new owner to have his or her own plan for their hospital that might not include a part-time veterinarian.
Many beloved clients have asked me where I will be practicing medicine when I leave, and I don't have an answer for them. Certainly, I could find another position at another hospital. But finding similar part-time work that allows me to pick up my kids after school every day and keep my youngest out of daycare would be difficult.
So for the time being, I can still work some as a relief vet (sort of like being a substitute teacher), and I'll keep looking for the right opportunity.
Who knows what the future will bring?
For now, I have decided to focus my energy on growing tomatoes and sharing information about growing food on this blog.
It has always been a passion of mine to write. It was actually suggested to me while I was in vet school that I should start a blog. But that was in 2005 and using email was as far as I had ventured into the online world. I wasn't ready.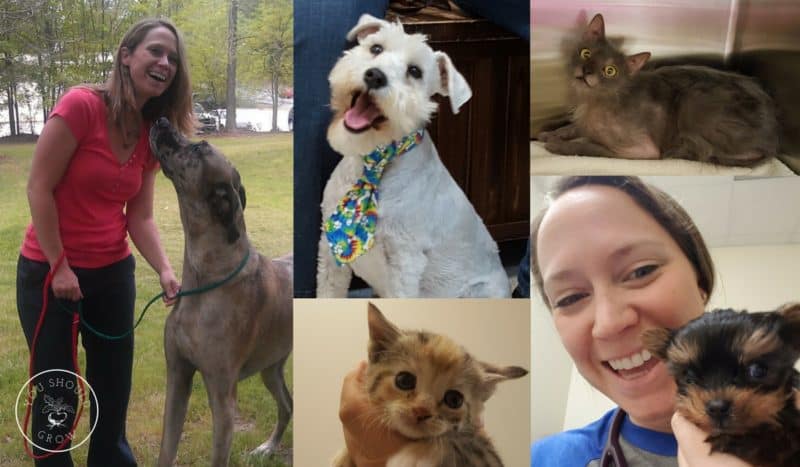 But why write about growing food?
Why not write about animals or medicine? Well, the short answer is that I'm a different person than I was when I decided to be a veterinarian. I've been through a lot since then.
Plus, growing food and making things for myself instead of purchasing them is very exciting! We live in a consumer society, and it seems like we have almost completely lost our connection to our food.
I have relatives nearing 50 who have never grown a single bit of their own food. Not. Ever.
I was in my 20s before I ever grew anything for myself, and it was another decade before I really understood what I could accomplish by having a garden. Learning to grow my own food really changed my life.
Sounds crazy, doesn't it?
Growing up we didn't have a garden.
No one talked about growing a tomato or cutting fresh herbs from the yard. Heck, we hardly had a yard at one point.
As children, my parents had to work hard alongside their parents just to make ends meet. There were no luxuries, there was only hard work. Their families couldn't afford to buy expensive things or leisure time.
So when they became parents, they worked hard to provide more for my siblings and me, and they were both very successful.
More successful, possibly, than anyone ever thought they would be, and I was gifted expensive things and plenty of leisure time.
It was a charmed life in many ways. I wanted for nothing. No thing.
And yet there was something missing that I couldn't identify. I struggled with low self-esteem, anxiety, and depression from a very young age. Nobody recognized it or talked about it. Things were different in the 80s and 90s.
As I meandered into adulthood, I strived to attain what I was told was success. Go to college, get an advanced degree, and make enough money to afford the same luxury and comfort that my parents had provided me through childhood.
So I did what I was told.
I graduated high school, earned a bachelor's degree in science, and a doctor of veterinary medicine degree. All with honors.
I was offered a good job immediately after vet school. I worked 40 hours a week, and together with my husband at the time, we cleared a six figure salary. We lived the American dream, purchasing our first home and quickly bringing two beautiful children into the world.
And yet, there was still something missing that I couldn't identify. I continued to struggle with low self-esteem, anxiety, and depression.
I never understood what I was longing for, couldn't identify what was missing. But I was disconnected. I was floating around trying to achieve something I was told should be my goal, but even accomplishing those goals was unsatisfying.
And a lot of things didn't work out. We moved a lot buying and selling 3 homes in 3 different states and frequently changing jobs. My home life was unhappy, unhealthy, and unsatisfying.
Eventually, I worked up the guts to get a divorce, and I became a single mom with toddlers in my early 30s.
God works in mysterious ways…
It wasn't long before I met a wonderful, caring man who LOVES growing tomatoes, and he knew all about the value of working the land.
We started growing food together and sharing that food at our farmer's market where I could share with others in the community about growing food.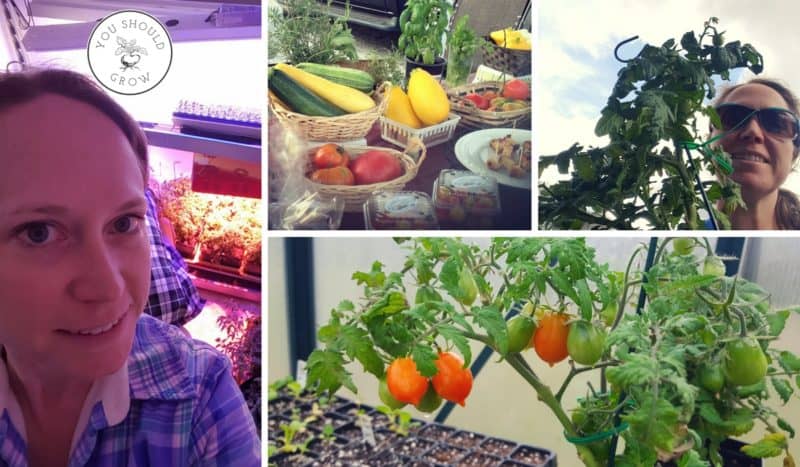 I started taking care of my food from seed to plate. Started to get a deeper appreciation for how it was grown and what it takes to keep a garden thriving.
It wasn't long before I realized that I had changed. I was satisfied. I was feeding my family food from our garden and working toward a greener lifestyle and a greater connection with the earth and God.
I noticed that I was content.
Content with my small home, my much smaller part-time income, and of course, raising my beautiful children in a small country town. The desire to move from state to state, home to home, and job to job went away.
I realize success has nothing to do with how much money I make and how many fancy things I have.
Rather, I feel successful when I help someone else do something they thought they couldn't do. For this blog, that means helping people to grow their own food.
And although I still struggle with moments of anxiety and depression, I have found a way to manage it without the extreme ups and downs that I used to endure. My self-esteem is much better since I've been satisfied with my work, content with my marriage and home, and successful in helping others.
And maybe I don't need to have a job anymore.
I know I won't be able to give up helping pets. So even though I'm not working at the same hospital, I will find another way to help my clients take care of their pets.
In a surprising turn of events, I am excited about the opportunity that was afforded to me when I lost my job and decided to grow tomatoes. I feel privileged to be able to help people through teaching on this blog, in my community, and with future ventures.
To all my patients and clients who might read this, I will miss you! I love taking care of your sweet babies. Thank you for always trusting me with such an important task.
And thank you so much to everyone who has supported me as I've worked on this blog. You all inspire me to keep working, and I hope you continue to read my posts and give me your honest and helpful feedback.
Curious how I plan to make money now that I don't have a job? I lay it all out in this follow-up post.
We'll be talking soon!
XO
Laura