Florida Salad – A Delicious Cabbage Soup
As an Amazon Associate and member of other affiliate programs, I earn from qualifying purchases.
Do you have a family recipe that has a completely random name? It seems like kids are especially good at coming up with hilarious names! This recipe for cabbage soup is a great example.
My friend Kim is a very busy local caterer. She is the go-to caterer for local weddings, corporate events, and even catered for a reality TV show that was filmed here in town!
Kim graciously agreed to help me make some cooking videos demonstrating recipes that use fresh produce.
For our first video, Kim and I decided to share a recipe that is perfect for this time of year when we can't wait for summer, but the weather just won't cooperate. This cabbage soup is super simple to make and is perfect for the sporadic cold nights of early spring.
I've got some cabbage growing in our garden, and I can't wait to make some more of this soup when it's ready to harvest!


This cabbage soup smells delicious! No really.
The smell of the chopped green bell pepper reminded me that summer days are coming! From the pot on the stove, I never noticed any bad odor from the boiling cabbage, but instead was overwhelmed with the smell of yummy stewing tomatoes.
And the bacon! Y'all is there any better smell than bacon frying in a cast iron pan?!
For such simple ingredients and method, this soup has a peppery, bacony yumminess that goes perfectly with your favorite cornbread and a large glass of sweet tea.
Watch the video to find out why this soup is called Florida Salad.
Isn't funny how weird names just seem to stick?
To make Florida Salad you will need the following kitchen supplies:
Ingredients-homegrown, market, or store bought:
1 large head of cabbage
2 28 oz cans of tomatoes
1 large green bell pepper
Salt and Pepper 1.5 tsp each (or to taste)
16 oz package of bacon
Method:
Chop cabbage and bell pepper into bite-sized pieces. Set pepper aside.
Add the cabbage, tomatoes, salt, and pepper to the stockpot on medium-high heat.
Cut the bacon into one-inch segments and fry in the hot skillet until crispy.
Place the cooked bacon on a paper towel and pour all but 1-2 tbsp of bacon grease into a glass jar.
Cook the bell pepper in the bacon grease until slightly softened. Then add peppers and grease to the cabbage and tomatoes.
Simmer cabbage soup for 30 minutes or until the cabbage is softened to your liking.
Stir in the crispy bacon immediately before serving.
Don't forget to grab the printable recipe card.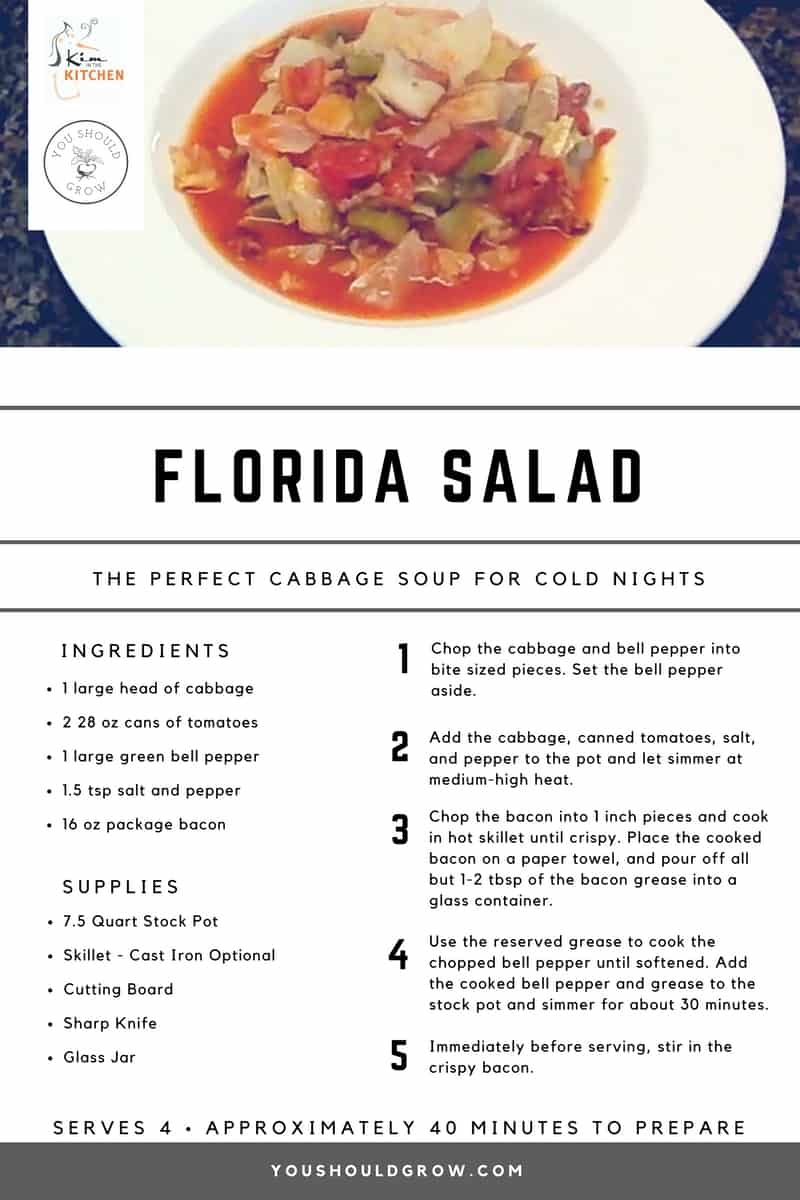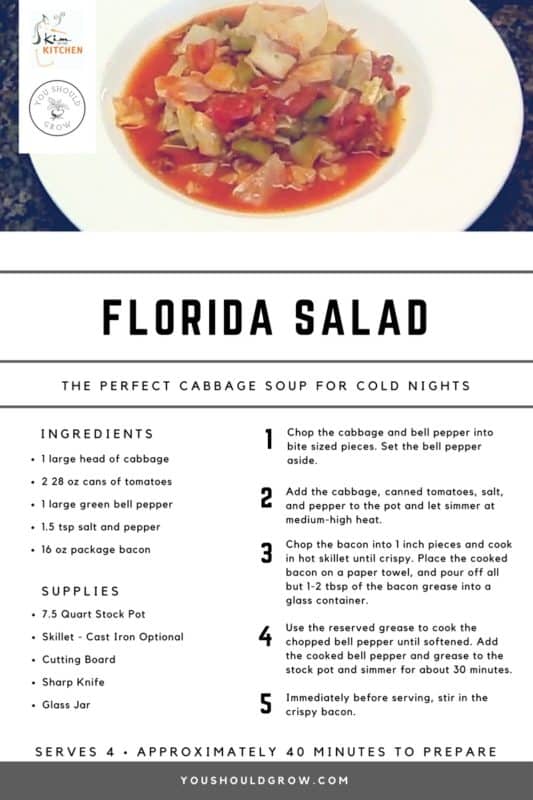 I had so much fun cooking with Kim! I can't wait to make the next video!
Let me know what kinds of produce you'd like to see us cooking with for our next episode by leaving me a comment below.
Make sure to join my newsletter for notification of new recipes, posts, and videos.
[mailerlite_form form_id=5]