35+ Unique Non-Toy Gift Ideas For Kids
As an Amazon Associate and member of other affiliate programs, I earn from qualifying purchases.
There are plenty of reasons that families want to give non-toy gifts for birthdays and holidays including minimizing clutter and saving some money. But did you know that kids actually benefit from having fewer toys?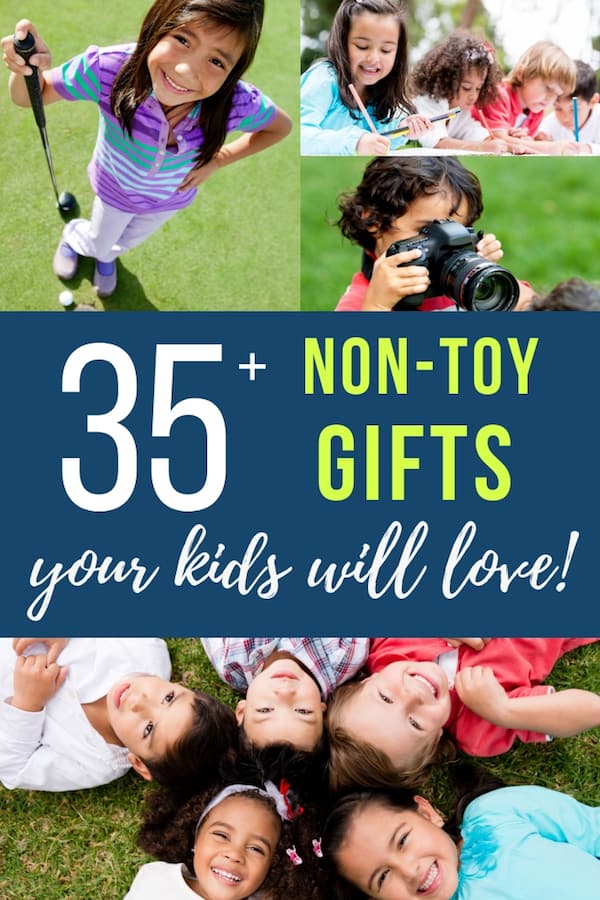 With that in mind, I've gathered the best non-toy gift ideas for kids.
There are lots of options for non-toy gifts that are really fun and educational! Check out some of these great ideas that are sure to please all types of kiddos.
STEM/STEAM kits
Kid-focused STEAM boxes are a cool new way to spoil your kids. You can get a particular one or a subscription for up to 12 monthly boxes. I suppose that technically these are filled with toys of sorts, but these toys are educational, stimulating, and challenge your kids thinking and creativity.
Arts and crafts supplies.
The options are endless when it comes to getting art supplies for kids. The key is to observe them and figure out what things they get most excited about. Whether your child loves to paint, draw, or make jewelry there are tons of arts and crafts kits on Amazon for you to choose from.
A desk, vanity, or bookshelf for their bedroom with accessories.
Do you remember how fun it was to have your own desk and accessories when you were a kid? I loved having my own little stash of 'office supplies' because it was just like being a grown up.
Parent approved electronic devices
Name brand clothing, shoes, and accessories.
Since I'm pretty strict on our spending, the kids don't always get to choose the coolest things or trendiest gear. But that means they get really excited when they do get the newest coolest thing for their birthday or Christmas.
Season passes to sports events.
In our case, we got season tickets to the high school football and baseball games for our son. He was thrilled! What a treat for him to get to go to Friday night games with all his friends.
If your child loves professional sports and season tickets are out of the budget, consider buying tickets to just one or two games and giving them some money to buy treats and gear while you're there.
Gift cards for experiences like tours, restaurants, and amusement parks.
Membership to museums.
Does your child have a favorite museum or love going to the aquarium? A membership pass to their favorite museum would be the perfect gift.
Camping gear and sports equipment.
If you have an outdoorsy child, maybe they would love to go camping or glamping in your backyard. Gift them their very own tent and camping supplies, grab some marshmallows, and have fun even if it's in your own yard.
Sleepover supplies and party games
My kids love having their friends over for a sleepover, but parents know that sleepovers can be really stressful for mom and dad. One thing I've found that makes it easier is making sure the kids have plenty of things to do.
Support their favorite hobby
If your kids love photography, music, or cooking get them the supplies they need to improve their skills.
What are your favorite non-toy gift ideas for kids?
I feel like I could go on and on with these ideas! I'm actually really excited about getting some of these for our kiddos. If you have a great idea for non-toy gifts, leave me a comment below!