Tips To Have An Eco-Friendly Halloween
As an Amazon Associate and member of other affiliate programs, I earn from qualifying purchases.
Halloween is a magical time of year. But it's also full of items that only get used once and more trash than you expect. That makes it one of the most un-eco-friendly holidays of the year! Thankfully, there are a few very easy things you can do to make sure your family has an eco-friendly Halloween.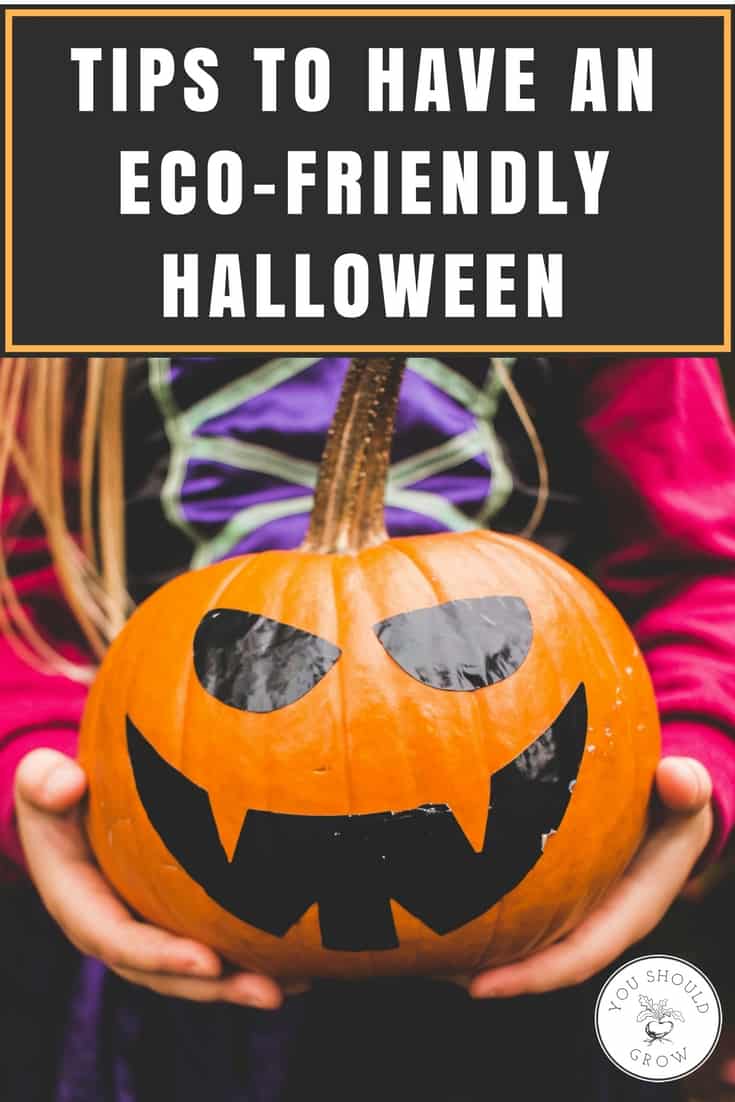 LED or Solar Lights in the Driveway
Having lights on is the best way to attract Trick or Treaters. But keeping them on for hours isn't very eco-friendly. You can make them a little more environmentally friendly by using LED lights or even solar powered lights. This easy switch is something you'll be able to keep using all year.


Skip the Trick or Treat Bucket
The pumpkin-shaped plastic bucket that has become so popular are terrible for the environment. They're cheaply made with materials that mean you'll be throwing it away in just a few months and buying a new one next year.
Give your kids something else to put their treats in. With a little creative thinking, you can find something you already have in your home. A pillowcase is a popular alternative, but you could also use an old purse, or any container with a handle really.
Here's a great idea to make a bag out of an old t-shirt!

Walk Around the Neighborhood
By the time Trick or Treating starts it's dark, or at least getting there. Depending on where you are it might even be a bit cold. You might be tempted to jump in the car for the trick or treating.
But have you considered what this does for the environment? All that stopping and going does a lot of harm. Instead, bundle up warm, grab a flashlight and an umbrella and take a walk.
It's also fun more fun for the kids to walk around and see all their friends. Pull the littlest ones behind you in a fun wagon.


Decorate for the Entire Season
Instead of buying cheap, one-time-use Halloween decorations get ones that you would be happy to display throughout Fall. Doing this means you're spending less money for décor, and it means you're more likely to skip those window stickers that just don't stick as well by next year.
Take a look at these eco-friendly Halloween decorations.
Have a No Waste Pumpkin
If you're like most people once you're done with pumpkin games and carving, you throw away all the gooey insides. But by doing that you're throwing away perfectly good food! Believe it or not, you can actually have a no waste carved pumpkin.
Every part, from roasting the seeds to using pumpkin for compost you can make sure none of it ends up in the trash.
If you have backyard chickens, feed the leftover pumpkin to them. They'll love it and pumpkin seeds have been shown to have some deworming properties!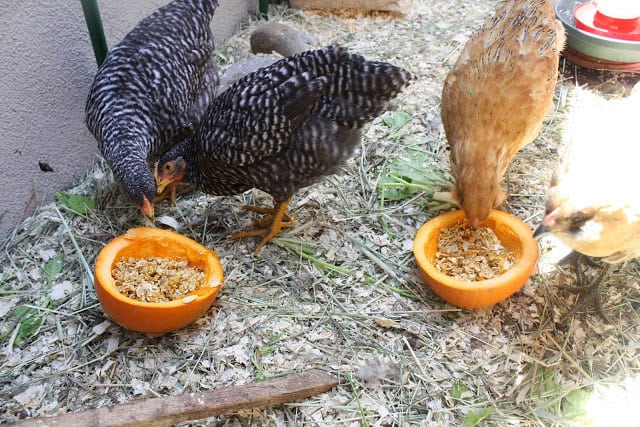 Give Out Organic Treats
It may end up being a little more expensive but giving out organic treats, or non-food treats are a great way to make Halloween a little more eco-friendly. It's also a healthier option for kids who are going to be bombarded with sugary treats.
You might also try making your own healthy Halloween treats.
Treats with Less Packaging
While you're looking at alternatives to hand out to Trick or Treaters look for something with less packaging. Individually wrapped treats are great for making sure treats are safe and untampered with but they're horrible because of how much waste they produce. Thankfully you can find treats that come in biodegradable packaging pretty easily.


Make or Rent a Costume
Let's face it, you and your kids are only going to wear your costumes once. What happens to them after that? Either they clutter up your closet or, more likely, they get thrown away.
There are lots of great ideas for making your own costume, and it doesn't have to be expensive or difficult. Find out how to decide if you should make or buy your Halloween costume.
Don't like either of those options? Why not rent your costume instead?
It may be a little more expensive, but you'll get a higher quality costume and you won't have to worry about what to do with it after Halloween is over.
Donate Your Costume
After Halloween, your costume still has a lot of life ahead of itself. Instead of spending it in a dump, why not donate it?
Contact your local schools and preschools to see if they need costumes for drama and play time. Or you can donate your gently used costume to a local non-profit organization that gives children in need free costumes for Halloween. All you have to do is wash them and mail or drop them off at the donation center.
Share your ideas for having an eco-friendly Halloween in the comments!