12 Best Gardening Gift Ideas For Women
As an Amazon Associate and member of other affiliate programs, I earn from qualifying purchases.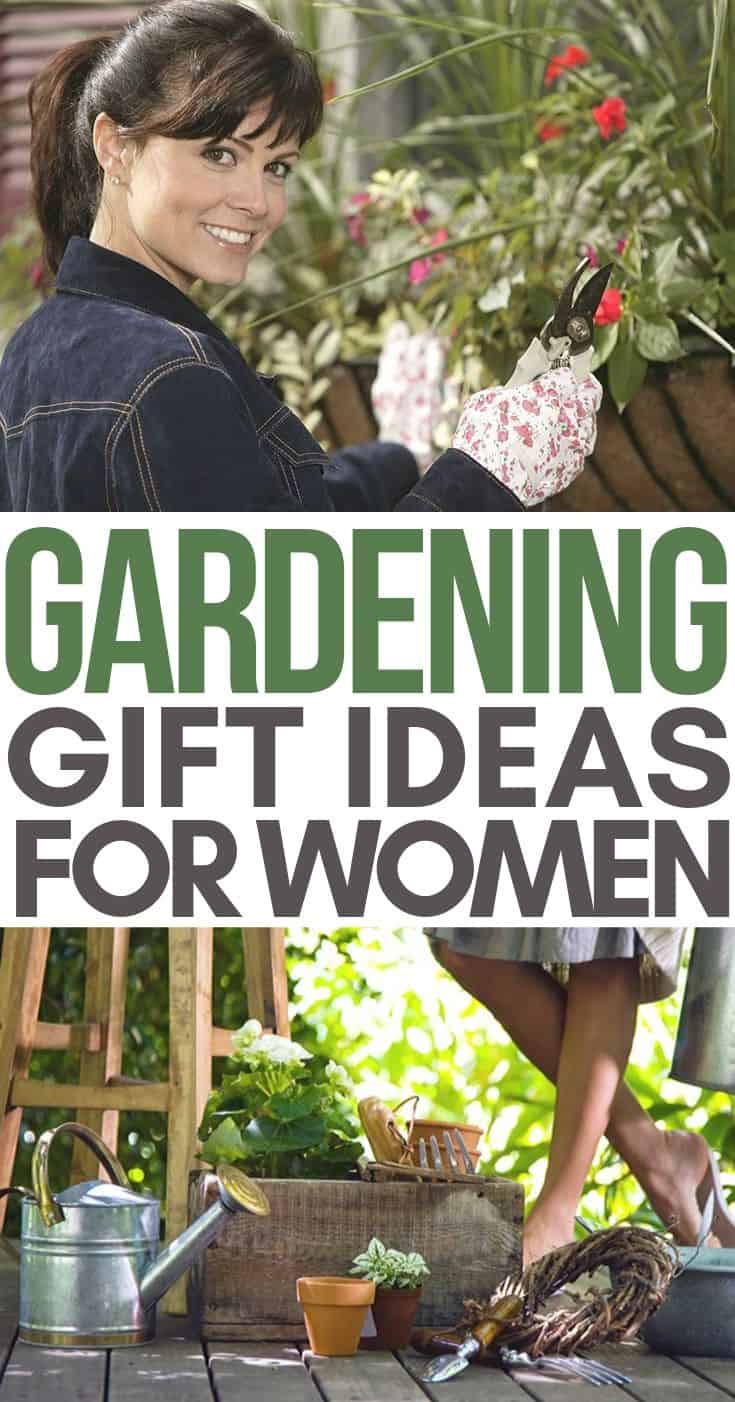 Whether you're shopping for your mom who has years of gardening experience or your girlfriend who is just getting started, these gardening gifts for women are sure to please her.
As women, we don't always ask for what we need. So it can be hard to buy the perfect gift for that special lady in your life. If she's a gardener, though, she's sure to like one of these unique and useful gift ideas.
Gardening Gift Ideas For Women
The first set of gifts on our list will be perfect for a gardener at any level. These affordable and thoughtful gift ideas will make her happy no matter the occasion. If you're looking to splurge a little, check these ideas out first.
Hand and Nail Care Products
Gardeners should invest in healing hand creams. Fancy scented items are not usually on our shopping list. It's one of those things we'd definitely use but are unlikely to buy for ourselves. Treat your lady friend to a set of high-end lotions that will help moisturize and protect her skin after a day of gardening.

I really like this sampler set from Crabtree and Evelyn who make some of the most luxurious lotions out there. It's a small splurge your gardening gal is unlikely to get for herself but is greatly appreciated.

If she's a nail person and you frequently hear her lamenting over her chipped manicure, get her this dip color starter kit from Kiara Sky. I know good gardeners don't have pretty nails, but the dipping system for nails is literally revolutionary.
This manicure stays in place for weeks without chipping, and there are hundreds of color options. It's easy to do at home and saves her the $30-70/month she was spending on going to the salon to have her nails done.
SPF Hoodie
Gardeners spend a lot of time in the sun, and it's imperative that we protect our skin while we're tending our plants. She'll appreciate this SPF 50 hoodie that is thin enough to wear on even the hottest days of summer.
There are many other options for SPF clothing, but I like this hoodie because it's easy to slip on over whatever she's already wearing and the hoodie can be pulled up to protect the back of her head and neck when she's leaning over her plants.
Plants and pots
Gardeners often say that they buy dozens of plants without the first idea of where to plant them. And I'd add to that that we also love containers…and for giving a woman a gift, look for something that really represents one of her favorite things.
If she's an animal person, find a fun planter in the shape of her favorite species. I've seen everything from alpacas to sloths!

Animals aren't her thing? Look for a unique and lovely planter in her favorite style. I love the look of these Moroccan themed planters.
Make this gift even more special by dropping in pots of her favorite in-season plants or flowers. If you like, you don't even have to plant them. Just set them inside the pots, and it's sure to make her smile.
Gift ideas for beginner and experienced gardeners
For those who are just starting out, these gift ideas will help them get going on their gardening journey. A lot of learning gardening is trial and error, and these thoughtful gifts will support her success as she's getting started with a new hobby.
Gardening kits
A simple all in one solution for getting started with gardening, garden kits include everything you need to be successful with your first garden. There are dozens of kits out there from indoor herb gardens to growing your own mushrooms.
Our choice for beginners: Herbs In The Burbs garden kit by Garden Republic
This all in one herb garden kit will have her growing her own kitchen herbs in no time! Herbs are easy to grow plants, and this kit includes everything she needs for success. But if cooking is not her thing, also check out their succulent kit.
Our choice for experienced gardeners: Aerogarden Harvest Elite
Technically, you don't need to be experienced to grow with an Aerogarden. The process is super simple with the included seed pods, but while I love growing in the Aerogarden it does need a lot of maintenance.
Plants grow super quickly, and she'll need to be paying close attention to harvesting her herbs!
Easy watering solutions
Beginners and experienced gardeners will love getting an Olla as a gift. This ancient method of watering involves burying a terracotta vessel in the soil near your plants. Once filled with water, it slowly seeps out through the unsealed terracotta into the soil around it.
Our pick for beginners: Terracotta watering spikes
A cute watering solution for container gardens is these adorable flower terra cotta waterers. Shaped like a tulip, they add a little decorative touch to your potted plants while providing a slow and steady watering solution.
Our pick for experienced gardeners: Growoya
This is a traditional olla that will provide slow and steady watering to a 4 square foot area. Perfect for a veggie flower garden, she'll love how much time using this olla will save her.
Gardening books
When I was first getting started in the garden, I relied heavily on my favorite garden books. Sure there's tons of free info on the internet, but sometimes you need a good old fashioned ink and paper book.
The first book I ever used was an Encyclopedia of plants and flowers. This helped me to be able to identify different types of plants and the environments they're most likely to thrive in.
Our choice for beginners: Encyclopedia of Plants and Flowers
Our choice for experienced gardeners: The Year-Round Vegetable Gardener
Challenge her to grow her food year-round with this classic by Nikki Jabour. With the tips and encouragement in this book, she's sure to find something new to try in her garden.
Splurge on these gardening gifts for women
Women usually hold back when it comes to spending big money on their hobbies. If you have the budget for it, these gift ideas may be a bit of a splurge, but she's sure to swoon!
Elevated self-watering planters
These cedar planters will fit in with any style, and the fact that they're elevated and the self-watering feature makes them a gardener's dream. Whether she wants to plant a food garden or grow her favorite flowers, she'll love the ease and beauty of these planters.
If she has the space for it, a set of these would be perfect on the patio or front porch!
Potting bench with shelves
Potting benches make seed starting and potting plants so much easier. Choose a smart design with upper shelves, a dry sink, and storage space underneath.
A lot of potting benches are small and flimsy in my experience. But this one from Gardener's Supply has everything a home gardener could need. The upper shelves offer plenty of space for holding garden tools, plant markers, and small pots.
The top of the table slides open to convert the tabletop into a dry sink and side shelves. Brilliant! This potting bench is a definite splurge and will set you back a few Benjamins, but isn't she worth it? 😉
What garden gift has your special lady loved?
If you've purchased one of these gifts and loved it let us know. Please share your experience in the comments below!