Something that always surprises me about gardening is how many parts of plants are actually edible, but we never really think about eating them. Today, I'm going to share my experience eating pumpkin leaves and show you how to prepare pumpkin leaves for soup, salad, and sauteed recipes.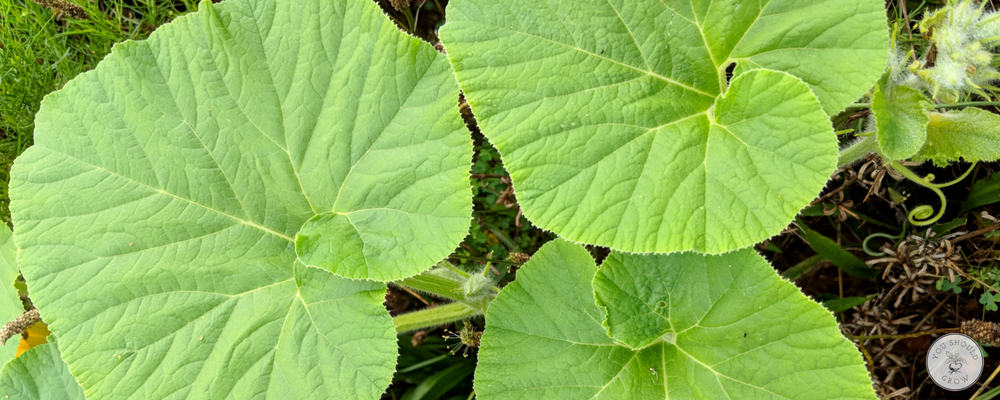 There are many edible parts of common vegetable plants besides the fruit. For some veggies, like tomatoes, we know that the leaves are toxic but the leaves and flowers of squash plants are edible.
Even though we grow some plants like lettuce and kale just for their leaves, it had not ever occurred to me to try eating pumpkin leaves.
What do pumpkin leaves look like?
Pumpkins have flat broad leaves. The larger the pumpkin variety the larger the leaf gets. Younger leaves are smaller and more tender. Those are the ones you'll want to harvest for your meal.
The leaves on a pumpkin plant are not naturally appealing because pumpkin leaves, like other squash plants, are very spiny. The little spikes on the leaves and stems can give you a painful poke and make your skin super itchy.
Because of this, pumpkin plant leaves must be prepped by removing the spikey coating before you can eat them. It's a bit of a tedious process to get rid of that unpleasant part, but more on that in a minute.
Nutritional benefits of pumpkin leaves
Like many other green veggies, pumpkin greens are very good for your health.
They are full of vitamins A, E, B, and K plus folate, calcium, iron and other minerals. They also provide a lot of protein for a veggie and are low in sodium and cholesterol free.
Being high in antioxidants, they are beneficial for healthy skin, bones, and your immune system.
Harvesting pumpkin leaves for eating
When harvesting leaves from your pumpkin plants, choose the smallest leaves on the front of the vine and make sure to leave every other one so the plant can continue to grow. Do not cut off the growing tip of the pumpkin plant vine.
Like other veggies, the older they get the more fibrous and bitter they get, so always pick the youngest leaves for cooking. You'll be able to tell the younger leaves because they are smaller and located at the tip of the vine.
After harvesting, rinse the leaves in water to remove any dirt and debris.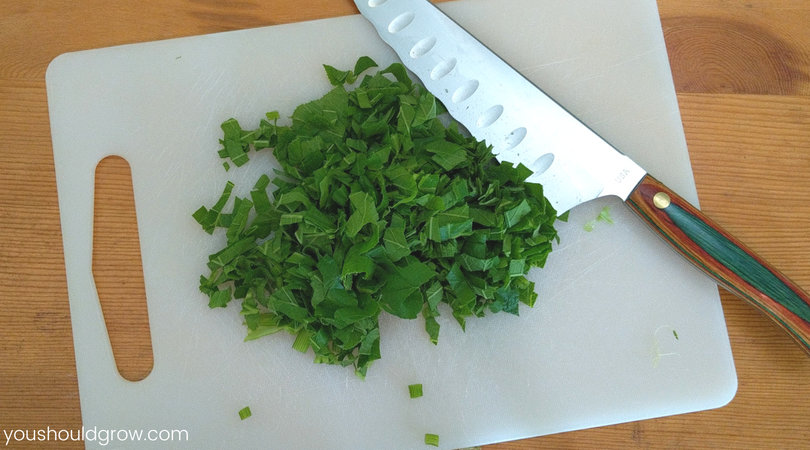 How are pumpkin leaves used for cooking?
In Nigeria, pumpkin leaves are called Ugu and are very commonly used in soups and main dishes. They are used similarly in Indian cuisine.
When cooked and prepared properly, pumpkin vine leaves are a smooth and creamy compliment to coconut based curries and peanut sauces.
Prepare pumpkin leaves for cooking
So how do you get over those spiny bits on the leaves?
The spiny strands can be pulled off by pinching the cut tip and peeling. It takes quite a long time, but it's not hard to do.
How to cook pumpkin leaves
Once your leaves are cleaned and prepped, you can chop and cook the leaves in your favorite recipe. Pumpkin leaves are great in soups, stews, and sautees. They can be substituted for collard greens or turnip greens in any recipe.
You can also eat raw pumpkin leaves in salads. For fresh eating, choose only the smallest, youngest leaves as they'll be the most tender.
I didn't use a recipe to cook my pumpkin leaves. I just wanted to get a feel for how they tasted first. So I decided to chop up them up and sautee them in olive oil with tomatoes and garlic.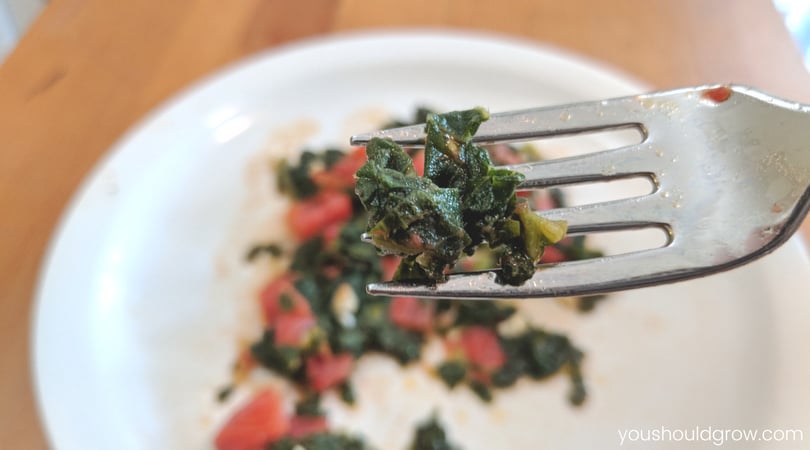 The cooked leaves tasted like turnip greens. They have a smooth pleasant mouthfeel despite starting out with tiny thorns.
I would eat pumpkin leaves again for the flavor, but the work of preparing them makes it not appealing to try again. It was quite time consuming to prepare them.
If you want to skip that step, you can purchase dried pumpkin leaves on Amazon.
What do you think? Will you try eating pumpkin leaves?