Digging Into The Homestead Box
As an Amazon Associate and member of other affiliate programs, I earn from qualifying purchases.
Have you heard about The Homestead Box? It's a subscription box full of things you need for your homestead. And whether you're homestead dreaming, just beginning, or still learning, you need to check this out!
Who doesn't love a great subscription box? I've seen other subscriptions for clothing, jewelry, make-up, and wine, but none were nearly as useful as what came in my first shipment from The Homestead Box.
Full disclosure: I received a sample Pioneer box at no cost in exchange for my honest review.


The purpose of The Homestead Box
The staff and curators at The Homestead Box are gardeners, farmers, ranchers, and homesteaders just like you and me. With their combined experience, they hunt down the most practical items they have found to be helpful on a homestead.
Their goal is to provide subscribers with the tools they need to accomplish a more sustainable, simple life. From cooking to gardening, their boxes aim to help you learn to do more for yourself and succeed in creating your homestead dreams.
The Homestead Box has three convenient subscription levels: The Vintage priced at $24.99 per box, The Classic at $49.99 per box, and the Pioneer at $99.99 per box.
Every month, they feature a theme centered around skills for self-sufficiency. Previous boxes have included supplies for seed starting, foraging, garden pest control, and tool and leather care.
I know that $100 per box is a big pill to swallow, but I think this box offers a great value. In total, I would have spent over $150 to receive all of the items included in this box.
And even then it would not make sense to spend the money except that everything in this box is incredibly useful on the homestead.
So what's in the box?
This month the theme was Hearth and Harvest, and what perfect timing! We have loads of produce coming in from the garden, and the box was full of useful tools.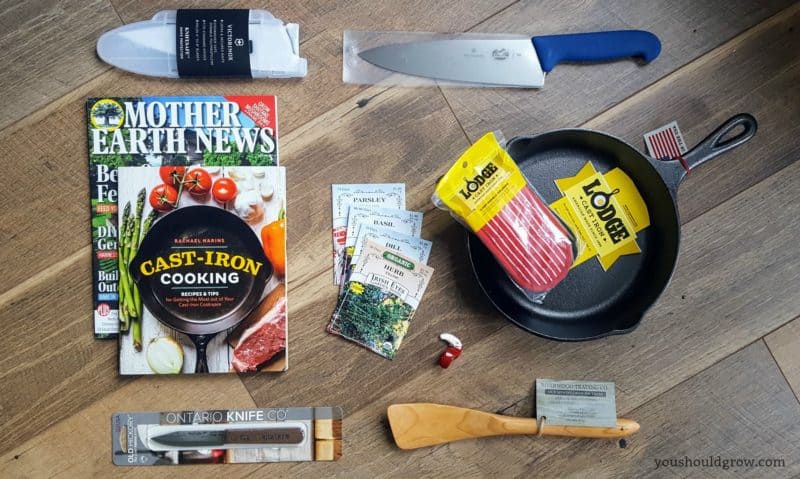 Hearth and Harvest tools from The Homestead Box
Victorinox Fibrox 8 inch Chef's Knife
Victorinox KnifeSafe Blade Sheath
Mother Earth News Magazine
Cast-Iron Cooking Cookbook
Ontario Knife Company Paring Knife
Riverwood Hand Carved Wooden Spatula
Lodge 9-inch Cast-Iron Skillet
Lodge Skillet Handle Covers
Handy Twine Ring Knife
Basil, Dill, Parsley, and Thyme Herb Seeds
A pretty awesome set of tools for the kitchen and garden!
Handy Twine Ring Knife
When I first saw the Handy Twine ring knife I wasn't really sure what it was. But once I learned how it's used, I fell in love with it!
This little knife fits on your finger and can be used for anything you can think of! Harvesting, pruning, opening boxes, and yes, cutting twine.
My new ring knife is coated in smooth red vinyl for comfort and is designed to fit on your middle finger. It works great for anything that you want to hook and cut.
Luckily, the ring is too small for my husband's giant hands, so this cool tool is all mine!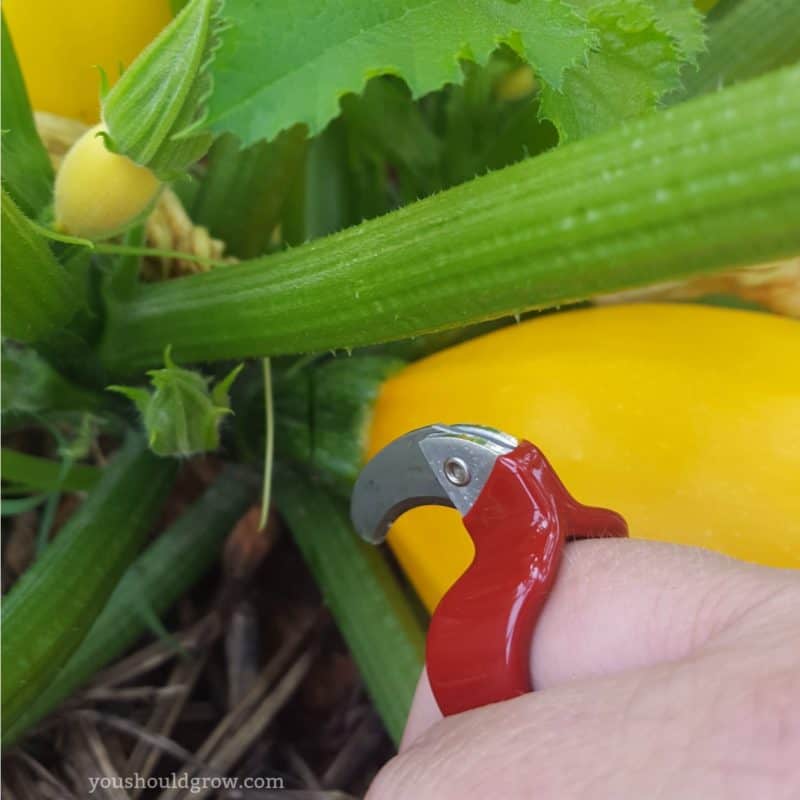 I'm using it to hook and harvest squash in this picture. When it comes time to pick the okra, I know I'm going to love having this tool!
Herb Seeds
This month's box included set of garden herb seeds from Irish Eyes Garden Seeds including thyme, basil, parsley, and dill. A great set of herbs for cooking with farm fresh produce.
Irish Eyes Garden Seeds is a family run business out of Washington state. They run an organic farm specializing in potatoes and seed production.
I had not heard of this company, and I'm an avid seed collector. I love to support small businesses, so I'll definitely be checking out their other offerings.
Victorinox Chef's Knife
The Victorinox Fibrox 8 inch chef's knife and KnifeSafe plastic sheath were the first things I pulled out. We so needed a new chef knife in our kitchen so I was super excited to see this in the box.
A chef's knife is a kitchen staple whether you homestead or not, and a good quality knife just does the work for you.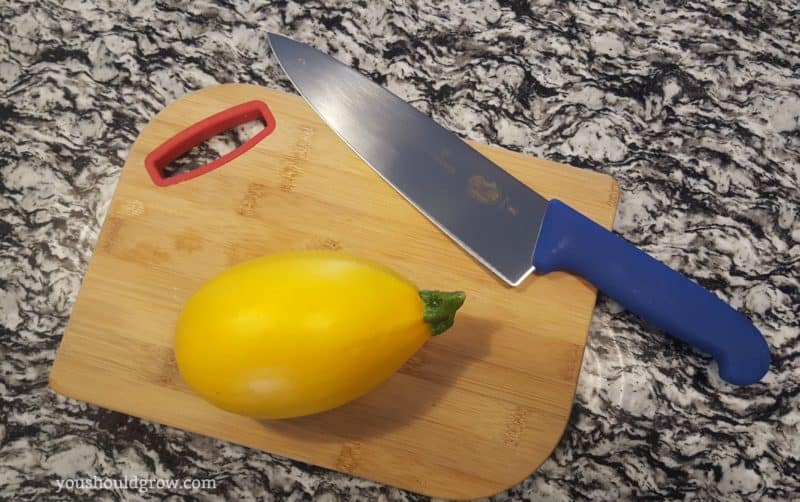 This knife feels great in my hands. It has substantial weight, and it cut my Golden Egg squash really smoothly. The dishwasher safe plastic sheath is great for safely storing the knife when it's not in use.
Paring Knife
The Ontario Knife Company carbon steel paring knife is super sharp, lightweight, and has a comfortable wooden handle.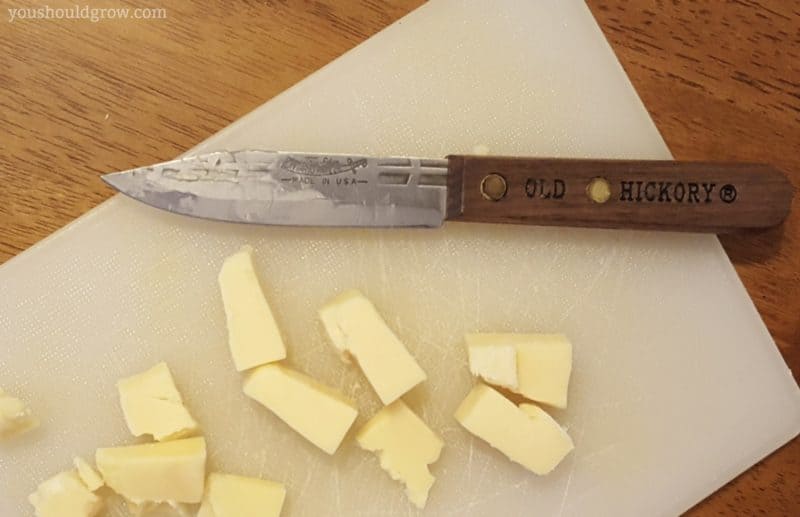 I used it yesterday for cutting cheese, but paring knives are great all purpose knives and a definite staple in any kitchen.
Their compact size makes them great for adding to your garden tools, fishing, hunting, or bug out kit, too.
Cast Iron Skillet
Who doesn't love cooking in cast iron? The Homestead Box came with a Lodge 9-inch iron skillet and 2 skillet handle covers.
Iron skillets are perfect for cooking on the stove, in the oven, or over an open fire which means their right at home on your homestead. This skillet is a great size for frying eggs, roasting veggies, or baking cornbread.
After seasoning my new skillet, we used it to roast the Golden Egg squash. See those brown edges? That's where the sugars caramelized from this yummy summer squash.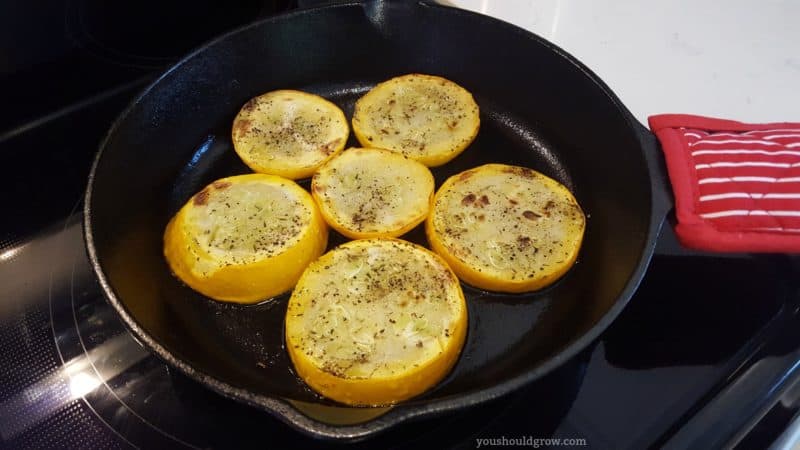 Cast Iron Cookbook
I loved that the folks at The Homestead Box included Cast Iron Cooking: Recipes and Tips For Getting The Most Out Of Your Cast-Iron Cookware.
Iron skillets have their own set of rules, and if you don't know them you could ruin your pan.
This is a great cookbook, but it also includes tips for seasoning, cleaning, and restoring iron pans. I love that the recipes in this book range from fondue to gingerbread.
I can't wait to try this Mango Curry recipe!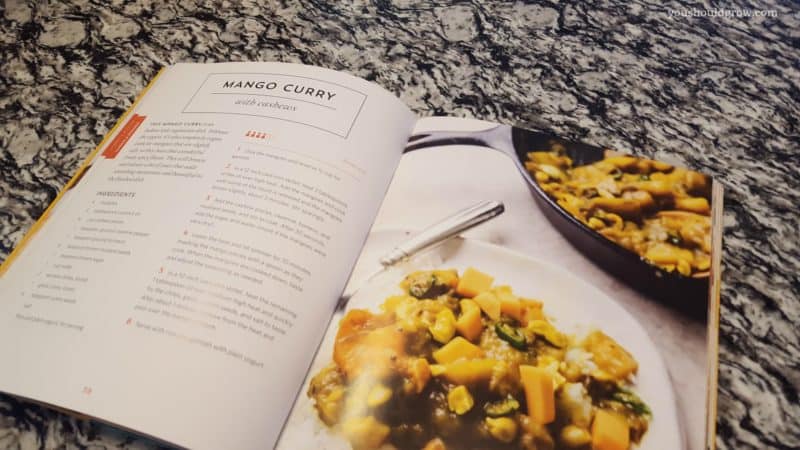 Wooden Spatula
Yet another homestead kitchen staple, the wooden spatula. This hand carved wooden spatula by Riverwood Trading Co is just beautiful. The wood is so smooth, and the shape of the spatula is really unique.
It has a gently curved and slanted head which makes it a great shape for stirring, flipping, and scooping. The Riverwood Trading Co. was the featured brand for this month's box.
Each of their products is hand made by a father and son team in Harmony, Pensylvania. They offer a full set of wooden kitchen tools and even have tools designed for left handed chefs, like my hubz.
Mother Earth News Magazine
Mother Earth News Magazine April/May issue. We recently canceled our Mother Earth news subscription in an effort to save money, so I was really glad to get a current copy.
If you haven't read through a Mother Earth News Mag, then you must have started homesteading yesterday!
The magazine features articles about growing food, keeping farm animals, and lots of DIY for sustainable living.
The Homestead Box is a good value
I was impressed at the quality and quantity of tools included in the box. As I mentioned, there were over $150 worth of supplies in my Pioneer box.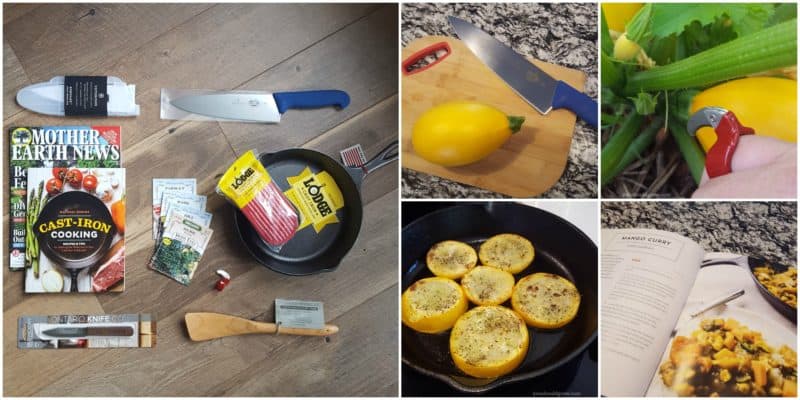 I could imagine giving this box (or any item in it) as a gift. But honestly, I wouldn't want to give any of it up.
It was so much fun getting The Homestead Box. I am really looking forward to next month's edition!
Thank you to Greg at The Homestead Box for sending me this sample.
I highly recommend that you register for the next box, but don't wait too long. The deadline is July 5th!
---
[mailerlite_form form_id=5]