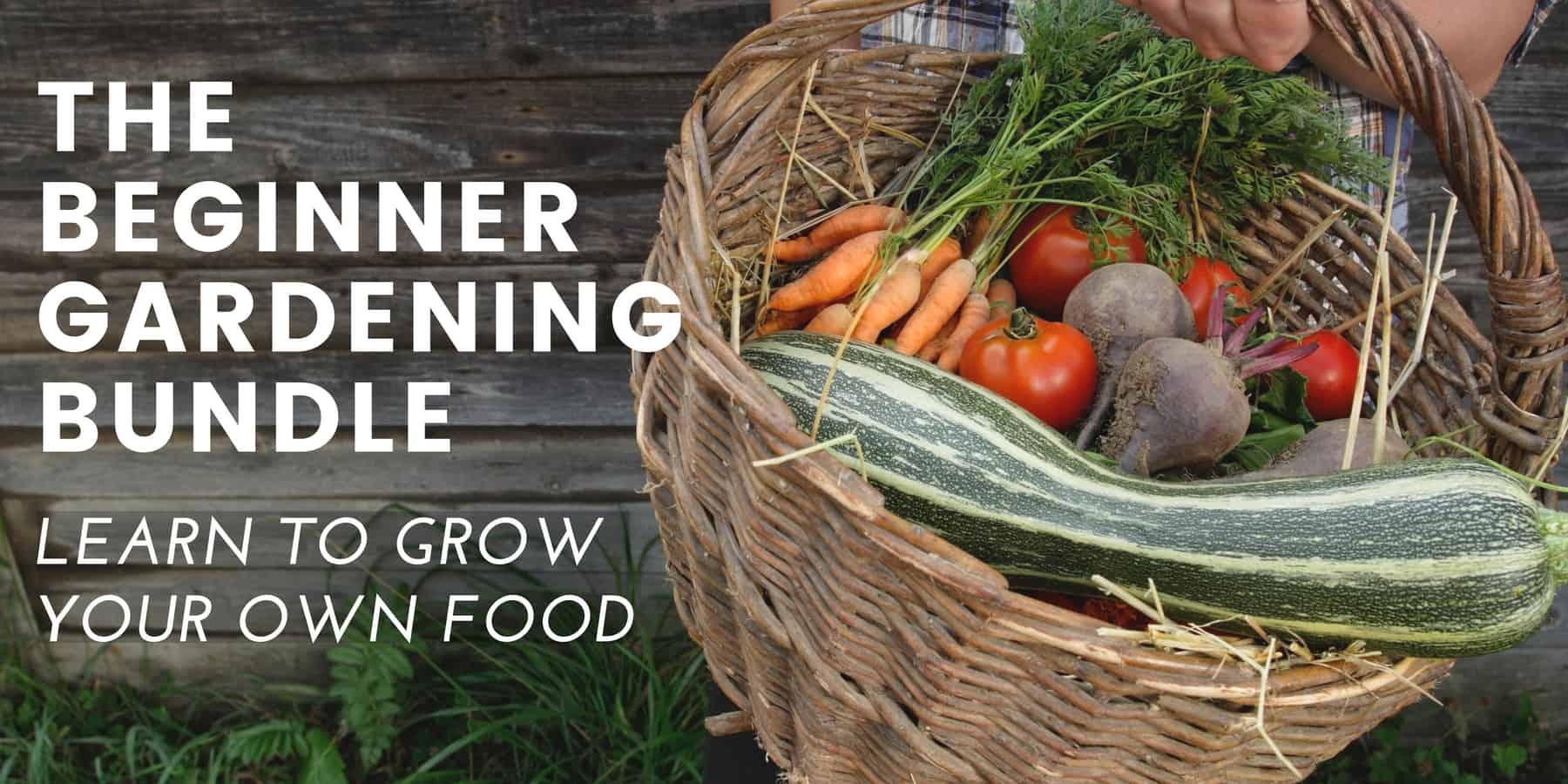 This post contains affiliate links. Read our privacy policy here.
The most frustrating part of tomato growing is dealing with tomato problems. It's so irritating to wait all year for your homegrown tomatoes only to have them ruined by disease, pests, or rotten spots.
This article aims to help you identify and address issues that affect the tomato fruit. A companion article covers tomato leaf problems.
Tomatoes are one of the most popular food plants in home gardens. It's often the first type of vegetable a person tries to grow at home.
But often, home growers become frustrated if their tomatoes don't ripen, have blemishes, or are ruined or stolen by pests.
Sometimes there's nothing that can be done about tomato problems, but sometimes you can prevent them from coming on with a little knowledge about what causes the problem.
Common Tomato Problems In The Home Garden


Brown or black rotten spots on the bottom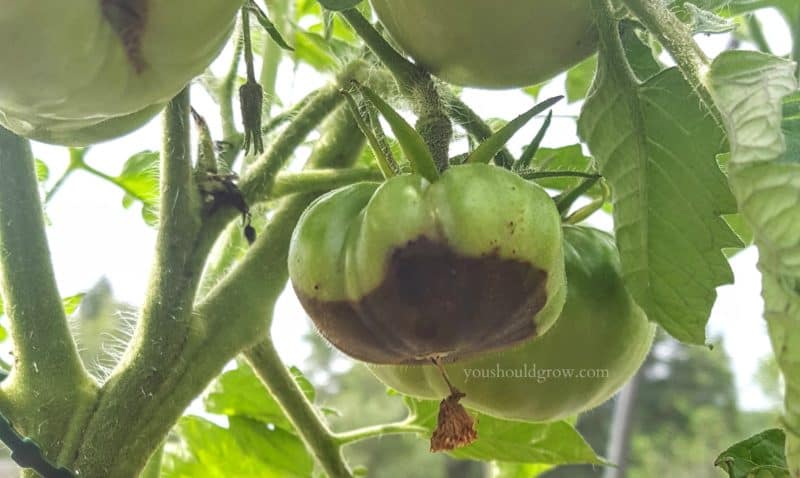 Blossom end rot is one of the most common problems with tomatoes. It is related to calcium uptake within the fruit. It is often recommended to add calcium to your soil at planting or after blossom end rot is noted.
However, we now know that a lack of calcium in the soil is usually not the problem. Read all about blossom end rot and the 2 biggest myths surrounding it.
To prevent blossom end rot, plant resistant varieties, mulch around your plants, and don't over fertilize.
Cracking Fruit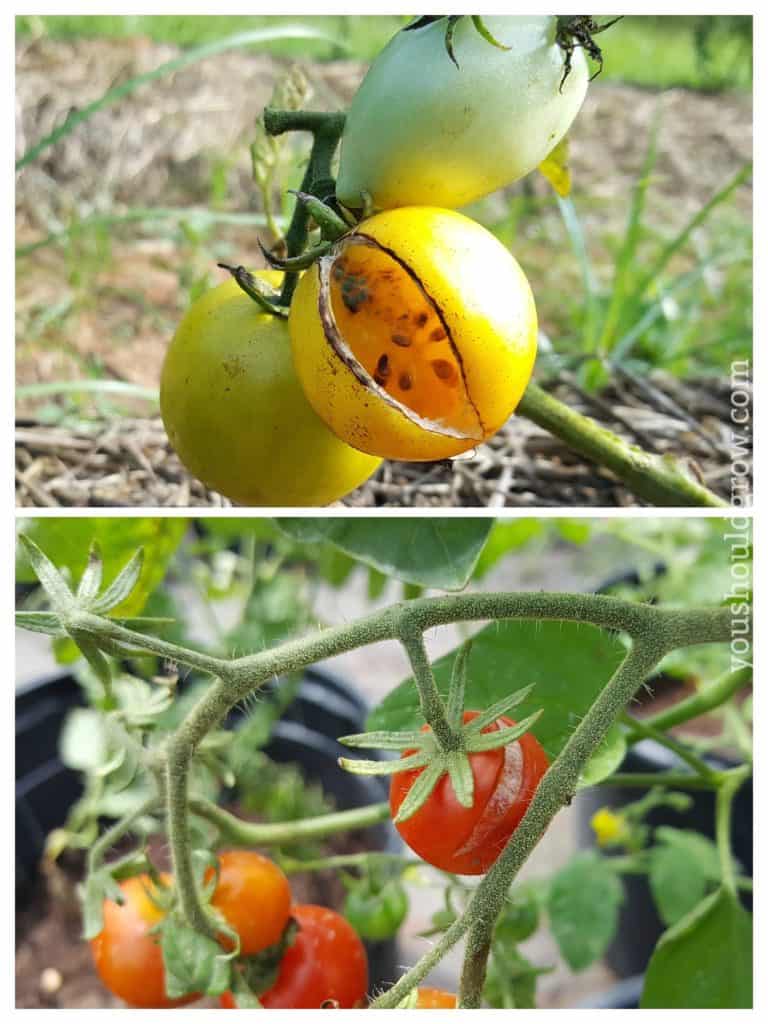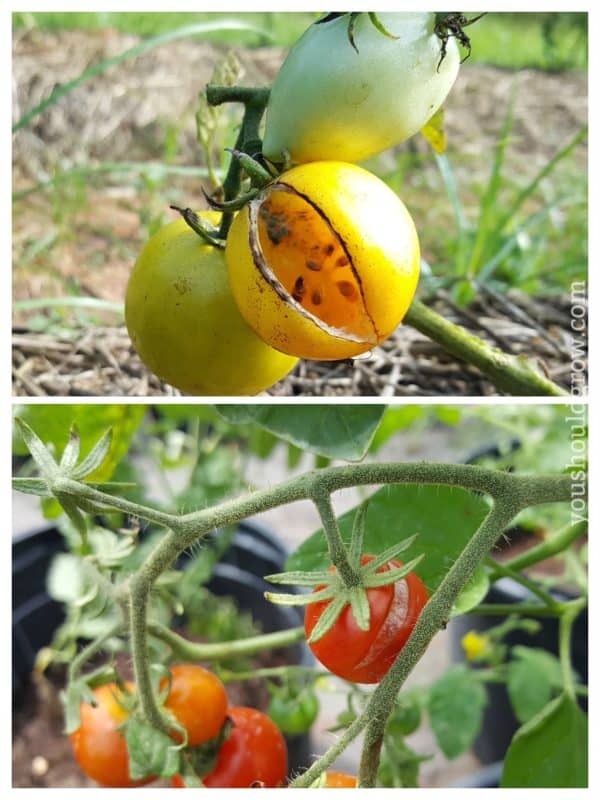 Another very common tomato problem is cracks in your fruit's flesh. The cracks may form in circles around the stem or radiate outward from the stem.
Radial cracks are very common, often heal on their own, and do not affect the health of the tomato. These types of cracks are more common on larger tomatoes and can be cut off with the stem. The remainder of the tomato is still good for eating.
Circular cracks are often found in cherry tomatoes. Sometimes the tomato will be busted open entirely. These types of cracks are more prone to growing mold than radial cracks.
Cracks are often the result of heavy rainfall or overwatering, but they also appear in periods of rapid growth. Some tomatoes are more prone to cracking than others, but it could happen to any tomato.
To help prevent cracking, don't over prune your tomato, plant a variety that is less prone to the problem, and apply heavy mulch to help maintain consistent soil moisture.
If you find that most of your tomatoes on a particular plant are cracking, you can try picking them green and letting them ripen indoors. Also watch your weather, and pick your tomatoes before a heavy rain.
Although it's perfectly fine to eat a tomato that has cracked, if you see any black or white moldy growth on the crack, it's best to toss it into the compost.
Lumpy fruit with raised ring-shaped discolorations
These lesions on tomato are caused by the Tomato Spotted Wilt Virus. TSWV is a viral infection transmitted by thrips that can be a problem not just for tomatoes but for many different species of plants.
Infected plants are unsalvagable and should be destroyed. Make sure to treat your plants for thrips to prevent further infection.
Hard brown or gray scarring on the bottom (aka ugly tomato)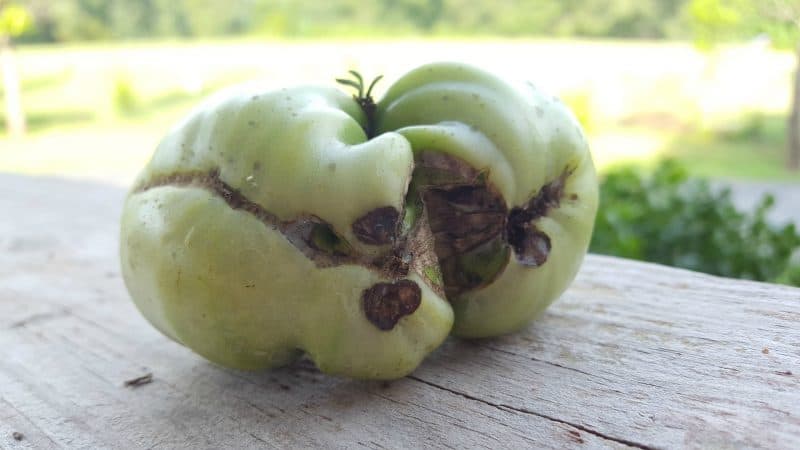 Most gardeners have dealt with one of these tomato problems. Cat facing is the term used for irregular shape and scarring of the blossom end of tomatoes. A scar line that extends up or around the side of the tomato is referred to as zippering.
While there is a genetic predisposition to cat facing, we know that it is usually seen in large tomatoes that develop from large blossoms.
Damage to the flower, cool temps in the 60s F during flowering, and aggressive pruning can all contribute to cat facing.
Although the scarred bottoms are not very attractive, these tomatoes can be very tasty.Sometimes the wrinkles and scars can crack and develop rot or mold, but often the remainder of the tomato is fine for eating.
To prevent these tomato problems, choose varieties less prone to the problem, make sure to plant your tomatoes after temps have risen to over 60 degrees F, and don't over prune your plants.
Holes in the fruit
Possibly the most infuriating of all tomato problems is finding holes in your fruit. Usually, upon investigation, you will find that the culprit for the damage is a worm, or technically, a caterpillar.
In the image above the caterpillar is kind of blending in with the cracks, and the gray spots are dried Bt…ironically.
Tomato fruit worms are black/brown worms that burrow into green tomatoes and take up residence, munching and living inside your precious tomato.
Tomato hornworms will eat the fruit, but don't burrow into it. Hornworms will also eat your tomato leaves all the way down to the stem.
Worm damage will often cause the tomato to ripen early or in an unusual pattern. It's very common to pick a beautiful ripe tomato only to find worm damage on the underside which caused it to ripen before all the others.
What is additionally disturbing is that hornworm caterpillars also leave behind large turds on your tomato plant leaves and fruit. Ew! If you see little poos on your plant, go hunting for a caterpillar.
Look all along the stem, under leaves, and inside of fruit to remove and destroy these creatures. Additionally, an application Bt or spinosad insecticide will help kill off most of the beasts.
Read more: The Bugs In My Tomatoes
Birds, rodents, and rabbits may also take bites out of your ripening fruit. Physical barriers around and over your tomatoes will help prevent crop loss.
Portions of the tomato are pale to white
Tomatoes can suffer from sunburns, too. These pale white areas are called sunscald (image). The damaged area will usually begin rotting very quickly.
If you live in an area where the summer sun can be harsh and relentless, make sure that you provide some protection from its rays for your tomatoes.
Usually, just allowing the plant's leaves to shade the fruit is fine. If you do experience sunscald, just remove the affected portion. The fruit will not ripen evenly, but portions of it are sometimes still edible.
To prevent sunscald, don't over prune your plants or plant in an area where they receive some late afternoon shade.
Large brown rough spots that are firm to the touch
If you find spots like this on your tomato plants, I'm sorry to tell you that you have late blight. Late blight is a fungal infection of tomatoes that often shows up when nights are cool and days are warm.
Late blight also causes brown lesions on tomato leaves often with white fuzzy growth underneath and brown or black lesions on the stems of your plants.
This is one of those tomato problems that will ruin your entire garden. Make sure to carefully bag up and remove all portions of the plant from your garden.
Sadly, there is no treatment for late blight once it infects your plants, and it quickly spreads from plant to plant.
If you've lost a crop to late blight, you might consider planting resistant varieties like Iron Lady and Matt's Wild Cherry. Application of organic fungicides may help prevent the disease but will not save infected plants.
Brown craters on ripe fruits
Another frustrating fungal disease of tomatoes called Anthracnose (image) will cause sunken lesions on your fruit and dark water-soaked lesions on the leaves and stem of your plants.
When you see signs of this disease, remove and destroy infected plants. An organic fungicide may be of help for the remaining plants.
Do not plant tomatoes in this area for the next 3 years.
Small white or black spots on fruit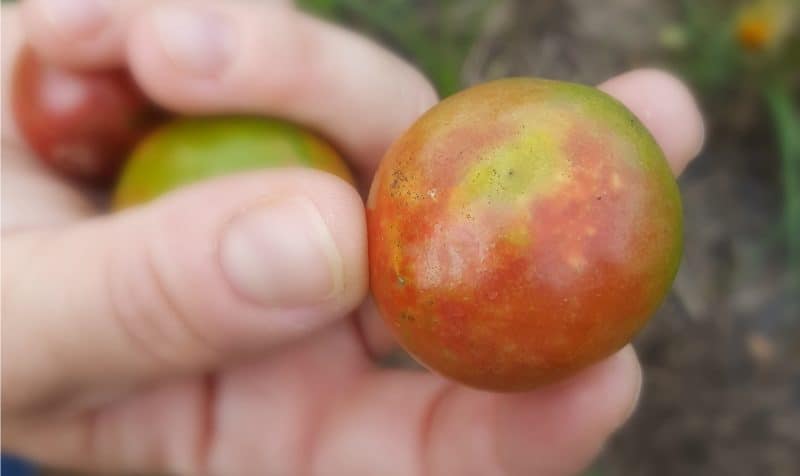 These tiny cloudy spots are caused by pests piercing the skin of the tomato for food. Very often these tomato problems are caused by the dreadful stink bug and leaf-footed bugs.
These horrible creatures are prolific if not kept under control. You can try diatomaceous earth to kill the nymphs of these pests, but the adults must be hand picked or, if you're faced with losing most of your crop to these pests, apply organic pyrethrin pesticide.
Small brown specks on the shoulders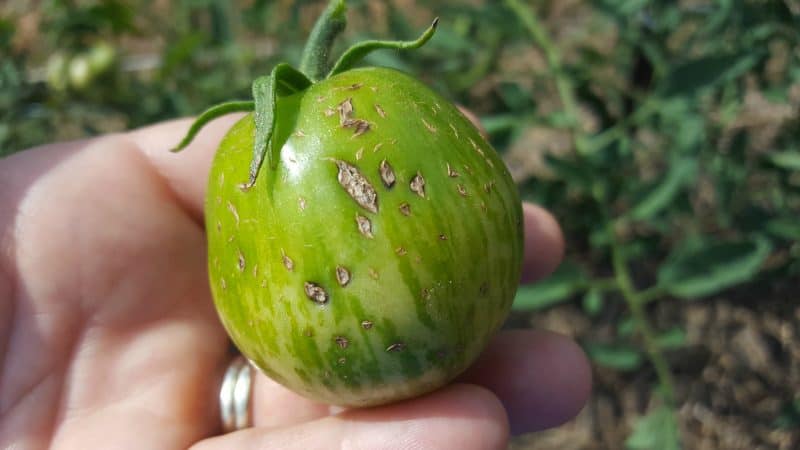 Rain check is a frustrating condition that can ruin the beauty of your tomatoes. The small specks are like tiny scars that may have a rough texture.
Rain check is caused by excessive moisture and usually appears on green fruit. We've had a big problem with rain check this year since the weather has been so rainy.
To help prevent this condition, don't over prune your plants to allow some leaf coverage. Although this condition is unsightly, usually these fruits are still edible.
Uneven ripening or yellow shoulders
Yellow shoulder disorder can affect any tomato and appears as yellow areas on the top of the tomato (image) that never ripen. Inside, the yellow portion is hard and inedible.
Uneven ripening is often a result of environmental conditions. If the weather has been too cool and rainy, you may find your tomatoes don't ripen evenly.
Poor quality soil with low organic matter, low phosphorous, or increased pH can also affect ripening.
Fruit that does not ripen
Tomatoes can be fickle little beasts. If the weather is too hot (over 90F), their metabolism slows or halts, and they don't make the pretty red pigment (lycopene) that signals ripening.
Keep in mind that not all varieties will turn red, so make sure you know what tomato you're growing.
If your red tomatoes are pale or washed out in color, consider picking them at first blush and bringing them indoors to finish ripening.
What if the plant doesn't set fruit?
No tomatoes on your plant is certainly a problem! If you don't have any baby tomatoes on your plant, take a close look at the flower clusters. You might notice that the flowers dropped off of the cluster at some point.
Dropping flowers most often occurs because temperatures are too hot. When day temps are in the 90s and nighttime is over 70, the flowers just won't pollinate.
You can also experience trouble with pollination if your plants are over or under fertilized and in very very dry or wet environments.
To ensure the best fruit production, make sure not to plant your tomatoes too late in the season. If you're already having trouble with fruit set, let the suckers/side shoots grow to increase the number of flowers and odds of growing a tomato.
What other tomato problems have you experienced?
Share your experience in the comments below.