52 Reasons Why You Should Grow Your Own Food
As an Amazon Associate and member of other affiliate programs, I earn from qualifying purchases.
We all have our own reasons for growing food. Sometimes it's to try new things and sometimes it's because we want to provide more for our family. Everyone has a slightly unique perspective on vegetable gardening.
So I asked my favorite gardeners why they started growing their own food, and I got some really awesome answers. They allowed me to share them on the blog today in hopes of encouraging others to start their own vegetable garden.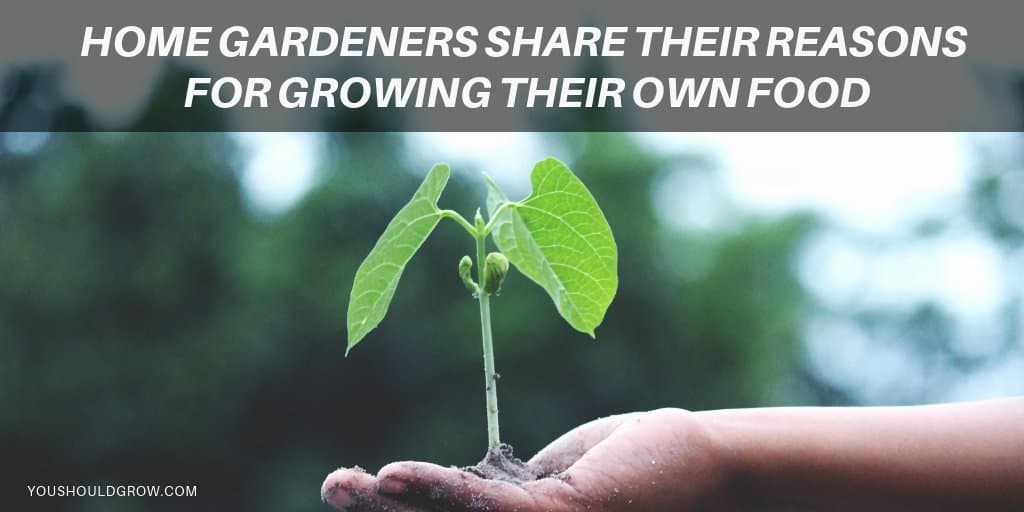 Here are 52 reasons you should grow your own food
To have as much organic produce as possible

To grow in bulk and preserve to have homegrown food to eat year-round

To know the food I feed them is safe for my kids
Because it's magic, fun, amazing, and a miracle.
For my mental health.
To be able to have a large variety of healthy food
To have vegetables with higher nutrient content
For freshness
Knowing exactly what I give my family to eat.
Having the ability to preserve it for the whole year.
Getting to teach my girls self-sustainability.
Getting everyone outside to help (even the teenager).
To relieve stress
Self-sufficiency, mostly
Because so many of the veggies from the store (even organics) smell and taste like bleach.
Because I love to play in the dirt and feel the sun on my shoulders.
Because I grew up this way.
Homegrown produce is fresher, therefore, it tastes better.
It's a great feeling of pride to know that I can provide food for myself
I grow my own food to avoid pesticides and GMOs.
Because it amazes me that I can grow things. It feels like I have a superpower,

😁

😁

😁

Just the challenge.
I love seeing things sprout from apparently nothing. I love watching the evolution of a plant grow.
It inspires me, slows down life, and brings me back to what is important.
I love cooking amazing dishes from things I created on my own back porch! Nothing better than going outside a few steps and snipping something 100% fresh for dinner.
I love the whole process of planting and seeing every single plant sprout and come to life. It's amazing!

Affordable organic produce. That's a blessing!

🤗

Because I just enjoy whatever we grow!

My family member has a serious iron deficiency
I know it will save money in the long run
To ease the carbon footprint ie: using less gas and plastic bags for groceries
For better food quality
To know where my food comes from
For fresh veggies over week old store-bought
Absorbing vitamin D from the sun
Feeling the joy of harvesting your own creation…you can't buy that
I love gaining knowledge every year of how to grow, what grows well and what doesn't do well
For better variety than the supermarket
To make less waste in the trash
For connecting back to nature
A way to unplug from the phone, internet etc
Produce free of pesticides
To have less lawn to mow and water
For easier access to fruits and veggies that are expensive to buy at the store
For natural medicines
Because my dog loves to hang out in the garden with me.
For upcycling wood and discarded materials to turn into plant beds and planter.
To give back to my community. For example, I'm growing carrots for Noah's ark pig sanctuary
It brought us closer to our neighbors by sharing freshly cut veggies
To teach my kids about how the earth provides for us and it's our responsibility to care for the earth in return.
I wasn't surprised to find out that everyone's reasons were a little bit different and some are a little bit the same. I think the common thread is that we all feel strongly that it's important to have a vegetable garden. It's a part of us, and we all feel like something would be missing if we weren't growing our own food.
Why do you grow your own food?
Share your experience with us in the comments below!