12 Ways Gardening Helps You Keep Your New Year's Resolution
As an Amazon Associate and member of other affiliate programs, I earn from qualifying purchases.
Would you agree that making a new year's resolution is the easy part? Sticking to it…well, that's much harder to do.
Thousands of people are making new year's resolutions this year because most of us want to do better in some way with each new year.
My resolution is to grow even more variety of food on our homestead. It's helped a lot to use my garden planning spreadsheets to help me plan what I need to grow for our family and make sure I get seeds started and plants planted on time.
By using my spreadsheets, I was able to grow hundreds of pounds of food in our garden last year. We ate garden fresh produce all summer long and put away extra for the colder months.
How gardening helps you keep your new year's resolution
Creating new goals is something we all do whether we call them resolutions or not, but following through with action to achieve those goals is the more important step.
And if you're making goals like getting healthier, building stronger family relationships, or doing your part to create a greener society, then getting out in the garden is all you need to do.
Not convinced? Here are 12 of the most common new year's resolutions and how gardening will make you successful at them.


Resolution #1: You want to get in shape
Whether this means losing weight or exercising more, gardening can help! There's plenty to do in the garden that will give you a really good workout.
A tool on the ground? Drop into a squat to pick that up!
Carrying a watermelon? That's totally a bicep workout!
And that doesn't even include how all the healthy produce you're growing will help you with your diet.
Resolution #2: You want to eat healthier
A part of eating healthier is eating more fruits and veggies. So, think about your favorite fruits or veggies, and go grow those.
There's nothing healthier than eating homegrown food. And junk food doesn't grow on trees. That's all I'm sayin'.
Resolution #3: You want to save money
Gardening can save money on fresh organic produce for your family. You could save even more if you grow some storage vegetables, like winter squash, or can some food for use during the winter.
Learn the basics for canning your own food.
Plus, if you're spending days out in the garden, you're not out spending money on activities and shopping for things you don't really need.
Watch this video for more tips for saving money by growing your own food.
Resolution #4: You want to be more environmentally conscious
Gardening is as green as it gets!
If you're growing your own organic produce, there's no plastic packaging, no plastic bags, and no carbon footprint. Make it a double whammy by decreasing waste and composting at home, too!
Resolution #5: You want to learn new things/a new hobby
Gardening is a fantastic, healthy hobby, and it's fun for those who like to experiment.
I have only been growing food for about 6 years, and there's never been a shortage of new plants to try. It seems like the more I learn, the more I want to know.
With gardening, I'm always trying and learning new things.
Resolution #6: You want to be more productive
We all want to get more done in the day. And you might wonder how adding garden tasks to your to-do list could possibly help you get more done.
But I argue that gardening will improve your mood, help you clear your mind, and calm your nerves so you can get more done. Plus, gardening is a very productive hobby all on its own.
Resolution #7: You want to break yourself of a bad habit
Changing habits is really hard. But distraction is key.
Idle hands are the devil's workshop as they say. Focusing your energy on something productive, like gardening, will help you steer clear of that nasty habit you want to break.
Resolution #8: You want to decrease your stress
A garden needs to be tended, and completing garden chores is a perfect opportunity for some peace and quiet. Or maybe you prefer to play music and dance while you pull weeds in the garden.
Create the perfect song playlist for gardening.
I might do either. It just depends on my mood, but they're both great stress relievers.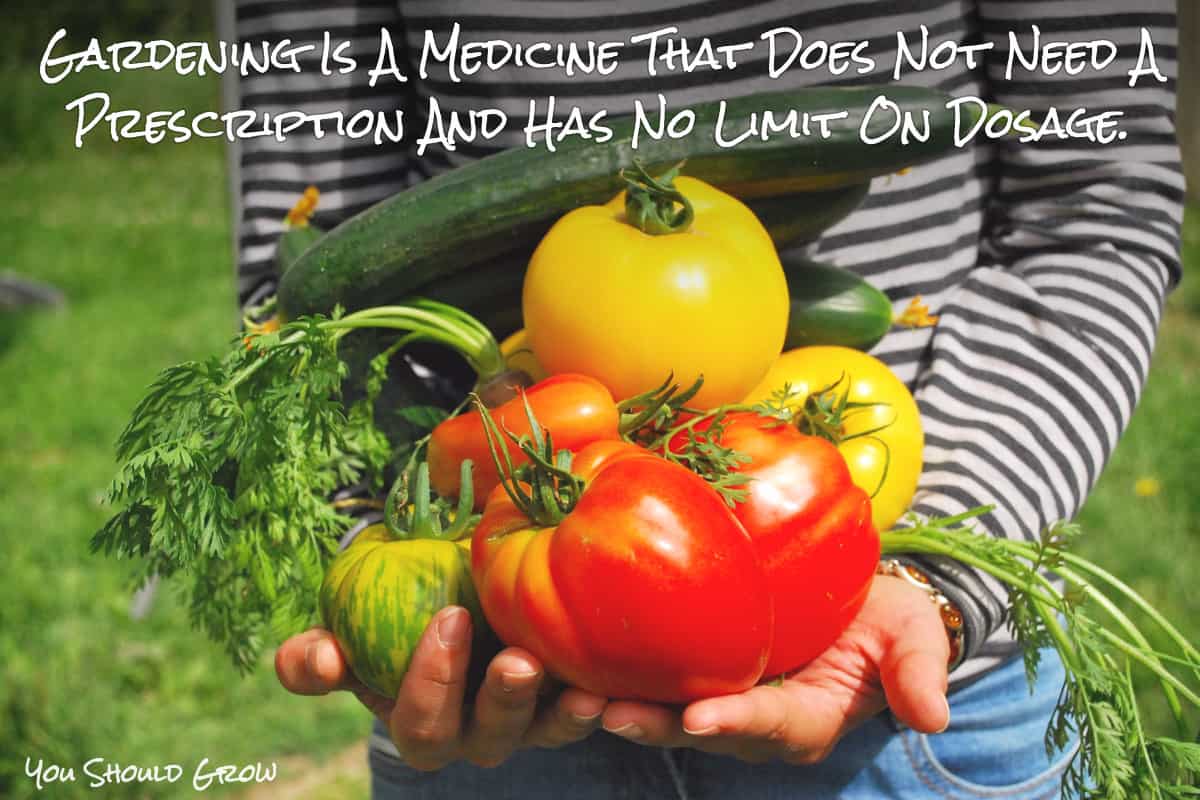 Resolution #9: You want to spend more time with your kids
Maybe in the midst of busy work, school, and sports schedules, you don't get to spend time with your family.
The garden is a great place to gather and work together. Show the kids all the bugs on your tomatoes.
Taste test different types of fruits and veggies and talk about which ones you like and don't like. Give them their own set of garden tools for playing in the dirt.
Imagine the adorable photo ops!
Resolution #10: You want to spend less time online or on tv
There's plenty of work to be done in the garden. Hours and hours of work if you want.
If your goal is to get off the couch, the garden is a great place to go. Plus, once you start seeing your plants grow, you'll want to be out there checking on them and reveling in the fruits of your labor.
Resolution #11: You want to be more charitable
You can always find someone to give your extra produce to, and sometimes you're helping them more than you know.
Do you know someone who can't grow their own food?
Maybe your neighbor loves their garden, but they can't get out to tend it. Ask them if you can help.
Do you live in a close-knit community? Maybe you could set up a give a veggie/take a veggie stand in your yard. How fun!
[slideshare id=82857885&doc=enjoytheworldofgardening-171128012316]
Resolution #12: You want to improve your relationship with your spouse
Gardening is a great activity to do with your spouse. I have always loved working in the garden with my husband.
We have cleared walking trails in our woods together, built raised beds together, and tied up tomatoes together. We plant, prune, harvest, and pull weeds together.
Sometimes we talk, sometimes we don't. Sometimes I dance, most of the time he won't.
The point is, we are working on something together and that brings us closer. Plus, gardening is sexy, y'all.
What is your new year's resolution and how can gardening help you keep it?
So what do you think? Are you ready to take up gardening to help you keep your new year's resolution?
Share your experience in the comments below.