10 Free or Cheap Ideas For Upcycled Seed Starting Pots
As an Amazon Associate and member of other affiliate programs, I earn from qualifying purchases.
Starting your spring garden plants from seed is cost effective and easy. Especially if you only need a few plants. Here are 10 ideas for upcycled seed starting pots that are free or cheap!
Growing food is an obsession addiction at our farm. We start our seeds in 128 cell seed starting trays (similar to these).
But what if you don't want to start 50 or 100 tomatoes? What if you only need 6 or 12 plants for your garden? There are plenty of upcycled seed starting pots you can make for free!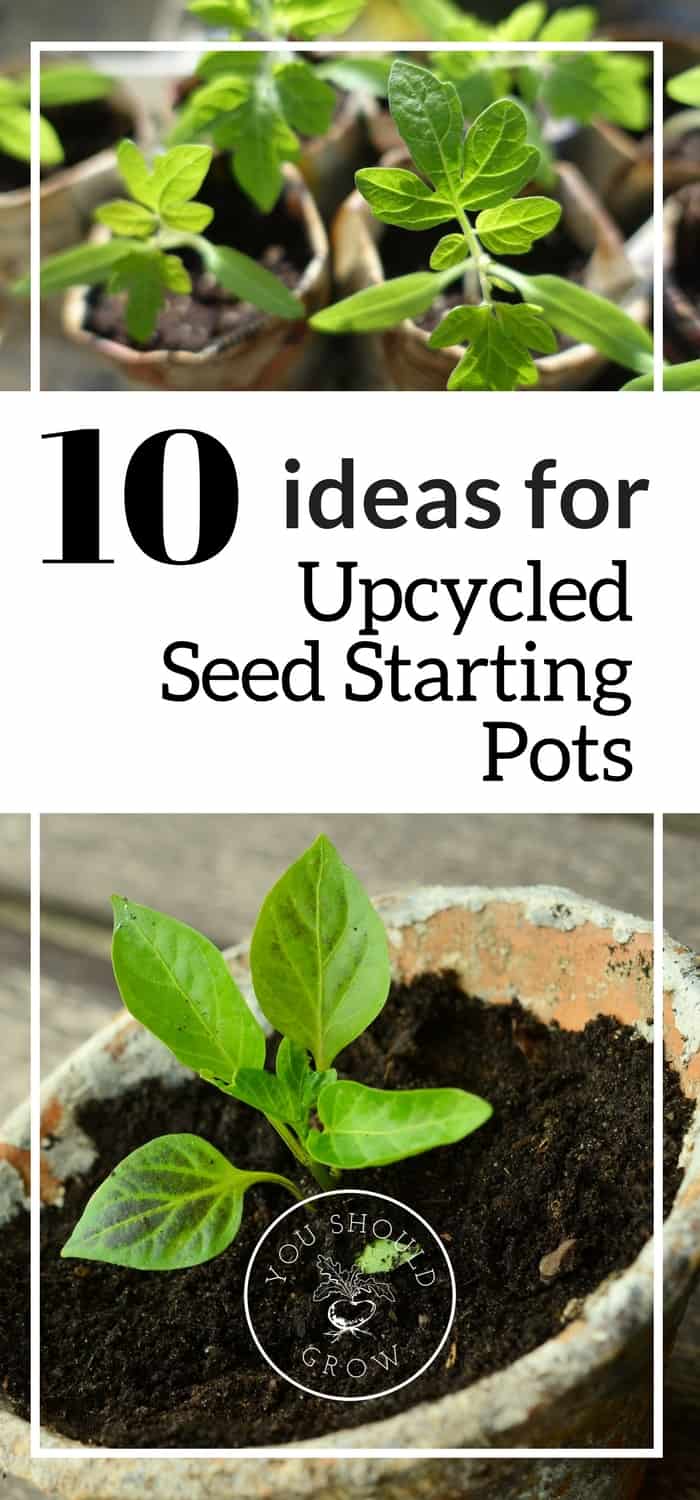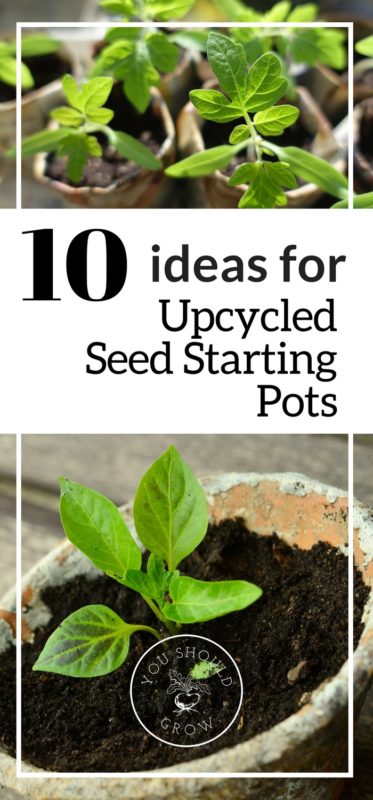 A few tips before you get started with seed starting:
Use a germination mix, not potting soil, for starting your seeds.
Check your seed packets for germination temps. Many seeds will need your soil (germination mix) to be a good bit warmer than room temp to get the signal to germinate.
Make sure your seedlings get watered regularly, but don't over water and let them get soggy.
Get my book to learn everything you need to know about seed starting
When it comes to making upcycled seeds starting pots, you can really use anything that is relatively shallow. Two inches is a good depth. Think ahead and start to squirrel away anything that can hold a little dirt (germination mix) throughout the year.
1. Toilet paper rolls
Save all the toilet paper rolls! They can be used in so many ways on the homestead.
It's super easy to upcycle toilet paper rolls into seed starting pots. Cut slits on one end, fold the tabs in to close the end, fill it with germination mix, and it's ready to plant!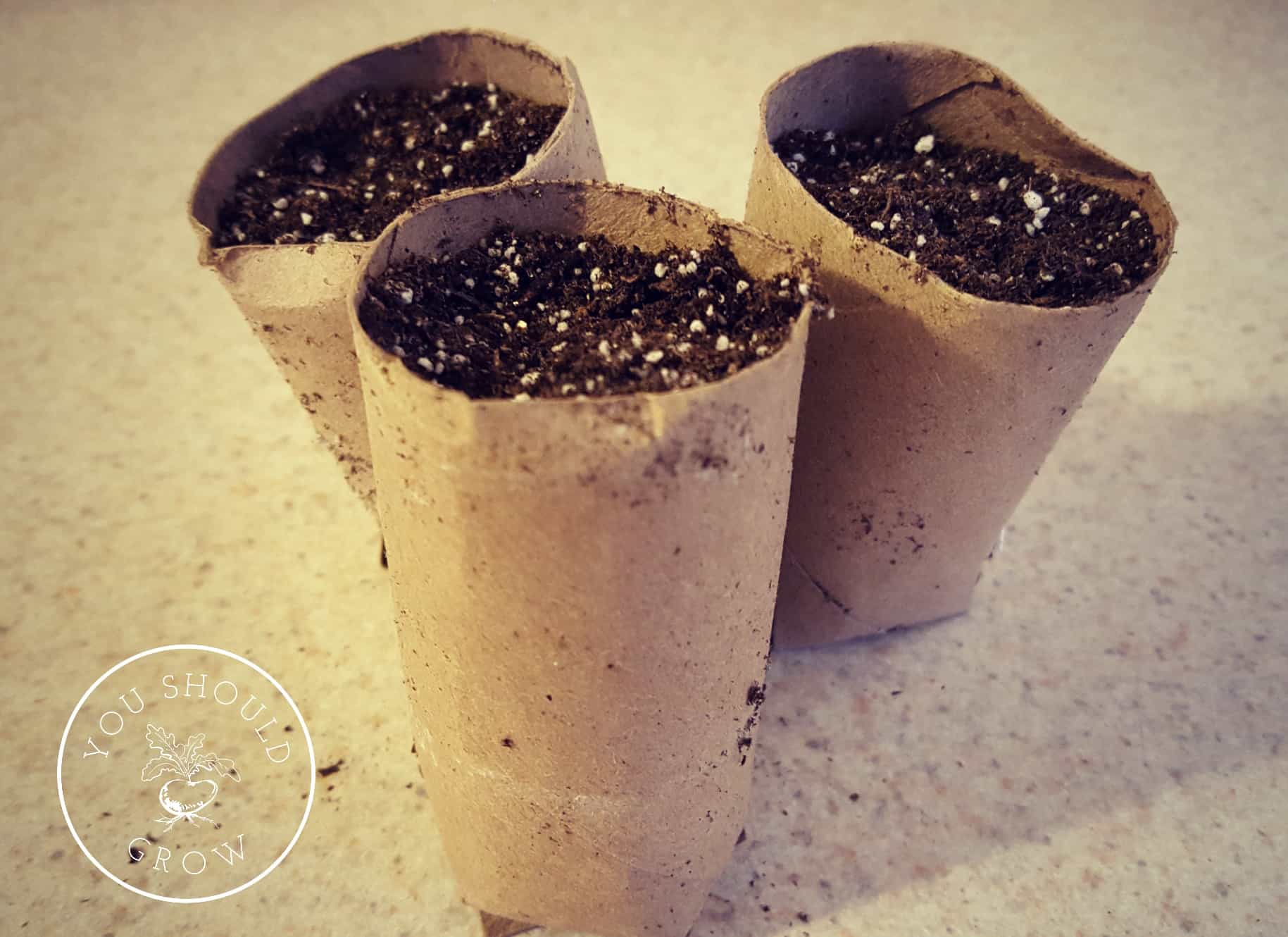 Learn to make fire starters with extra toilet paper rolls.
2. Berry containers
Berry containers make great seed starting pots. You can easily fit 4-6 seedlings in each container, and they have great drainage and come with built in clear lids!
Just fill with germination mix and plant. Super simple.
Need seeds? Get heirloom seeds from Seed for Generations.
3. Take out containers
Plastic or styrofoam takeout containers from restaurants are great for starting seeds.
If it's not a clear plastic container, cut the lid off and use each side for seed starting. If it is clear, leave the lid on and use it to trap heat and moisture over your seedlings.
Lids can stay on for the first week or until all the seeds have sprouted.
4. Rotisserie chicken containers
I love, love, love this idea! Rotisserie chicken containers can be reused as a tray for tp rolls or newspaper pots or for planting directly in the tray.
The domed lid is excellent for trapping heat and moisture. If you don't make holes in the bottom, water very cautiously so the seedlings don't get soggy.
5. Paper or plastic cups
Any cup will do to make a seed starting pot! If the cup is very large, cut it down or only fill to about two inches deep. You'll need an appropriate depth so the soil can get warm for the seeds to sprout.
Check out how Lisa uses yogurt containers for upcycled seed starting pots.
6. Eggshells and egg cartons
Another great option for upcycled seed starting pots, egg cartons and/or egg shells are the perfect size for tiny seedlings. Keep in mind that since these are pretty small, you'll need to transplant your seedlings when they get true leaves.
For most plants, true leaves are the second set of leaves that appear. The first leaves are called cotyledons.
7. K-Cup pods
What to do with all those k-cup pods? Use them for starting seeds! They already have a little hole in the bottom, and they are a perfect size!
8. Milk and creamer cartons
Upcycling your milk cartons into seed starting pots is super simple. Just cut them down to an appropriate size and fill with seed starting mix.
See how Annie has reused the same cups for years.
9. Make your own newspaper pots
Newspaper can be folded around a mold and made into little pots!
Using a pot maker like this or one of your own design, a paper pot can be created very easily. Because the newspaper could get weak when wet, make sure you have your newspaper pots in a tray of some kind and handle them as little as possible.
10. Ice cube trays
This one requires a bit more work, but it's a great idea to reuse old ice cube trays. You'll need to drill a hole in the bottom of each ice cube mold.
The ice cube molds are very small, so these seedlings will also need to be transplanted to a larger container.
You can also use upcycled materials for transplanting containers. Check out these ideas for DIY transplanting containers.
Gardening should be a fun hobby, and it shouldn't cost an arm and a leg! There are tons of ways you can upcycle and reuse things for your garden so you never have to waste.
If you're looking for more frugal ways to enjoy gardening, check out these tips by my friend Lisa at Retro Housewife Goes Green.
What other ideas do you have for upcycled seed starting pots?
[mailerlite_form form_id=1]