Make This Adorable Miniature Dinosaur Garden
As an Amazon Associate and member of other affiliate programs, I earn from qualifying purchases.
A miniature dinosaur succulent garden is a fun way to entertain your kids and teach them about gardening. I love this little dinosaur garden because the kids can pick up and move the little dinos around for lots of creative and imaginary play.
It's super simple to make a dinosaur fairy garden. And using succulents in your planter means it's really low maintenance. You can also choose more tropical plants or even edible plants for your garden.
Whichever plants you choose for your garden, make sure they all have similar light and watering requirements.
Miniature gardens are extremely popular! If you and your kids enjoy making these gardens, maybe you could start a summer business selling your creations!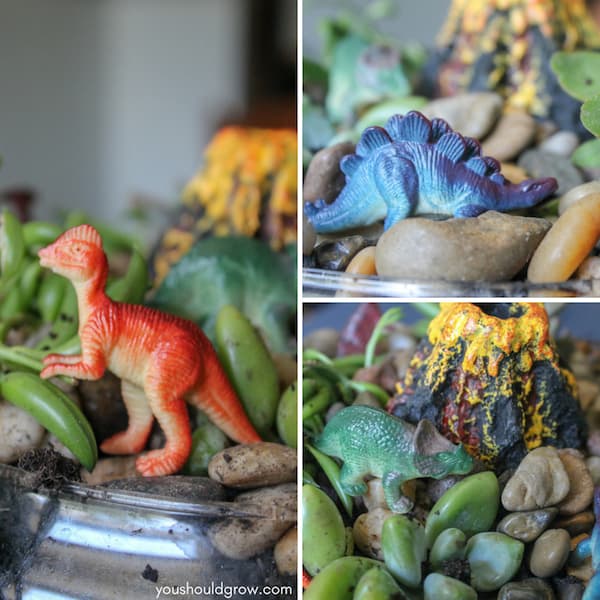 Supplies for making a miniature dinosaur garden:
Shallow container
You can use any kind of planter you have, but succulents don't grow deep roots so shallow containers are just fine.
For our miniature garden, we chose a shallow glass container. If you don't like the look of a glass container, you can choose something else. Special care should be paid to containers that do not have drain holes.
Here are some cool options I found on Amazon.
Potting Soil
Succulents survive best in semi-dry environments. Over time, regular potting soil can hold too much moisture and cause root rot. Add sand and/or perlite to regular potting mix to improve drainage and keep succulents happy or purchase succulent soil.
Top dressing
Covering the soil with a top dressing not only adds to the look but helps protect your arrangement from shifting and prevents soil from splattering when you water. You can choose smooth river rocks like ours or you might like the bright colors of aquarium rocks.
Succulents
Succulent gardens have become so popular that it's easy to find plants for your miniature garden at your local nursery or home improvement store. Some good choices for indoor gardens are:
Haworthia

species – best for low light conditions
Small Dinosaurs and other decorations
Grab some miniature dinos and decorations for your succulent garden. I love this volcano we found on Amazon. You can find some fun ideas for decorations wherever you buy aquarium accessories.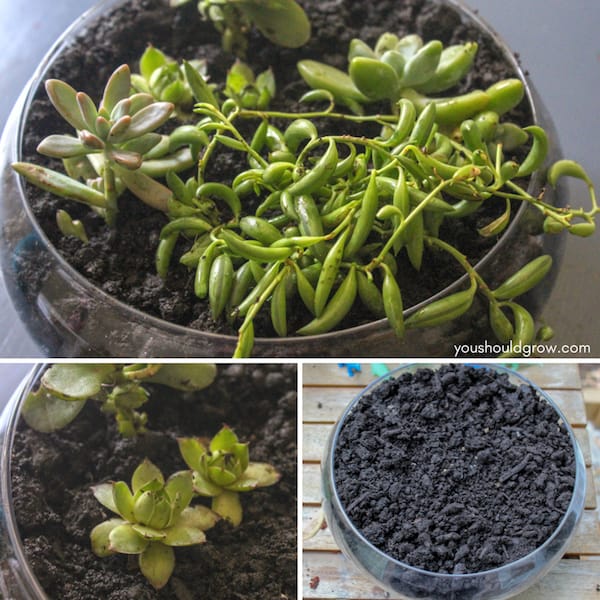 How to make a miniature dinosaur garden
Gather plants, planter, soil, and decorations

Fill your planter with potting soil. If your container doesn't have drainage holes like ours, add a thin layer (1/2″ or less) of rocks to the bottom to improve drainage.

Remove plants from their containers and shake off excess soil. Loosen the roots with your fingers if you need to. Plant your plants in the container level with their original depth.

Arrange your plants however you like making sure to leave room for dinosaurs and a volcano and any other decorations you choose to add.

After everything is planted, cover all the visible soil with your rocks or other top dressing.

Now the fun part! Add your dinosaurs and decorations!

Place your dinosaur garden in a sunny location. Allow the plants a couple of days to get used to their new home before watering.
Tips for caring for succulents indoors:
Succulents love warmth and light! Most varieties need 8+ hours of sunlight to thrive.

They don't like wet soil. Allow the soil to dry in between waterings-every 1-3 weeks usually.

When you water, water thoroughly but not so much that the soil gets soggy. It's better to under water than over water.

Succulents are light feeders. Fertilize once a year in the spring, and dilute fertilizer to half strength so you don't over do it.
Share this post!