Growing The Bold & Beautiful Pineapple Tomato
As an Amazon Associate and member of other affiliate programs, I earn from qualifying purchases.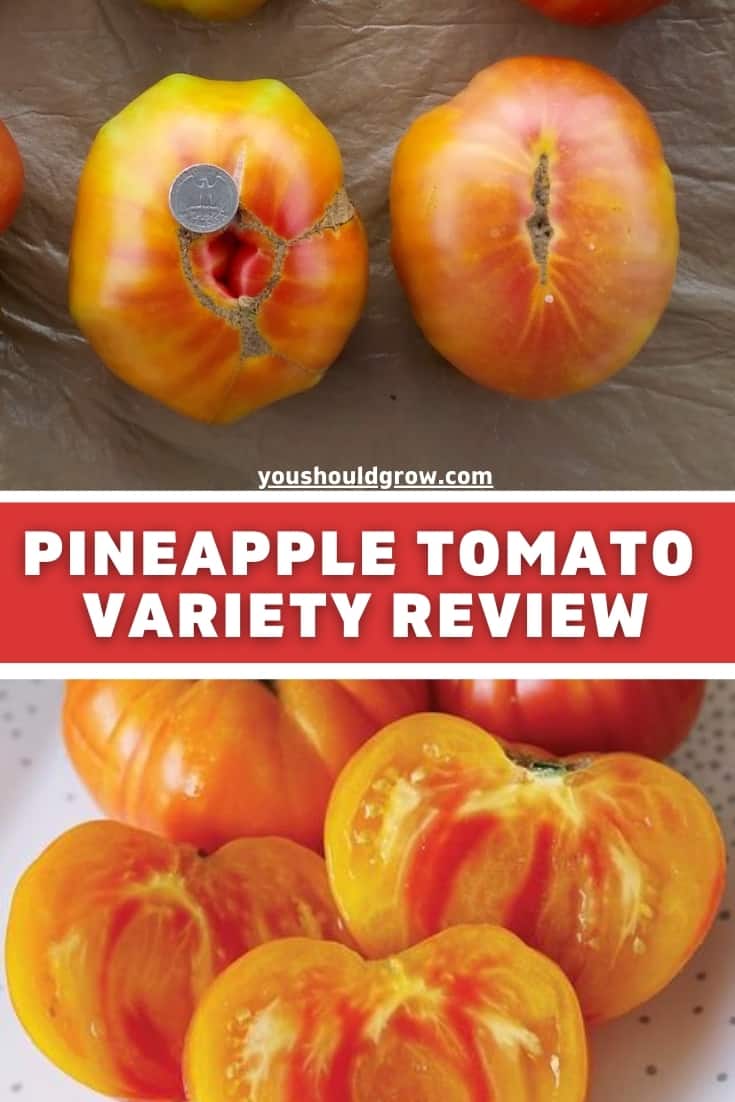 I don't do a lot of tomato variety reviews on this site (although I really should!), but today I'm bringing you a review of the bold and beautiful pineapple tomato.
The name itself is sure to intrigue any tomato gardener, but don't be fooled into thinking this tomato is something of a cross between a pineapple and a tomato.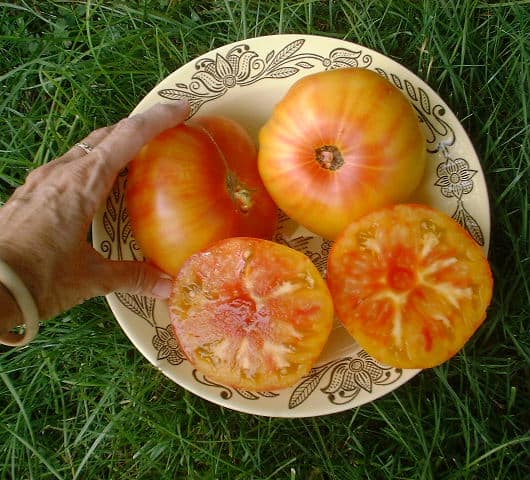 The name comes from the unique bicolor of this fruit and its appearance when sliced which reminds some of its tropical fruit namesake.
In fact, this tomato does have a nice sweet flavor with a hint of tropical notes, but there's so much more to love about this tomato variety.
What is a pineapple tomato?
The pineapple tomato has some outstanding qualities which make it a favorite among tomato growers.
For one thing, it's really a beautiful tomato. The flesh is a mix of red and yellow, but on the inside, the colors blend to create a rainbow of red, pink, orange, and yellow.
When it comes to flavor, many gardeners praise the pineapple tomato for its mildly sweet, almost tropical taste. For a bicolor, the flavor is really a standout.
Additionally, sweetness goes along with lower acidity in tomatoes, so if you're looking for a low acid tomato that's easy on the tummy, this is a good choice.
Pineapple tomatoes also tend to be quite large, often growing upwards of 1-2 pounds…quite a handful. This makes it a great slicing tomato for sandwiches and to share with friends.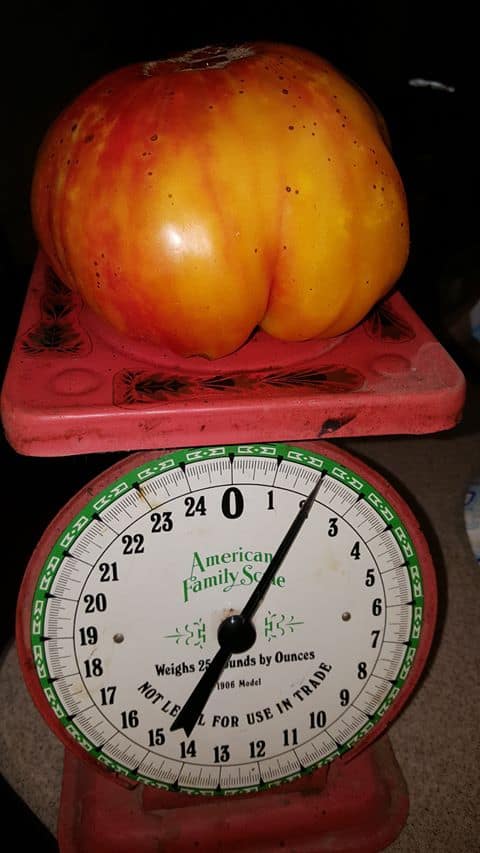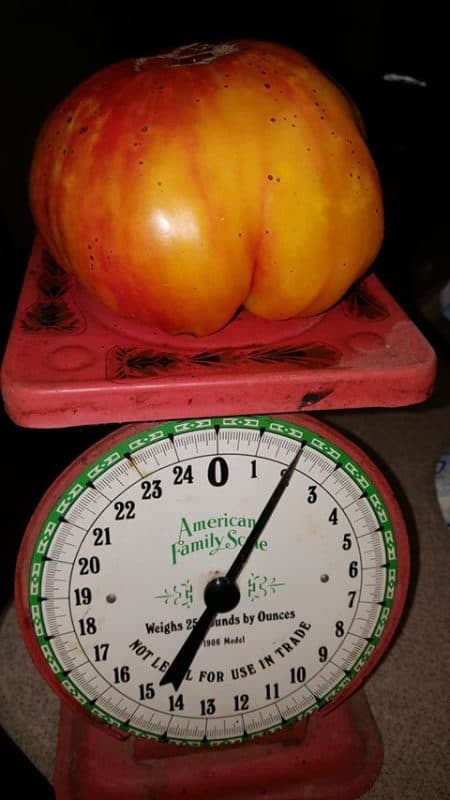 Growing Pineapple Tomato
First things first, the pineapple tomato is an heirloom variety with an indeterminate growth habit.
This means you shouldn't have any problem finding seeds and can also save seeds of your own once you've grown it.
Here is a great source for buying heirloom pineapple tomato seeds.
LIke other tomato varieties, you'll want to start pinapple tomatoes at least 4-6 weeks before your last frost. Get custom planting dates with this tool.
Get tips on germinating tomato seeds here.
Because the pineapple tomato is an indeterminate variety, make sure you have a plan for staking or caging your plant.
Things to know about the pineapple tomato
I often say one of the worst parts about growing tomatoes is how long they take to set fruit. Typically setting fruit nearly 100 days after planting, this variety is going to put your patience to the test.
Considered a late season tomato, don't get frustrated if your pineapple tomato plant doesn't set fruit right away. And resist the temptation to pick these fruit early as their flavor gets better as they age on the vine.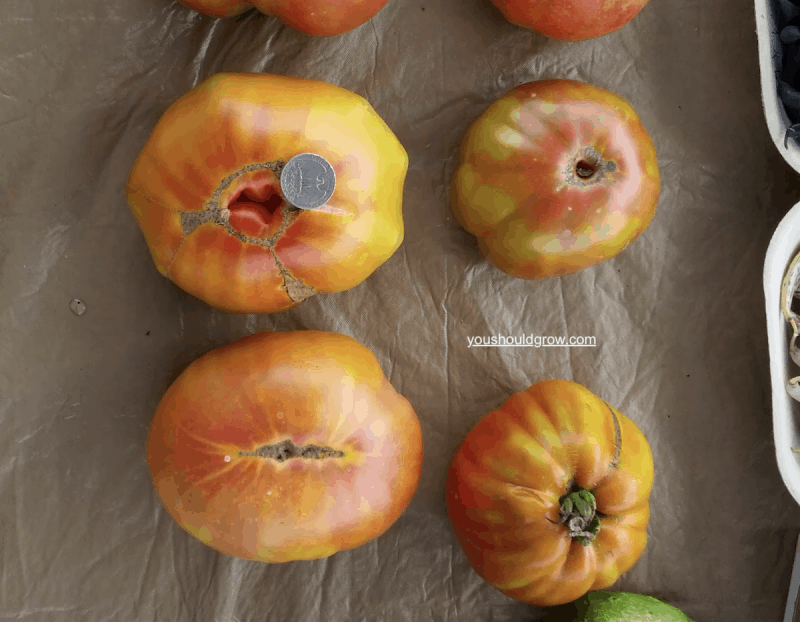 While most of these fruit are a large beefstake type, the ribbing can lead to some unusual shapes. It's also susceptible to cracking especially after a heavy rain. Learn more about these tomato troubles.
When it comes to disease resistance, this variety is not one of the most disease resistant, but it does fairly well with production in the face of disease, especially for an heirloom.
More pineappple tomatoes
Since the pineapple tomato has been such a hit at the market, there are now many variations of the original.
Here's a quick comparison of some of the newer pineapple tomato varieties.
| | | | |
| --- | --- | --- | --- |
| Green Pineapple | Hawaiian Pineapple | Ananas Noir | Pineapple Pig |
| green with a touch of yellow | strong yellow with less red | purple with green shoulders | yellow with stripes/specks |
| 1/2-1 pound | 1-1.5 pounds | 1-1.5 pounds | 1 pound |
| fruity and aromatic | very tropical flavors | full bodied flavors | mild and sweet |
Compare Pineapple Tomato Varieties at Reimer Seeds
Have you grown the pineapple tomato?
Share your experience in the comments below!