Planning a vegetable garden isn't supposed to be difficult. First, you decide what you want to grow and then you plant it, right?
On one hand it really is that simple, but when your goal is to grow lots of vegetables, herbs, and fruit to feed your family, it helps to have a good plan before the gardening season gets going.
Add to that that you probably want to start most of your vegetable garden from seed, and it can get a little complicated if you don't have a lot of gardening experience.
Some of the questions you should be asking when planning your veggie garden are:

MY LATEST VIDEOS
How many plants do you need?
When do you plant them? Spring? Fall? Both?
How long before your last frost should you start the seeds?
Figuring out the perfect time to get your plants started can be a frustrating task. It's not necessarily difficult, but finding out how long before frost date you should start seeds is kind of a hassle when you're just starting out.
And if you get the dates wrong or forget to look it up before it's too late, then you end up with a disappointing harvest.
Using vegetable garden planning spreadsheets make it quick and easy to find your planting dates without having to spend any time figuring it out!
Last year, I created the Ultimate Garden Planning Spreadsheets to help me get organized so I don't miss a planting date.
And let me tell you, it's so much simpler to let your computer do the work!  I set them up so that you just enter your first and last frost dates and get instant results for:
when to start your seeds

indoors and direct seed
germination temps
germination times

when to plant in the garden
Enter additional information about your family's needs and the spreadsheets will also tell you:
how many plants you need to feed your family
how much space you need for your plants
your germination rates


These vegetable garden planning spreadsheets were created to make growing your own food easier and more fun.
This set of spreadsheets is perfect for busy families who have a lot going on with school, work, and extracurricular activities. The spreadsheet helps you stay organized and includes all the information that you need to have a successful garden this year.
Once you have all your dates from the spreadsheet, add them to your calendar and set up reminders that say, 'Hey, it's time to plant tomatoes!" and "Hey, you need to start your pepper seeds!"
Gardening isn't my strong point and this is going to help me a lot! I'm learning so much from you! This also makes me excited to garden again!

Meghan Nowlin, The Organic Goat Lady
The Ultimate Garden Planning Spreadsheets are really, super helpful!
Included is a list of veggies and fruits that are commonly grown in home gardens, and for each type of crop, the spreadsheet will tell you how they needed to be started: start seeds indoors, direct seed in the garden, or buy plants.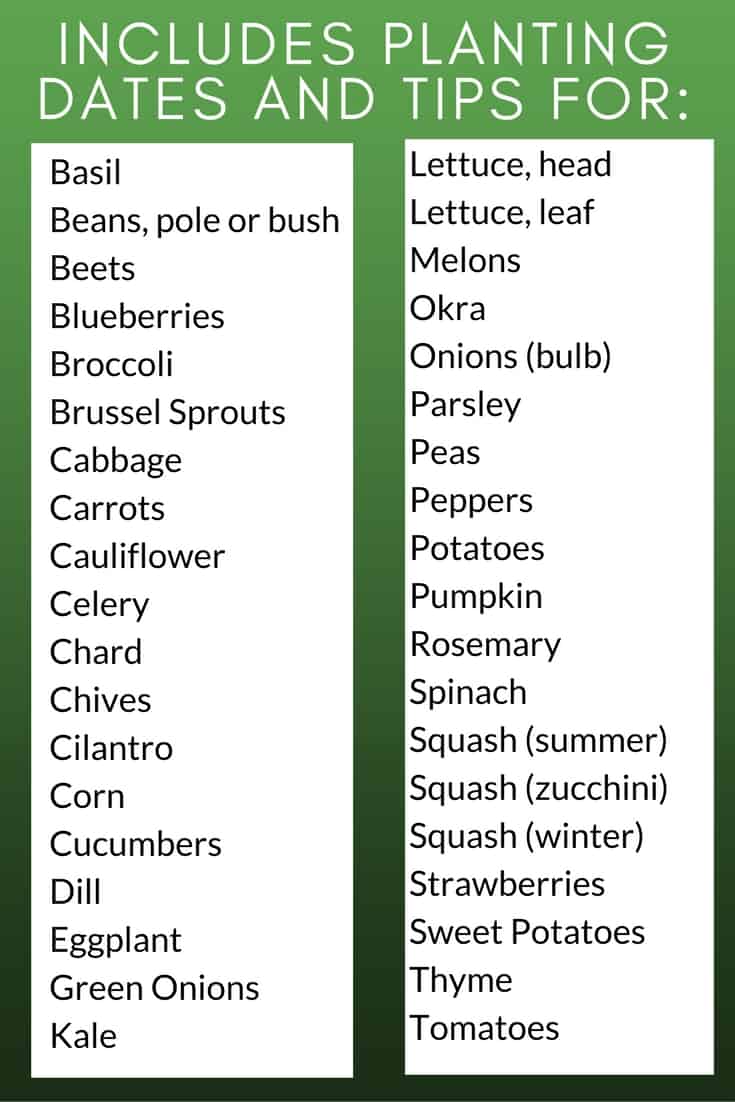 The formulas in the spreadsheet calculate the exact dates to start your seeds indoors, direct seed your garden, and plant each type of crop listed.
The spreadsheet automatically calculates these dates that are based on your first and last frost dates.
The spreadsheets are a great help. They calculate when to start seeds indoors and when to direct sow seeds outdoors – that's such a pain to do manually. Plus, you get a spreadsheet that calculates how much of each vegetable you should grow. That's where I needed help, I plant too much, and then it's too much work! I'll save a lot more than the $12.00 it costs for the book and spreadsheets!"
Get Seed Starting For Beginners ebook with the spreadsheets:
When you're planning your garden, each type of plant has a specific recommendation. For example, you should start your tomatoes 8 weeks before your planting date which is two weeks after your last frost date.
But cabbage should be started 6 weeks before your planting date which is 2 weeks before your last frost date.
Ahhh! That get's confusing!
So the spreadsheet is set to figure out all the dates based on YOUR frost dates. It's So. Much. Easier!
Plus there's a whole bunch of other stuff!
Germination temps for seed starts are grouped into two temperature categories for simplicity. Those that like the cooler temp (70) and those that like the warmer temp (80).
These temps are just averages of the range that is recommended for each type of plant, but it's much easier to remember just 2 temps. In the spreadsheet, it's super easy because the temps are color-coded so you can quickly see which seeds will germinate at the same temp.
Also included are maximum days to germination. This is important so you can easily reference how long it should take for your seeds to pop.
And you'll know when you need to start investigating causes for poor germination or if you can just give them a little more time.
There's even a calculator to help you determine how many plants you need and how much space that number of plants will need to grow.
So it sounds pretty awesome, right?
The first word that came to mind after playing around with Laura's spreadsheet was, "Magic!"

-Staci Samuels, A Chick And Her Garden
But there's even more! Bonus garden journal calculates germination rates.
The spreadsheets include some space for tracking garden success and failures throughout the years in a journal section where you can make notes about which varieties had the best germination rates and whether the plant was distinctly productive, difficult to grow, or delightfully tasty.
You do keep a vegetable garden journal, don't you?
How to use the spreadsheets
To use the spreadsheet, you'll need a program that will run .xlsx files.
Gmail users can use Google to work in the spreadsheet for free!
Just upload the file to Google Drive, then open the file, and in the top middle of your screen, click the menu that says 'open with' and select Sheets.
Once you're in the spreadsheet, enter your first frost date and last frost date in the yellow highlighted cells. And the spreadsheet does the rest for you! Find your frost dates here.
I want to help you grow A LOT of food! And I want you to be successful!
So I bundled the spreadsheets with a book about seed starting for beginners in a special offer.
I know you can grow food, and I know this will help you!
Not ready to buy? That's okay! Let's stay in touch anyway!
Sign up for my newsletter, and I'll send you my free book 'Three Secrets To Growing The Best Garden Ever!"
Inside the free book, you'll get a sneak peak of the veggies that I've included in the spreadsheets and how to plan what to grow in your garden this year.
It's totally free, but only for subscribers. 🙂