18 Easy Fall Basket and Crate Decorating Ideas
As an Amazon Associate and member of other affiliate programs, I earn from qualifying purchases.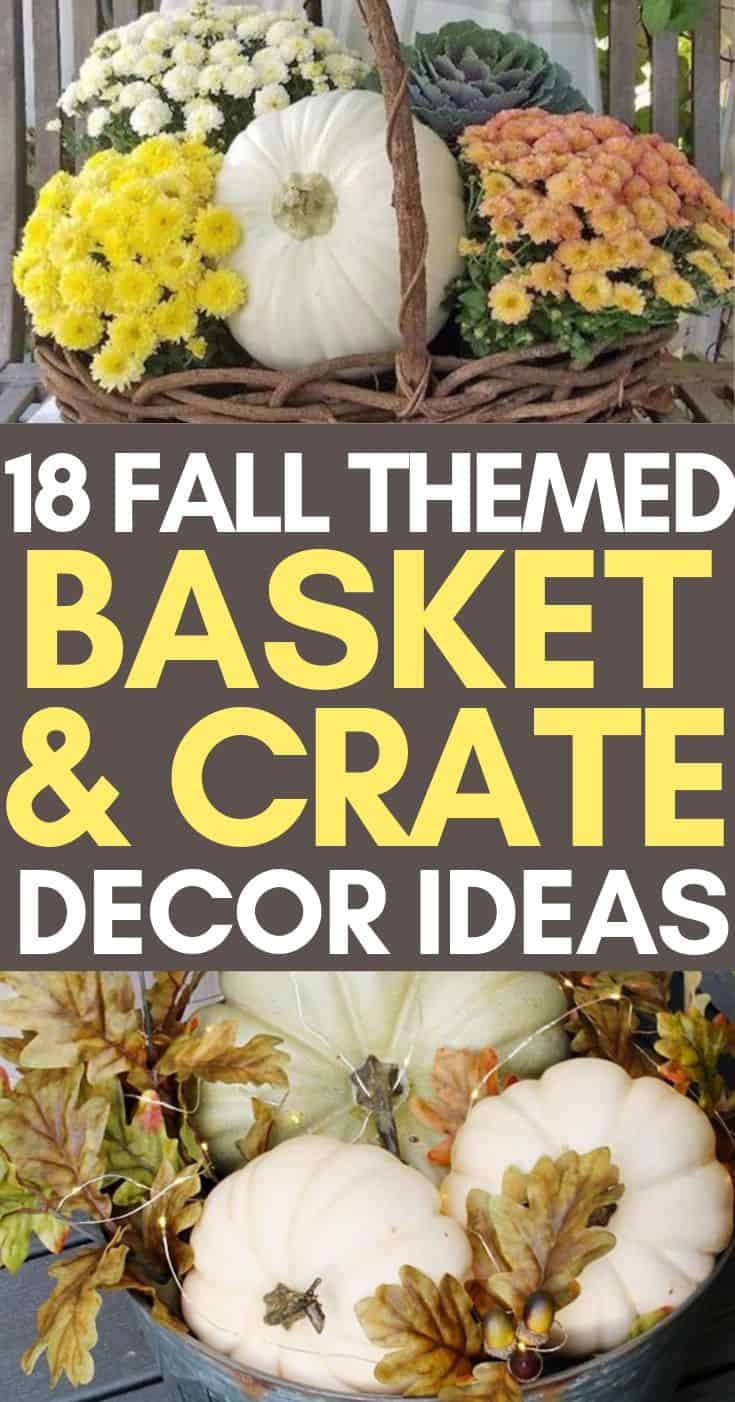 If you are like me, then you have quite the collection of baskets and crates you use for harvesting food. Well, I had the idea to use those some crates in some fall decorating projects.
That got me diving into inspiration on Pinterest looking for ways to use baskets and crates in fall decorating. Turns out, it's kind of a thing! So in this post, I'm sharing the best ideas I found.
If you don't want to use your harvest baskets, head out to some vintage or thrift stores. When you are shopping, keep an eye out for unique baskets. Don't be afraid to get creative and use things you wouldn't usually think of, too.
Take a look at these helpful tips and ideas, and you will be well on your way to fall decorating indoors and outdoors with fall-appropriate baskets.
Fall Basket Decor For Your Porch
When someone comes to your home, the front porch is usually the first thing they see. Why not make it inviting and welcome them into your home with these ideas?
1. Find a basket with a flat back and fill it with fall-colored faux flowers and pumpkins. Then hang it on your front door with a hook or hanger. It makes a lovely fall wreath that isn't your traditional style. It's super inviting too.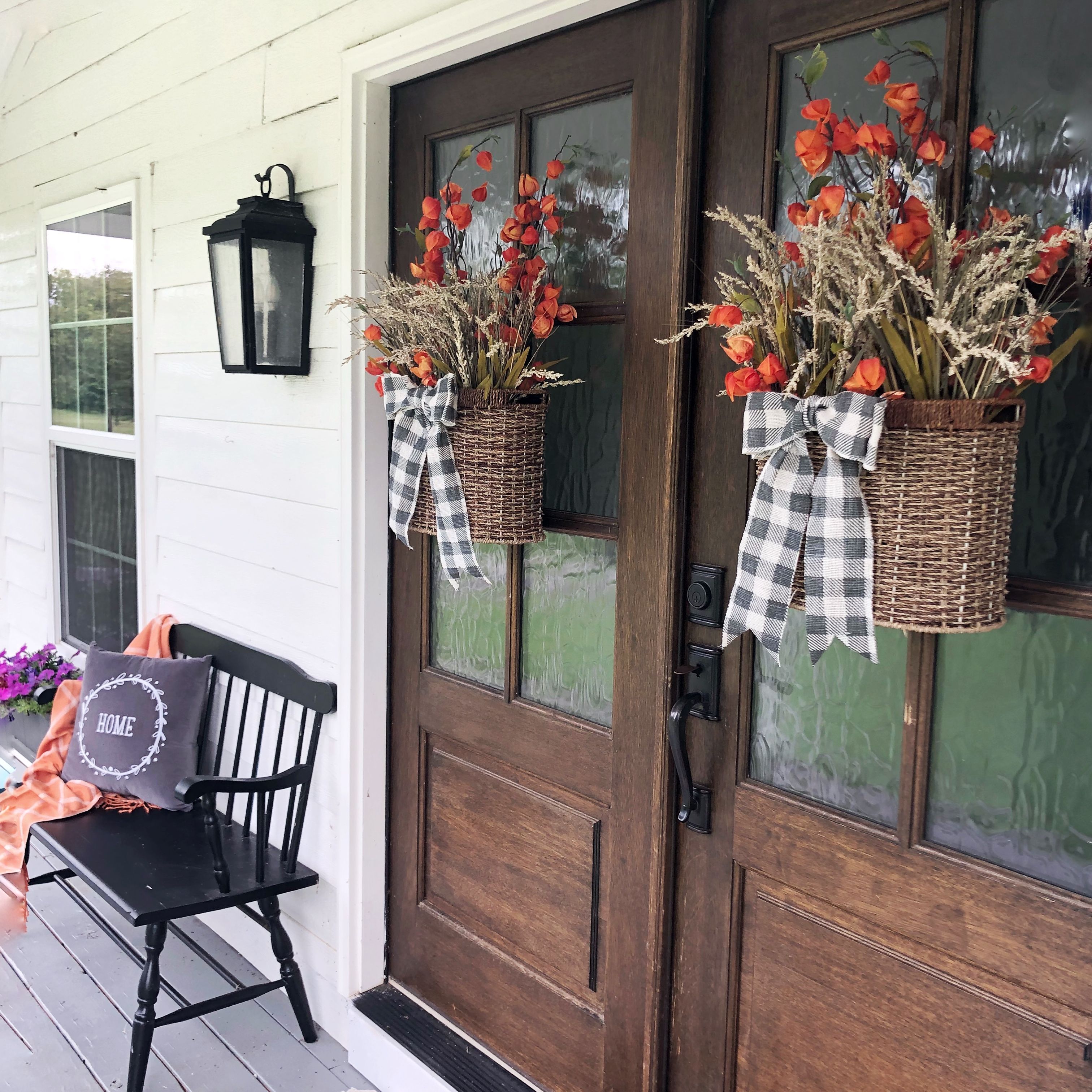 2. Use a small basket, and arrange flowers in it. Place it on your porch for a pleasant and unusual decor piece. You could even add in a little scarecrow on a stick too, for extra fall flair.
3. Put a basket with a handle on your porch or near your front entrance. Fill it with some colorful fall plants and flowers. It's so pretty and a great way to use live plants.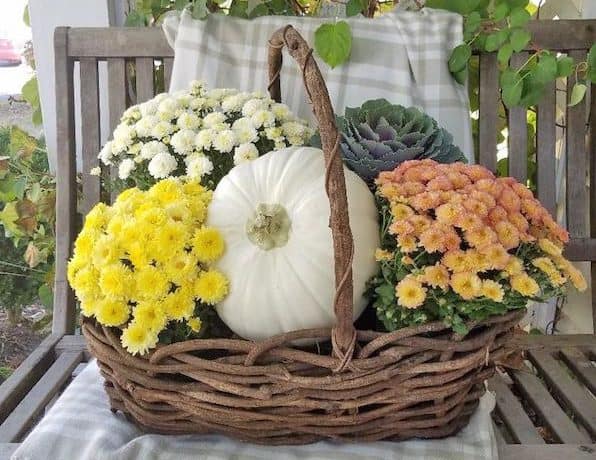 4. If you have flower beds, place a couple of large baskets filled with fall flowers or mums in the bed. It will look gorgeous, and we all know that mums are the perfect flower for fall.
5. Make pumpkins from your crates. You can paint several different sized wooden crates orange. Then stand them on their end and add a cut piece of tree limb or wood to make the stem of the pumpkin. Glue it down with wood glue and add some taffeta bows. So simple, but has a huge impact. This is a great craft to do with kids, too.
6. Another idea for using a crate outside for fall decor is putting it on its end and standing it up. Fill it will pumpkins, small hay bales or mums. Basically, use it as a table to show off all your decorations. It will be so pretty!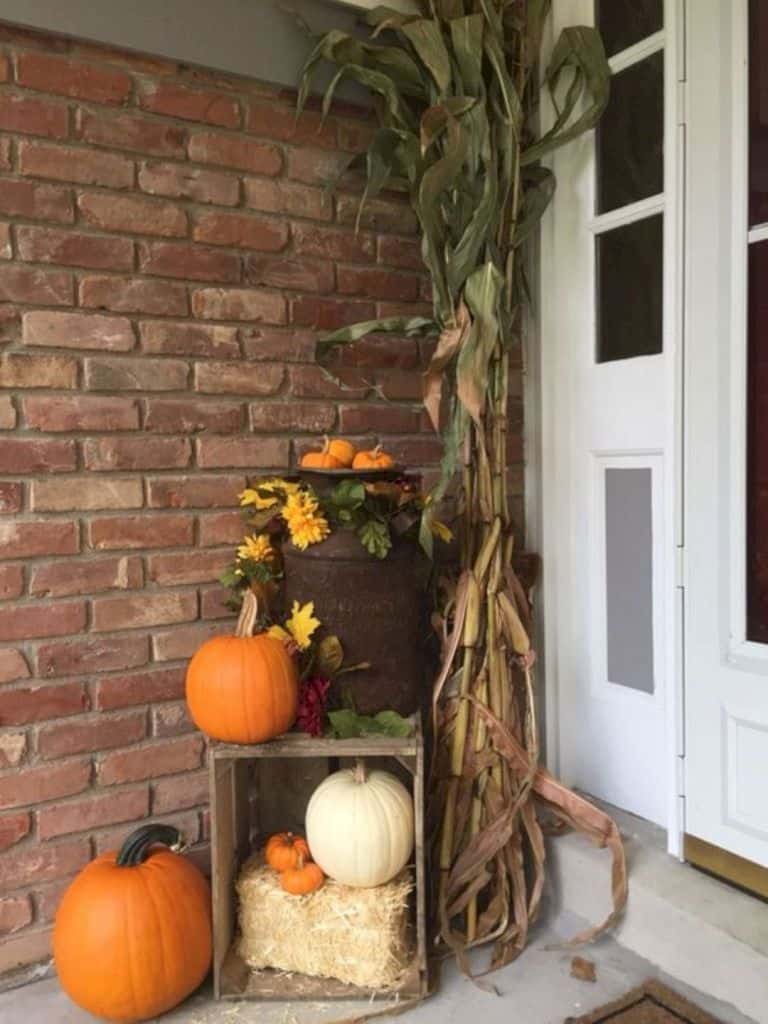 7. Fill a basket or crate with fall items like pinecones, then add in some small white or yellow lights. It's inviting and gives you a little bit of a warm and cozy feeling.
8. Use an upside-down basket as a side table. Set a couple of chairs on either side of it and then add a pumpkin or two! This looks especially great with a wooden basket or one that is galvanized.
9. When decorating for fall outdoors, use items that are from nature. Magnolia leaves make lovely wreath centerpieces. Pinecones, eucalyptus, kumquats, evergreen branches, and fall flowers all look fantastic.
Gorgeous Baskets & Crates You Can't Live Without
Each of these crates and baskets are so beautiful it's impossible to pass them up! Take a look at these and get inspired to jump-start your fall decorating today.
Farmhouse Style Wooden Basket (get it here)
You can use this for indoor or outdoor decorating. It has a whitewashed finish and comes in a pack of 3 which makes it easy to add a festive touch around your home. Fall decorating never looked so good.
Metal Round Baskets (get them here)
These would look fantastic with a few pumpkins or gourds in them. They will look lovely in your home or even your office. The only downfall is all your friends are going to be jealous of how cute they are.
Rustic Crates (get some here)
Nothing screams fall more than these rustic wooden crates with chicken wire sides. I can't get over how fabulous they look. Use them as an accent or even for your centerpiece.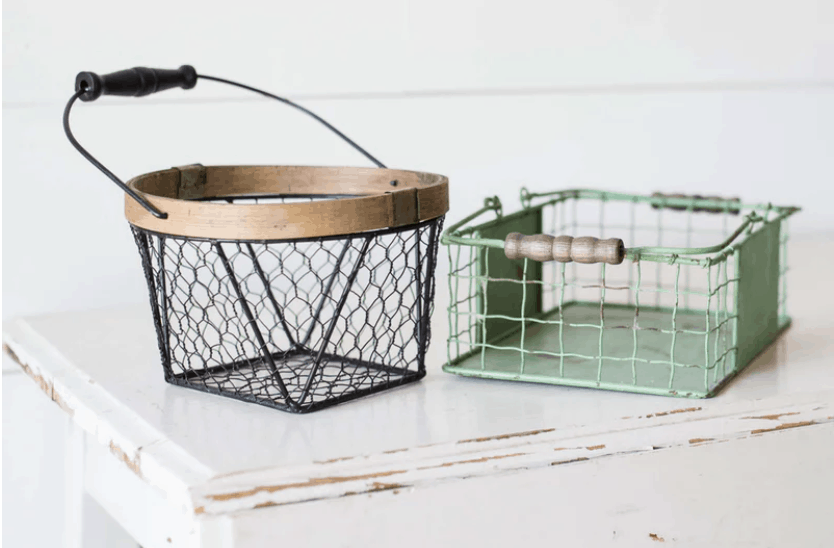 Wooden Crates (available here)
The fronts of these wooden crates are chalkboards! Imagine how much fun you can have with that. You could put words like, "harvest," "fall," or "welcome" on the chalkboards too.
Bushel Basket (get one here)
Fill one of these baskets with flowers, pumpkins, or other fall decorating ideas. It would look amazing on your porch, or you could even place it beside your mantle. The options are truly endless.
Decorating Baskets For Fall
The options are seriously endless when it comes to fall decorating with baskets and crates. You could actually decorate many rooms in your home, and each one can have a completely different look. Check out these awesome ideas.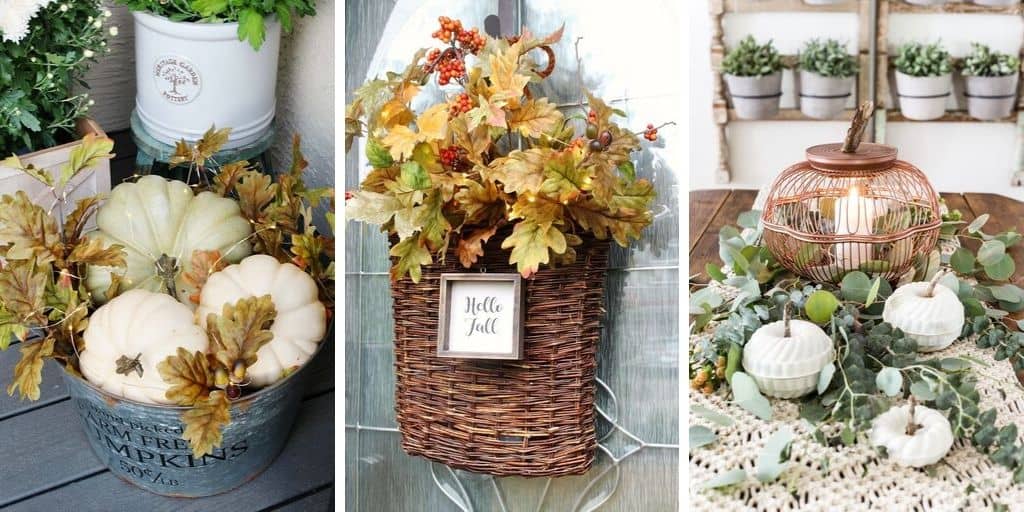 Lighted Fall Pumpkin Basket | Clean & Scentsible
This is such an easy project and it gives a HUGE impact. Use it as a centerpiece, on your mantle, or even just in a corner on the floor. You can even add one outdoors too. The options are endless, and you will be impressed by how little you need to do to replicate this idea.
Fall Basket Wreath DIY | Clean & Scentsible
Make a fall basket wreath for your wall indoors or even your door. No matter where you hang it, those fall colors will give life to your space, and you can't help but feel warm and cozy when you look at it.
Wire Basket & Bundt Pan Pumpkins | Bless'er House
Who would have guessed you could make such a breathtaking centerpiece with some wire baskets and a bundt pan! You really need to look at this idea.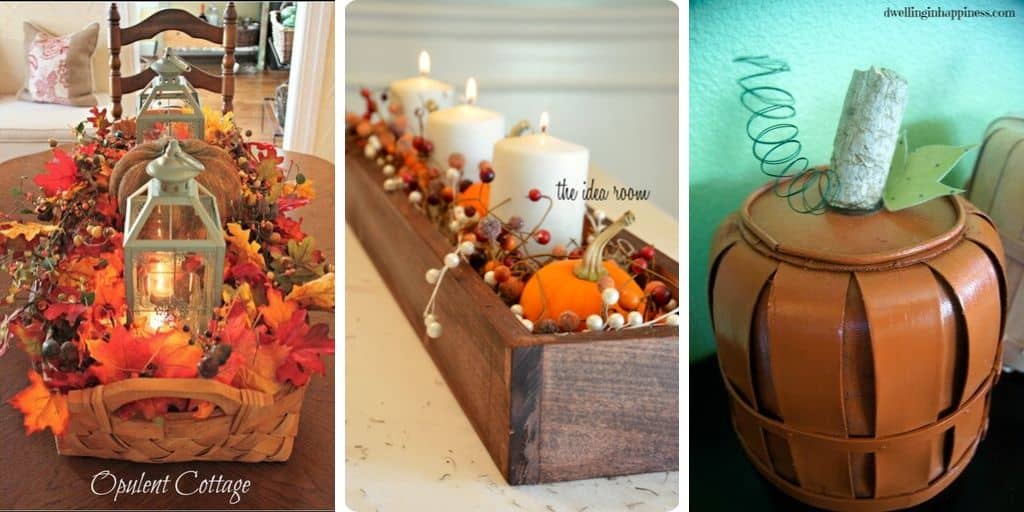 Fall Harvest Basket Centerpiece | Opulent Cottage
Here is a delightful option if you want to decorate a centerpiece with a basket. I love this look and all your guests will too. No one will ever guess how simple it was to make, either.
Thanksgiving Table Centerpiece | The Idea Room
While the original intention for this project was to use this wooden crate centerpiece for Thanksgiving, you could actually use it for any time when you are fall decorating. This project uses fantastic colors and the style is incredible.
Basket Pumpkins | Dwelling In Happiness
Dust off your collection of baskets and transform them into pumpkins! You will just need some tree branches, baskets, paint, green wire, cardstock, and some basic supplies. It's easy and looks fabulous.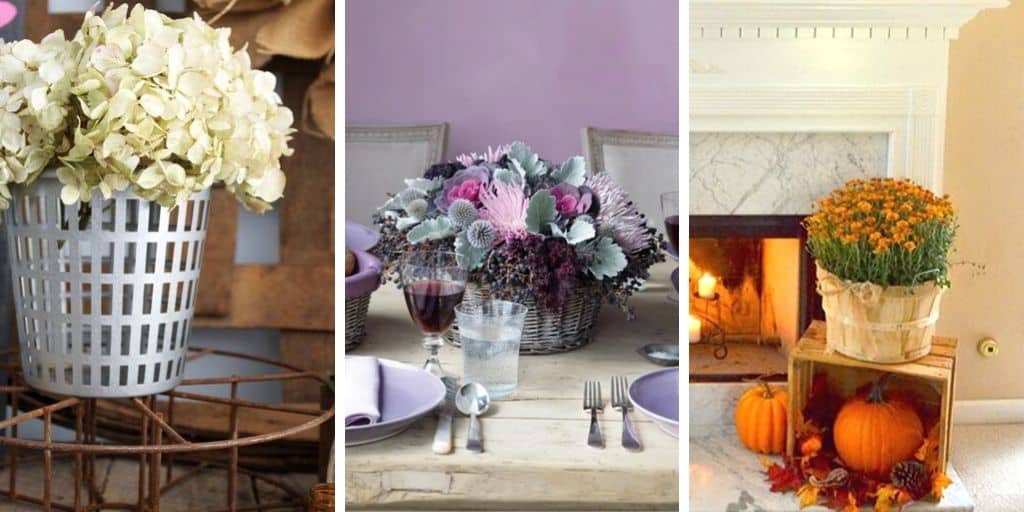 Olive Basket Hack | Refresh Restyle
All you need is some plastic baskets, some paint, and faux flowers to add as decoration. You won't believe how gorgeous this project looks when it is finished. Who would think you could make something so delightful with minimal supplies?
Baskets Of Bounty | Martha Stewart
Martha got it right when she called this baskets of bounty! The purple colors are vibrant and gorgeous for fall. All you need is a basket and a few inexpensive supplies, and you can easily replicate this lovely look.
Decorate Fall Mantle With Wooden Crate | The Frugal Homemaker
Decorating your mantle isn't just fun for Christmas—it's also a blast for fall too. Add in a wooden crate, and you will have an extraordinary focal point in your room.
How will you use baskets and crates in your fall decor?
I hope you have been inspired to use baskets and crates for fall decorating now! No matter how you decorate, I am sure it will be gorgeous.