20 Ingenious House Cleaning Tips & Hacks – Save Tons Of Time!
As an Amazon Associate and member of other affiliate programs, I earn from qualifying purchases.
I found some ingenious house cleaning tips and hacks that can definitely make life easier for any of us. The good news is, these house cleaning tips are easy and help you get your home spic and span in no time!
Not many of us are passionate about completing cleaning chores, but we can all agree that tackling spring cleaning is necessary. However, some cleaning tasks can be particularly annoying simply because they require a lot of time and of elbow grease.
These tips and hacks will help you get the job done with less effort and fast!
Have you ever wondered how to get rid of that musty smell in your washing machine? Ever been frustrated trying to clean the stuck on gunk in your microwave oven?
If you're like most of us, the answer is yes!
So today I'm sharing the best house cleaning tips and hacks so you can tackle spring cleaning with ease.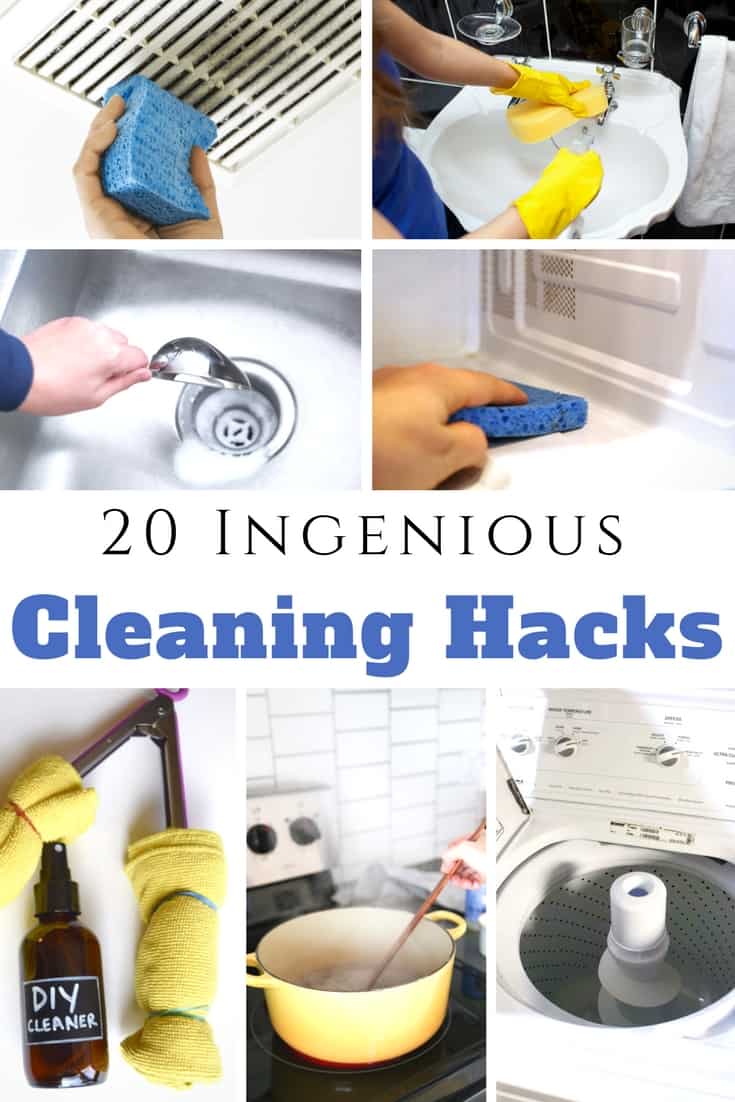 Let these hacks help you knock out cleaning chores in less time so you can preserve your energy for more pleasant activities.
20 ingenious house cleaning tips & hacks
If you're having trouble cleaning your microwave, window blinds, the washing machine, grill grates or even light fixtures, no need to worry. There's a cleaning hack for almost everything.
It's time to work smarter, not harder.
Cleaning cast iron with salt
My favorite cleaning hack (which I use all the time) is using coarse salt to clean cast iron pans. You don't have to use the salt every time you clean, but if food gets left in it overnight, or you have some bits really stuck on there, this simple technique really does the trick.
Just use some coarse salt, a splash of water, and a paper towel to wipe it clean without a lot of elbow grease.
If you have to use the salt very often, you'll need to reseason cast iron pretty regularly. Harsh scrubbing will remove the protective seasoning that keeps your food from sticking when you cook.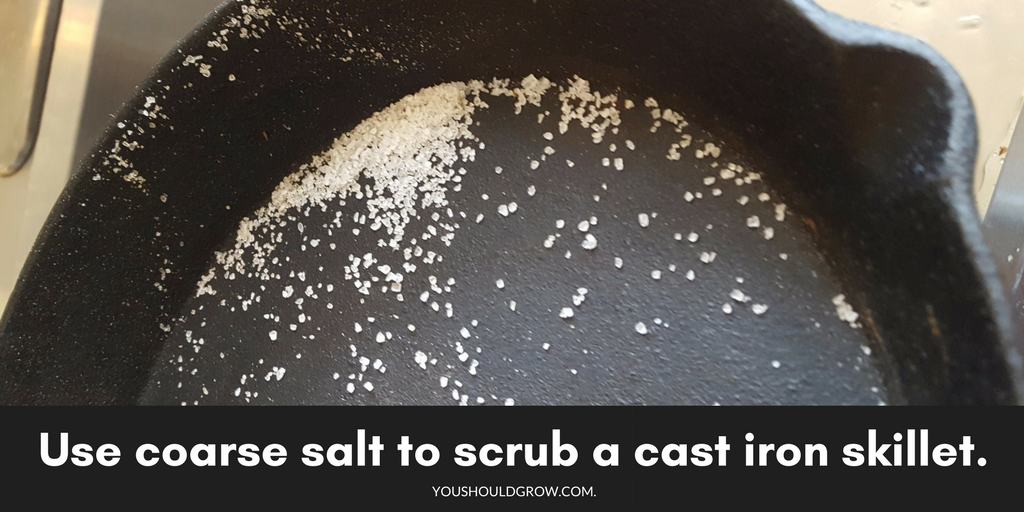 Cleaning enameled cast iron dutch oven
If your enameled cast iron gets really dirty, you'll love this tip from Erin and Platings and Pairings. She boils water in her pan and adds a bit of baking soda to take her dirty dutch oven from grimy to shiny.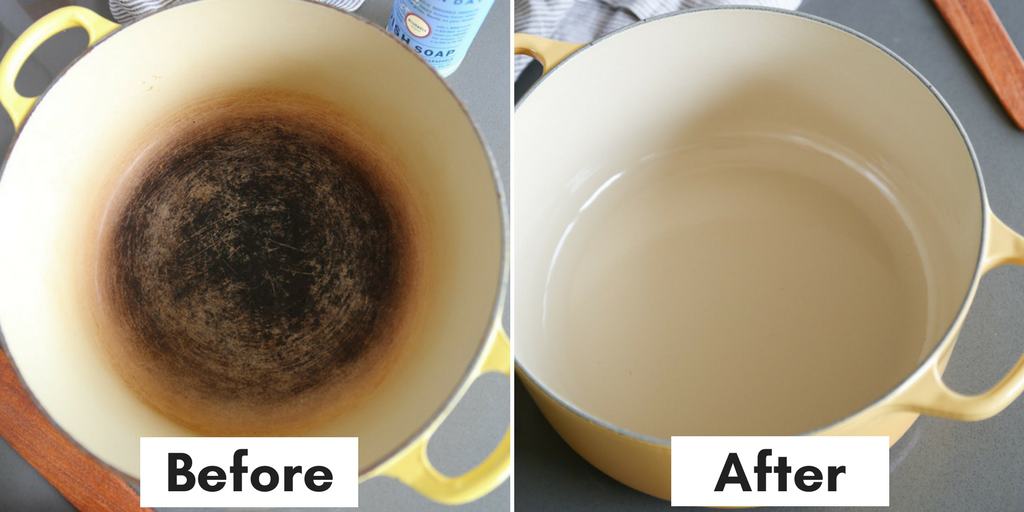 Cleaning gas grill grates with baking soda
Have you ever wondered how to clean your gas grill grates? They can get pretty dirty from charred food, sauce, and dust. Becca at My Crazy Good Life has a great cleaning tip using Arm & Hammer Super Washing Soda to get your grill good as new.
How to clean a refrigerator that smells
Refrigerators are another appliance that can absorb odors. Food gets left in there too long, spills get stuck to the shelves, and crumbs collect in every nook and cranny.
Since we keep food in there, it's really important to use natural ingredients when cleaning a refrigerator. Kristin at Live Simply has a great tutorial for cleaning your fridge with a DIY all-natural cleaner using vinegar and essential oils.
Learn even more natural cleaning tips with her DIY Natural Cleaning Challenge.
How to clean an ice maker dispenser
Gina at The Shabby Creek Cottage has a great idea for cleaning the ice maker dispenser using the HomeRight SteamMachine which comes with a handy nozzle that gets that gunk right out!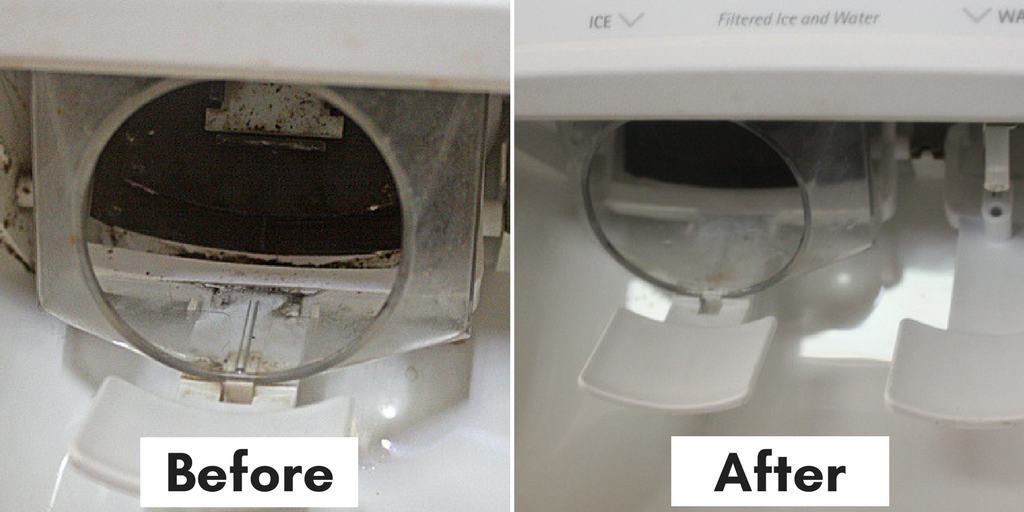 Cleaning the microwave with lemon juice
Here's a great hack for getting rid of stuck on gunk in your microwave. Alison at Pint Sized Treasures uses lemon juice to naturally clean her microwave and it comes out sparkling clean!
If you'd rather, here's a recipe for cleaning the microwave using lemon essential oils.
How to clean a washing machine with vinegar
It's funny to think about a washing machine getting dirty, but they do. And they can hold on to nasty odors and pass them on to your clean clothes. Gross!
I moved into a new house and noticed a really bad smell coming from the washing machine. I tried running a cycle with bleach, then OxyClean, but the only thing that worked to get rid of that odor was vinegar!
If you can relate, try these tips from Jessi at Practically Functional for getting a dirty, old washing machine good as new.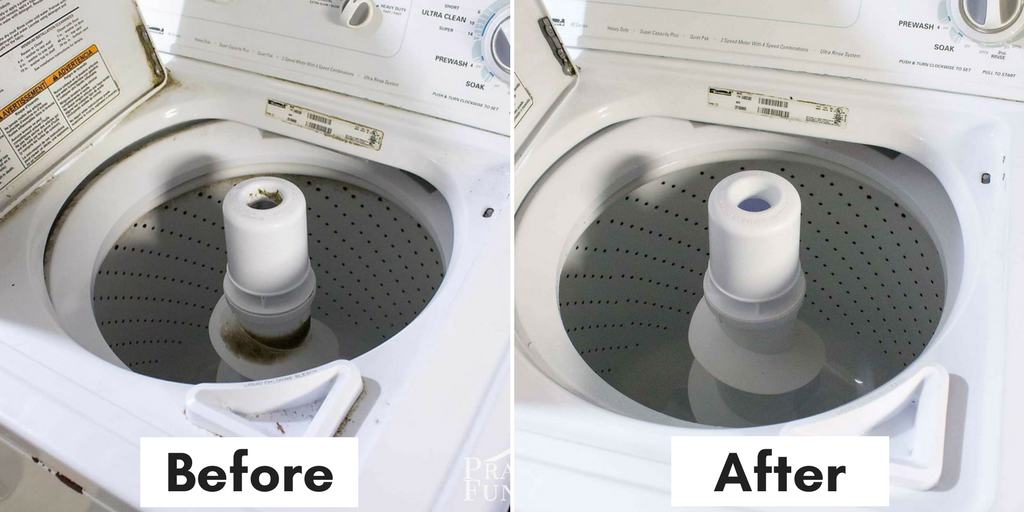 How to clean between oven glass without disassembling the door
Did you know there's a secret way to access between the glass from underneath the door? I had no idea that you could clean in between the oven glass this way! Learn how to thoroughly clean your oven glass from Melissa at The Happier Homemaker.
How to clean and get rid of odors in lunch bags
Nobody likes to admit it, but sometimes food gets left in insulated lunch bags for way longer than it should. And ew that smell! Katrina at The Organised Housewife has some great tips for cleaning and deodorizing lunch bags that every mom needs to read.
How to unclog a drain naturally
For me, there is nothing more frustrating than a slow-moving drain, but I hate having to resort to pouring chemicals in my sink to get the water to move. Bren at Bren Did has some great tips for naturally cleaning a clogged drain plus an explanation of what causes clogs and how to prevent them.
How to clean horizontal blinds
This is a super clever cleaning hack from Rachel at One Crazy House. She uses kitchen tongs and microfiber towels for dusting blinds. Brilliant!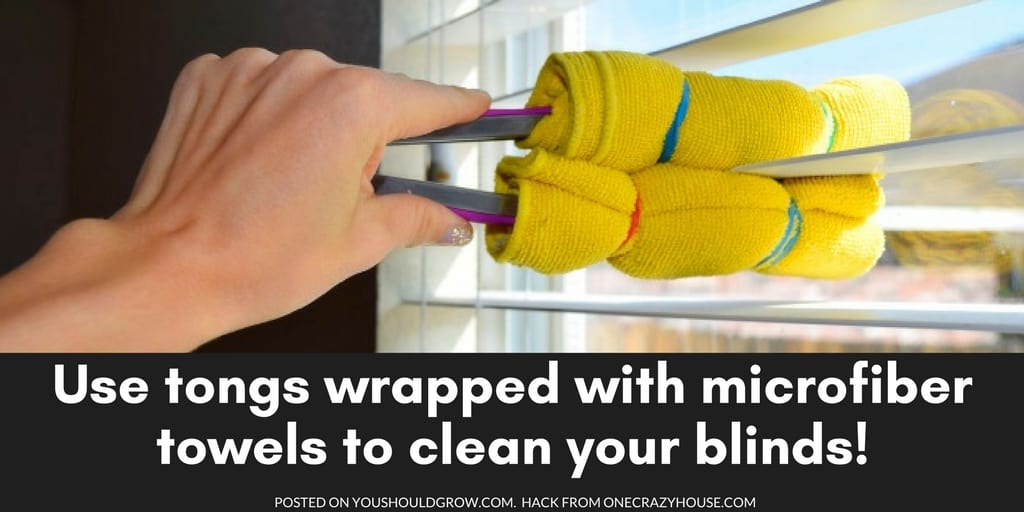 Chandelier cleaning tips
Have you ever looked up at your dining room chandelier and realized it's completely filthy and covered in dust? I have, and it is so hard to get it clean without breaking your neck! Well, here's a clever hack from Jess at Mom 4 Real, use a paintbrush to dust off your chandeliers and light fixtures!
What a simple, but effective way to get rid of that mess up there!
If you have brass light fixtures, check out these tips from Brittany.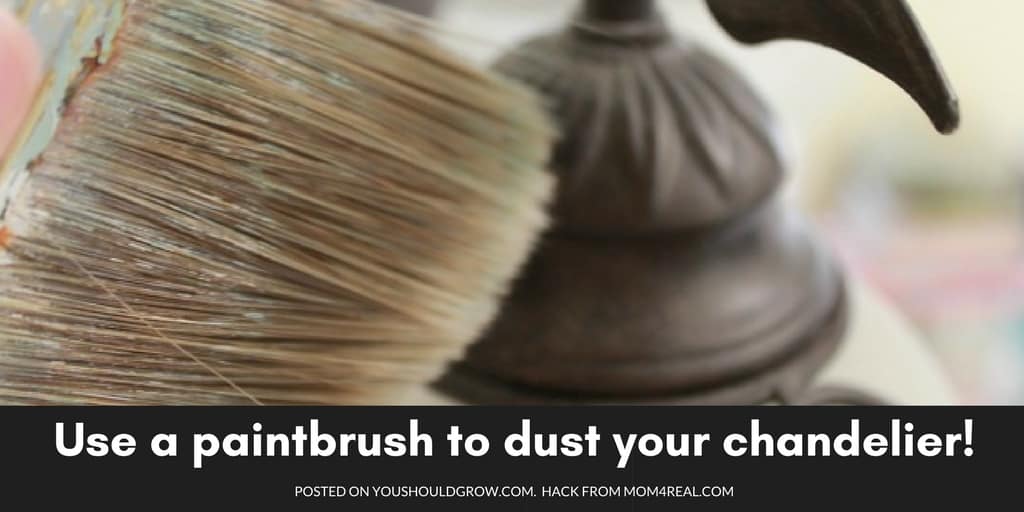 How to get stains out of linen furniture
If you've made an investment in your furniture and purchased linen coverings, then you need these tips from Julie Blanner for keeping your linen furniture clean even with kids.
She's had her white linen furniture for years, and even with a couple of kids, it still looks great!
Tips for cleaning the bathroom
The bathroom can be the dirtiest place in the house. With towels on the floor, toothpaste in the sink, and splatter on the mirror getting a bathroom clean can be a daunting task. Shelly at Frugal Family Home has a tutorial for cleaning your bathroom from top to bottom.
I love her clever tip for making the bathroom smell great: put a few drops of your favorite essential oil on the cardboard inside of the toilet paper roll. Cool idea!
How to clean the bathroom sink drain
This is a cool cleaning hack that will get rid of gunk and save you tons of time! Anna at Ask Anna lets denture tablets do their thing and a few minutes later a clean sink drain. Sweet!
How to clean tub jets
I love a good soak in a jetted tub, but those jets can get filled with some really nasty mold and dirt! Ew! Take a look at how Rachel gets rid of all the nasty stuff in her jetted tub with bleach and borax.
How to clean the air vents in your house
I never thought about waxing my air vents, but Stephanie at Somewhat Simple uses wax to keep her vents from collecting dust. This is such a great idea!
You can also use the wax from wax paper to help keep your house clean. Check out these clever wax paper hacks.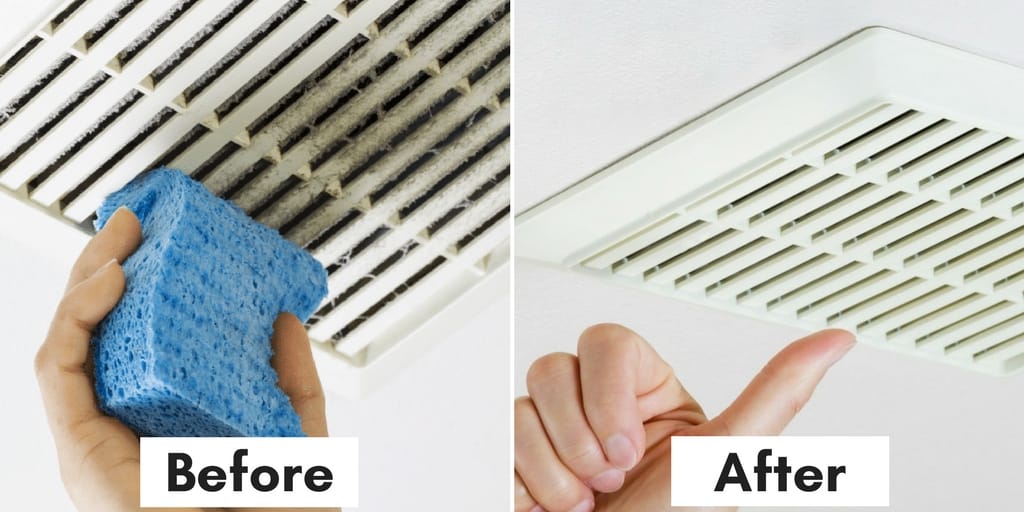 Using Oxyclean for carpet, grout and more
There are few things more frustrating than ugly stains on your carpet, but Jenn at Clean and Scentsible shows us how to use a solution of Oxyclean to get even stubborn stains out. She also tells you how to clean grout, sports equipment, and more with this versatile cleaning product.
How to clean and disinfect makeup brushes with olive oil
Makeup brushes can get dirty not just from the cosmetics, but also from the oils on your skin. Lydi from Lydi Out Loud has a great tip for cleaning make up brushes – use olive oil. I would never have thought of that! Plus, she has a great tip for hacking a brush cleaning mat.
What did you think of these cleaning tips and hacks?
Do you have any cleaning hacks that save you time? Share them in the comments, I'd love to hear!