Gifts For Gardeners: Ideas For Everyone On Your List
As an Amazon Associate and member of other affiliate programs, I earn from qualifying purchases.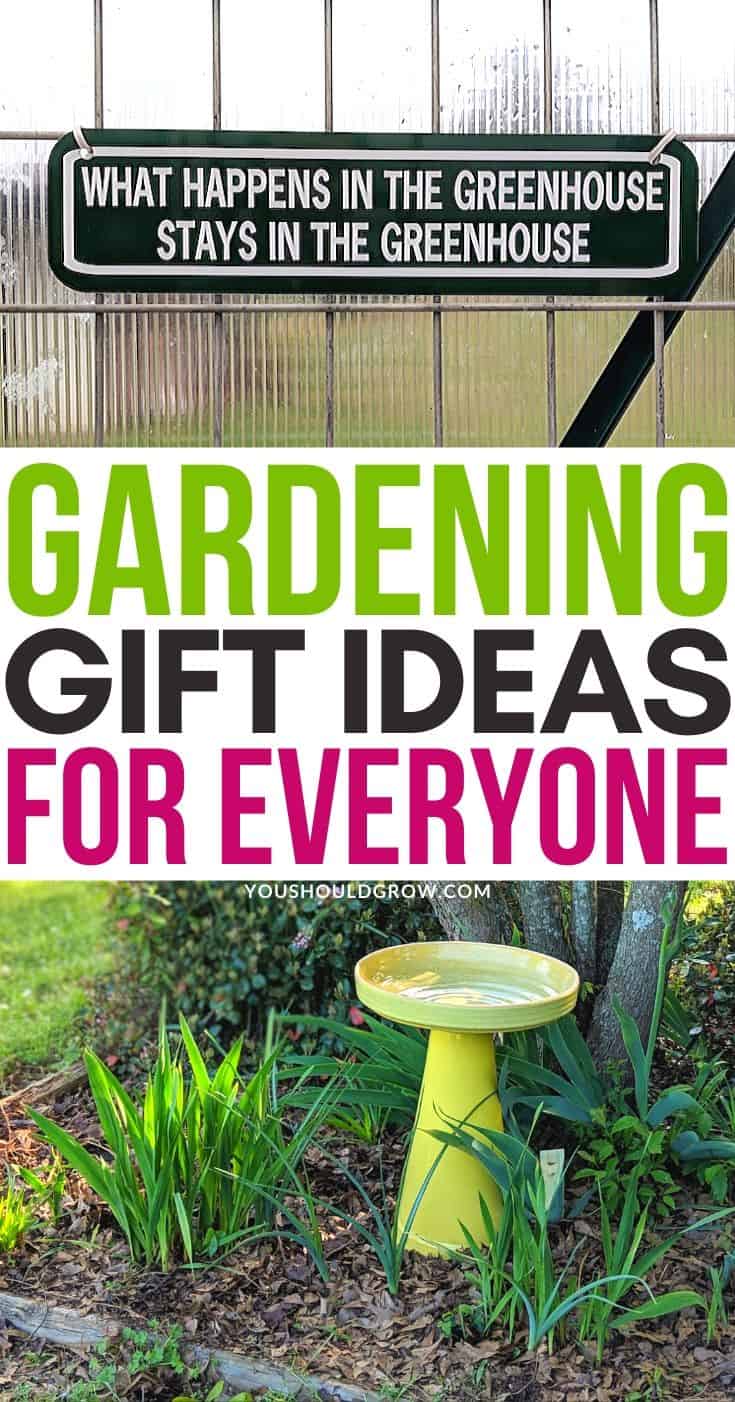 Buying gifts for gardeners can be hard because not all gardeners like to grow the same things or use the same tools. If someone is growing orchids, they're not as interested in things that a vegetable gardener would love.
So I've put together this list of garden gifts where you will surely find something for everyone!
Best Gifts For Gardeners
The first thing to think about whey you're gift shopping for a gardener is to consider what type of plants they like to grow. Is their home plastered with house plants? Do they have a soft spot for succulents?
Thinking about the type of gardening they do will help you narrow down the type of garden gift that will be the most well received.
Gardening Gift Ideas: Unique Garden Tools
The fact is that gardeners need tools, and the truth is that they probably need at least 2 of each. I don't think I'm the only one that has lost a pair of pruners in the garden.
Plus, garden tools get old really fast, and we don't always buy the best tools to begin with. So giving a garden tool is a great gift idea, but try to think beyond the spade and shovel.
Here are some less common (but incredibly useful) garden tools that make great gifts.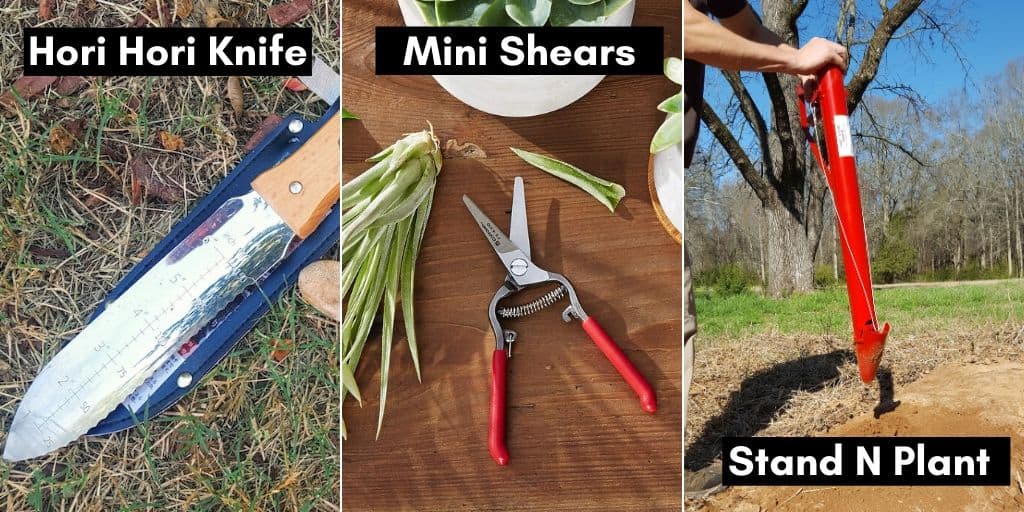 ☛ The Hori Hori garden knife is quite handy for planting, digging, and cutting. It's a great general gardening gift for anyone who likes to play in the dirt. Once they use their new Hori Hori, they'll wonder how they ever got by without one.
☛ If your gardener is a houseplant or orchid enthusiast, skip the Hori Hori and opt for something with a more delicate touch. Choose these mini garden shears which make pruning flowers and smaller plants more precise.
☛ Got an avid veggie gardener or homesteader on your gift list? This planting tool is an absolute dream for anyone who's growing lots and lots of plants. It makes planting a row of veggies go a heck of a lot faster.
Gift Ideas For Gardeners: Harvesting Accessories
Most gardeners will harvest parts of their plants at some point. Whether it's picking fruits and veggies, cutting flowers for arrangements, or simply pruning up plants, we all need a way to gather and hold our collections.
☛ A garden hod is a perfect basket for everything from harvesting veggies and flowers to carrying tools. The large size and the mesh bottom make it an ideal carrying solution. We use ours all the time around the farm.
☛ For even better value and more functionality, check out the Mod Hod. It's the garden hod's hip younger brother. Lightweight and stackable features make this garden harvesting basket the perfect gift for someone who loves gardening.
☛ This smaller version of the Roo Apron (called the Joey) is incredibly handy for busy gardeners. Not only can they store harvests or trimmings, but the Joey also has pockets for holding garden tools. If you have sewing skills, here's a tutorial to sew your own gathering apron for a special homemade gift.
Garden Gift Ideas: Garden Decor
Most gardeners don't think as much about the garden decor as they do tending to their plants. That's exactly why garden decor is a great gift idea for gardeners. Maybe your gardener has a thing for her backyard chickens or maybe he's into cooking, there are tons of ways you can add decorative items to personalize a garden.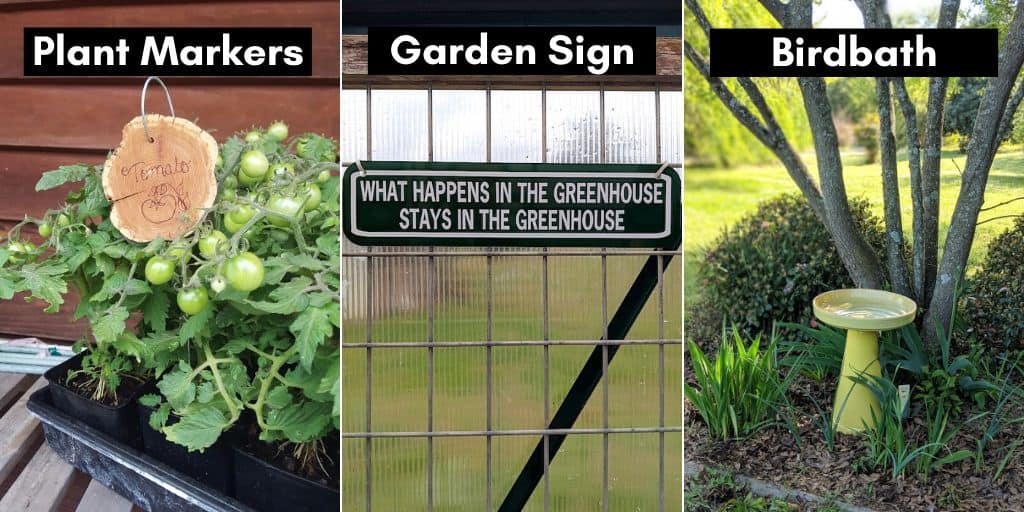 ☛ Garden markers can be as simple or as decorative as you want them to be. If you're crafty, you could even make them yourself. There are so many types of garden markers to choose from, think outside of the box to make your gift really stand out.
☛ There are a ton of cute and clever garden signs out there! I found the most perfect sign for our greenhouse on Etsy. It makes me giggle every time I go to work in the greenhouse.
☛ Birdbaths and bug houses add a personal touch and encourage wildlife to visit a garden. Birds and bees are vital to the overall health of a garden, so I welcome them every way I can.
Gifts For Gardeners: Garden Apparel
Most gardeners just wear an old pair of jeans and tennies to play in the dirt, but there are some wardrobe pieces that your gardener needs and may not even realize it.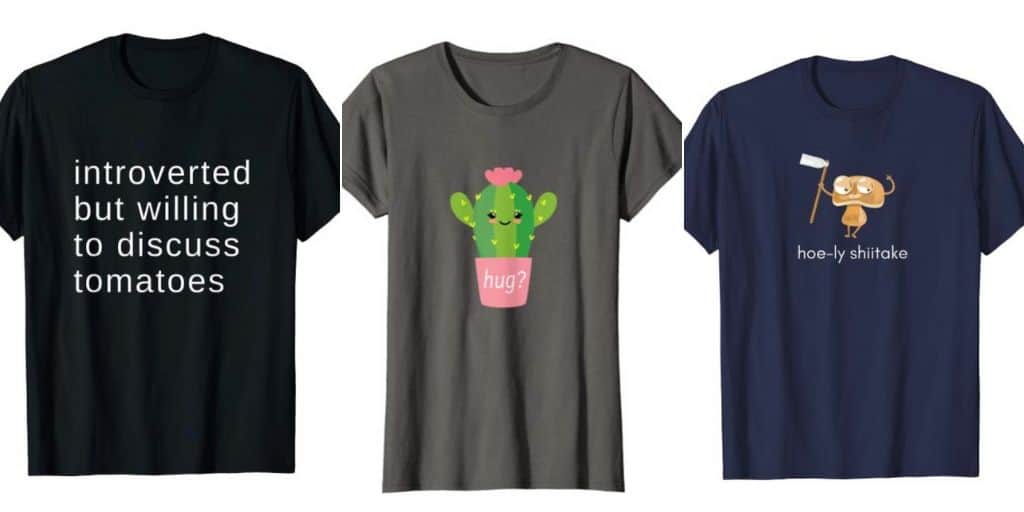 ☛ Funny t-shirts fit gardeners like a glove. You might be surprised at the number of funny t-shirt designs you can find. Here are some of our favorites.
☛ On a more serious note, protect your favorite gardener from dangerous sun damage to their skin with UV protective clothing. Give them a nice convertible long sleeve shirt that can be worn alone or over another shirt. These shirts do wonders for keeping them cool in the summer, too. Here's the same shirt for men.
☛ Along those same lines, UV hats make great gits. For women, this hat with a hole for her ponytail is perfect for busy gardeners, and my husband needs a new hat like this at least every year.
Gardening Gift Ideas: Learning Resources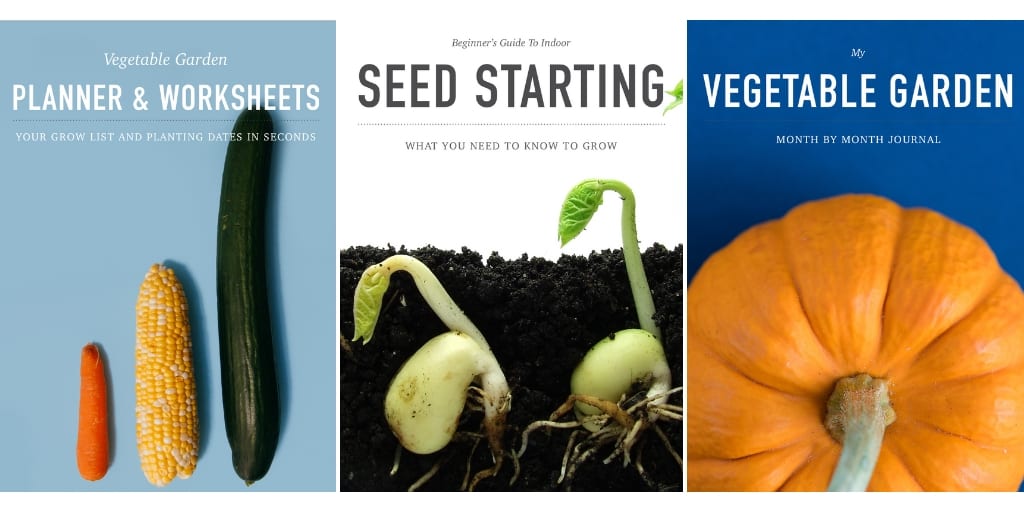 ☛ There is always more to learn about gardening and growing food. All of these books are excellent resources for gardeners who want to know how they can grow more and better care for their plants.
☛ Paper books are always a great gift, but there's a lot to be said about the convenience of a digital gift. The Beginner Gardening Bundle includes a beginner seed starting book and garden planning spreadsheets plus a garden journal.
Need more ideas for garden gifts?
What other gift ideas for gardeners do you have? Leave a comment below!