30 Great Pumpkin Game Ideas For Kids' Parties
As an Amazon Associate and member of other affiliate programs, I earn from qualifying purchases.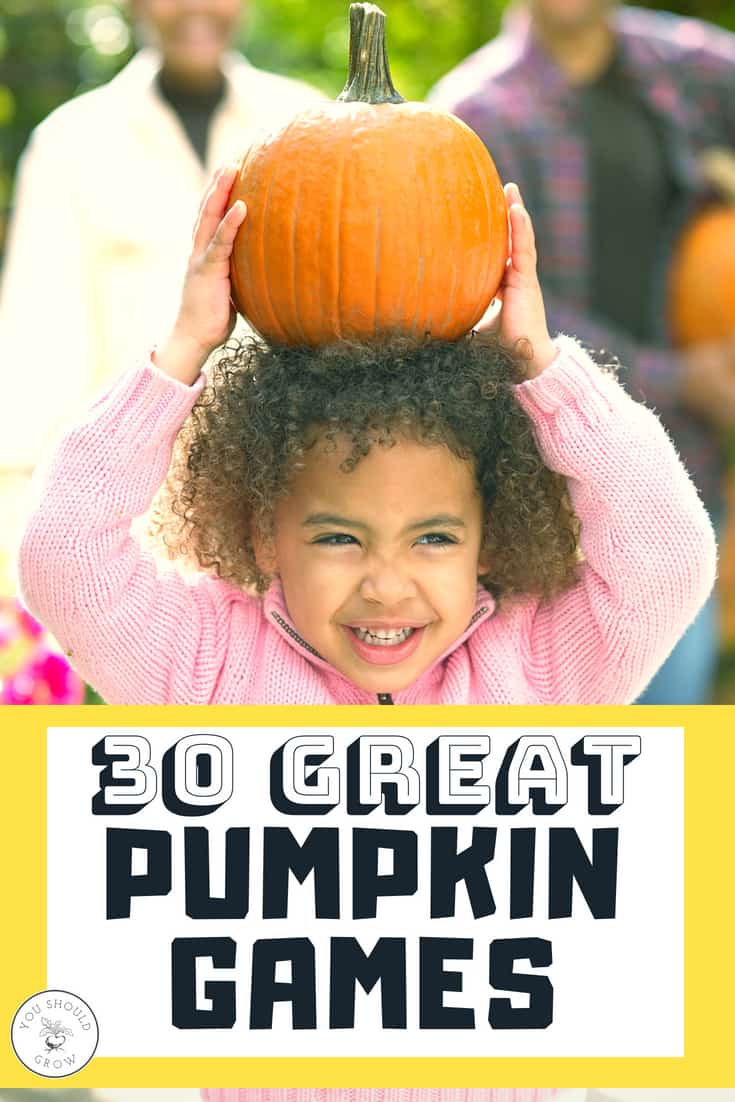 In this article: 30 clever pumpkin games to try for your next fall festival or Halloween party.
What's more fall than a bright orange pumpkin? Pumpkins evoke all sorts of happy emotions from their association with everything fall! From spooky Jack-o-lanterns to pumpkin pie, there are a million reasons pumpkins mean fall.
Fall is also a great time of year to host parties and festivals. The cooling crisp air makes everyone excited to head out for family adventures. If you're planning a fall festival, I've gathered a bunch of ideas that these 30 ideas to make fun use of pumpkins for kids' parties.
Also check out these healthy Halloween party food ideas.
30 fun ideas for pumpkin games
What I love about these games is that they really couldn't be simpler. They're all inexpensive and super easy to DIY. Most of them could utilize either real or fake pumpkins depending on what is available to you and your budget. Of course, if you grow your own pumpkins you don't have to go buy any, but that's just my suggestion. 🙂
Pumpkin Golf
Putt putt is always fun, and it's a simple game to set up for your party. Giving your mini golf course a little fall flare is easy when you add pumpkins.
Pick up a set of kids' golf clubs at a thrift store or an affordable set like this one on Amazon. Then cut a funny face into a hollowed pumpkin for kids to putt the balls into or place them in the path of the ball as obstacles.
In this video, you can see how easy it is to set up. Get the full tutorial at Eighteen25.com
Pumpkin ring toss games
Pumpkins make it easy for you to set up a ring toss game. Grab a jumbo pack of glow necklaces and use them to ring the stems. You could also use hula hoops (here's a pack of 6 with free prime shipping) to ring the whole pumpkin.
Set up for these pumpkin games couldn't be simpler, and you can make the game easier or harder depending on how you place your pumpkins.
Pumpkin bean bag toss
Instead of tossing rings around the pumpkins, in these games you toss bean bags into holes in the pumpkins. Make the game easier or harder depending on the size of the opening in the pumpkin.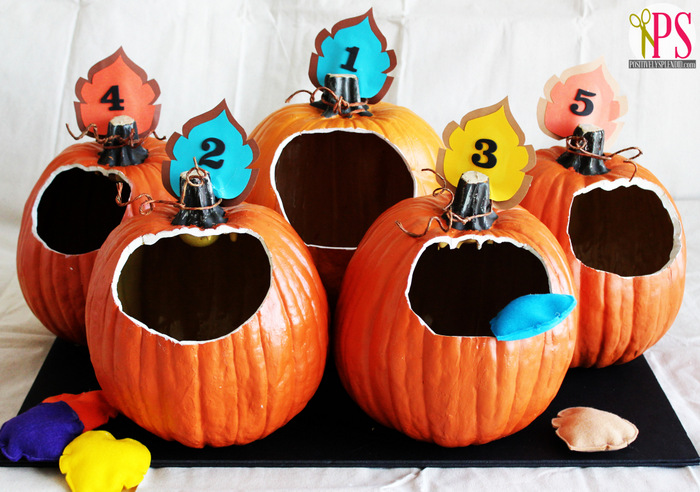 Pumpkin candy toss
Taking the same idea but using pumpkin candy, you can have loads of fun tossing tiny pumpkins. It's okay if occasionally you toss one of these into your mouth. 🙂
Hot pumpkin
Just like the game hot potato, hot pumpkin can be played with a mini pumpkin or a pumpkin toy as seen on The Resourceful Mama.
Pumpkin bowling
Setting up a pumpkin bowling alley couldn't be easier when you use paper towel rolls as bowling pins. Using stickers or tape, you can make your bowling pins look like ghosts to keep with a Halloween theme.
Poke a pumpkin
Hide prizes inside cups to make a fun poke-a-pumpkin game. Wouldn't it be a fun idea to hide peeled grapes or slime into some of the cups for an icky surprise? It becomes a game of risk…Will you get a piece of candy or an eyeball? Ha!
Here's a video tutorial for making a poke a pumpkin game from Thrifty Fun.
Pumpkin Face Dice Games
These are such cute ideas! Roll the dice and follow the instructions to give your pumpkin personality. The first one to complete a pumpkin face wins. I think it'd be really cute if you had to trade pumpkins when you roll a certain number, too. It will be so cute to see how all the different pumpkin faces turn out!
Roll a pumpkin dice game from Happy Home Fairy
Felt pumpkin face game from Pink and Green Mama
Relay races with pumpkins
With all the shapes and sizes of pumpkins, they are easy to include in relay races. Whether you roll the pumpkin across the ground, balance it on your head, or pass it between your legs all sorts of fun can be had.
Relay races are especially cute when the kids are decked out in their Halloween costumes! Claire at The Inspired Treehouse has more ideas for relay races with pumpkins.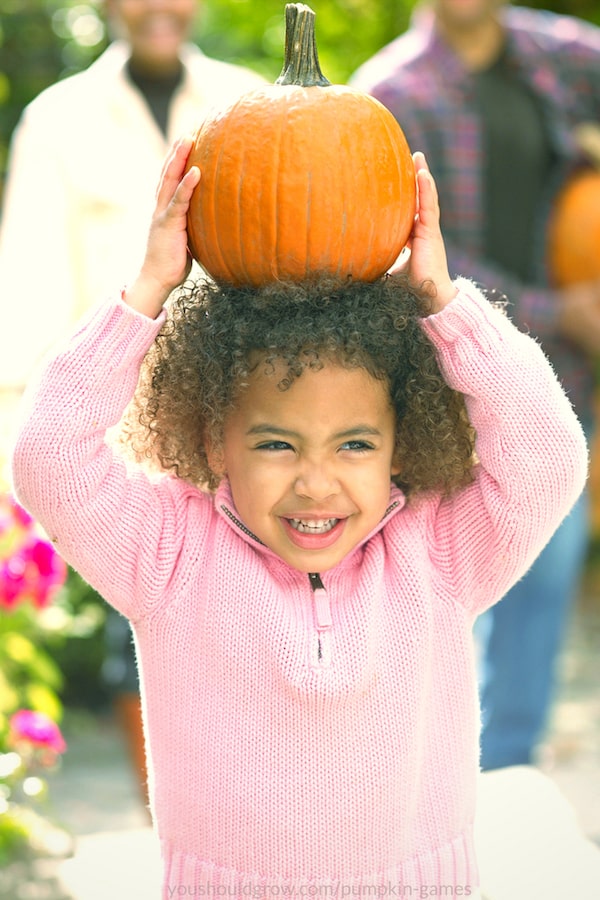 Adorable girl having a blast with a pumpkin on her head.
Pin the nose on the pumpkin
Get crafty with pumpkins and create a huge pumpkin face for playing pin the nose on the pumpkin. I love this cute crepe paper pumpkin from Amanda Parker and Family.
Pumpkin Tic Tac Toe
Use different colored mini pumpkins or simply paint pumpkins with X's and O's to set up a fun giant checkerboard game!
Pumpkin memory game
Make faces, draw ghosts, or simply label them with numbers or letters to make a fun pumpkin memory game.
Pumpkin Chunkin
Pumpkin chunkin is so much fun, but it's expensive and wasteful to just throw pumpkins away. Making felt pumpkins is a way to get into the fun of tossing pumpkins without the mess. Get the tutorial at B-Inspired Mama.
Pop the pumpkin
Popping balloons is fun any time of year! Make it fall-tastic with a pumpkin theme. Here's a tutorial from Martha Stewart.
Here's a fun variation of popping pumpkins, is called Pumpkin Patch Stomp. Here the kids are popping the balloons to get their prizes!
Pumpkin walk
Basically a cake walk with pumpkin markers, but all your baked goods can also be pumpkin based. That's a great way to use up all the pumpkin puree you get from gutting the pumpkins for all these games!
What sorts of pumpkin games have you played with your kids?
Share your ideas in the comments below!